Guys! I'm going to teach you how to make cashew cream!!!
I have been using this stuff a lot in my recipes on NK lately, so I thought I would create a quick little post about the method so it's in one easy place for you to reference back to.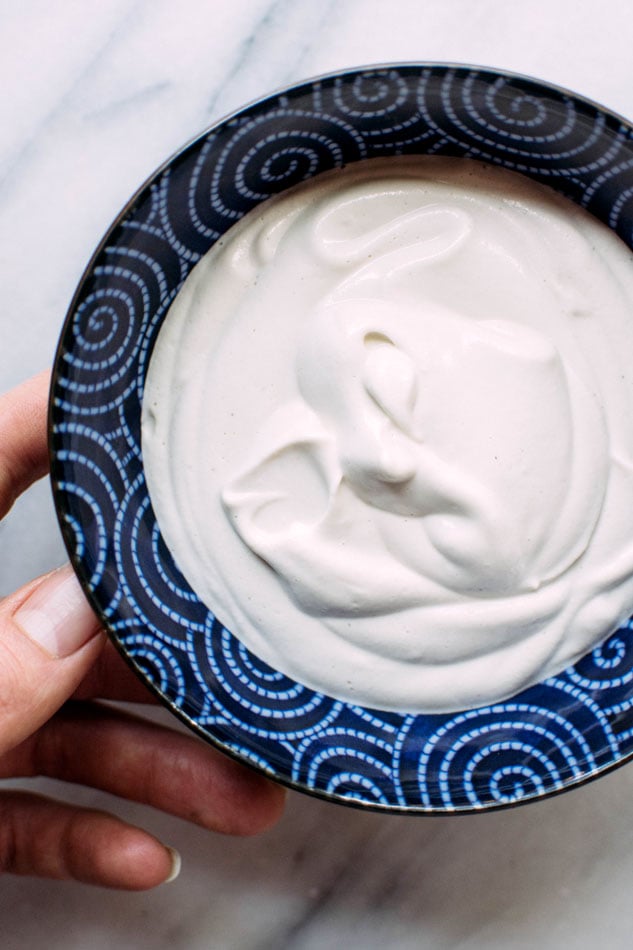 It really is super simple and fast to make, and the texture is the closest thing I have found to mimicing actual cream // dairy in a recipe!
Velvety smooth perfection.
The flavor of cashew cream is also totally ideal because it doesn't have a super strong flavor
By adding a few simple ingredients you can go in pretty much any direction flavor-wise. It can be used as a sauce that goes with anything from roasted vegetables to salad dressing like *that* (hello easy garlic dill cashew sauce!), to thicken a pan sauce (like in these caramelized onion smothered pork chops), or in place of cream in any soup, and when the method is tweaked a little bit it can even stand in for a buttercream frosting like in this amazing post from Faring Well!
You can use whole cashews or cashew pieces, but using cashew pieces actually has 2 advantages –
They're cheaper!
They will soften faster during the soaking step
One thing that DOES matter about the type of cashews that you use is whether they are RAW or ROASTED
You'll always want to use RAW cashews for making cashew cream. You actually can blend // use the food processor for roasted cashews and leave out the water for some out of this world cashew butter – but that's for another post!
Check out the easy instructions below for the details on how to make this super easy-peasy dairy free creamy-goodness that I am totally obsessed with!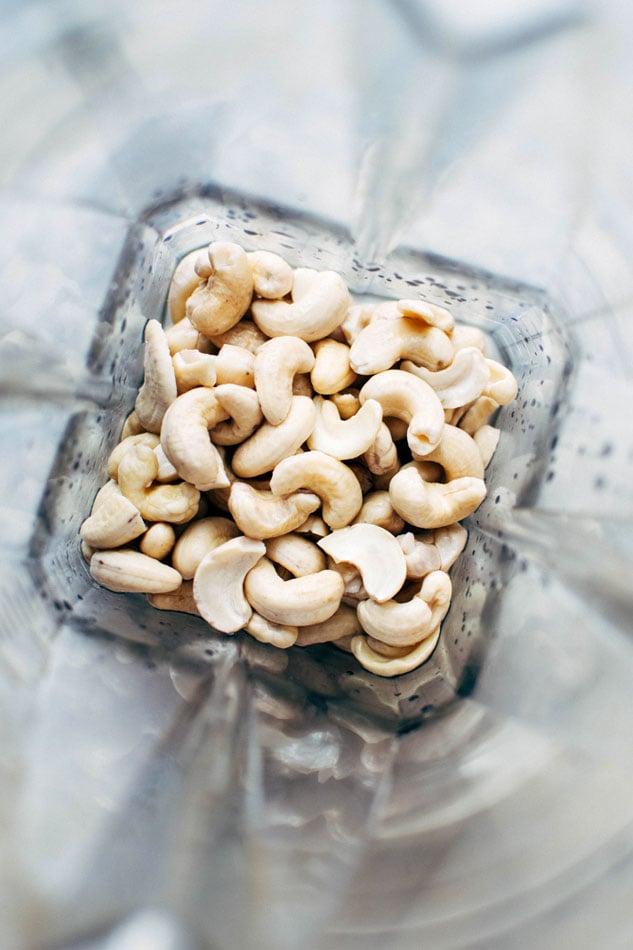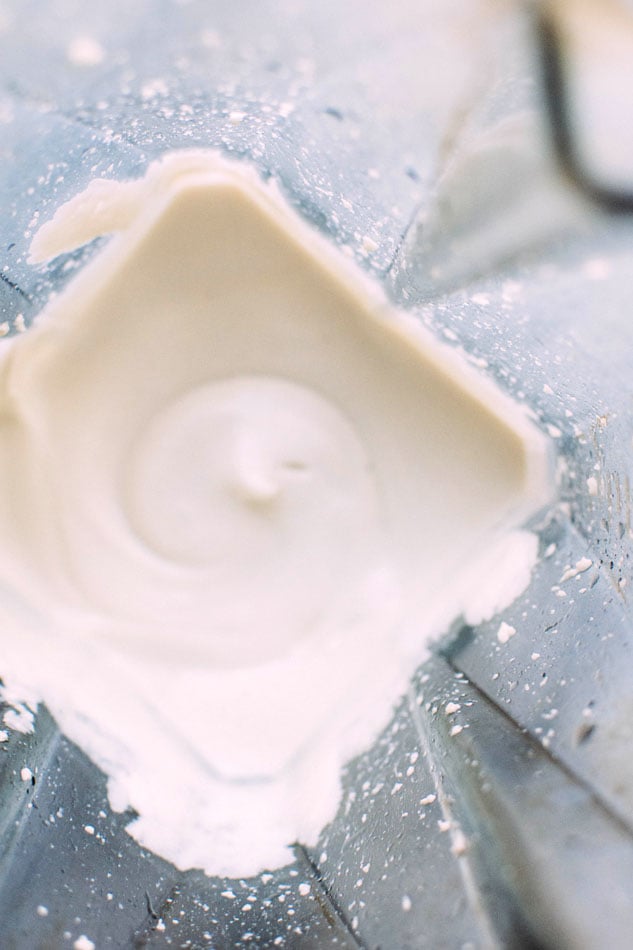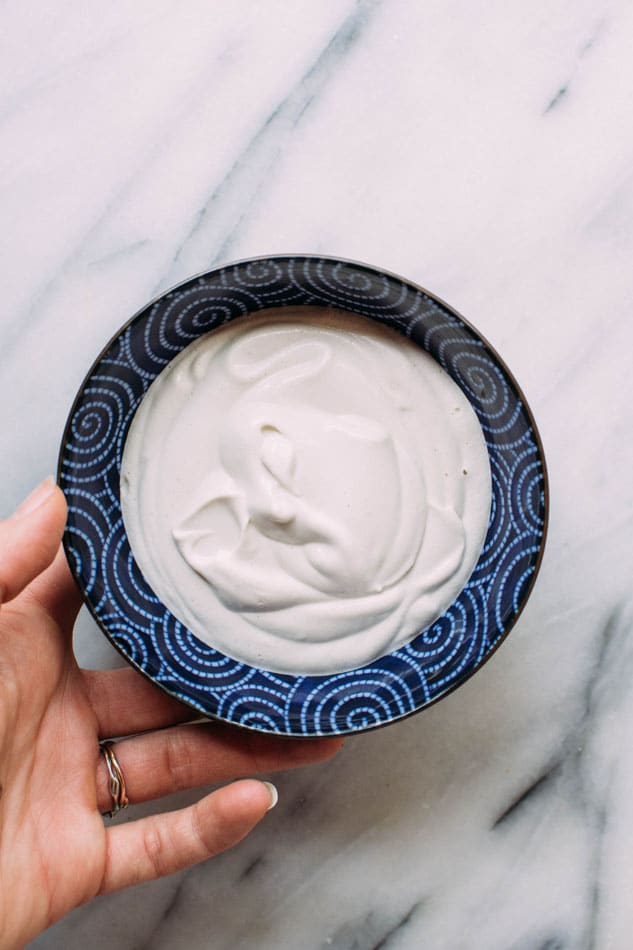 Did you make this recipe? I would love to know how it turned out for you! when you rate my recipes and leave feedback it helps me continue to improve. you can leave me a comment below, or snap a picture and post it to instagram with the tag @nyssaskitchen or hashtag #nyssaskitchen! xo
Print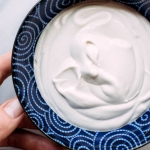 how to make cashew cream
---
Author:

Prep Time:

30 mins

Total Time:

30 mins

Yield:

1 1/2 cups

Category:

Sauce

Cuisine:

dairy free, vegan, paleo
Description
How to make cashew cream sauce! The easiest, tastiest dairy substitute with endless flavor possibilites and applications!
---
Ingredients
1 cup raw cashews
boiling water
1/2 – 3/4 cups cold water
---
Instructions
Soak cashews in boiling water for at least 30 minutes, or up to over night.
Drain cashews and rinse well with cold running water until water runs clear.
Add to a high speed blender or food processor with about 1/2 – 3/4 cup water – or just enough to almost cover the cashews. If you want your cashew cream on the thicker side (if you're going to be using it for dips or sauces), start with less water and add more if needed.
Blend on high, stopping to scrape down the sides, and adding more water if necessary until a very smooth texture is reached.