Say hello to THIS gorgeous number! 5 ingredient cashew beet snack dip is here to rock your snack loving world in the most beautiful and delicious way. Besides being such a looker it's also good for you inside and out – made with beets, soaked cashews, garlic, white or red wine vinegar and salt. THAT'S IT! Crazy easy and crazy good.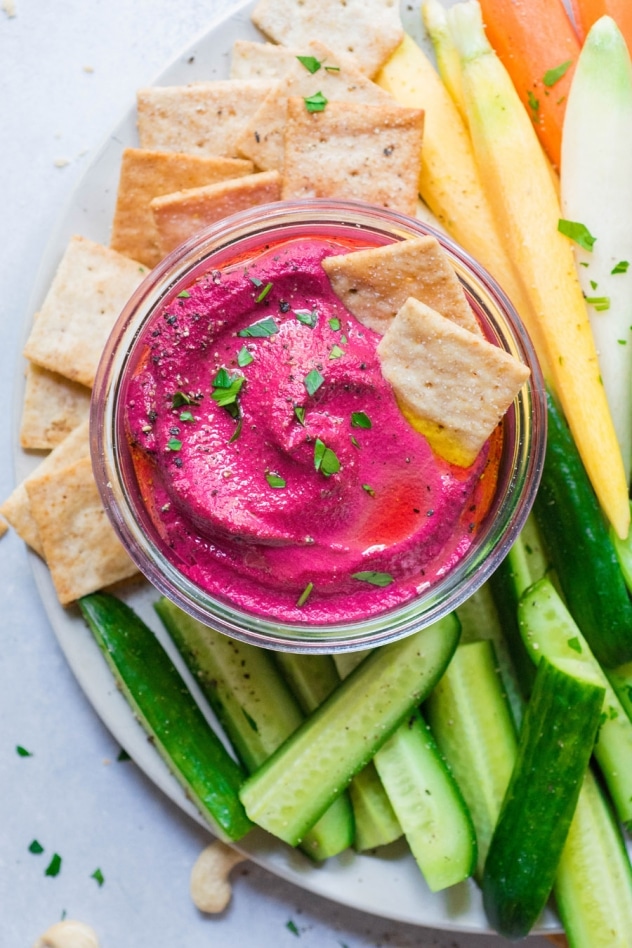 This recipe falls decidedly into my favorite category of recipes – SNACKS!
I almost started this post with "snacks are made for summer time eating". But then I backspaced my way out of that one real quick because I honestly don't think there's a time of year where a good snack doesn't have a place at the table. Amirite?
You guys on team snacks, too? Then you've gotta get in on this one. It takes the dip game to the next level.
It was one of those accidental recipes (those are my favorite!) that just sort of happened one thanksgiving when I had an extra batch of cashew cream in the fridge that I didn't use up when making this gravy, and some extra roasted beets from this recipe. In search of a yummy snack we added those two things plus a few extra goodies to the food processor and this 5 ingredient cashew beet snack dip was born.
I've honestly been meaning to share the recipe with you guys for like, um, forever.. but somehow it ended up at the bottom of my blog post ideas list and I just kind of forgot about it (gasp! I know.) until my best friend who helped me come up with the recipe told me she had just made it for a party. And then I snapped back to my senses and put it right back at the top of my list.
I'm sorry. Forgive me. So silly for waiting so long.