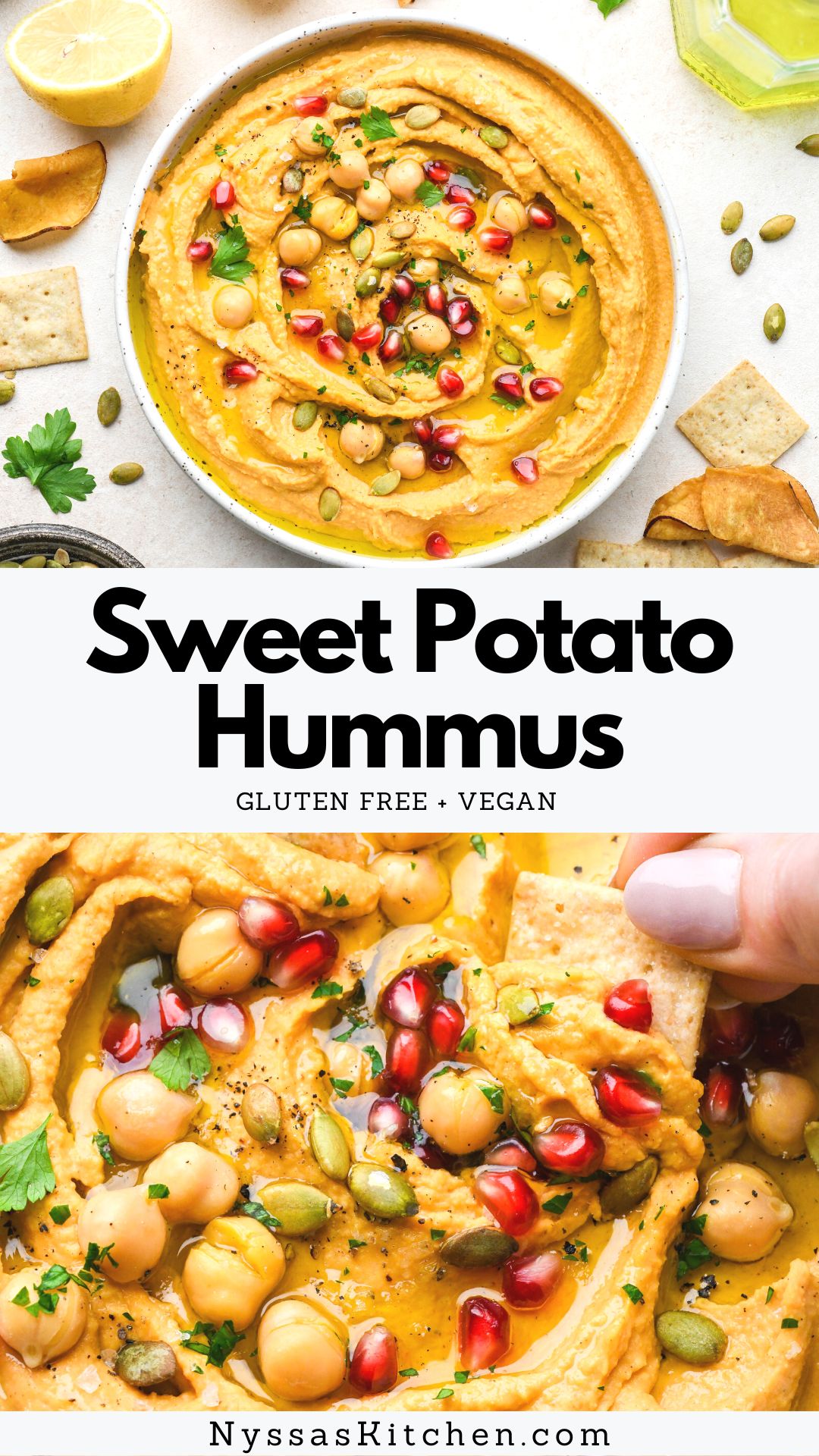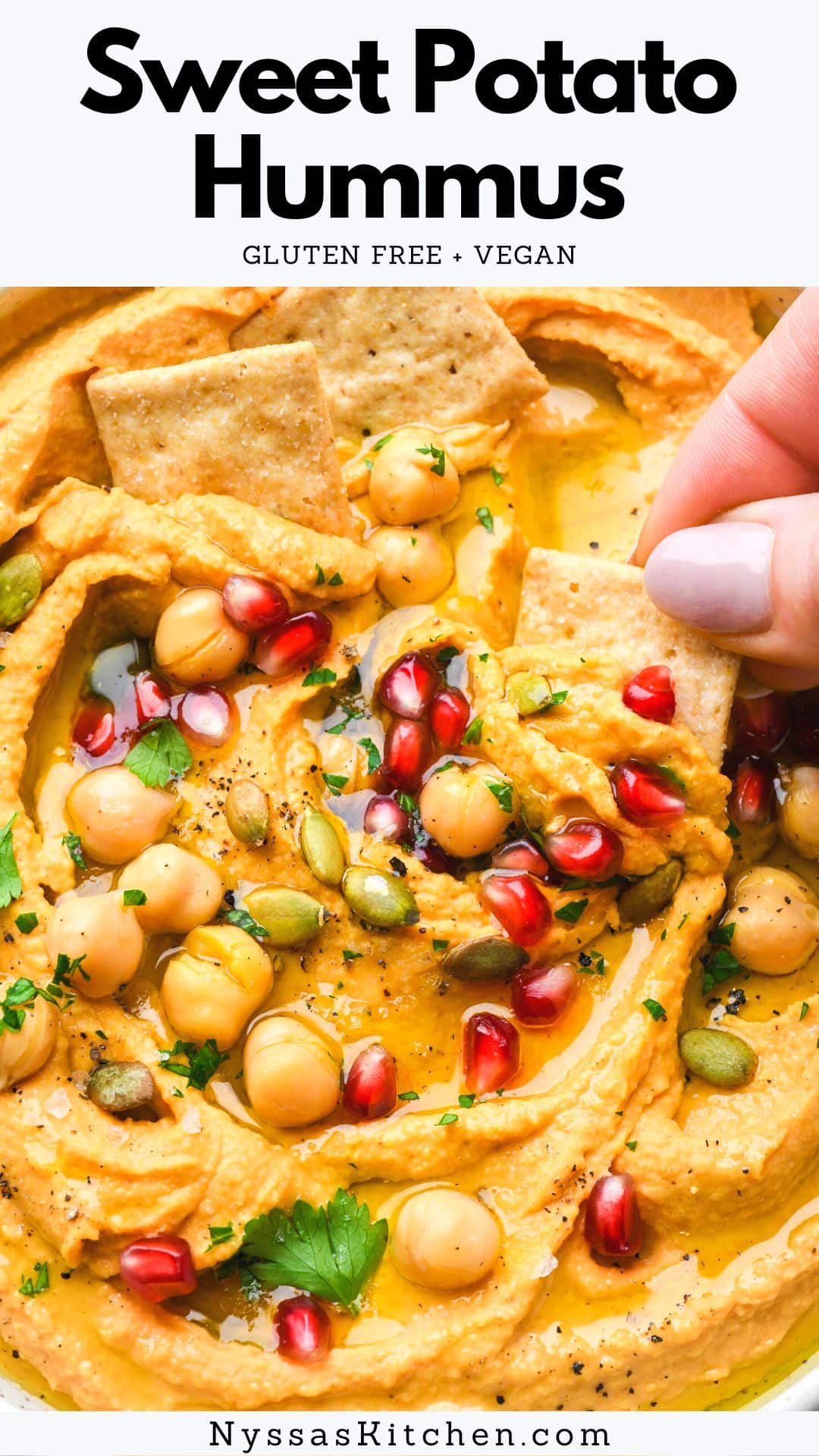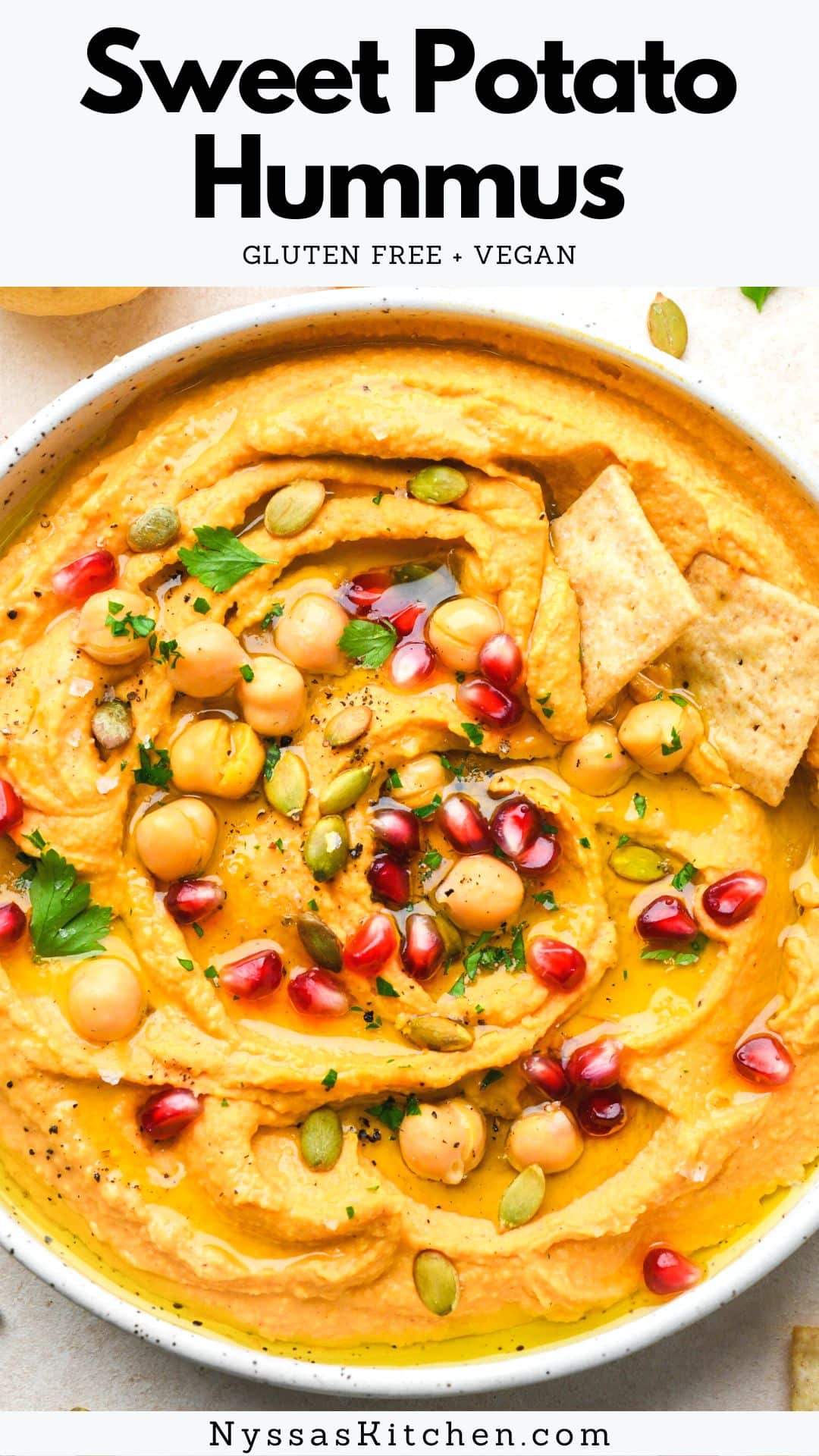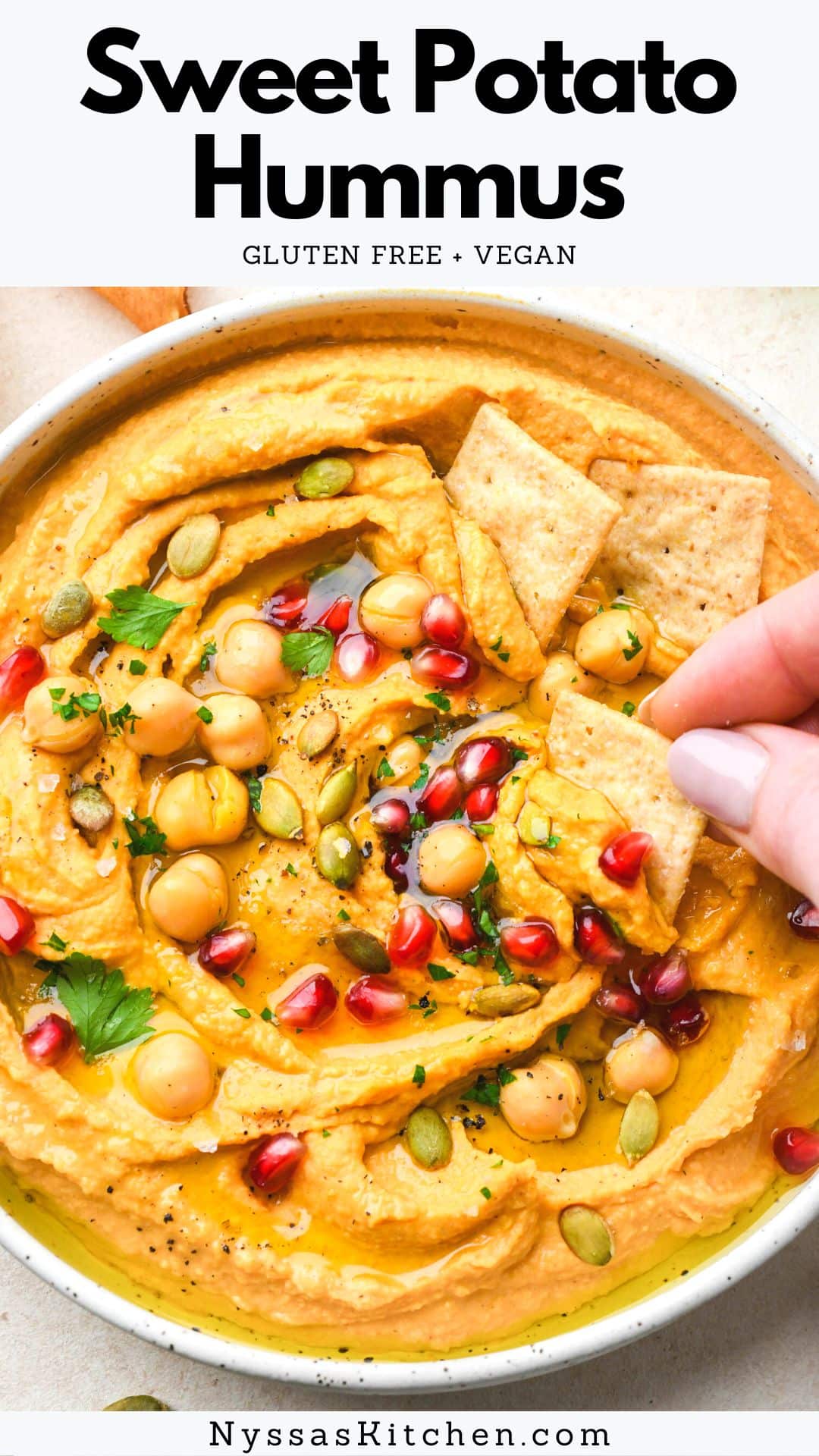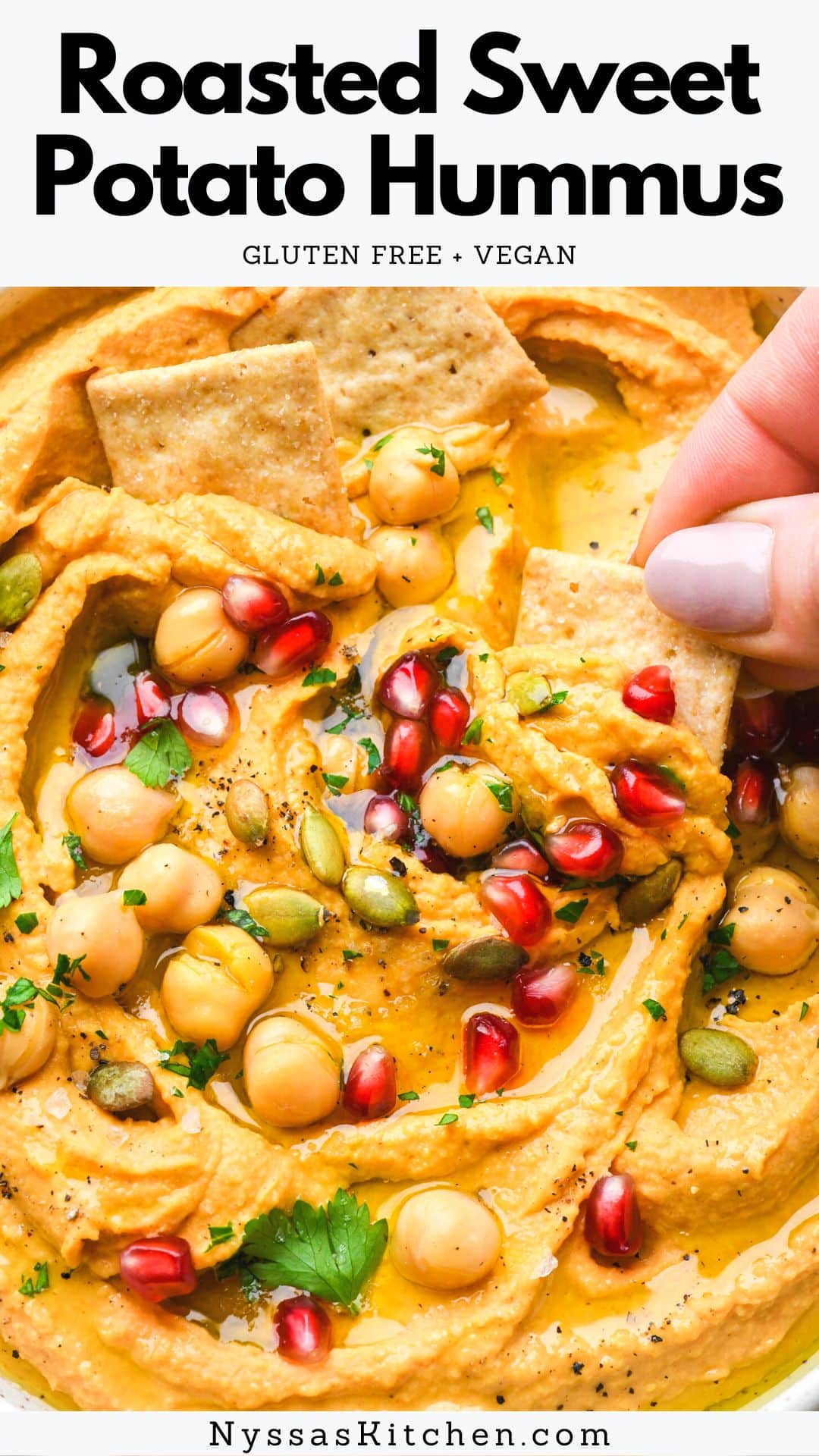 Sweet potato hummus is an extra yummy seasonal twist on a classic hummus recipe that makes the best healthy snack or appetizer for your next get together (or weekly meal prep)! Made with chickpeas, roasted sweet potatoes, a blend of flavorful spices, tahini, and lemon juice. A perfect snack for dipping your favorite crackers and veggies. Gluten free, vegan, dairy free.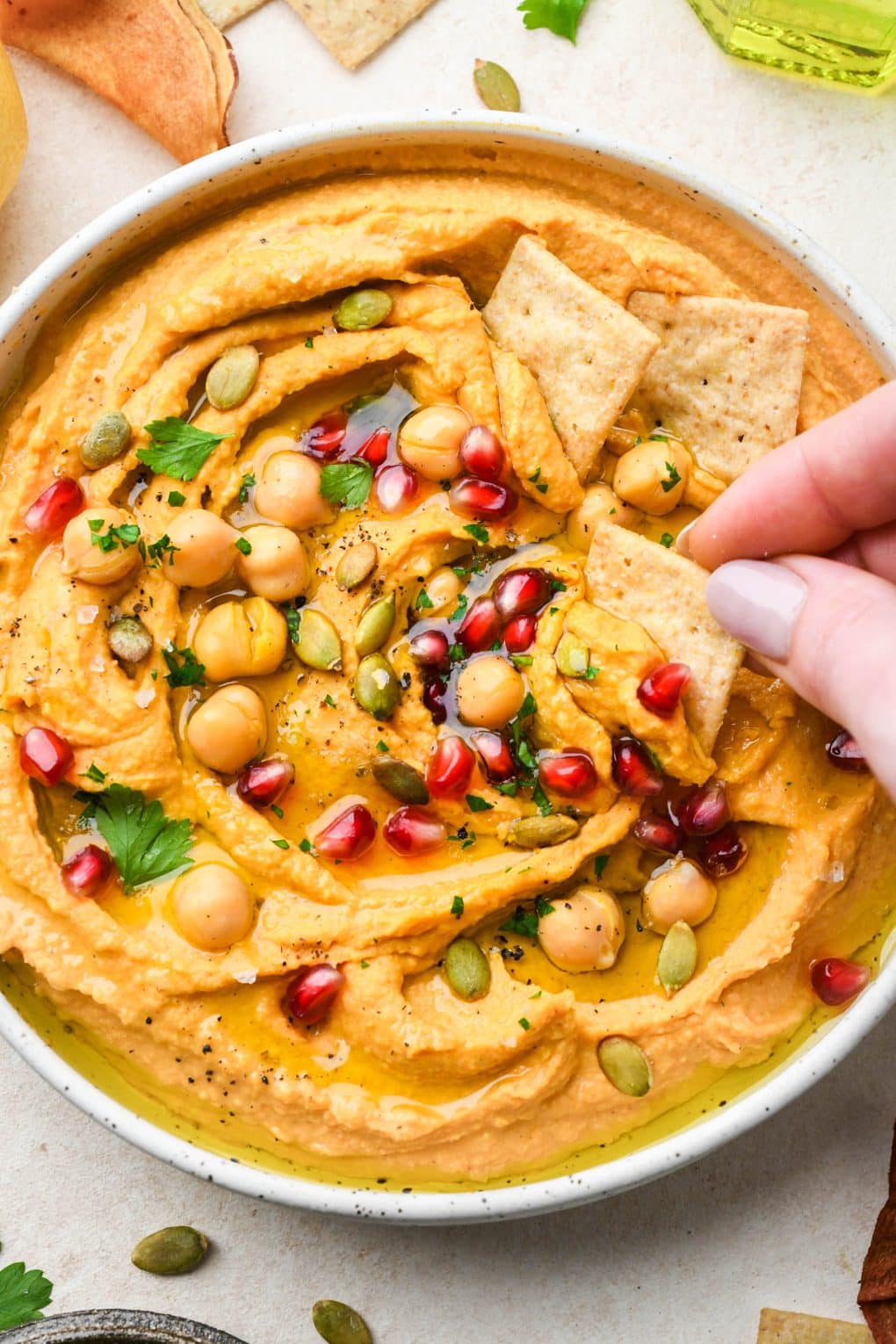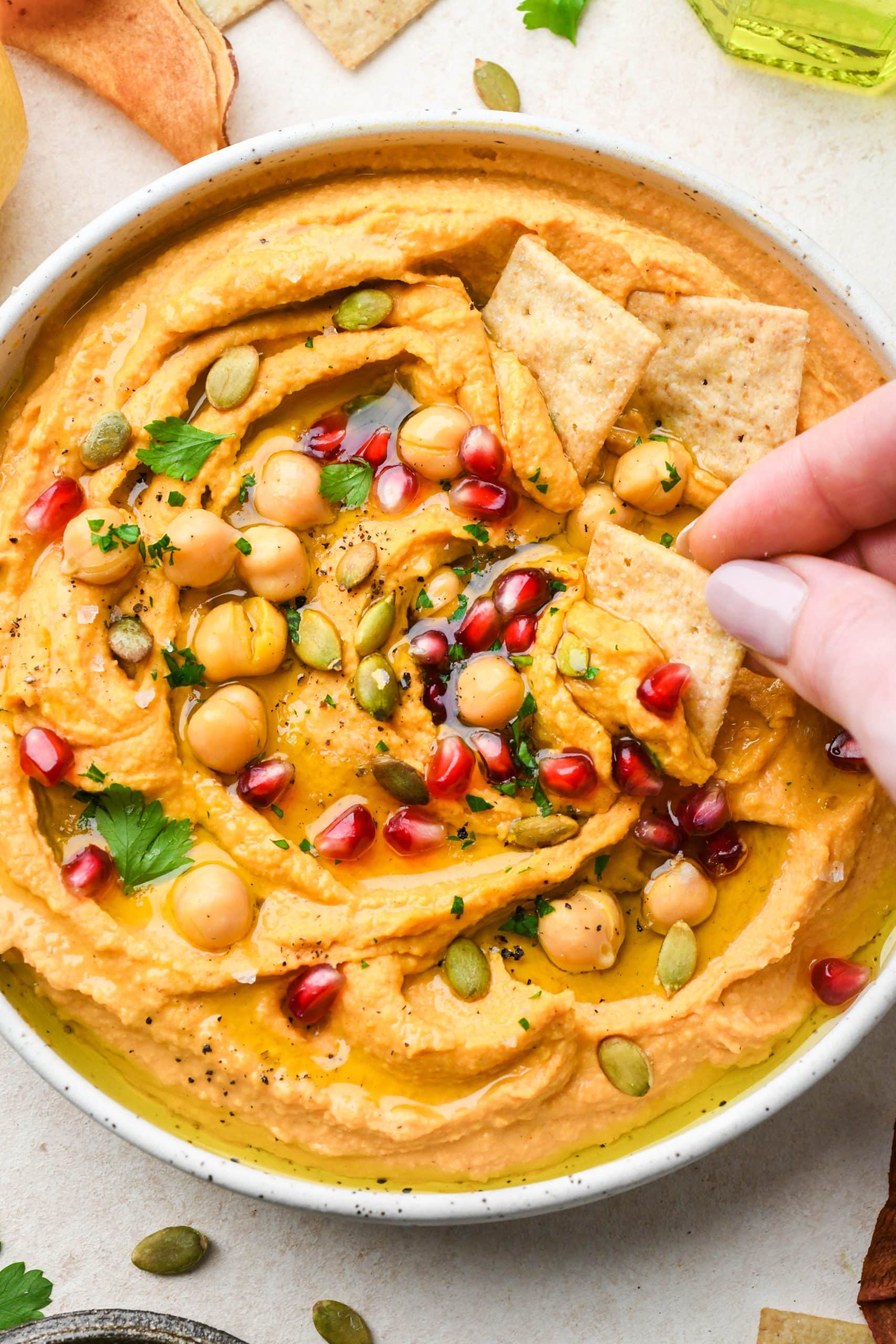 The best sweet potato hummus
Made with cooked chickpeas, tender roasted sweet potato cubes, tahini, an irresistible blend of spices, and lemon juice, this hummus is so good it's hard to stop eating once you dig in!
A healthy homemade dip that is perfect for everything from holiday gatherings to weekly meal prep.
Simple and easy to throw together, it requires little prep outside of roasting the sweet potato and measuring a few ingredients before blending them all together in your food processor or blender.
Garnishes are totally optional but they do add a nice touch if you're serving it for a party or as a part of your holiday spread.
We love to enjoy it with our favorite gluten free crackers, veggie chips, or fresh cut vegetables!
Why you'll love this healthy dip
It is:
Easy to make
Super flavorful
Smooth and creamy
Perfect for parties and get togethers
Gluten free and vegan
Healthy and nutrient dense
Festive and colorful
So irresistible!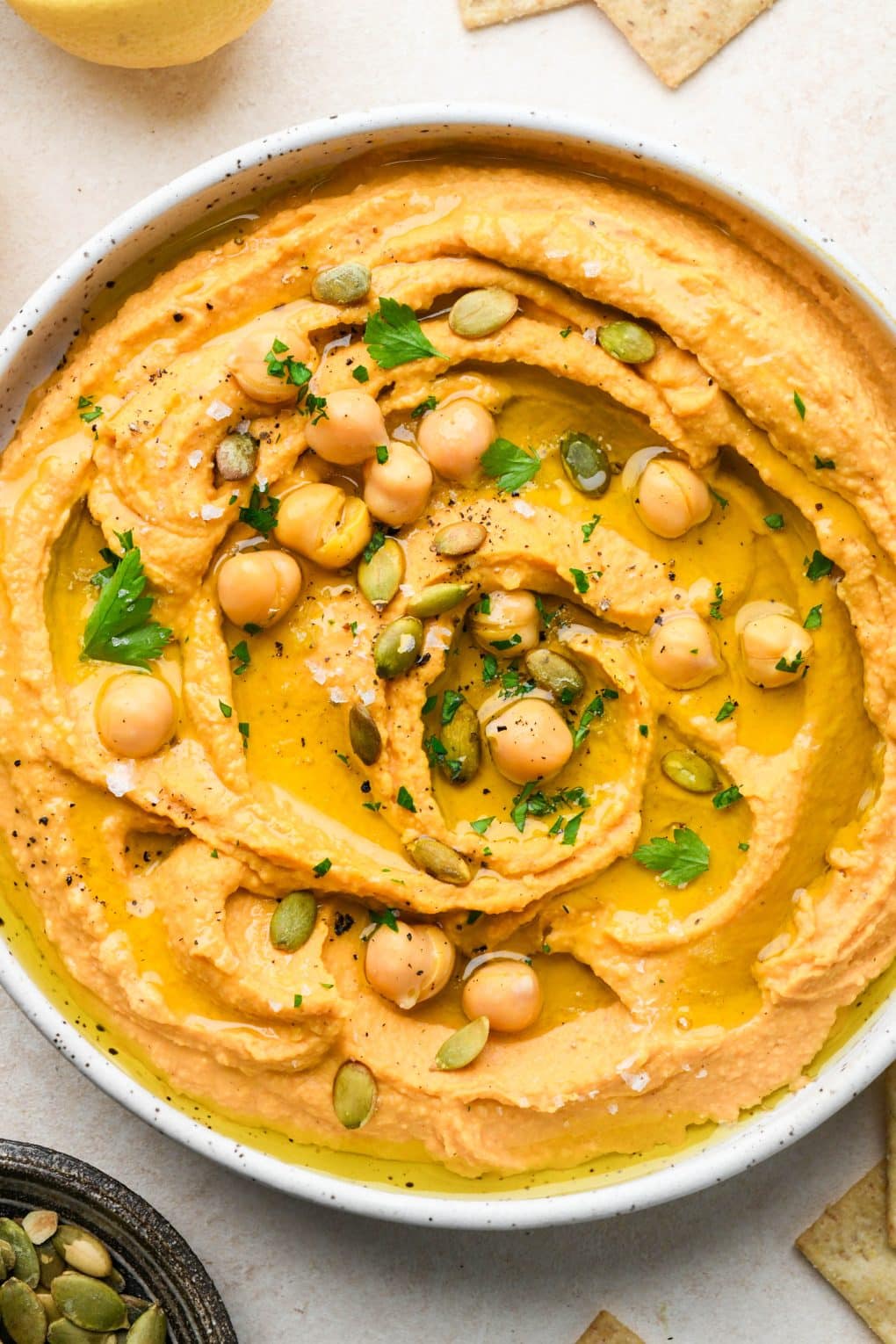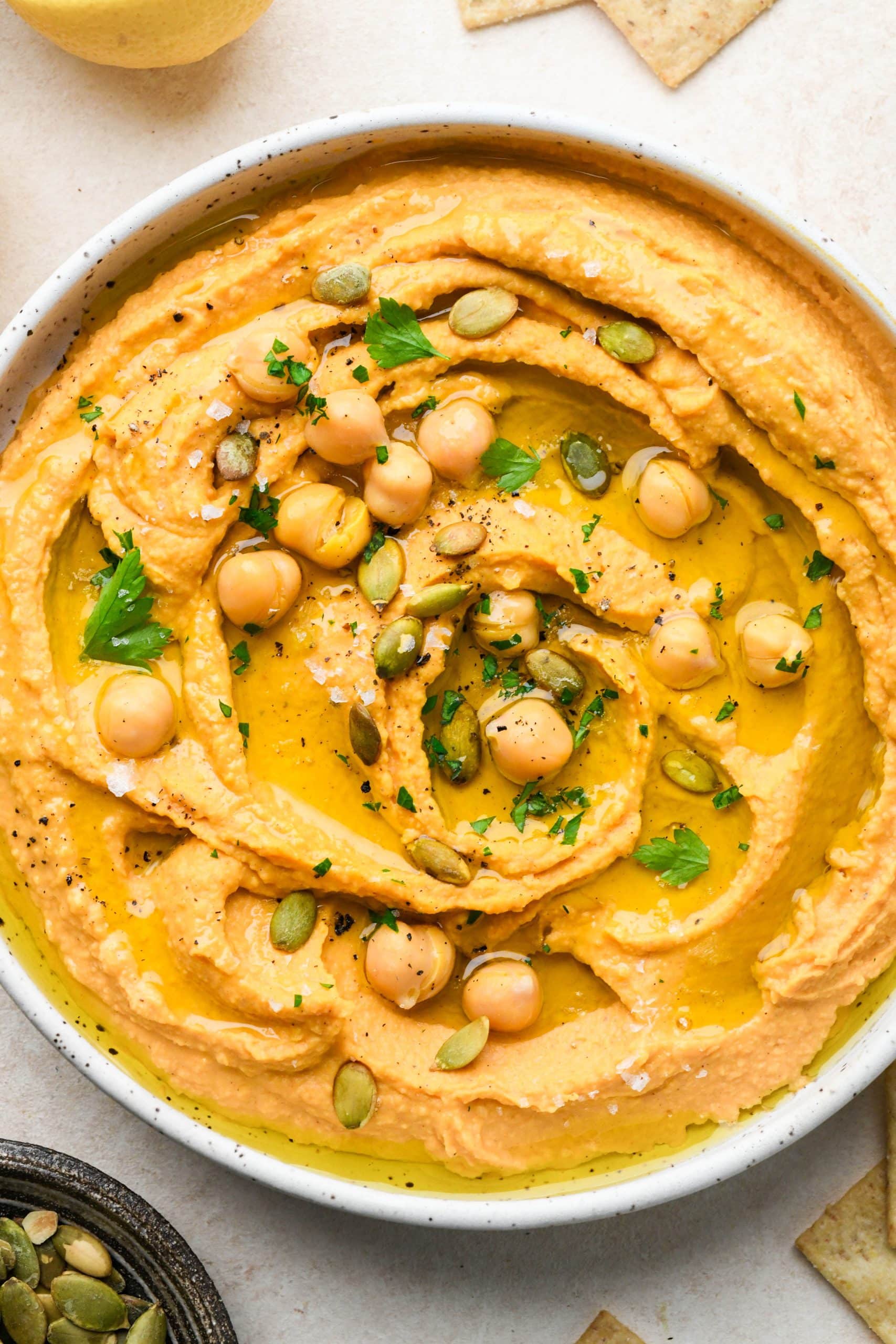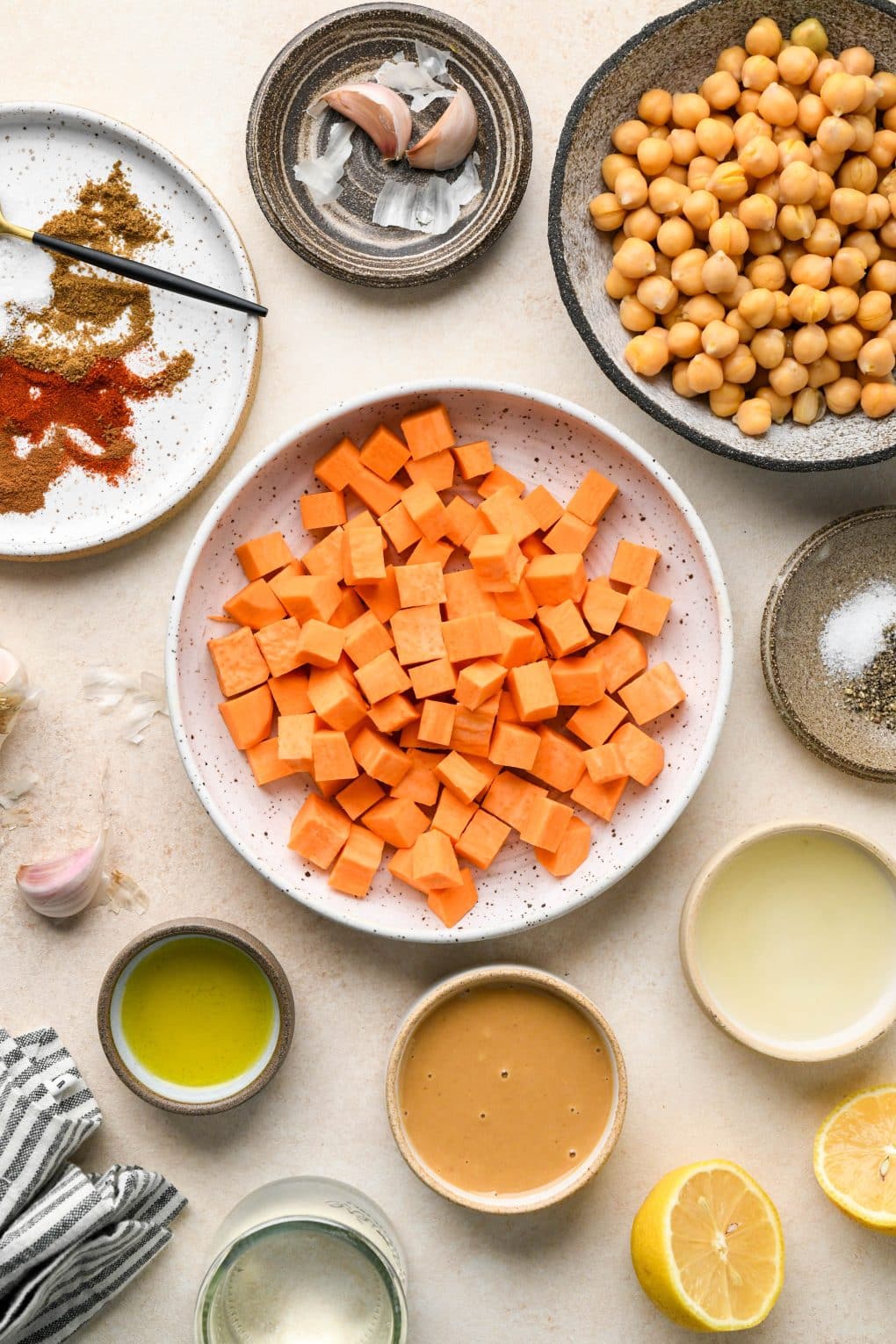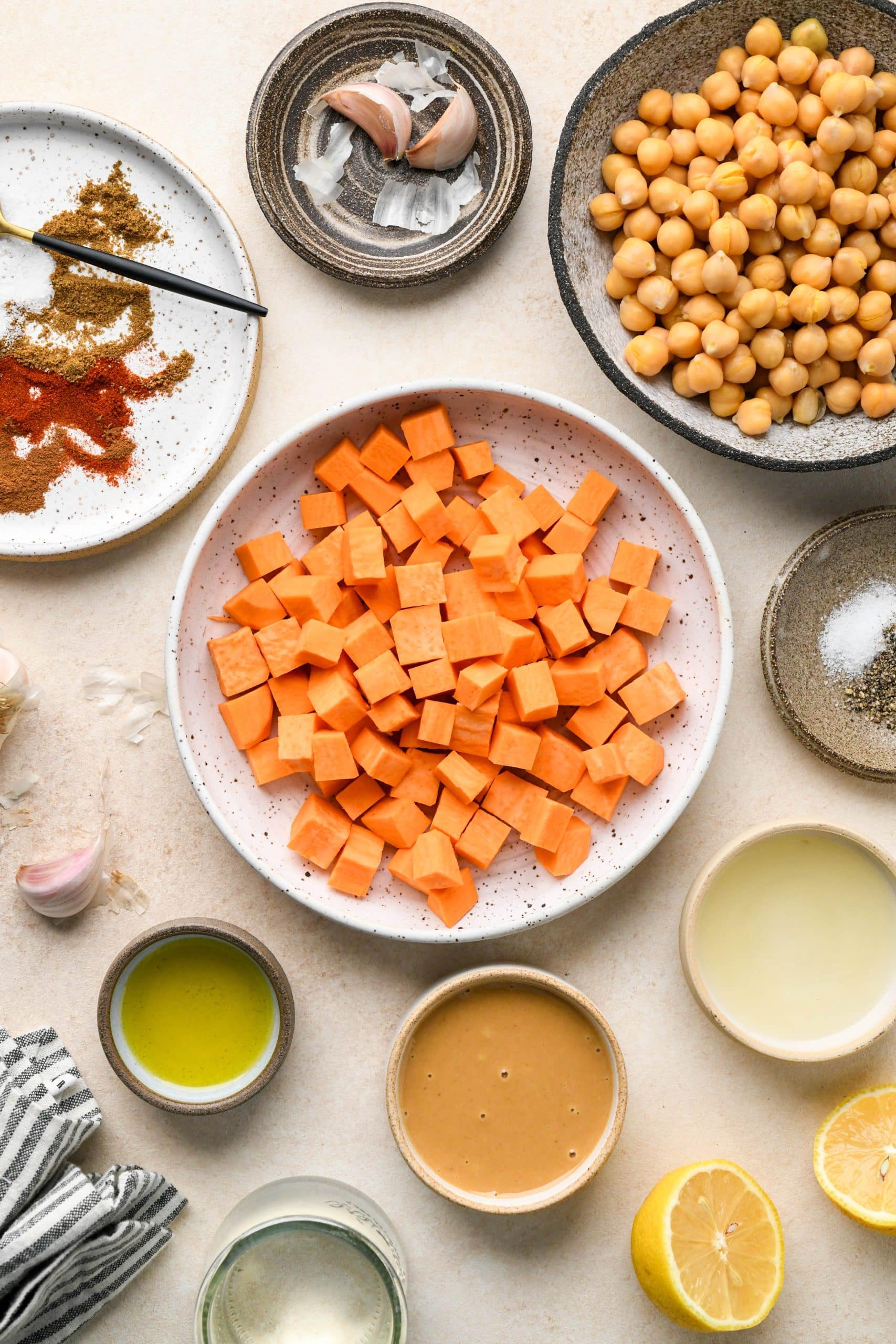 Ingredients and substitutions
All it takes to make this hummus are a few simple pantry friendly ingredients and sweet potatoes!
Here's what you need
Sweet potato – Diced into small cubes and roasted until tender with a little olive oil, salt, and pepper.
Chickpeas – For convenience I typically used canned chickpeas (also called garbanzo beans).
Garlic – One or two cloves, depending on your preference.
Tahini – Tahini is the classic choice for hummus recipes, but you could also use cashew butter in it's place.
Lemon juice – For a bit of bright acidity. Lime juice will also work well.
Spices – To amp up the flavor, I've used cumin, cinnamon, and smoked paprika. Some chili flakes would be a nice addition for a little bit of heat!
Water – To thin the hummus to your desired consistency.
Options to garnish
This hummus is delicious on it's own, but can be taken to the next level by adding a few colorful garnishes.
We love to top it with:
An extra drizzle of olive oil
A few reserved whole chickpeas
Pumpkin seeds
Fresh parsley
Pomegranate seeds
Flaky sea salt and fresh cracked black pepper
It would also be delightful topped with this pomegranate relish or a drizzle of honey!
Tips for picking the best sweet potato
There's a few simple things to look out for when picking a good sweet potato at the store.
Make sure that they have firm, blemish free skin – avoid soft spots, dark brown spots, or sweet potatoes with wrinkled skin.
There are lots of sweet potato varieties out there, but I'd recommend choosing an orange or red fleshed sweet potato for the most consistent results with this recipe. These are the red garnet or jewel varieties and are commonly found in grocery stores.
What can I use instead of chickpeas / garbanzo beans?
If you don't have any chickpeas on hand, an equal amount of white beans make a great alternative!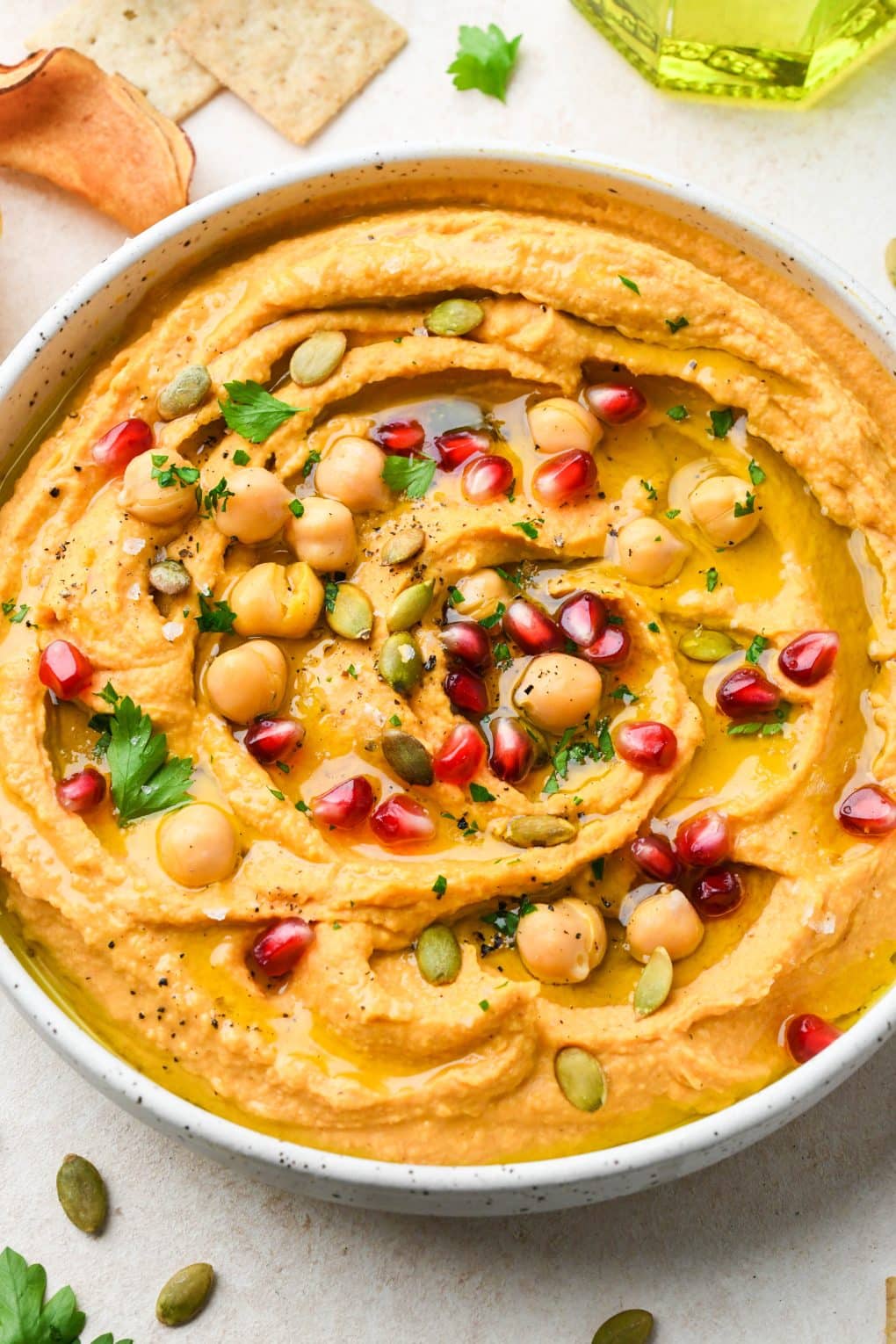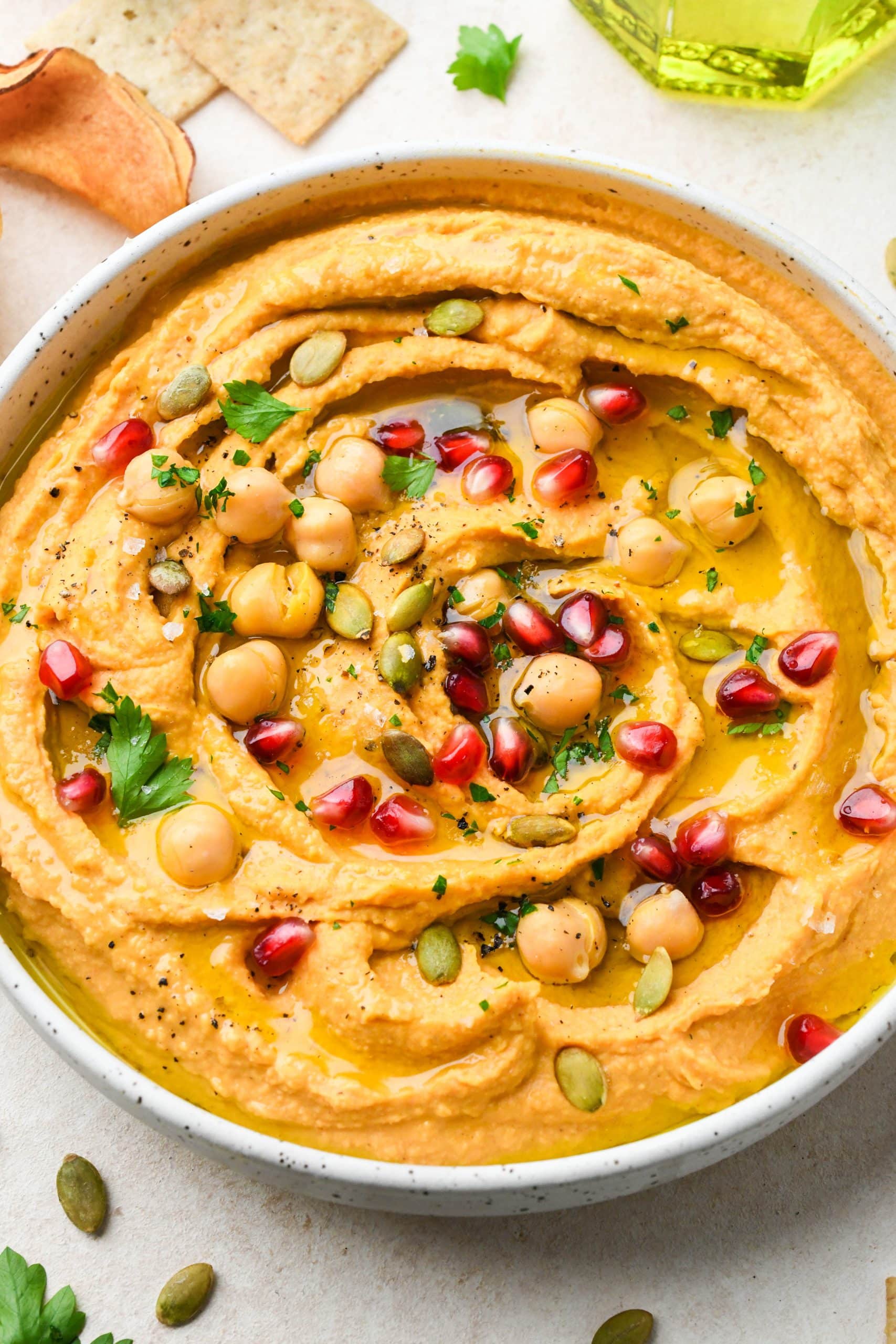 How to make homemade sweet potato hummus
This healthy hummus is so easy to make!
After using my simple method for roasting the sweet potatoes, all you need to do is process everything together in a food processor or blender until smooth and creamy.
Here's the step-by-step
Roast sweet potatoes. Preheat oven and toss diced sweet potato cubes with olive oil, kosher salt, and black pepper. Roast until tender and starting to caramelize on the edges.
Make hummus. Add sweet potatoes to the container of a food processor or blender with remaining ingredients and process on high until smooth, thinning with additional water as needed.
Season, garnish, and serve! Season to taste with salt and pepper and serve topped with your favorite add-ons!
Is this sweet potato hummus spicy?
No, this hummus is not spicy.
If you'd like to add a little kick of heat a generous dash of cayenne or chili flakes would be a great option!
Serving suggestions
We love serving this hummus as a delicious dip for the holidays, as an appetizer, or a mid week snack!
It pairs perfectly with your favorite crackers, chips, and fresh cut veggies.
It would also be a delightful addition to a hummus bowl with protein and veggies, scooped alongside a hearty fall salad, in a wrap, or on a sandwich.
Expert tips
Roast sweet potatoes until soft and slightly caramelized, but not crispy. If the sweet potatoes are roasted for too long the crispy bits can add unwanted texture to the hummus. Keep them in the oven until just soft and starting to caramelize (for some nice toasty flavor!), but no longer.
Thin with water until desired consistency is reached. The amount of water you need will depend on the water content in your sweet potatoes and how thick the tahini is. Don't be afraid to add extra water to thin to desired consistency, keeping in mind that if you plan to chill the hummus before serving it will thicken up in the refrigerator.
Use high quality olive oil, chickpeas, and tahini. Because the ingredient list is so simple, starting with the highest quality ingredients you can find will have a profound impact on the overall flavor of the hummus!
Add garnishes just before serving. For the freshest presentation, add your garnishes just before serving.
How long will it keep in the refrigerator?
This hummus should store well in a sealed container in the refrigerator for up to 5 days.
Can you freeze hummus?
Generally speaking hummus (without garnishes) should freeze well for up to 4 months. If it separates after thawing simply give it a quick whirl in your food processor or blender.
To thaw: Allow to defrost in the refrigerator for 24 hours before eating.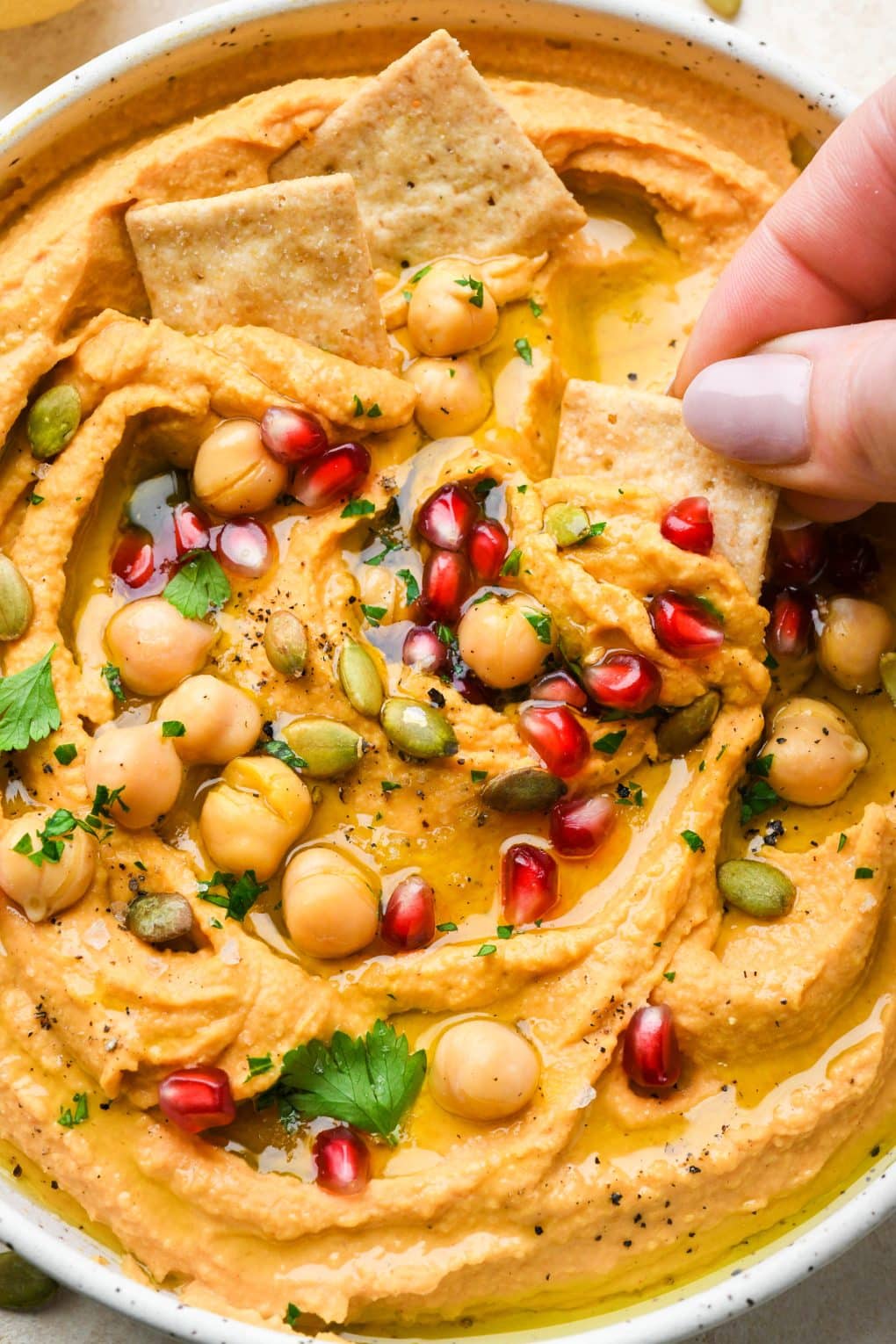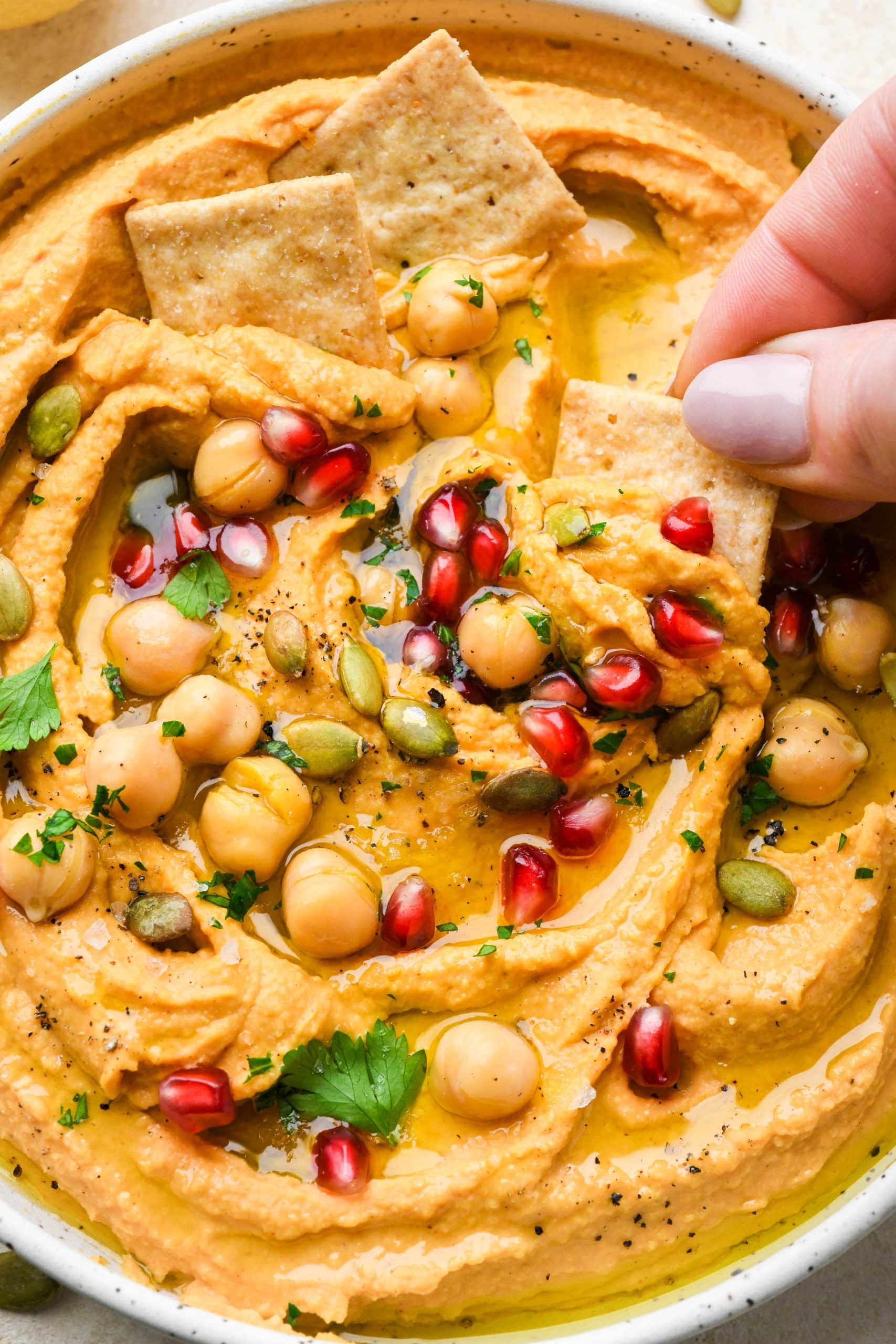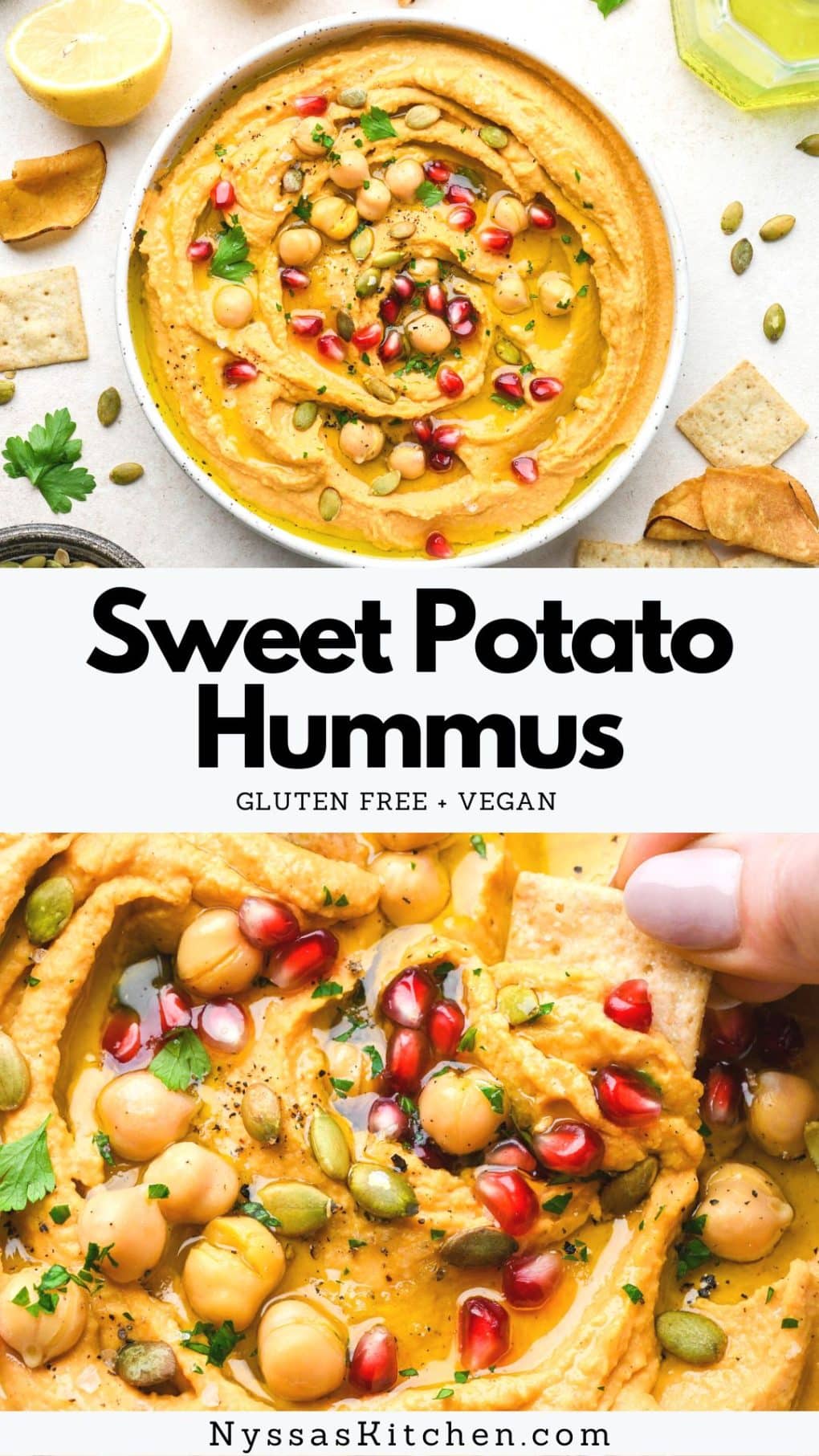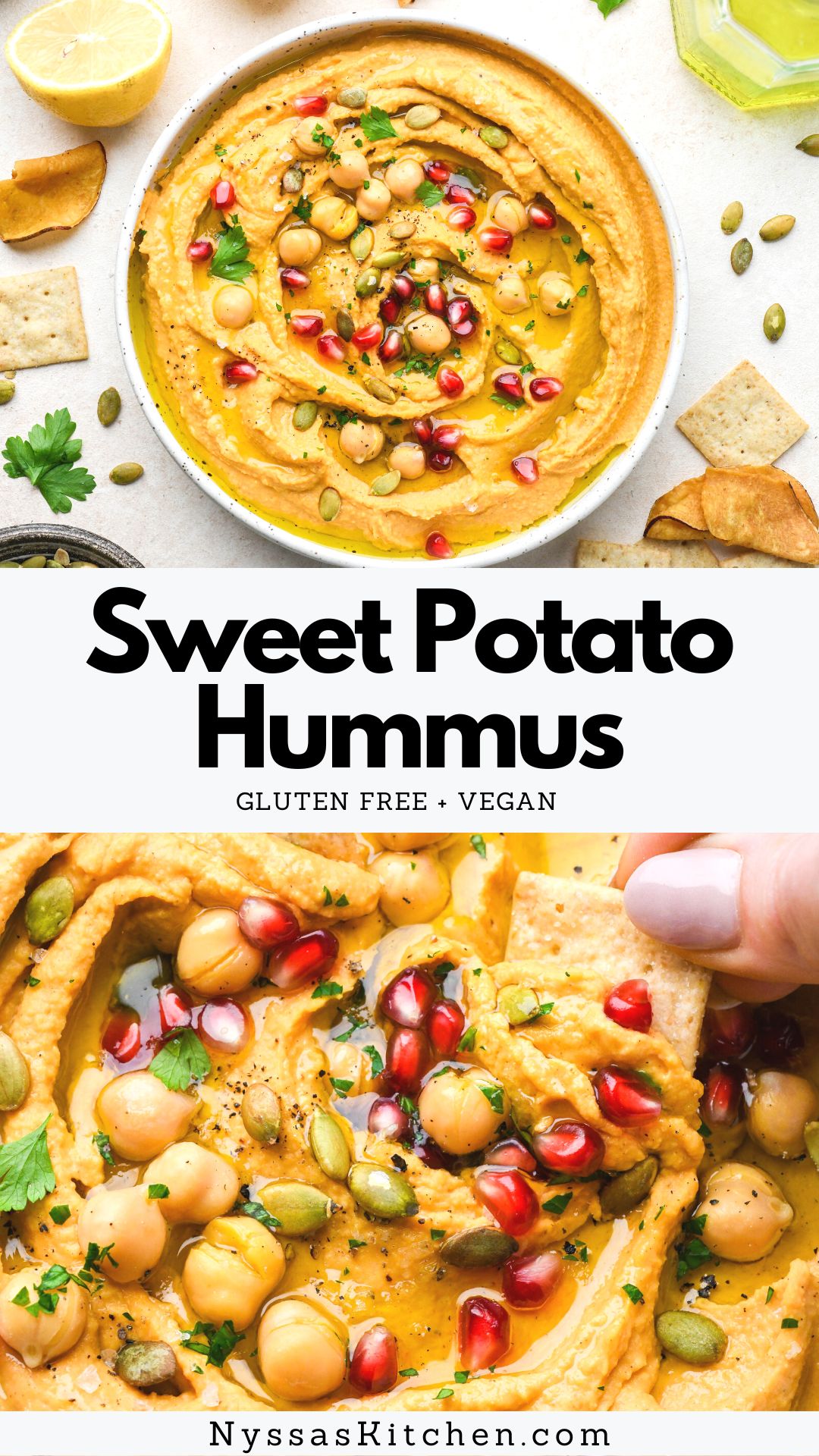 Love this hummus recipe? Try these other yummy homemade snacks!
If you enjoyed this recipe we'd love it if you would take 5 seconds to rate and review it below! It's also super helpful for other readers if you share any modifications you made to the recipe. Thank you for sharing your kitchen with NK! We're so grateful you're here.
Print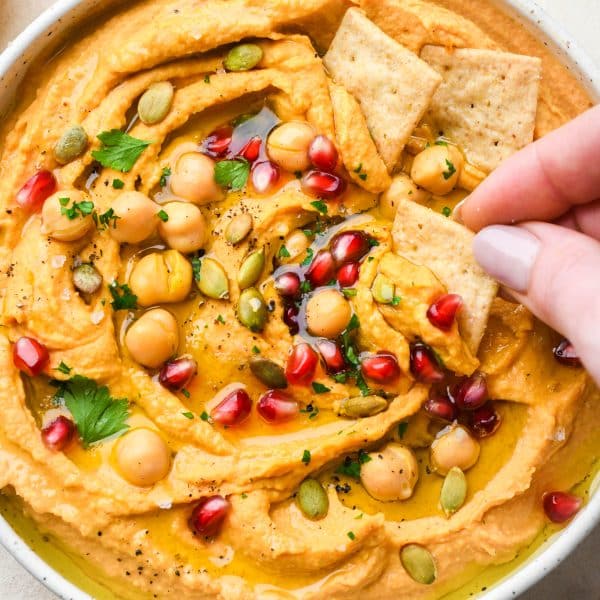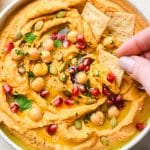 Sweet Potato Hummus {Gluten Free + Vegan}
---
---
---