This creamy cashew queso dip is made with ZERO processed ingredients, for an authentic tasting, full flavored, dairy free alternative to this well loved dip. SO crave worthy and made with anti-inflammatory, good-for-you ingredients! Vegan + whole30 compliant.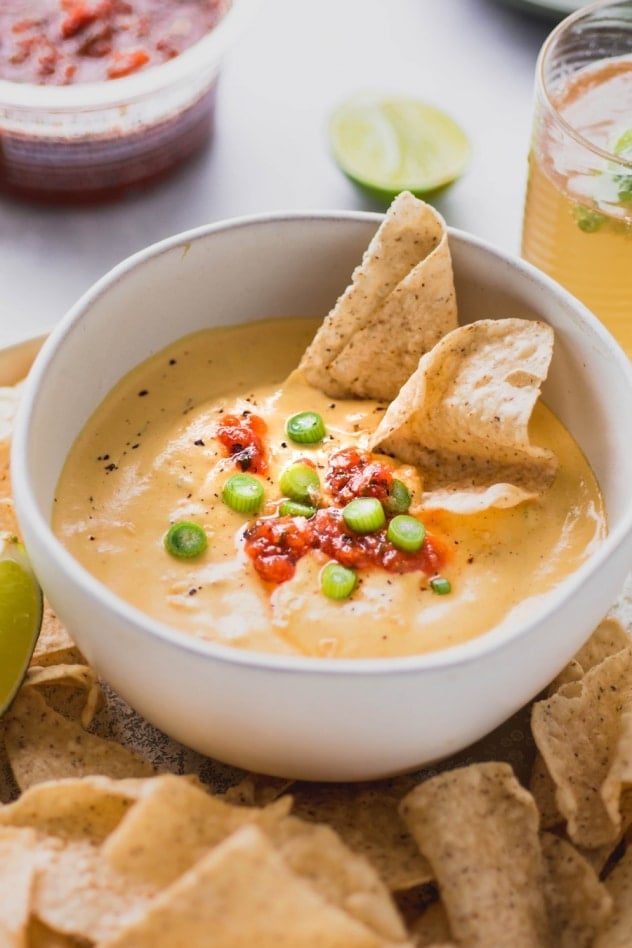 Say it with me: QUESO QUESO QUESO! That's right. We're talking cheese dip today. But not just ANY cheese dip.
This creamy cashew queso dip is made with no dairy – NONE. Only simple + good-for-you plant based ingredients that make it vegan, paleo, and whole30 compliant.
I have been wanting to share a recipe for this for awhile because queso is one of those delicious snacks that has the power to make a person SO happy. Amirite?! And I think we can all agree that everybody needs more happy food in their lives.
Maybe it's because dipping things into creamy, gooey cheesy flavored goodness is close to a spiritual experience, or maybe it's just because it's so damn delicious. Either way – I'M IN and I hope you are too!
Because you can have a queso party for one, but it's a lot more fun if we all show up! 😉