Creamy and delicious bulletproof coffee is a staple at our house in the mornings! Made with healthy fats and customizable with adaptogens and flavor combos that will bring a little more YUM to your morning cup of joe. Today I'm sharing how to make bulletproof coffee in 3 easy steps so you can start your day on the right foot!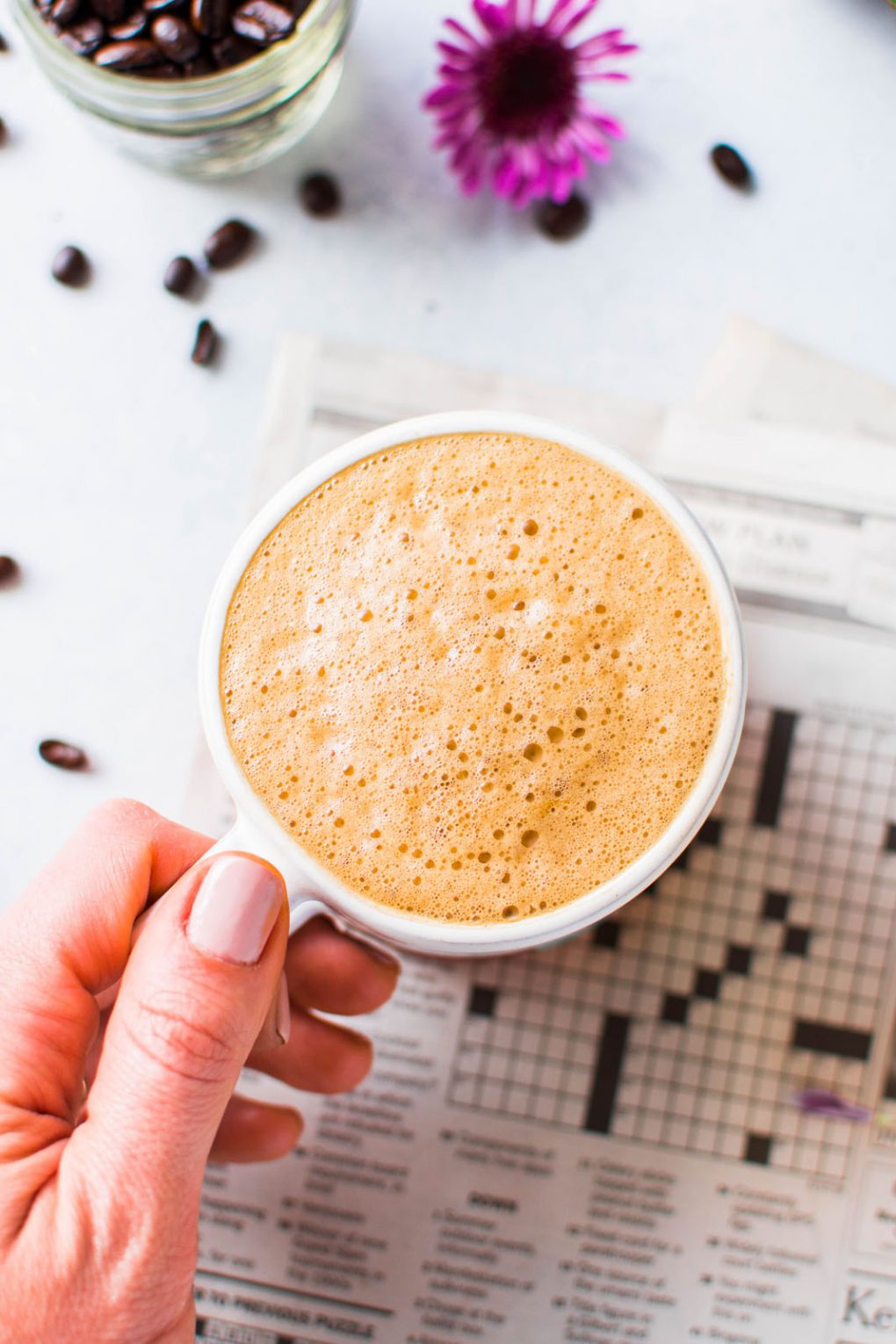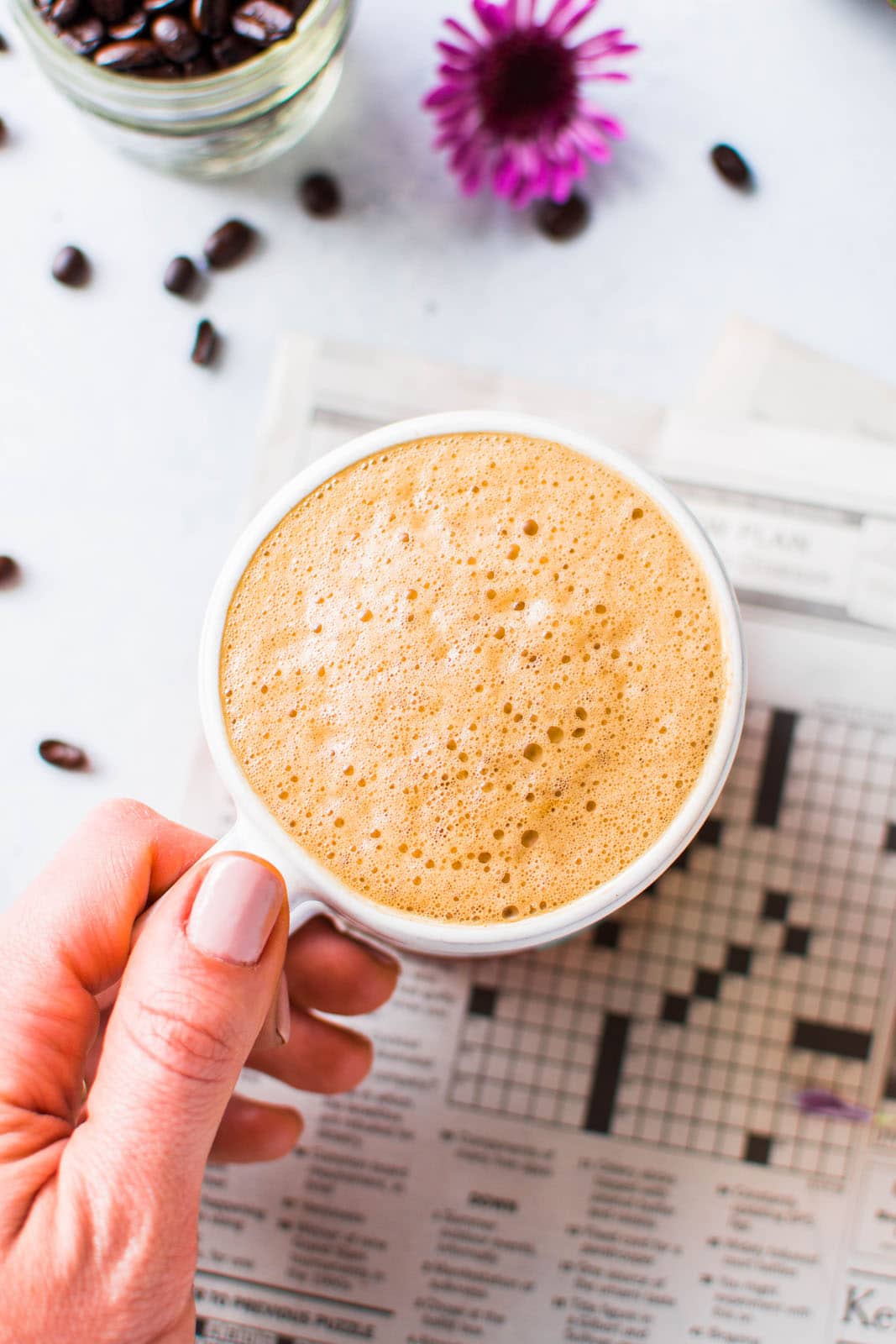 I'm not gonna lie. Discovering how to make bulletproof coffee in 3 easy steps AT HOME was nothing short of a life changing experience for me.
I had tried it a few times and heard people talk about it for a long time before I made it myself, because somehow it seemed intimidating. Every time I even THOUGHT about making it myself I ended up with more questions than answers.
What even IS bulletproof coffee?
Is bulletproof coffee good for you?
Can you make it hot AND cold?
Do you need a blender to make it?
Is it sweet? Not sweet?
How do you make it so creamy?
What does it taste like?
But mostly – how good could coffee with butter and coconut oil even BE?!
Well my friends, after taking a big deep dive into the world of bulletproof coffee (or boosted coffee, or butter coffee, as some call it) I'm happy to report that when you make it right, it is indeed very, very good. And not at all hard to make.
Why you'll love this bulletproof coffee
Picture your morning cup of coffee all LUXE, creamy, and flavorful with a rich fullness that not only energizes you but ALSO satisfies your every wish for what a morning beverage could be.
Yup, ALL THAT.
Now do you see why I'm so in love?
It's kind of like a latte but honestly better. Maybe like a latte on it's very best day. A day where latte's have superpowers.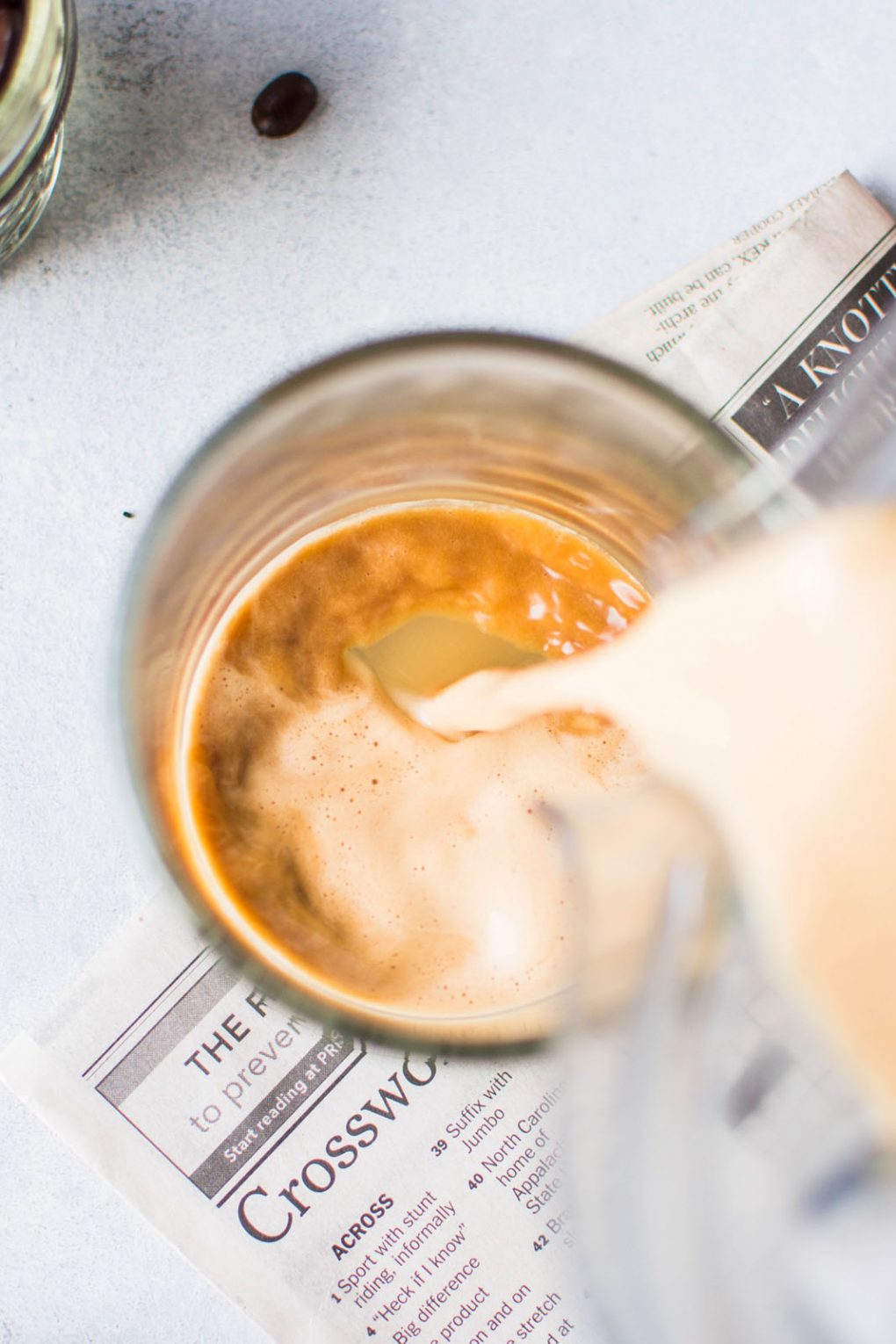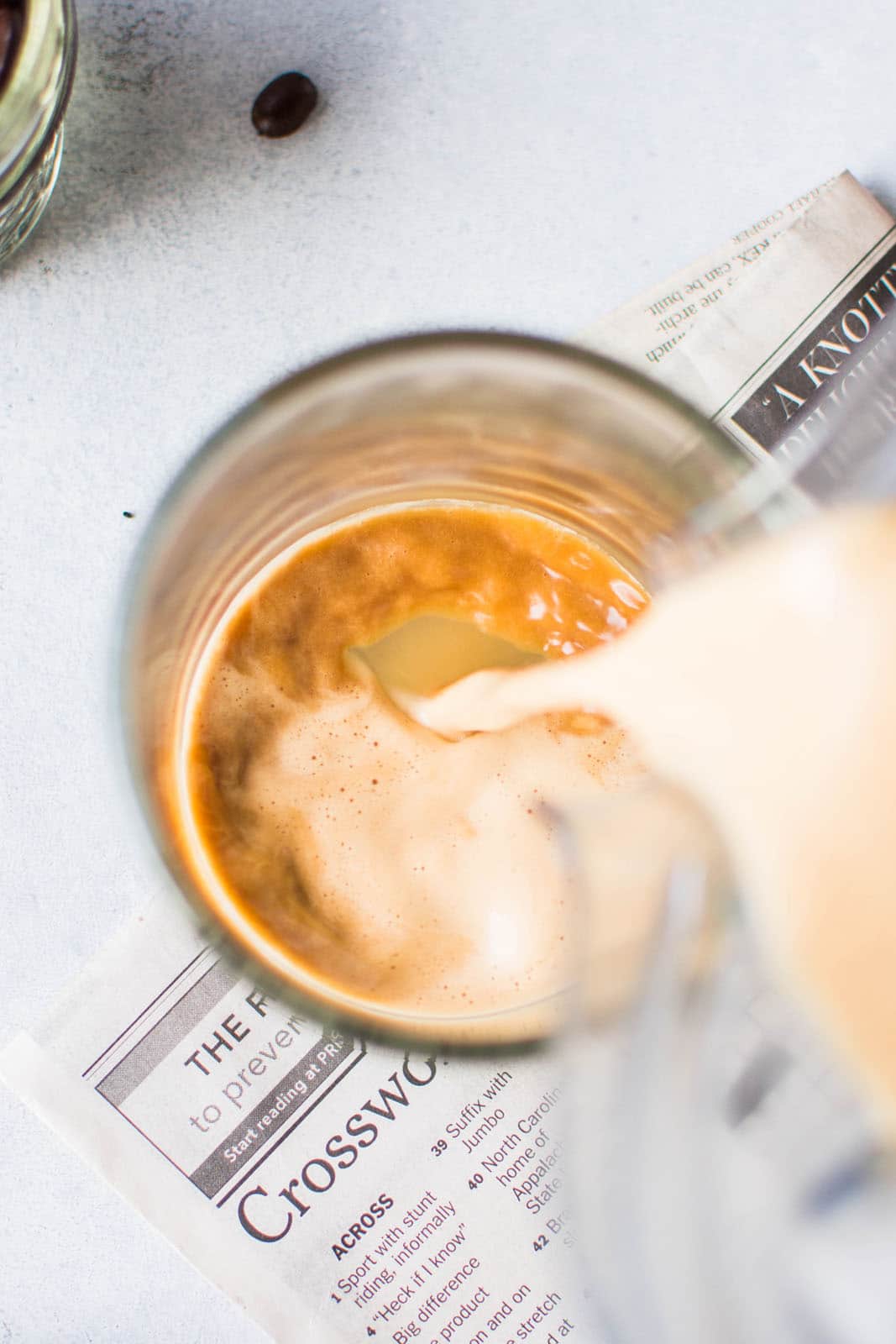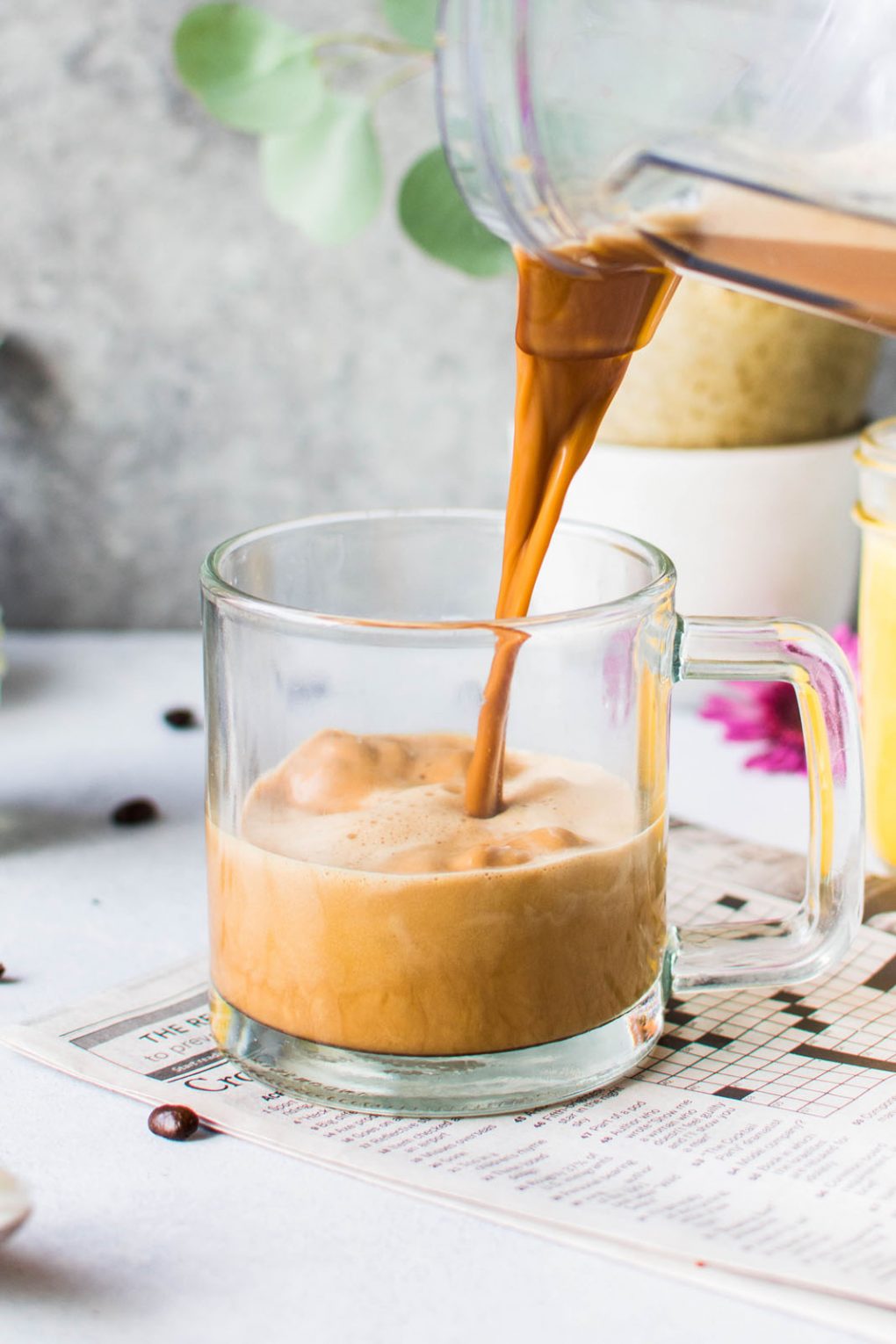 So let's ditch the intimidating thoughts and questions about bulletproof coffee and instead get EXCITED!
Because I'm about to answer everything you've been wondering about bulletproof coffee and teach you how to make it in 3 easy steps.
3 easy steps that you can experiment with to make a creamy cup of YUM that is all your own. AKA your very own dream bulletproof coffee.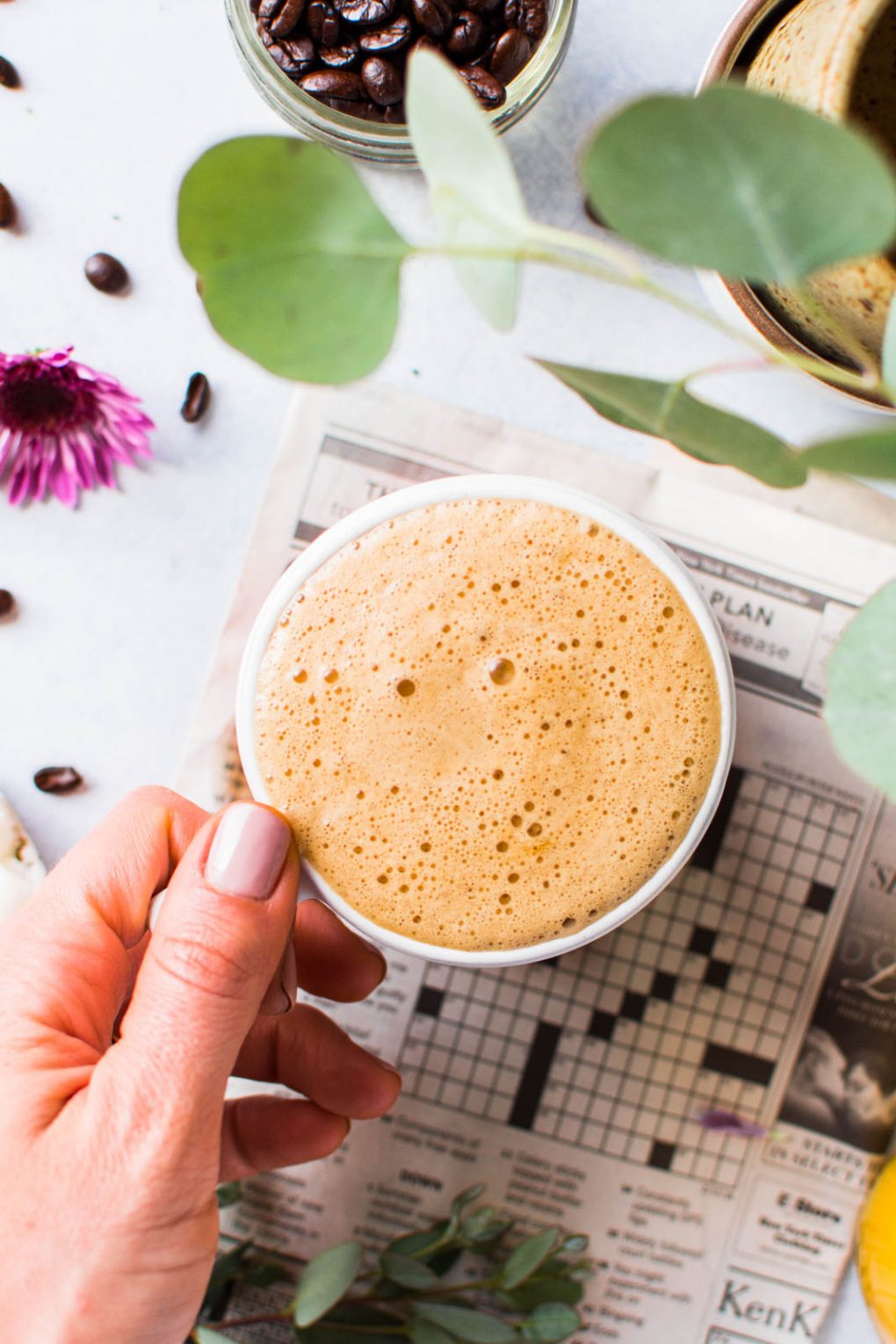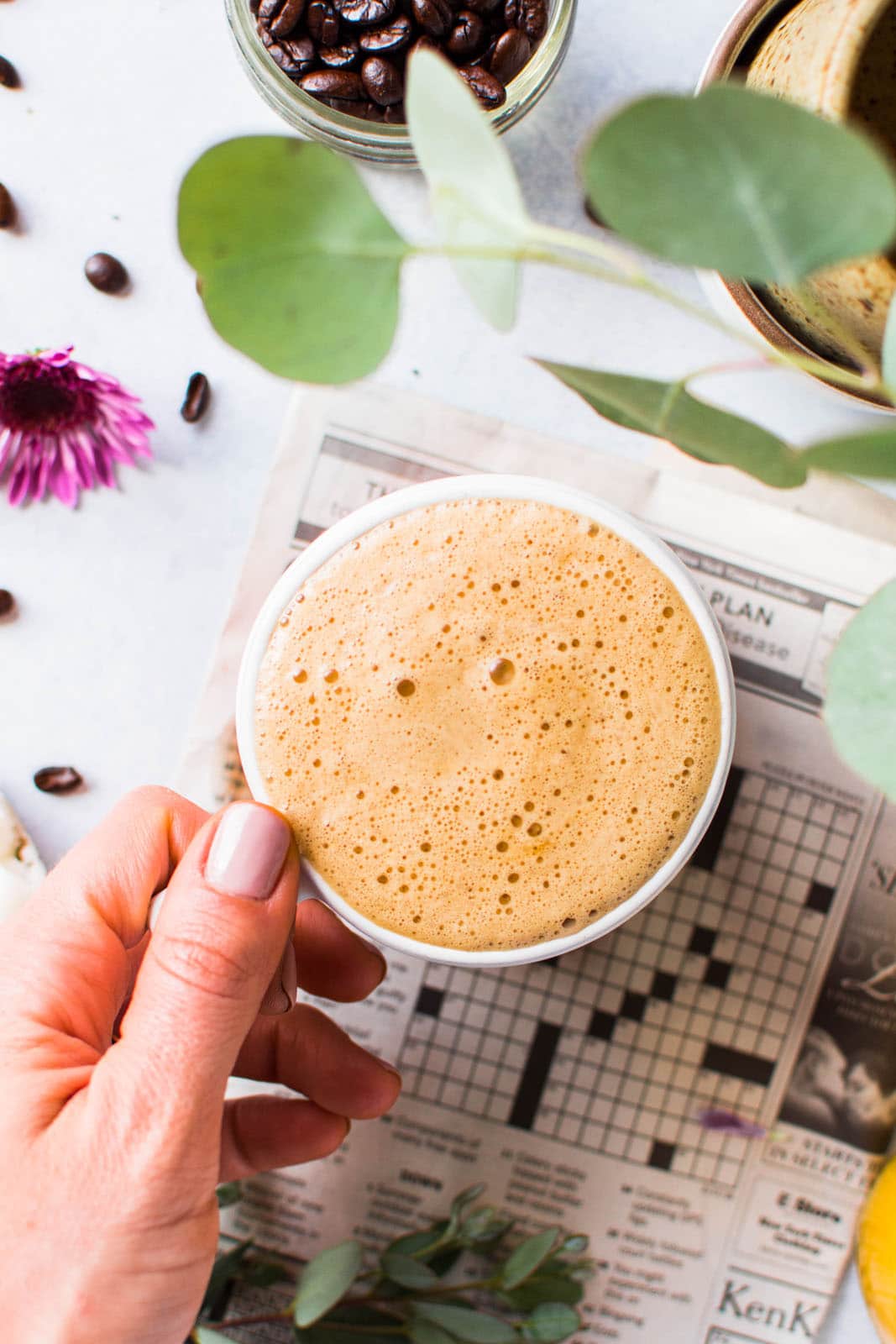 How to Make Bulletproof Coffee in 3 Easy Steps
The basic recipe for a winning cup of bulletproof coffee is:
Coffee + high quality fat + a blender.
Here's a little more detail on how to make bulletproof coffee in 3 easy steps:
Step 1: Brew Your Coffee
Anywhere between 10-12 oz is a good amount – basically a normal sized cup of coffee.
Dave Asprey from Bulletproof Coffee was the first one to put bulletproof (or boosted) coffee on the map in a really big way, and Bulletproof carries a whole branded line of retail products, including coffee beans that are certified clean and toxin free.
If you're highly sensitive to toxins you may want to give their beans a try, but it's not a requirement to making "bulletproof" coffee – you can just start with whatever coffee you usually brew on a daily basis.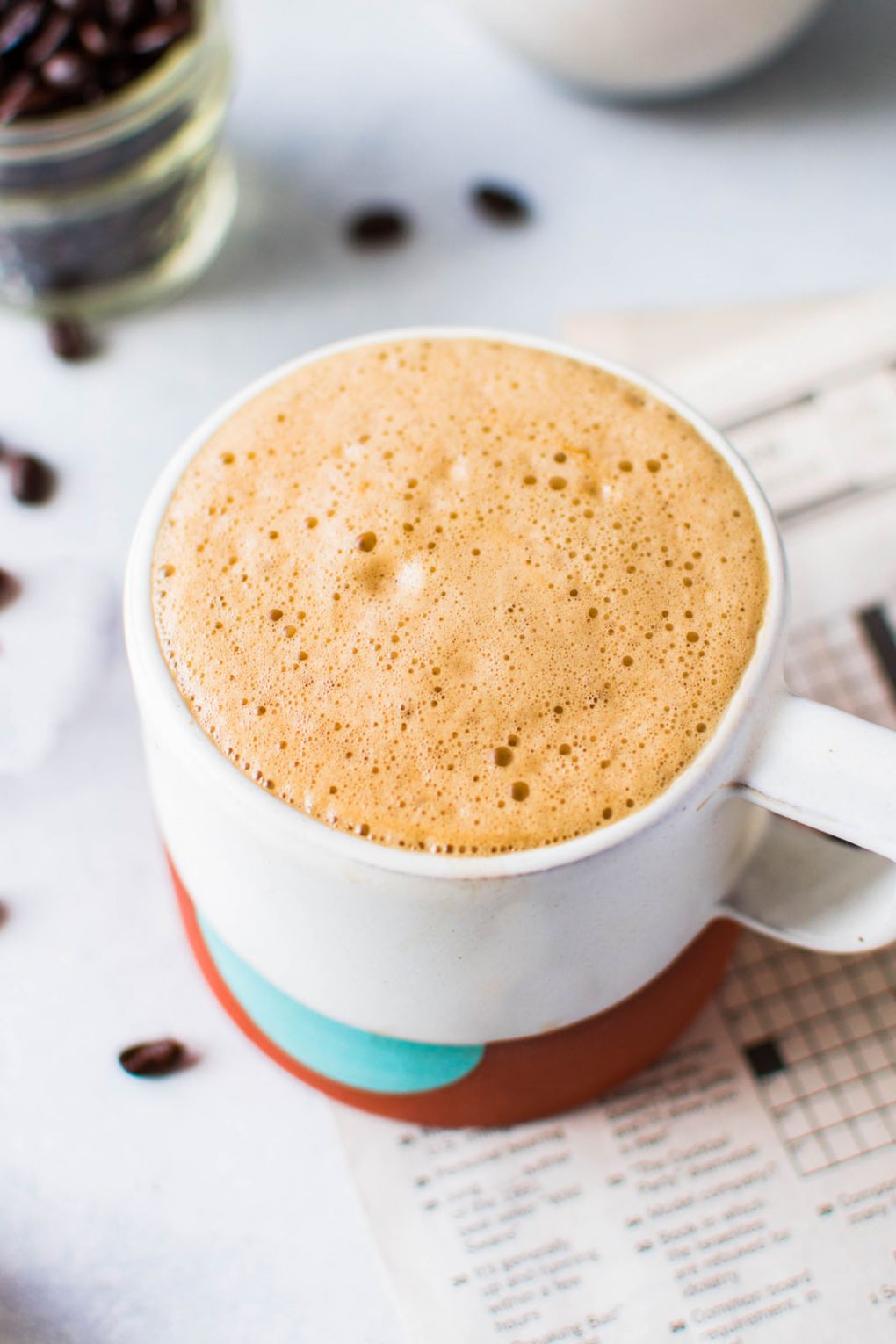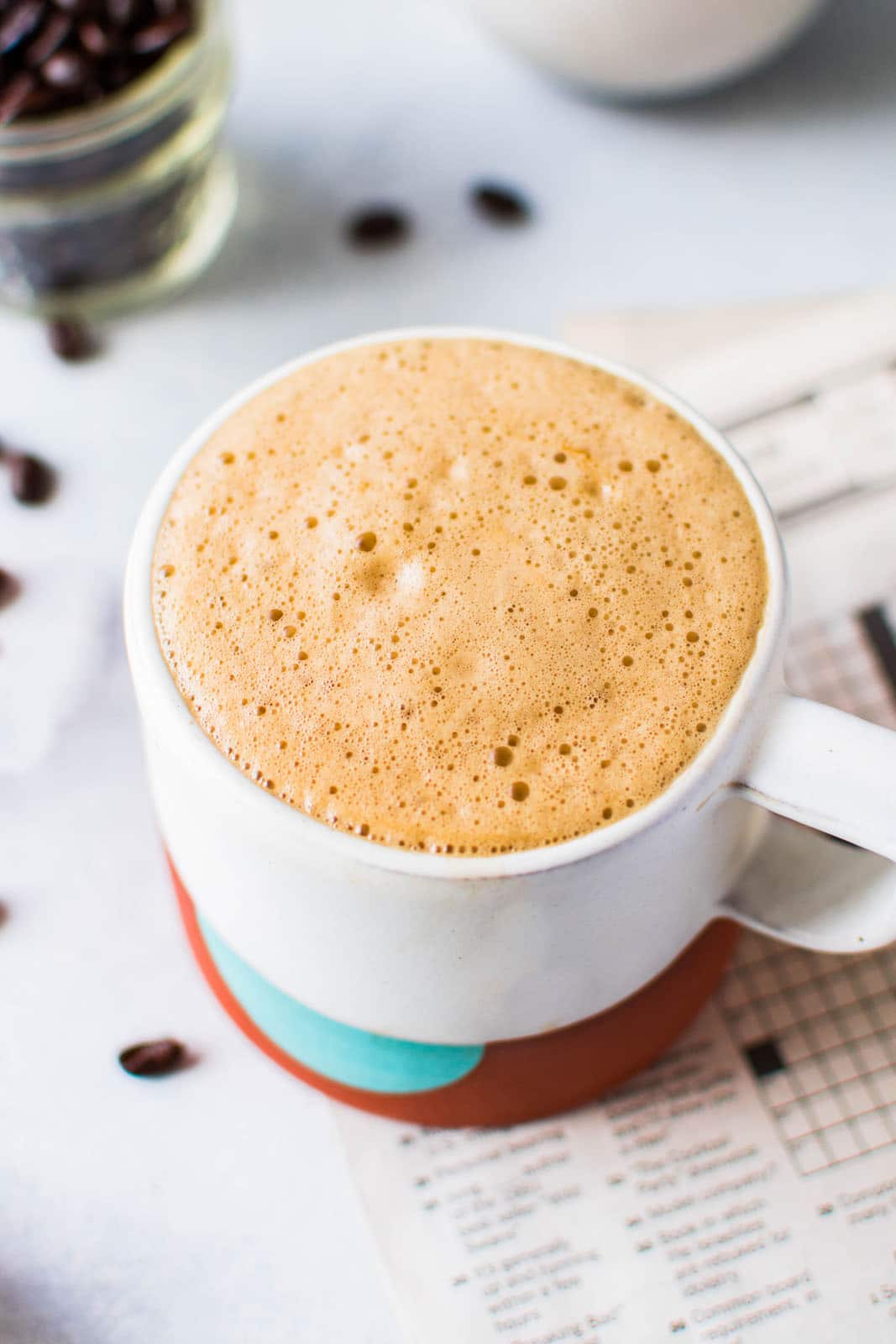 Step 2: Choose Your Fats
You have a lot of choices when it comes to healthy fats. I generally opt for a mix of either coconut oil or MCT oil, plus a little bit of ghee because it adds a really nice rich texture and flavor!
But you can use whichever of these you have on hand and/or like.
A good ratio for making your bulletproof coffee is about 1 tablespoon of fat to 10-12 oz of coffee
Here are some healthy fat options to get you started:
Many of these bulletproof coffee fat options can also be found on Thrive Market – a membership based natural products store that is like the Whole Foods of Costco but entirely based online and with the BEST wholesale prices.
I have been a Thrive Market member for 4 years and over that period of time I have saved a projected $4,123.66! That is some serious savings.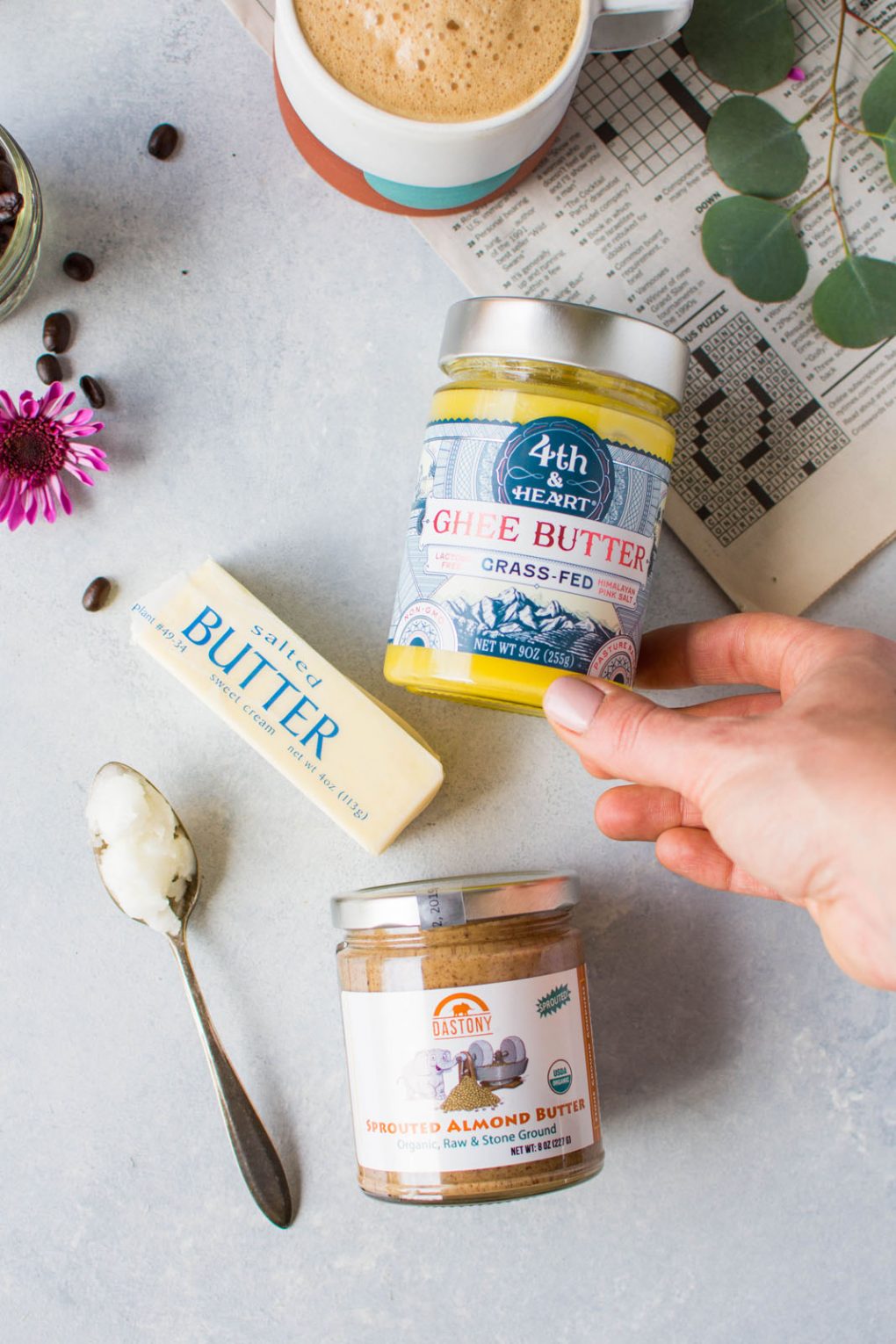 Step 3: Blend Your Coffee
Add your coffee with your chosen fats to a blender and process on high until creamy and emulsified. Pour yourself a warm serving of this nourishing caffeinated beverage and ENJOY!
It really is that easy.
If you want to go beyond the basic formula and take your bulletproof to the next level here's some ideas…
Bulletproof bonus additions aka a bonus step!
If you want to make your bulletproof coffee a little bit EXTRA, after you've chosen your fats it's time to think about what types of adaptogens, herbs, supplements, or flavors you would like to add.
Adding adaptogens
Adaptogens are plants or herbs that help regulate your bodies stress response and immunity.
Essentially they help your body ADAPT to daily stressors. It's like the smart version of herbal supplements – they adapt to what your body needs at that moment to regulate your system.
They can be a great tool for those managing auto-immune conditions, adrenal fatigue, digestive issues, and hormone imbalances.
If you want to dive a little deeper in to which adaptogens are good for what health issues here's a couple of articles from sources that I use and trust:
My Expert Opinion on Adaptogens for Hormone Health by Alisa Vitti
Adaptogen Supplements: Better than Dietary Supplements by Tero Isokauppila from Four Sigmatic
Adding adaptogens to your bulletproof coffee is an optional step, and what you choose to include is entirely up to you and your preferences.
Some of what I'll share below I add almost every time, and others I cycle through my days depending on how I'm feeling.
Here's a breakdown of the adaptogens I usually reach for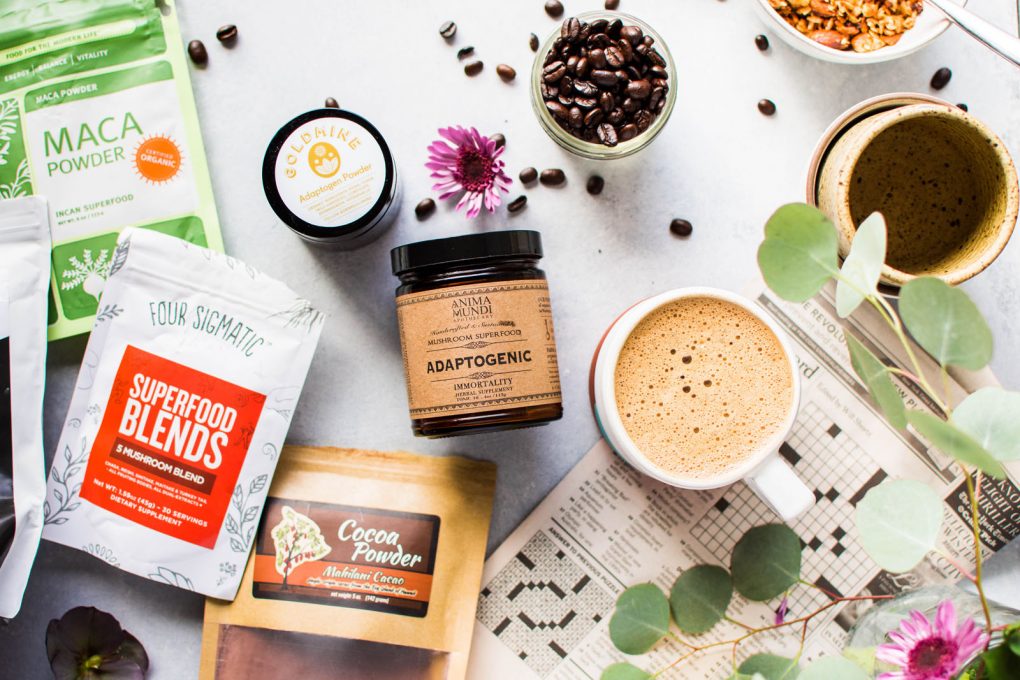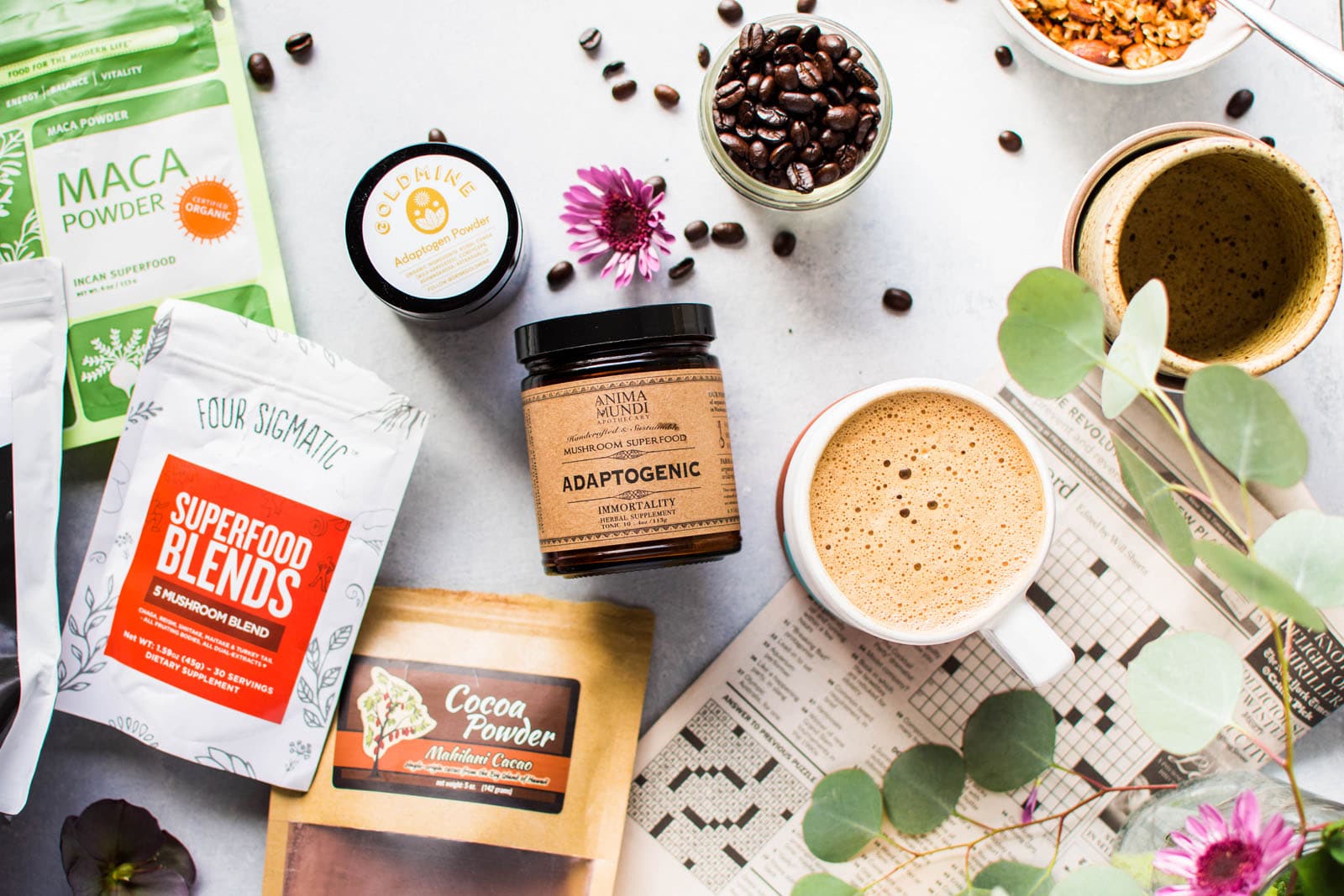 Adaptogens, herbs, and supplements for bulletproof coffee
Collagen peptides – I almost ALWAYS include a big scoop of these. I find it's an important supplement in my daily routine to help support nail strength, a healthy gut, healthy hair, skin, and joints. I definitely notice a difference in the health of my nails, skin and digestion whenever I fall off the collagen train. While not a complete protein (and therefore not recommended to take the place of a traditional protein powder), it does boast a nice array of amino acids that make up the building blocks of our bodies.
Maca powder – Also known as peruvian ginseng, this herbal supplement has been gaining a lot of popularity lately. Well known for it's ability to help with certain hormonal imbalances and energy levels.
Ashwagandha powder – Also known as Indian Ginseng, this well researched herbal supplement has been documented in it's ability to improve a stress resistance, anxiety and boost low libido.
Medicinal mushrooms – This is a broad category of supplements, and includes everything from Chaga to Reishi, and Lion's Mane. Each one has different beneficial properties from boosting immunity to increasing focus and physical performance – if you want to learn more about the many options the Four Sigmatic Blog has a TON of educational resources available.
Turmeric – A bright yellow anti-oxidant rich Indian spice that is well known for it's anti-inflammatory and anti-oxidant properties. Works best when paired with just a tiny bit of black pepper.
Flavor combinations and sweetener options for this 3 step bulletproof coffee
If you want to add some flavor your bulletproof coffee, the possibilities are literally endless.
Some spices and flavorings that I love are:
While sweetening your bulletproof coffee is optional, sometimes it's nice for a little treat. Especially if you're adding a fair amount of adaptogens, as they can be rather bitter.
Some healthy-ish whole food sweeteners are:
Again many of these adaptogens, sweeteners and flavor additions can also be found on Thrive Market!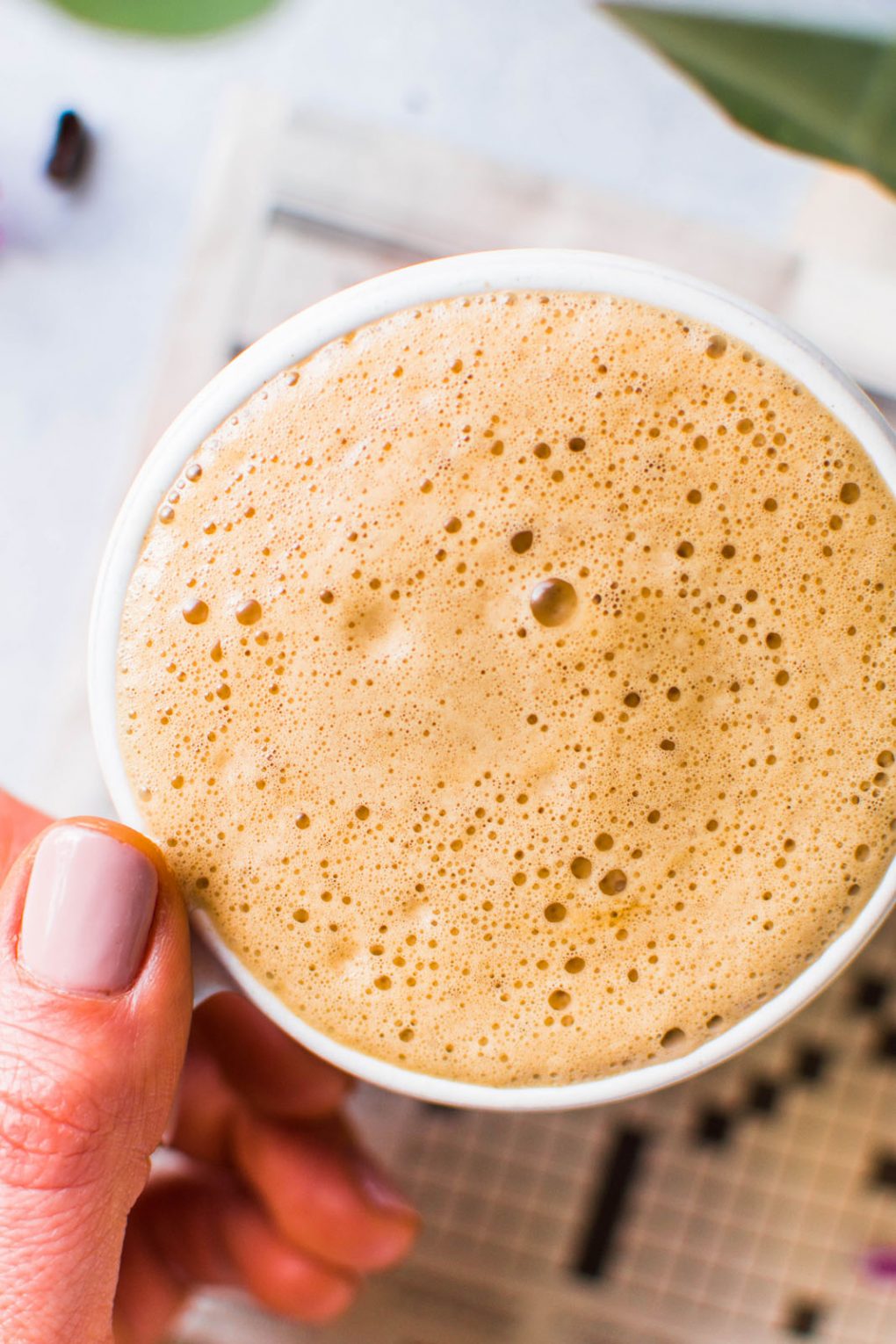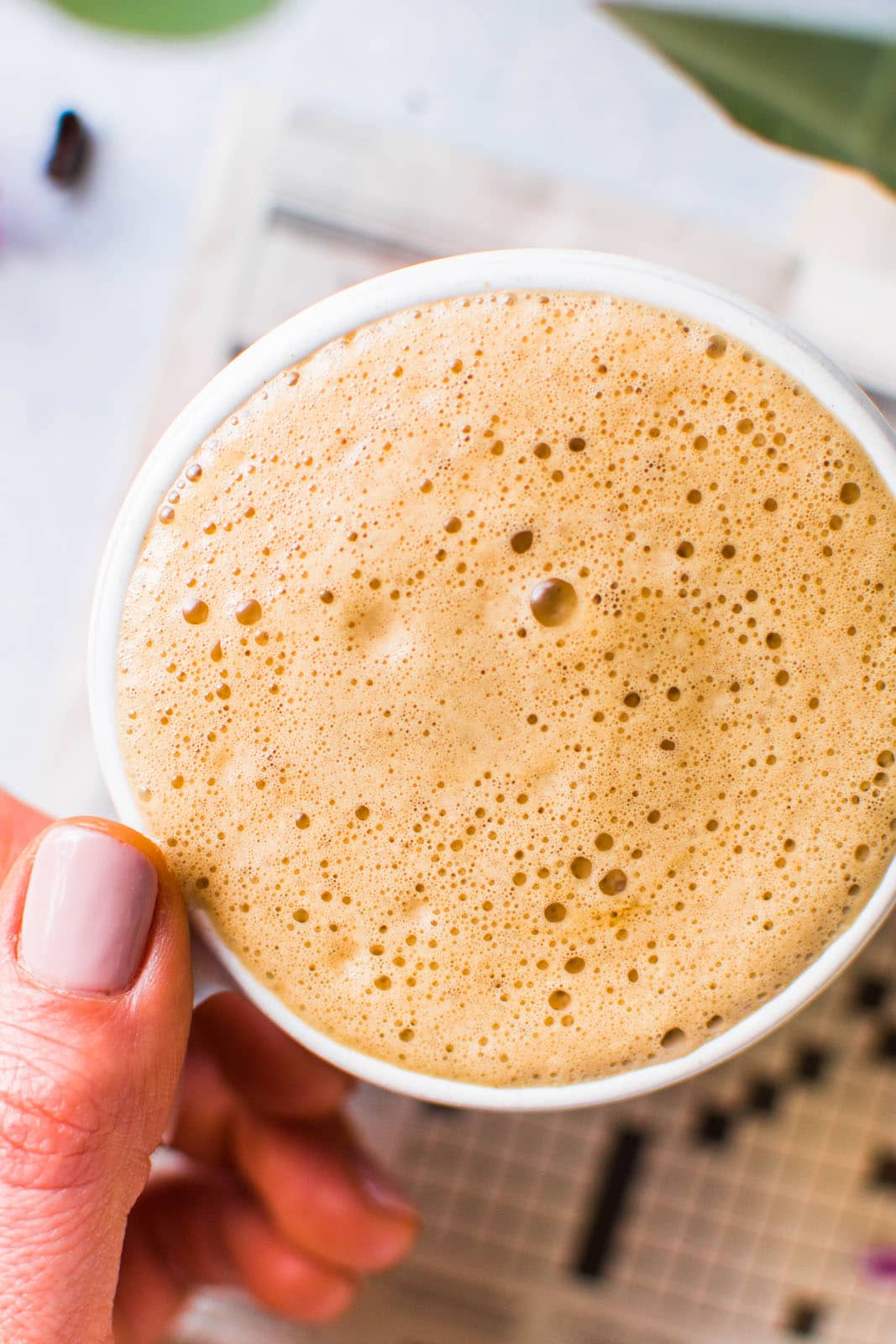 What is bulletproof coffee?
At it's core, bulletproof coffee is an emulsified (blended) beverage of two basic ingredients: coffee and high quality fat. The fat used is typically butter, ghee, coconut oil, or MCT (medium-chain triglyceride) oil.
Why should you drink bulletproof coffee?
While I don't encourage replacing a meal with a bulletproof coffee, a creamy cup of this stuff is an excellent way to get more nutrient dense, healthy fats into your diet.
For some, it also helps slow down the absorption of caffeine, and minimize the crash that can come along with a big cup of joe.
Since it's high in good-for-you fats and low in carbs it can not only boost your energy levels but also increase your ability to focus and reduce brain fog. e to the effect of caffeine adding fat to your coffee may not change that much.
Is bulletproof coffee vegan?
A lot of times you'll see "bulletproof" or "boosted coffee" also called "butter coffee", but it definitely doesn't have to be made with butter! If you use coconut oil, MCT oil, cacao butter, or coconut butter, it is 100% vegan.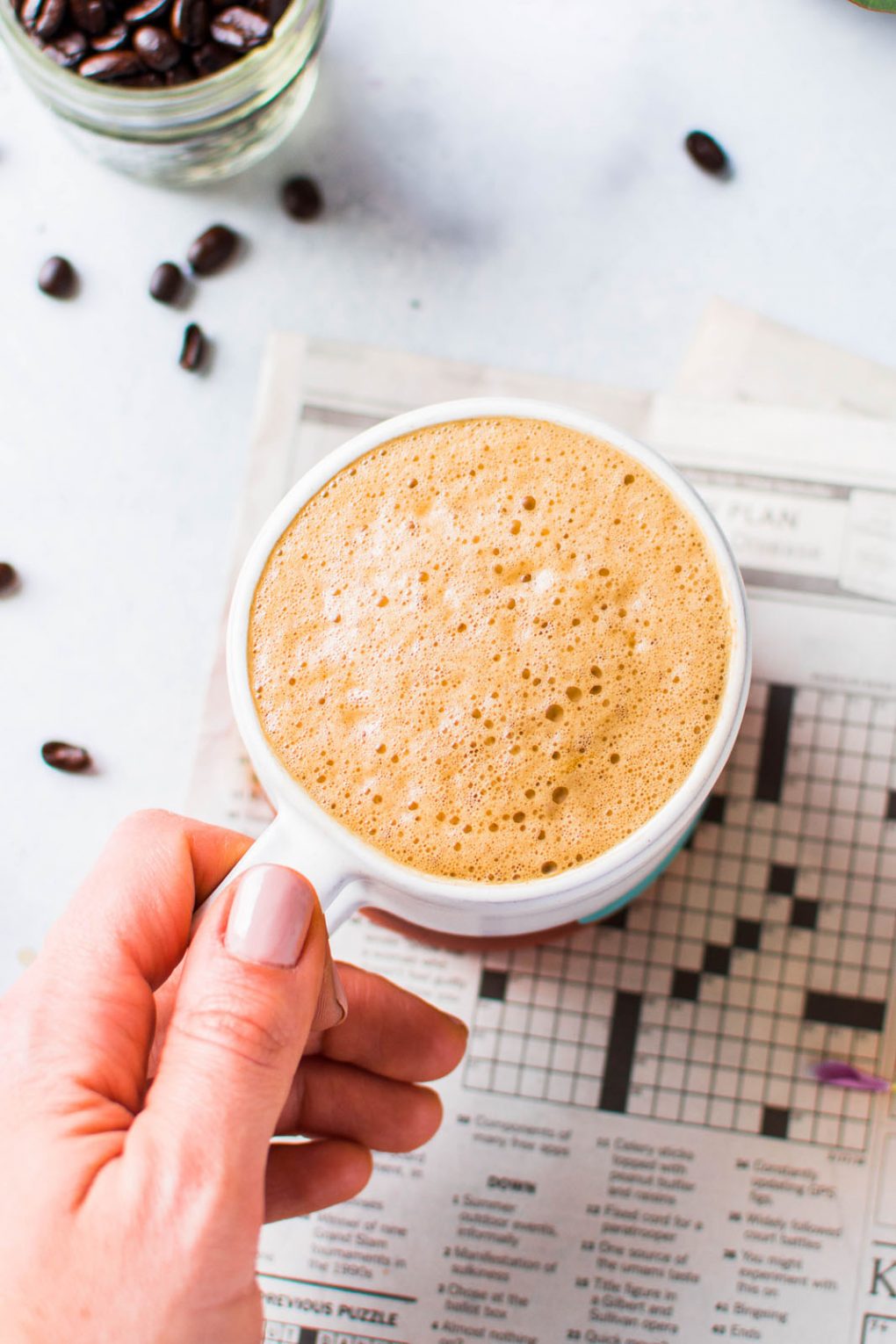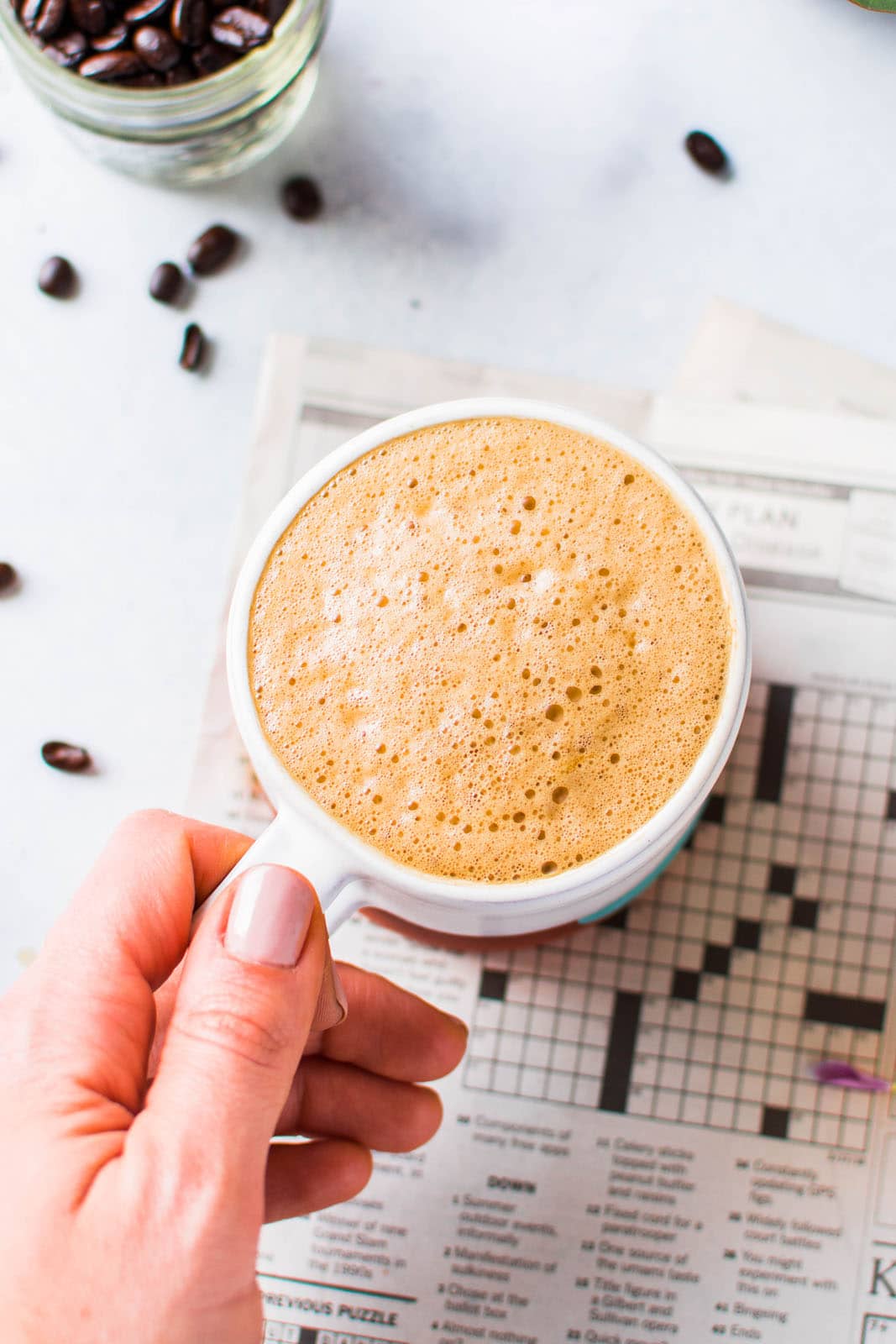 Is bulletproof coffee hot or cold?
It can be made either hot or cold! I generally drink it hot, but you can make a cold version by using MCT oil.
If you make bulletproof coffee warm you have more options for fat choices.
MCT oil is the only fat that will work for a cold bulletproof beverage, since it is liquid at room temperature and will stay emulsified with with your coffee even when it's cold.
This creamy collagen boosted iced coffee with the addition of MCT oil would be a delicious iced bulletproof coffee!
What does bulletproof coffee taste like?
When blended properly, bulletproof coffee tastes kind of like a rich and creamy latte.
Of course you can always add different flavors to customize it (which I often do), but it's also very yummy in it's super basic form.
IMO – the biggest mistake you can make when it comes to getting the best flavor out of your bulletproof coffee is not blending it or not blending it long enough.
If you don't blend it properly to emulsify the fat with the coffee, you'll just end up with a cup of coffee with a layer fat on the top. Not the most delicious combo!
Can you make bulletproof coffee without a blender?
Or – do you have to blend bulletproof coffee?
Well, not technically. But will it taste exponentially better if you do? 100% yes.
I usually use my blender, but if you don't have one (or don't feel like dirtying yours up), a great alternative is a battery operated milk frother. This milk frother from Amazon is less than $20 and it's the best one I've ever used.
It also works great for making bulletproof coffee or matcha lattes on the go. It's literally always packed in my suitcase when I go on trips!
From what I understand you are not supposed to make hot drinks in Magic Bullet's, so using that instead of a blender is not recommended, but I haven't personally tested it.
Recipe ideas for a special bulletproof coffee
A basic bulletproof coffee recipe is what is listed below in the recipe card, but if you are in the mood to upgrade your cup, here's some ideas!
Peppermint mocha – 10-12oz hot coffee + 1 tablespoon of fat + 1 teaspoon cacao powder + 1/2 teaspoon peppermint extract or 1 drop of edible grade essential oil + pinch of sea salt
Maple vanilla – 10-12 oz hot coffee + 1 tablespoon of fat + maple syrup to taste + 1 teaspoon vanilla extract + a pinch of sea salt
Spicy cinnamon – 8-12 oz hot coffee + 1 tablespoon of fat + pinch of cayenne pepper + 1/4 teaspoon cinnamon + pinch of sea salt
White chocolate – 8-12 oz hot coffee + 1 tablespoon cacao butter + 1 teaspoon vanilla extract + pinch of sea salt
AND THAT'S THAT BABES! If you made it all the way to this point of the post, BRAVO. I know it was a long one, but hopefully you learned something and feel empowered to make your own delicious bulletproof coffee. Let me know in the comments if you have any questions or a special recipe / combo that you want to share!
If you love this recipe take 5 seconds to rate this recipe below – we really appreciate it!
For more NK recipes sign up for our newsletter and follow along on Instagram, Pinterest, and Facebook! And if you make a recipe be sure to snap a picture & tag @nyssas_kitchen on social media – I LOVE seeing what you're making from the blog.
Print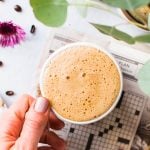 How to Make Bulletproof Coffee in 3 Easy Steps
---
Author:

Nyssa Tanner

Total Time:

5 minutes

Yield:

1 cup

1

x

Diet:

Gluten Free
Description
Creamy and delicious bulletproof coffee is a staple at our house in the mornings! Made with healthy fats and customizable with adaptogens and flavor combos that will bring a little extra YUM to your morning cup of joe. Today I'm sharing how to make bulletproof coffee in 3 easy steps so you can start your day on the right foot!
---
10

–

12

oz hot brewed coffee

1 tablespoon

high quality fat of choice – butter, ghee, coconut oil, MCT oil, or cacao butter are all great choices
Pinch of sea salt (optional, but does bring the flavors together nicely and balance out some of the bitterness of the coffee)
Any adaptogens, herbs, supplements, flavors or sweeteners that you want to add (optional)
---
Instructions
Add all ingredients to a blender and blend on high until creamy and emulsified.
Pour into your favorite mug and enjoy!
Prep Time:

5 minutes

Cook Time:

0 minutes

Category:

drink

Method:

blender

Cuisine:

healthy
Keywords: coffee, bulletproof, boosted coffee, coconut oil, ghee, butter, butter coffee, breakfast, warm drink, brunch