This easy paleo teriyaki salmon is made with a homemade teriyaki sauce that is so much better than any store bought version! It's a flavorful and healthy start to an easy, mostly hands off meal that you can feel good about!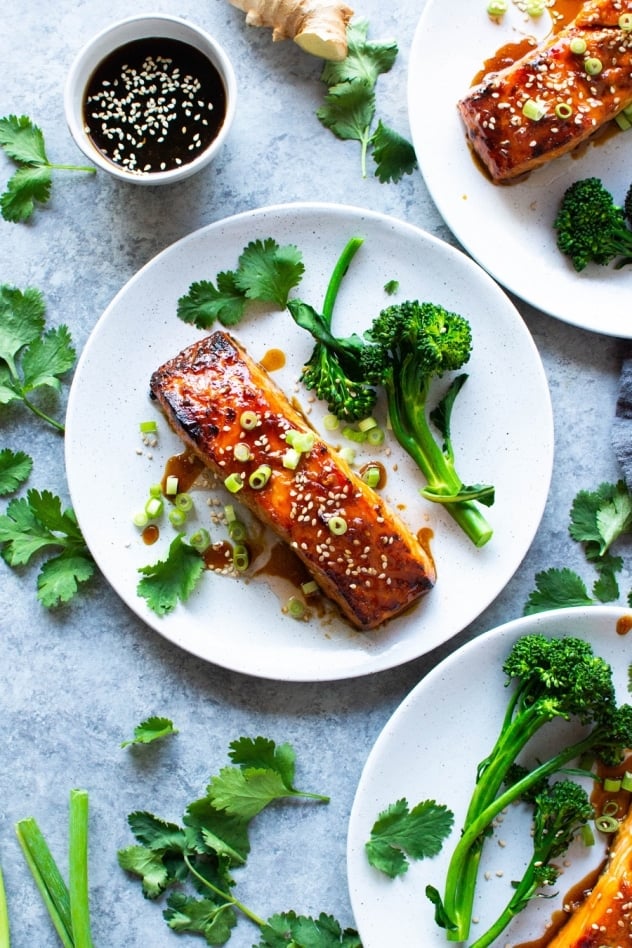 Well, helllloooo! And happy 2019!
Wow. Always weird to say the number of the new year. It's kind of cliche but it always sneaks up on me! I'm thinking we should embrace it with this yummy & easy dinner recipe because:
your 2019 needs this easy paleo teriyaki salmon.
It's my favorite meal that I've made these past couple of months, and I foresee it coming back again and again in our weekly meal plan for three reasons:
This salmon recipe is super easy to make – most of the cook time is hands off.
It's also crazy healthy and free from all the inflammatory ingredients that usually gunk up a standard teriyaki sauce.
SO YUMMY. Like so much flavor. With just the right sticky texture and a sweet to salty ratio that will keep you coming back for bite after bite. (The first time I made this recipe, my husband and I didn't even bother eating off of plates. Literally devoured a whole batch straight off of the baking sheet. Savage I know, but don't judge until you try this salmon for yourself! 😜)
I figured why not get the year started with a dinner that says: 2019, we are HERE – with some crazy delicious food in tow 💯
Food that is the equivalent of a power pose meal. Strong, bold, and good for your self confidence 😉