The ultimate bunless burger! For those nights when you just NEED a burger in your life. Paleo, guilt free, and super satisfying.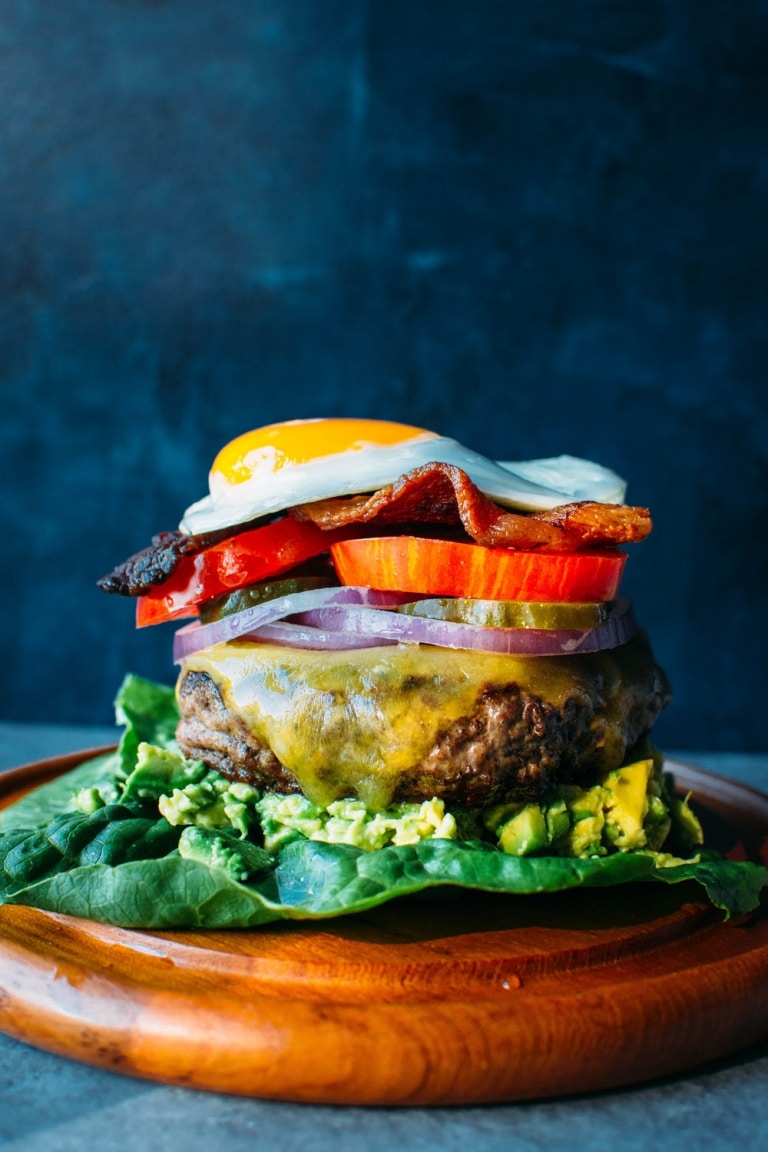 I mean, how excited would you be about dinner tonight if this ⬆️ is what you were coming home to?
Especially if it's as easy as forming some patties, seasoning them, searing them and loading them up with your favorite toppings.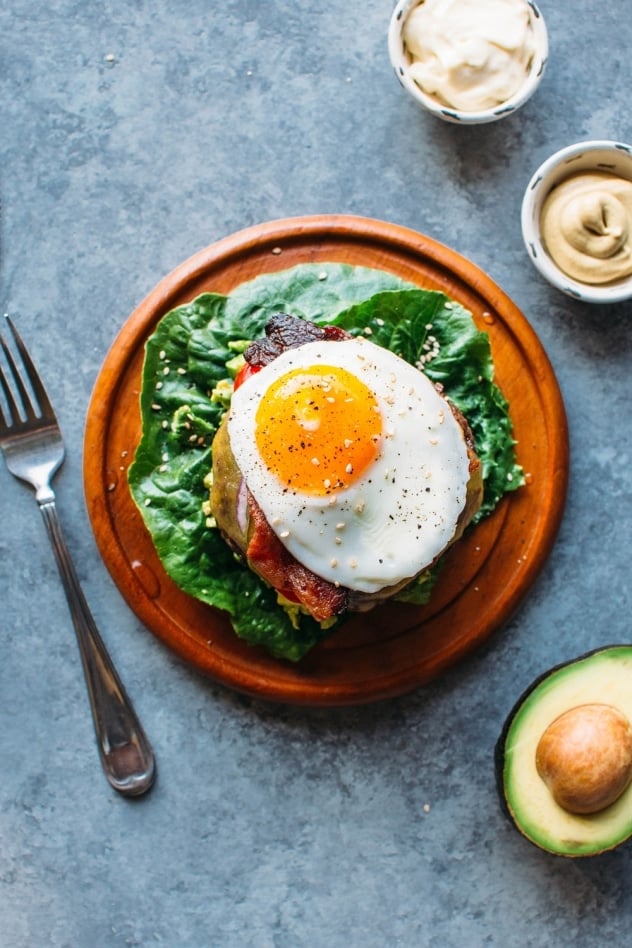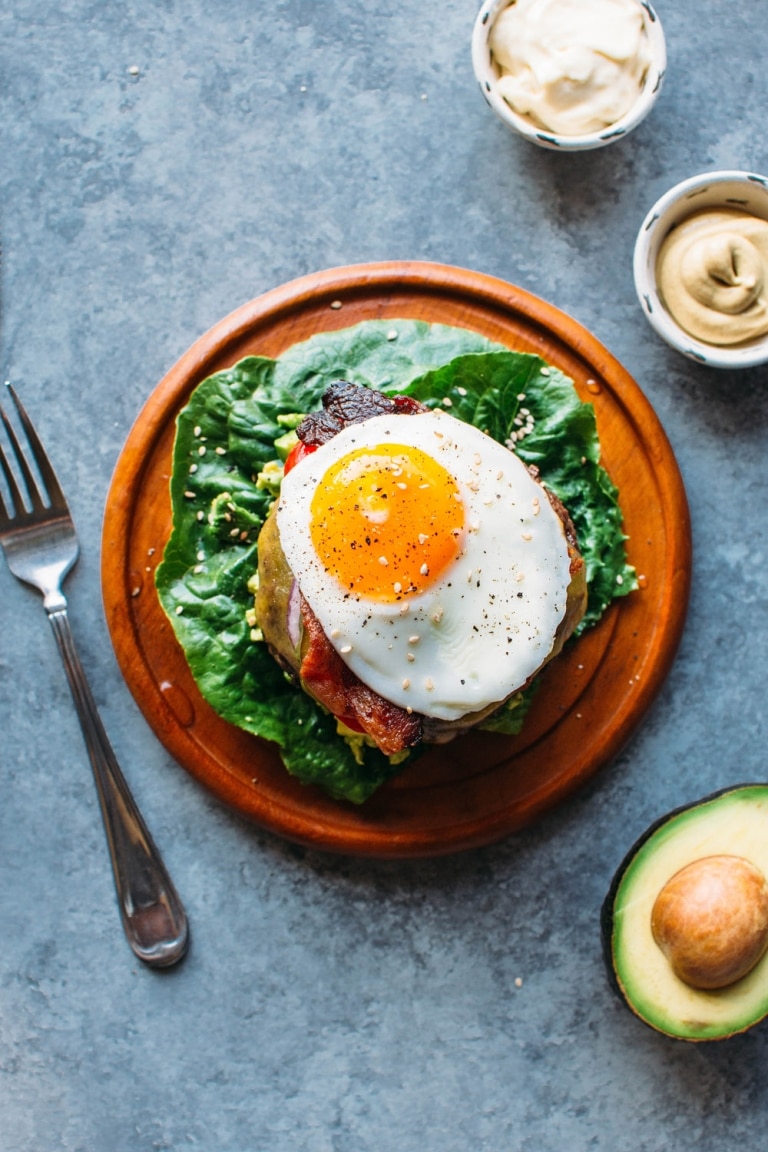 There's something about a burger that is so dang comforting and familiar. Perfect October food. Especially when the rain is coming down like it has been in Seattle. Gray skies are in full effect around here.
I have to say – I reaaaally really missed burgers when I gave up gluten and transitioned to a mostly paleo diet.
Obviously there's gluten free (and even grain free) bun options out there for those who can no longer enjoy fluffy brioche rolls – (😭 yes I do still mourn the loss of these foods from time to time! I think that's perfectly okay, and even healthy. Recognizing the weight of the thing that you're giving up for health benefits has the ability to further strengthen your resolve and commitment to your positive lifestyle choices! They definitely have the ability to exist simultaneously and work in direct relation to each other), but it did take me awhile to find the same joy in them as I used to find in a classic OG burger.
Occasionally I do splurge in the gluten free bread option for a burger, but more often than not, I choose the bunless or lettuce wrapped option. I just FEEL better when I don't have all those carbs added to an already indulgent meal.
This ultimate bunless burger = all the flavors of a classic burger and none of that heavy stomach feeling that can really weigh you down
AKA a guilt free win/win.
And now I'm here to tell you that this bunless burger will rescue you from any remaining bun-missing feels.
And that you can easily make it at home.
And that I SWEAR you won't even think about what's missing when you cut that first bite of this ultimate bunless burger, runny egg yolk and all.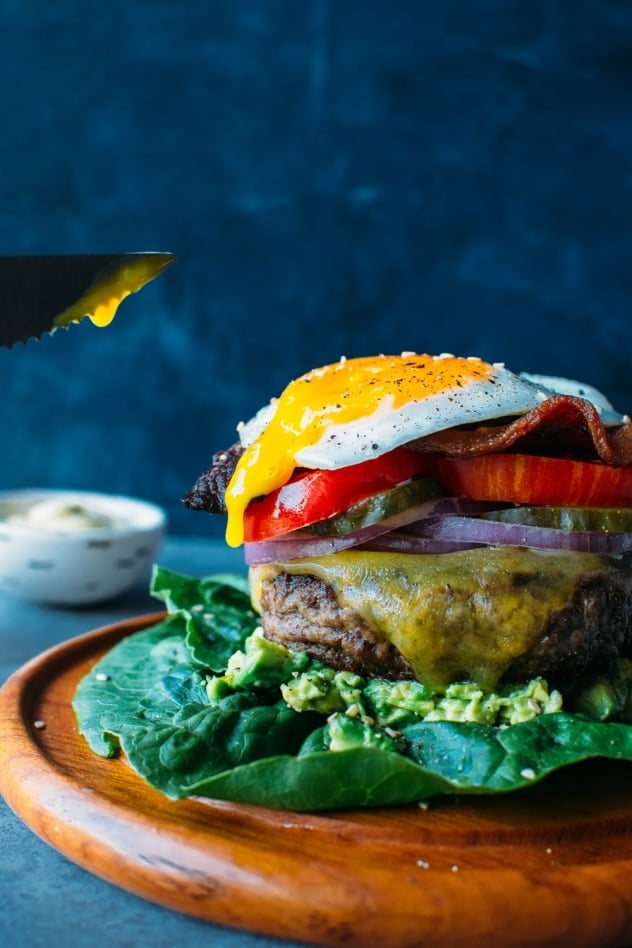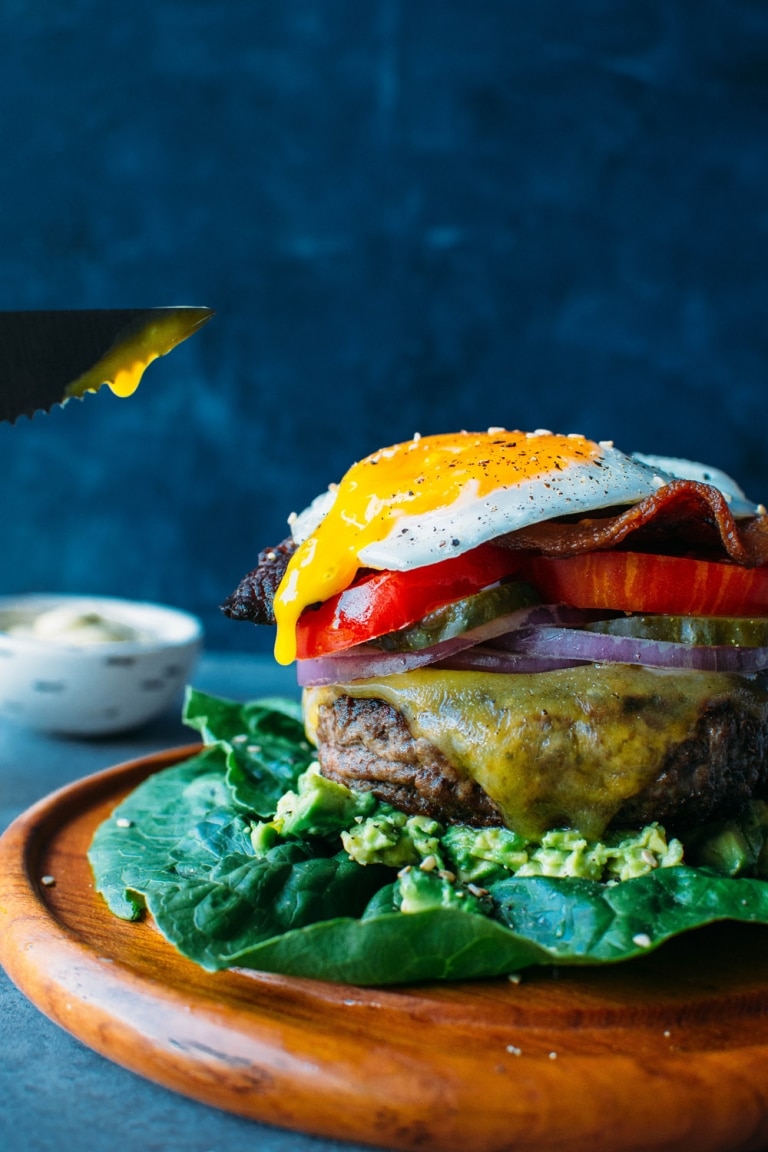 The most technical (and maybe the most daunting) part of this recipe is preparing the patties.
But never fear! You can do this. WE can do this.
Here's how:
The very best advice that I ever got about making burgers at home can be summed up in four simple sentences
Don't overwork the meat.
Dimple the center of the patty.
Season like you would season a steak.
Sear hot and don't touch until it's time to flip 'em.
Boom. It really is that easy, friends.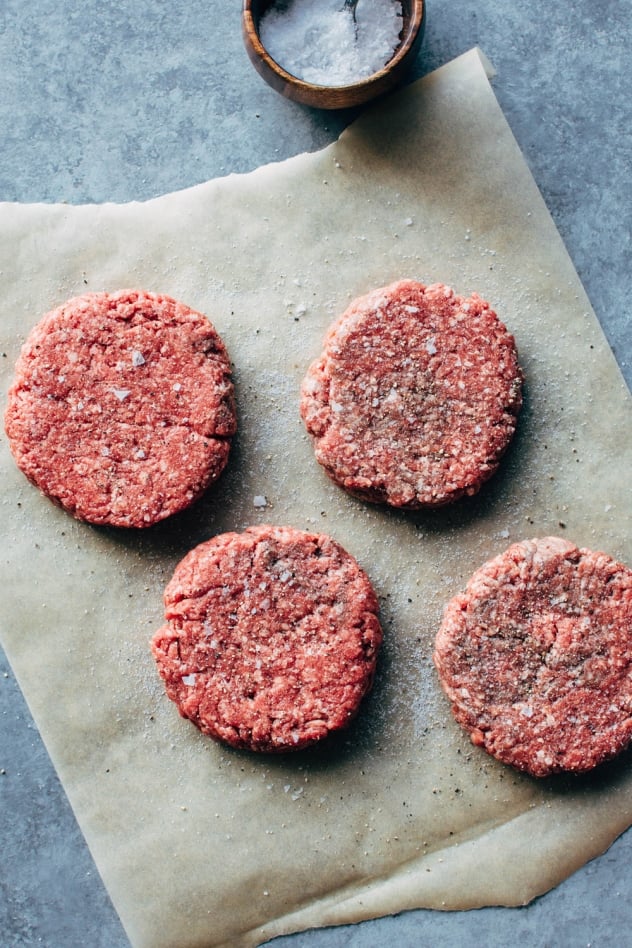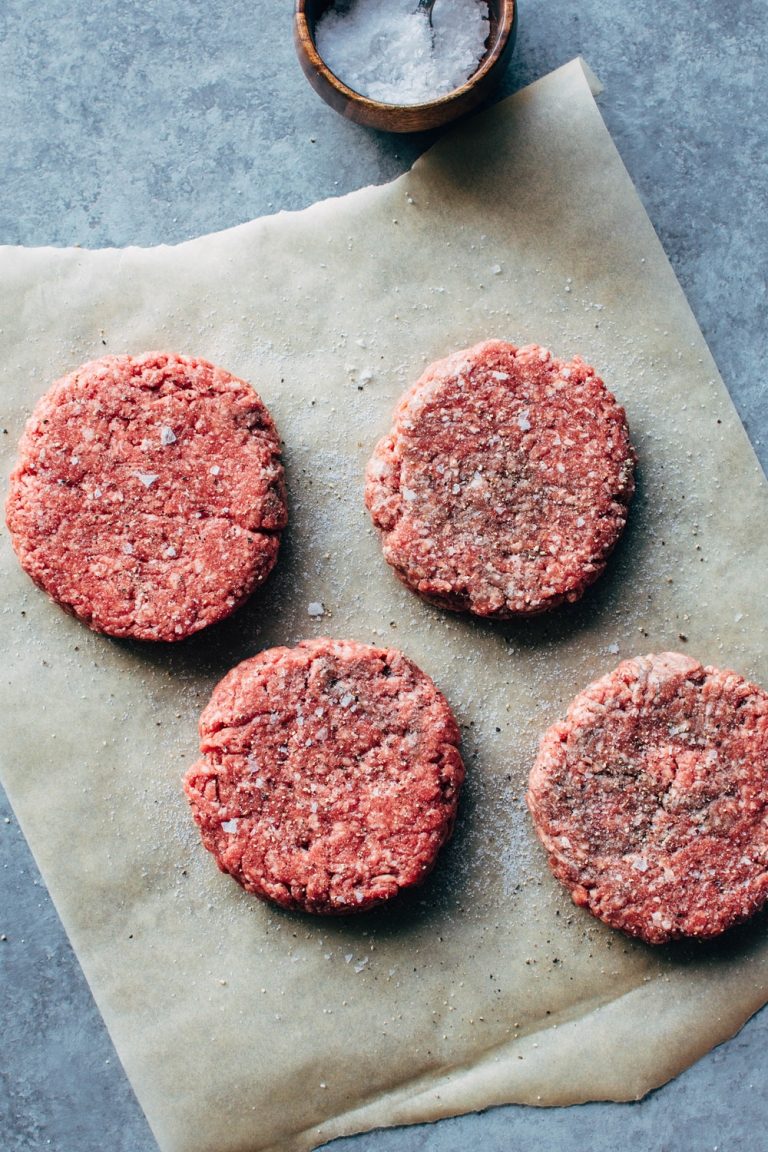 How long you cook the burgers will obvi depend on what temperature you like them. Approximately 3-5 minutes per side is a good target range.
Setting a timer can be a super helpful tool so you don't get distracted and forget about them! Nobody likes a dry hard burger.
Once you get the burger patty thing down, then comes the fun part of choosing your toppings 🙌🏼
choosing your toppings
Obviously I went for pretty much every topping under the sun in my version. I guess I just don't know when to stop, and you know, I'm really not sorry.
But this is your burger story, so take the topping suggestions you like and leave the one's you don't.
Starting with a nice crunchy lettuce leaf as a base is a pretty good idea, but beyond that the sky is the limit!
Here's some topping suggestions:
Smashed avocado
Raw grass fed cheddar cheese (Trader Joe's has a couple delicious and affordable options in this category!) or another cheese of choice
Red onion
Caramelized onions
Sautéed mushrooms
Fermented pickles – find these in the refrigerated section of your grocery store and check the label! Pickles that are naturally fermented will be probiotic rich and are made with salt, water and spices, not with vinegar
Fresh tomatoes
Sun dried tomatoes
Bacon – yesss, always yes
A fried egg
Clean mayonnaise – recipe coming to Nyssa's Kitchen soon! You can also find this avocado oil mayo on Thrive Market, and get 25% off and free shipping when you use my (affiliate) link!
Dijon mustard
Sesame seeds for that sesame-bun-vibe
With all these delicious options, Wednesday ultimate bunless burger night is looking REAL good, amirite?!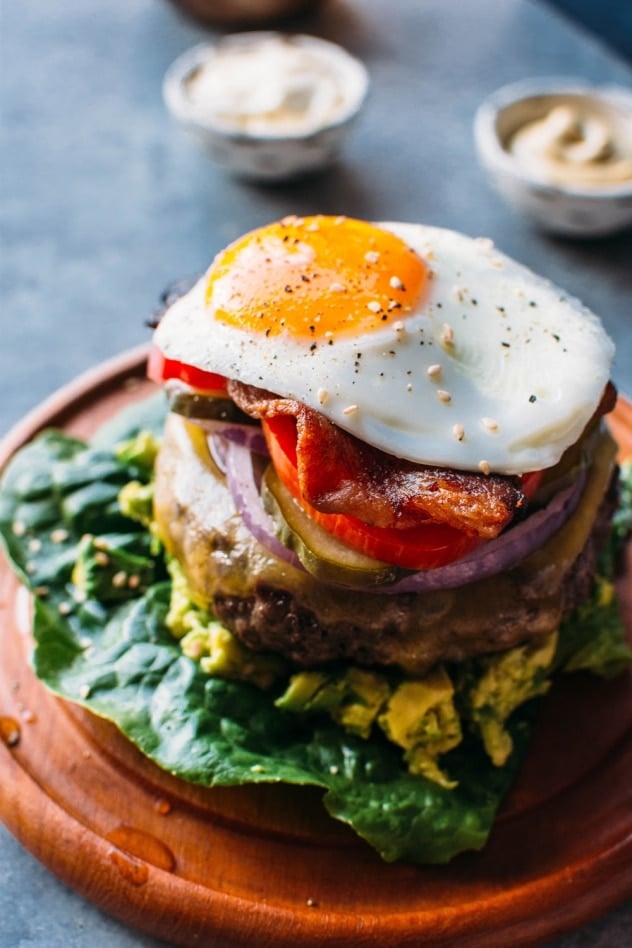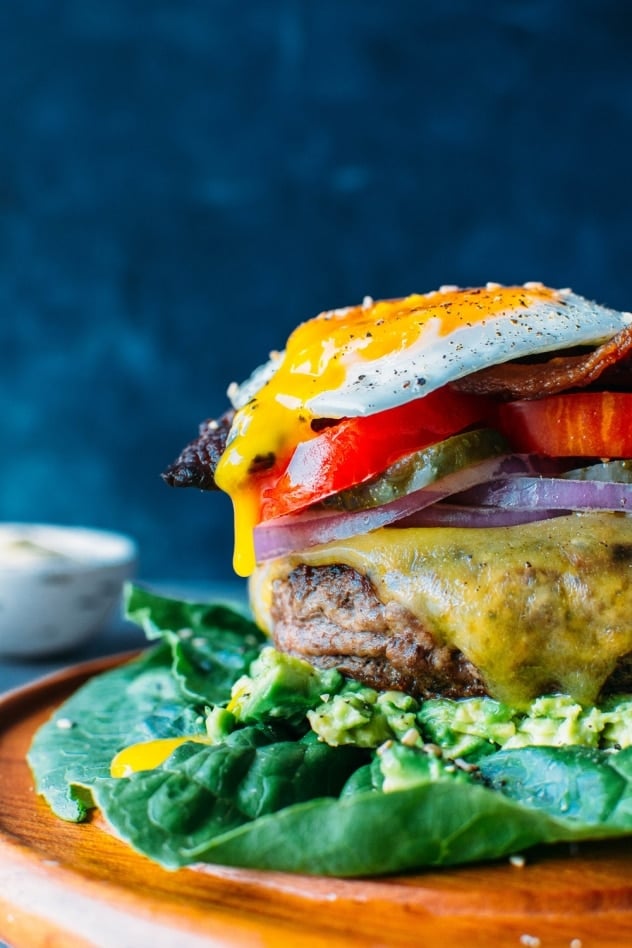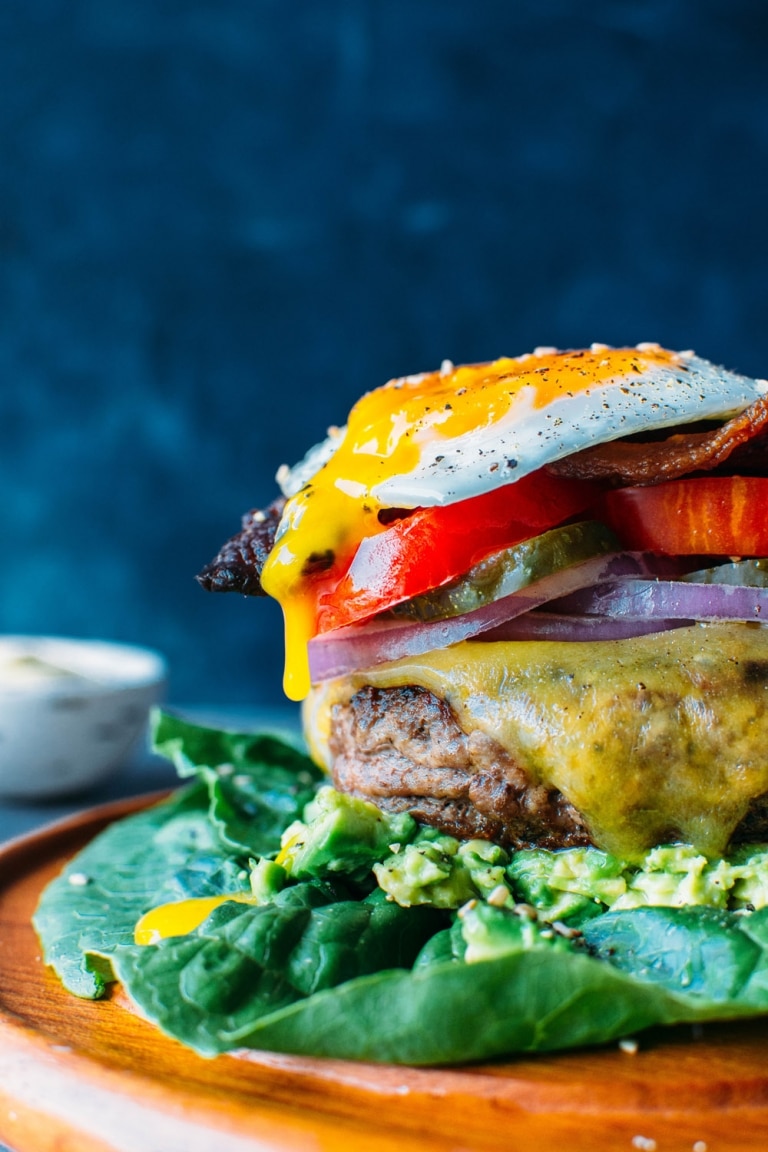 Want more easy and healthy grain free dinner recipes? Check out these favorites!
Did you make this recipe? I would love to know how it turned out for you! when you rate my recipes and leave feedback it helps me continue to improve. you can leave me a comment below, or snap a picture and post it to instagram with the tag @nyssaskitchen or hashtag #nyssaskitchen! xo
Print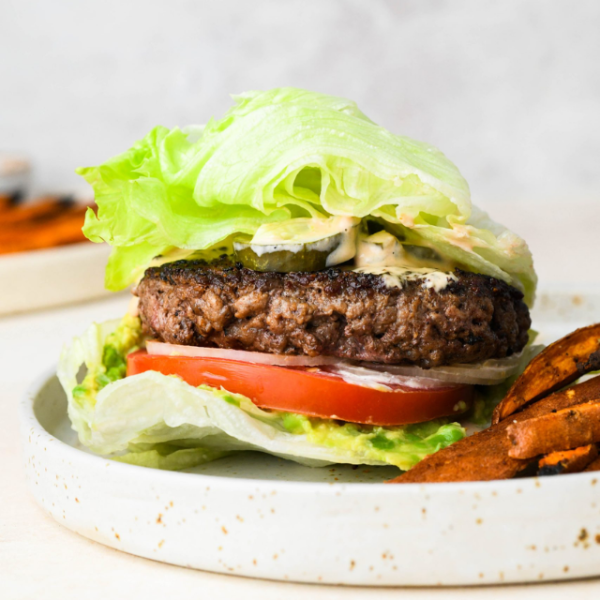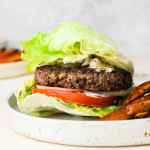 Lettuce Wrapped Burgers
---
Author:

Nyssa Tanner

Total Time:

30 minutes

Yield:

4

burgers

1

x

Diet:

Gluten Free
Description
The best lettuce wrap burger! Made with seared burger patties, all the toppings, and a crave worthy burger sauce that you'll want to put on everything! Whole30, paleo friendly, gluten free, dairy free, keto, and low carb.
---
For burgers
1 1/4

pounds ground beef

1 teaspoon

kosher salt, or to taste

1/2 teaspoon

black pepper, or to taste

1 tablespoon

avocado oil or ghee
Toppings
Onion, thinly sliced
Tomato, thinly sliced
Dill pickle, thinly sliced
Avocado

2

large heads of iceberg lettuce
For burger sauce
---
Instructions
Prep the toppings and the lettuce "bun". Before cooking the burgers prepare your toppings. Thinly slice the onion, tomato, dill pickle, and smash some avocado if using. Cut the stem off both heads of iceberg lettuce. Cut each one into quarters and remove the loose outer leaves and small leaves on the interior so you have 4 pieces per head of lettuce, 8 pieces total. Trim them to a bun like shape if desired and use one as the top bun and one as the bottom bun.
Make the burger sauce. In a small bowl mix together mayo, dill pickle juice, coconut aminos, tomato paste or ketchup, chopped dill pickle, garlic powder, onion powder. Season to taste with salt and pepper and set aside.
Make the burgers. Divide beef into 4 equal parts. Form into patties that are about 1/2 an inch thick, without overworking the beef too much. You want to maintain some of the texture of the grind. Season the exterior of both sides of the burgers with 1 teaspoon salt and 1/2 teaspoon black pepper – the same way you would season a steak. This helps create a nice crust as they cook. Press a little dimple into the center of each patty, which will help keep them flat.
Cook the burgers. Preheat a large skillet (cast iron works best) to medium high. When skillet is hot, add avocado oil and tip so the oil coats the entire bottom of the pan. Cook burgers, 2 at a time, for about 3-4 minutes per side, depending on how well-done you want them. Add more oil for the second batch if needed.
Assemble burgers. Place one of the sections of lettuce on a plate. Add smashed avocado, sliced tomato, and sliced onion. Top with burger and spread some burger sauce over the top of the burger. Add pickles and the remaining half of the iceberg lettuce section and serve immediately!
Prep Time:

20 min

Cook Time:

10 min

Category:

dinner

Method:

stove top

Cuisine:

american
Keywords: burger, whole30, paleo, grilling, summer, bacon, beef, ground beef, picnic