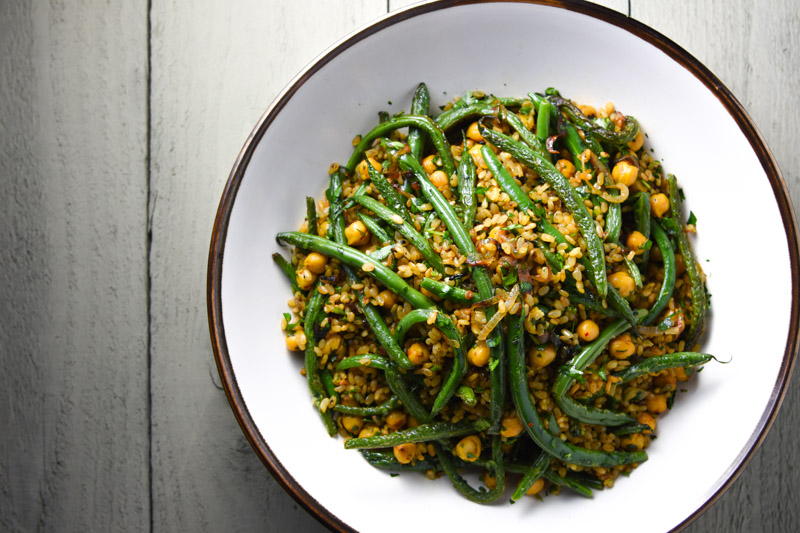 it is officially comfort food season in our neck of the woods and there's puddles and flushed leaves and boots and sweaters to prove it. there's toasting and roasting and simmering in the air and it's so perfect and cozy in our house with all the warm food and warm smells! I'm loving the energy shift and embracing this season change the best way I know how – through food ☺️.
and by taking on some new rainy weather friendly projects like finally learning how to use a dslr camera (claps hands excitedly and jumps up and down!!!). thanks to a few short yet extremely helpful tutorial videos from the awesome duo of Lindsay and Bjork over at Food Blogger Pro (which btw is such an amazing resource for food bloggers!) I managed to (mostly) successfully find my way around the Nikon D7200 that I rented for a few days. it was way more fun and manageable then I ever thought it would be, and then super hard to give back once my rental was up! but I want to make the right decision and take a tour of a few brands before committing. so more on that later but for now here's a post with some shots from that time that some cozy fried brown rice with chickpeas, green beans and herbs met in fancy camera land! and the recipe too of course 😉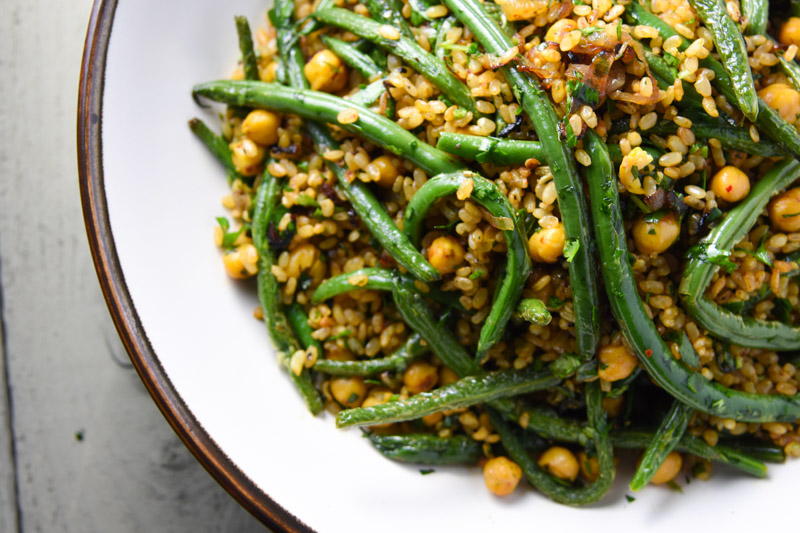 I know the photos are far from perfect, but I just had to share them because it was such an awesome feeling to be holding the camera in my hand and to have more control over aspects of an image that you just can't quite get when shooting with an iphone. I'll probably still be using the iphone for the next little while after this post, but it feels good to get started on a goal that I've had for a long time.
yay for goals!!
If you have any tips for a first time dslr-er (that's a word, right?) I would love to hear them!
but back to the cozy food things.
I love this fried rice as a healthy and filling side dish, or as a filling vegetarian lunch (vegetarian as long as you use olive oil to fry your rice instead of bacon fat. If you have some and you're not vegetarian i definitely recommend using it! I always keep a jar tucked away in the refrigerator for recipe's like this that just sing with that extra smokey layer of flavor)
it's pretty forgiving and totally open to your play on taste and spice, if you want to use peas instead of green beans? go for it. not a fan of cilantro but you love dill? sub it in there. can't handle spice? leave out the aleppo pepper and maybe add some other dried herb that you love. you get the idea – you can make it taste good to you in many different ways.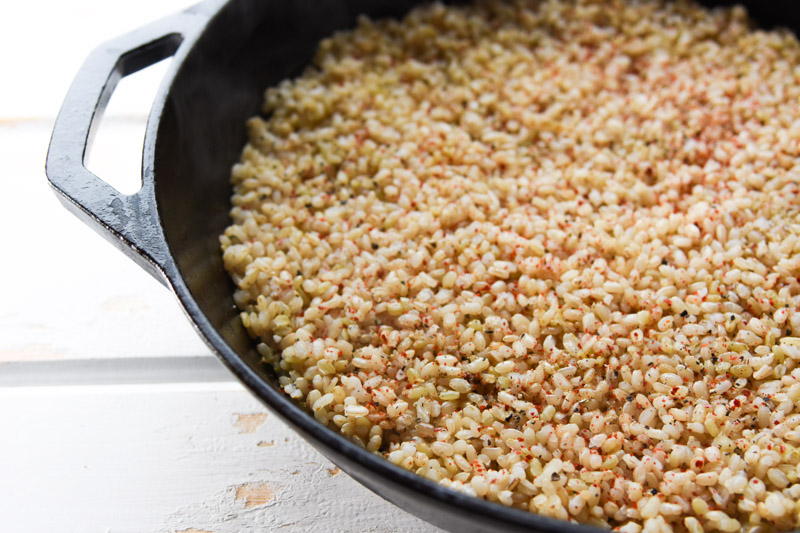 there's a pretty simple rhythm to making this dish, and if you have your rice made and cooled ahead of time it comes together pretty quickly. sometimes if I'm making some rice to go with another dinner I will intentionally make extra to have on hand for a recipe like this for later in the week.
If you do need to make it fresh that's a good time to start preparing your chickpeas, blanching the green beans, slicing the shallots and chopping the herbs. you'll have more than enough time for this as it's smart to let the rice cool as much as you possibly can before frying. by doing this the kernels have a chance to kind of stay separated so they won't get mushy and stick together in the frying pan.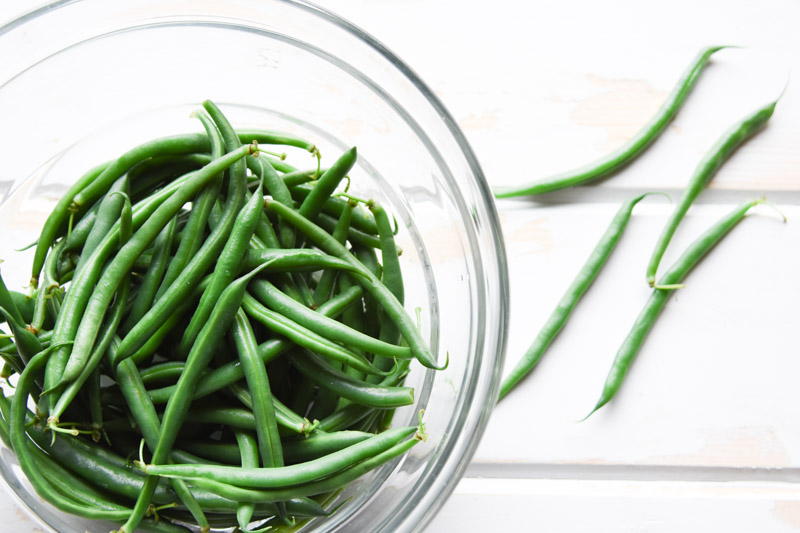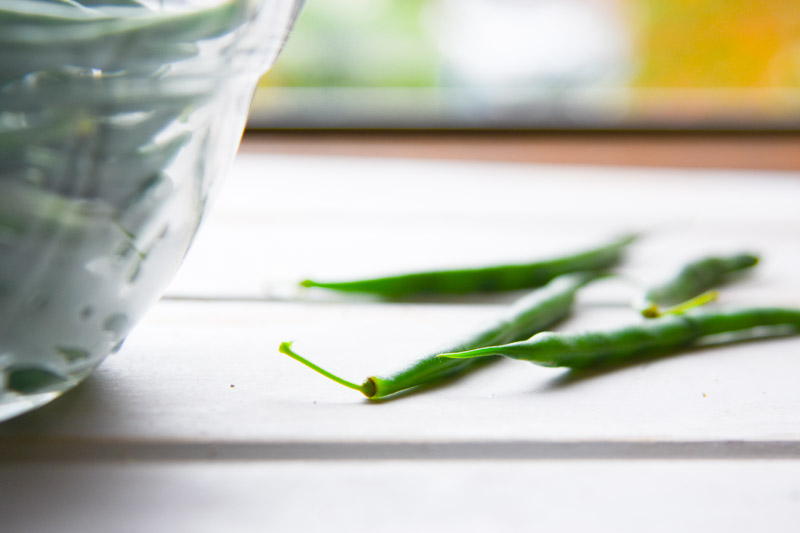 the season of whole grains, warm spices and a new set of seasonal veggies is here and I can't wait to continue exploring it with you! and hopefully soon with a fancy pants camera that I can call my very own 😉 enjoy loves. xo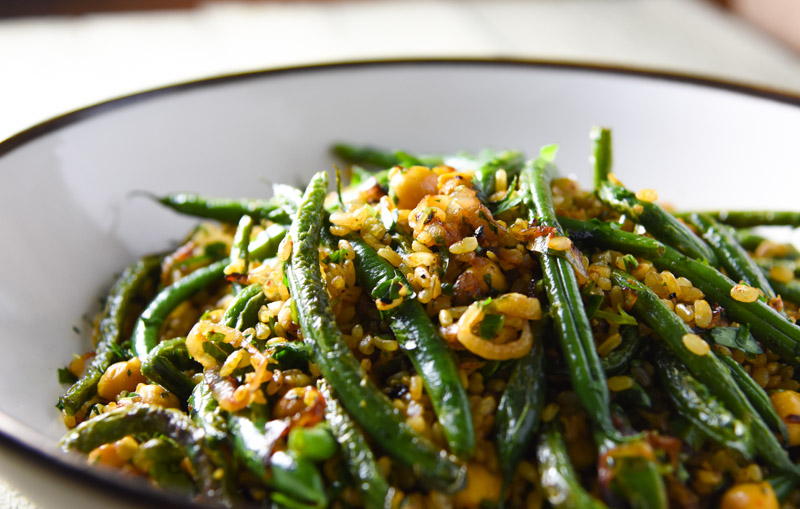 *this recipe was inspired by a recipe titled "basmati and wild rice with chickpeas and herbs" from Yotam Ottolenghi & Sami Tamimi's cookbook Jerusalem. an incredible book with captivating stories and photography.
did you make this recipe? I would love to know how it turned out! you can leave me a comment below, or snap a picture and post it to instagram with the hashtag #nyssaskitchen! xo
RECIPE NOTE:
total cook time will reduce to about 25 minutes if rice is made in advance.
Print
fried brown rice with chickpeas, green beans and herbs
---
Author:

Nyssa Tanner

Total Time:

1 hour 15 minutes

Yield:

6

servings

1

x
Description
a simple and hearty lunch or a healthy side dish of fried brown rice with chickpeas, green beans and fresh herbs.
---
1 1/2 cups

uncooked short grain brown rice or about

3 cups

cooked short grain brown rice

1

15 oz can chickpeas drained and rinsed
about

1

lb green beans

3

medium sized shallots thinly sliced (about

1 cup

)

1/4 cup

chopped parsley

1/4 cup

chopped cilantro

1/2 tsp

curry powder

1/4 tsp

tumeric

1/2 tsp

aleppo pepper
bacon fat or olive oil
salt and pepper
---
Instructions
cook brown rice. (can be made ahead of time and is actually recommended if possible).
while rice is cooking, boil a pot of salted water for blanching green beans.
cook green beans for about 2-3 minutes depending on their size. when they're crisp tender move to a bowl of ice water.
heat 1 tsp bacon fat over medium heat and add chickpeas along with spices, stir gently to coat the chickpeas with spices and cook just until fragrant and warmed. move to a large bowl.
rinse and wipe out pan, bring back to medium heat and add 1 tbs bacon fat or olive oil.
add cooled rice and press into a single layer in pan. season with about 2 pinches of salt, a 1/4 tsp aleppo pepper and a few grinds of black pepper. let it cook undisturbed for about 2-3 minutes so rice can start to fry. check to make sure it's not sticking to the bottom of the pan. if it isn't stir and continue to fry about another 5 minutes, or until rice starts to get crispy.
move to the bowl with garbanzo beans.
increase heat to medium high, and add a thin layer of olive oil. once oil is hot add green beans. make sure they're dry before adding them to the pan otherwise they will just steam instead of frying. if your pan is small you may want to do this in two phases so you don't crowd the pan which will also encourage steaming.
fry for about 2-3 minutes, tossing regularly so the beans don't burn. you know they're ready when their skin starts to shrivel and they're brown in spots. move to a paper towel to drain and season with salt.
add sliced shallots to the pan and cook, stirring very often so they cook evenly and don't burn. keep a close eye on them! once shallots reach a fairly dark caramelization, move to a paper towel to drain and season with salt.
add green beans and shallots to large bowl along with chopped parsley and cilantro.
toss everything together and taste for salt and pepper. serve slightly warm.
Prep Time:

1 hour

Cook Time:

15 mins

Category:

lunch or side dish