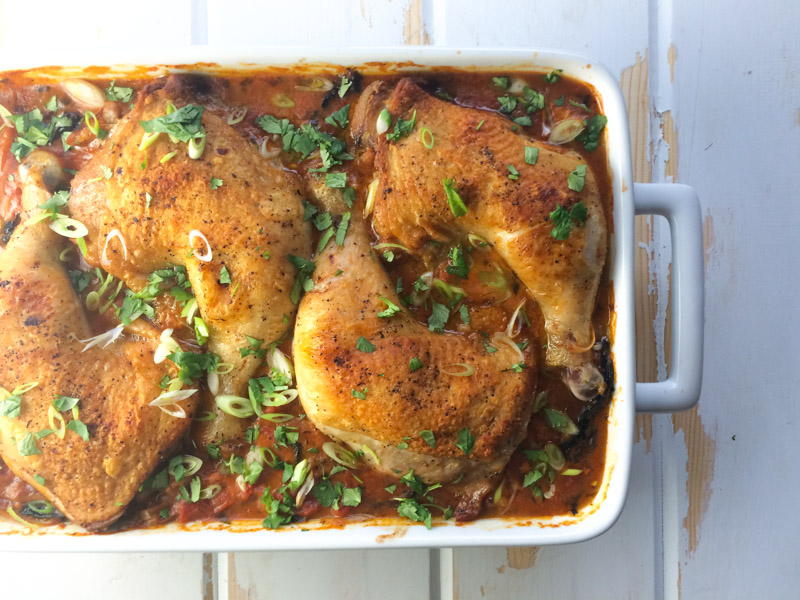 so this whole cold weather cooking thing? I could really get used to it. which I guess I will have to… whether I want to or not since we are kind of heading in that general direction…oh geeze, don't mind me, little ms. obvious ☺️
but seriously, the fragrant smell of roasting chicken is so incredibly comforting. even if it's just in the oven at 425 with salt and pepper, somebody is going to walk in and say "oh my god that smells amazing". and if it's crispy chicken roasting in a stew of crushed tomatoes, fingerling potatoes, kale, and coconut milk spiked with mustard seeds, turmeric, cumin and chili flakes? well hot damn I might just walk in and out of the front door a few times myself to fully appreciate that mouthwatering aroma.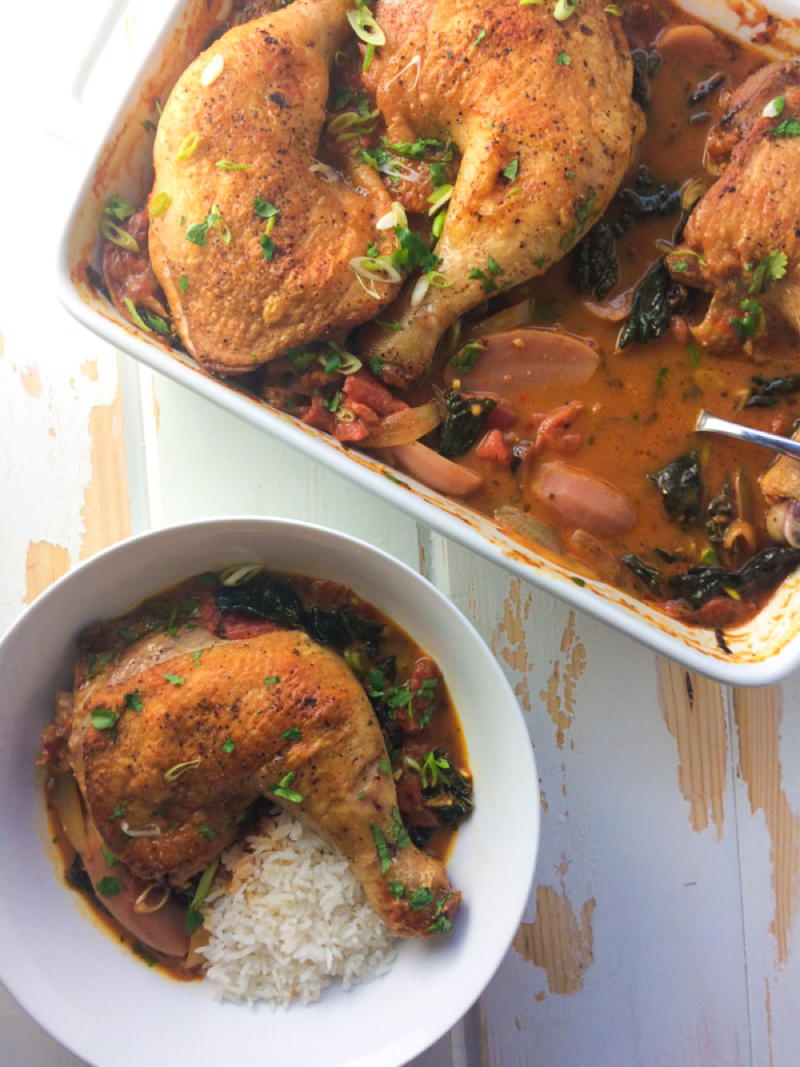 this is a three step recipe. and while it's not the fastest dish it is totally worth the effort if you have a little bit of time to spend in the kitchen. plus the whole second half of the cook time is hands off so you'll have a chance to get everything cleaned up and maybe even sneak in a drink before it's done 🙌🏼.
you'll start by drying and liberally seasoning the chicken legs with salt and pepper before pan frying until the skin is golden and crispy. be patient with this step as you can't really over do the crispy factor (unless of course you cross the line into burned territory). if you cook the chicken legs in 2 rounds you give them a chance to really fry nicely and the pan won't get overcrowded (in which case the chicken would just steam…and nobody wants that).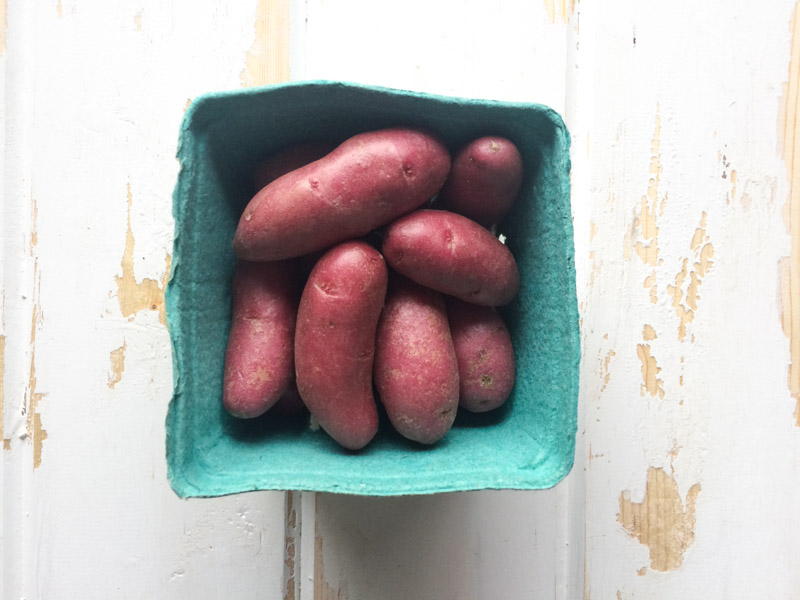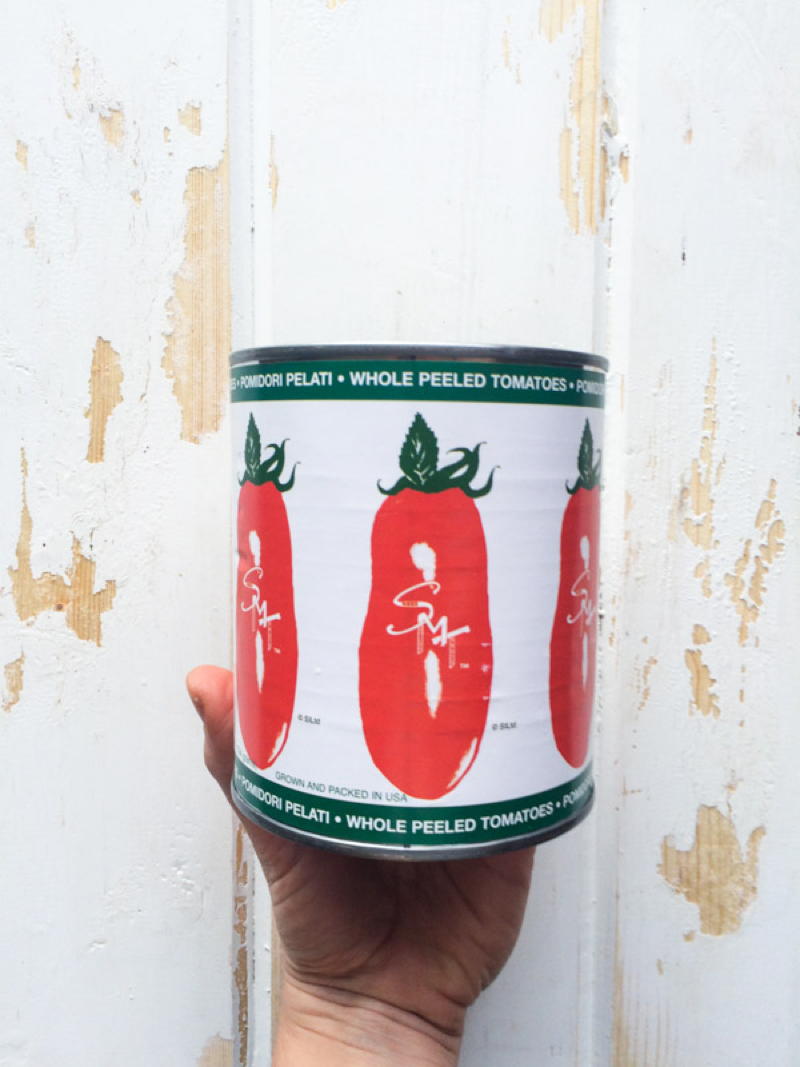 while the chicken cooks you should have time to prep the onions, garlic, potatoes, kale, and cilantro, & open your can of tomatoes and coconut milk & pull out the mustard seeds, turmeric, cumin and chili flakes. whew! holy run on sentence. you get the idea though, right? just trying to keep things concise. 😉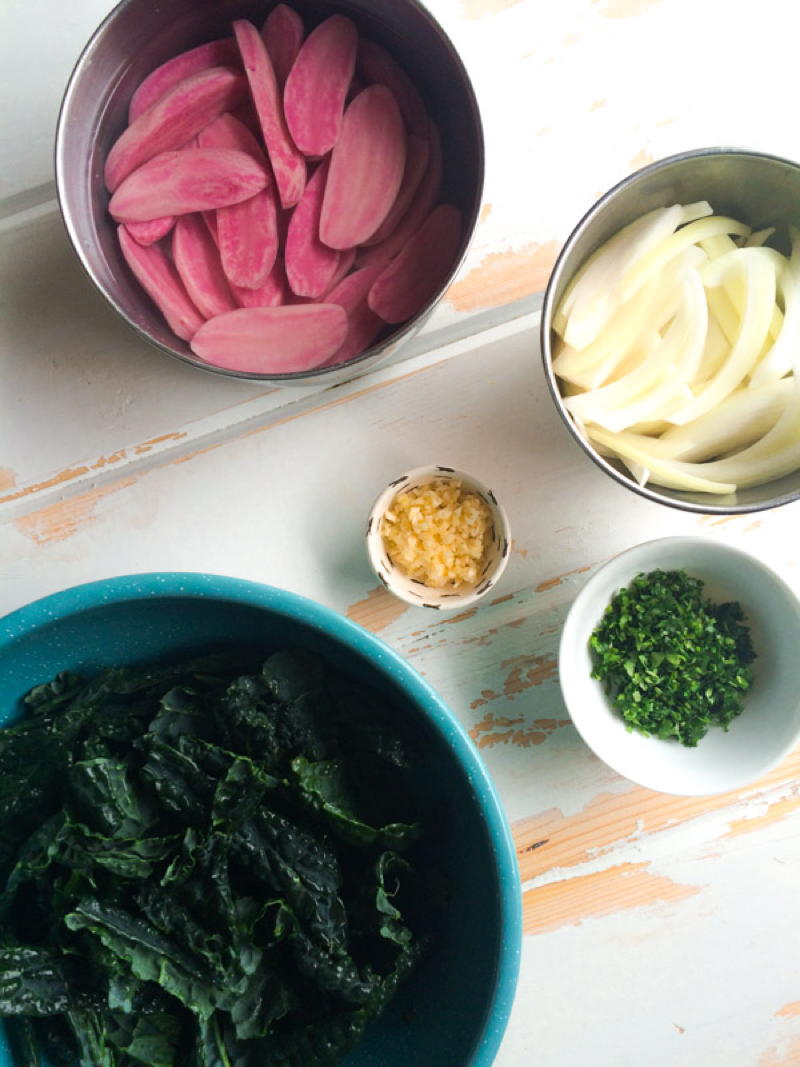 after the chicken is nicely browned and set aside you'll make the beginning of the stew by sautéing the thinly sliced onions until they start to brown, then adding the garlic, mustard seeds, turmeric, cumin and finally the tomatoes, potatoes, cilantro and kale.
a note on the cilantro for this portion of the recipe: don't be afraid to use those stems! as long as they're finely chopped they break down nicely and the flavor is still fantastic – and you get to use a part of the herb that is usually tossed! I bet after using them here you'll also find other ways to use them too 😉
this will all simmer a bit on the stove top until the potatoes are about half way cooked, and then in goes the 1/2 can of coconut milk.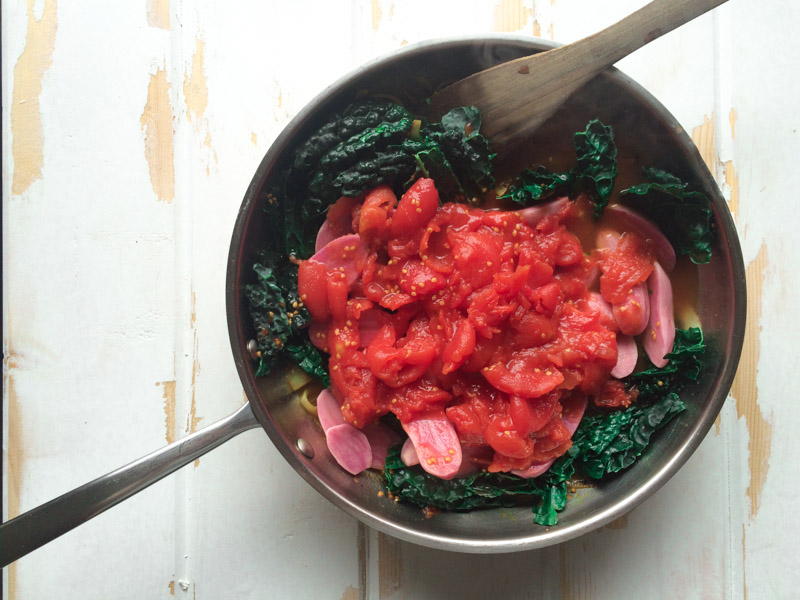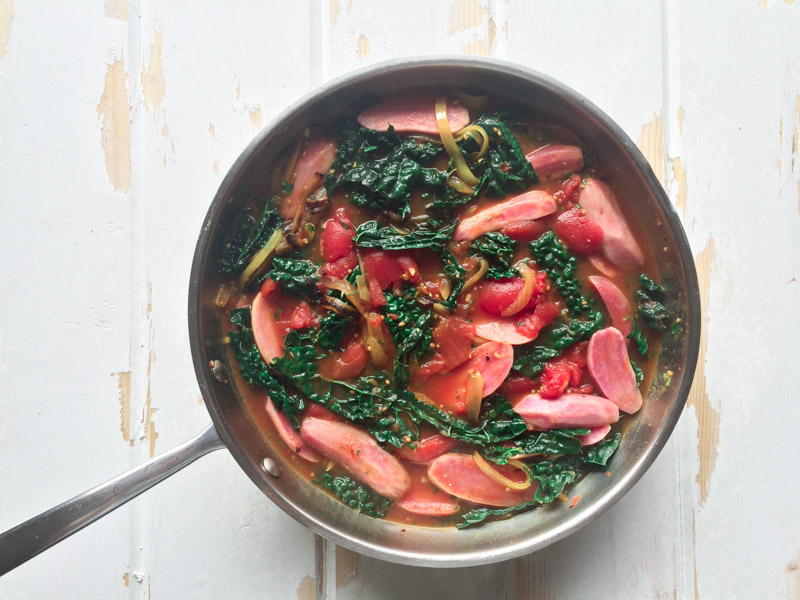 give it a taste for salt and pepper and move the stew to a roasting pan, nestle the chicken legs in the aromatic goodness and pop it in the oven to finish cooking.
and wait for your home to fill with the best smelling roasted chicken everrrr.
you're welcome 😘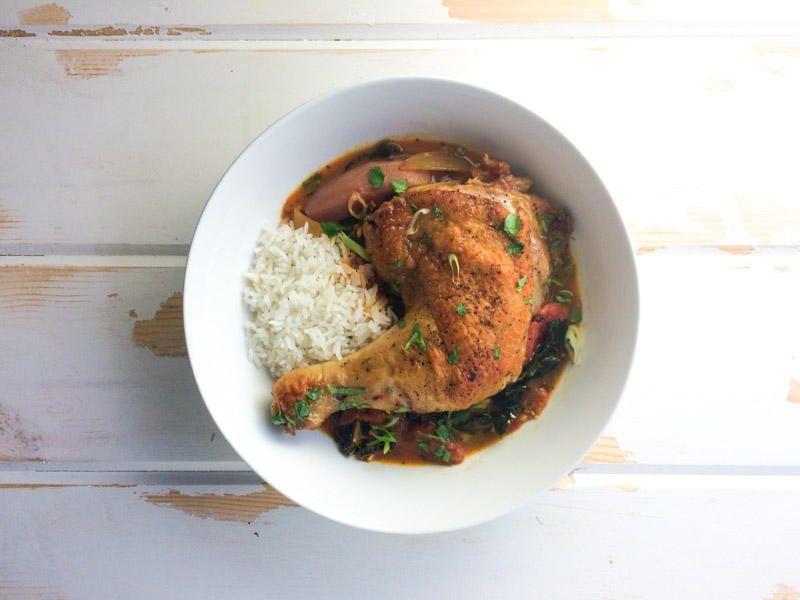 did you make this recipe? I would love to know how it turned out! you can leave me a comment below, or snap a picture and post it to instagram with the hashtag #nyssaskitchen! xo
RECIPE NOTE:
serving size varies from 4-6 depending on the appetite of those you're serving. the recipe actually makes quite a bit of stew, so if you're happy with half a chicken leg, some rice and a healthy portion of stewed tomatoes, kale and potatoes you can stretch the servings a little bit farther. but if you're like my hubby and practically eat two dinners a night, then one whole leg is a more hearty serving size 😋
Print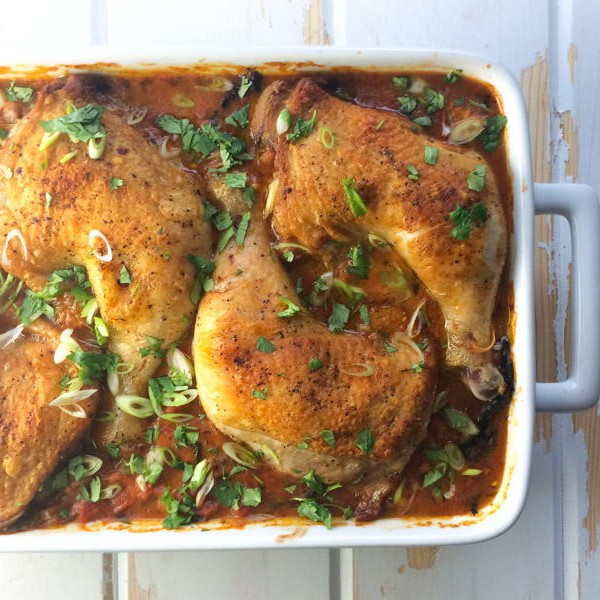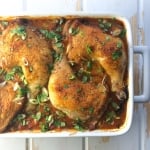 crispy coconut braised chicken with tomatoes, kale and potatoes
---
Author:

Nyssa Tanner

Total Time:

1 hour 15 minutes

Yield:

4

-

6

servings

1

x
Description
an aromatic and comforting recipe for crispy coconut braised chicken legs in a stew of hand crushed tomatoes, kale and potatoes
---
4

whole chicken legs

3

tbs olive oil, plus more if needed

1

can whole peeled san Marzano tomatoes

1

small bunch of kale, washed and torn into small pieces

10

small potatoes peeled

2

tbs butter

1

onion thinly sliced

3

cloves of garlic chopped

1/4 cup

cilantro stems and leaves finely chopped

1

tbs yellow mustard seeds

1 tsp

turmeric

1 tsp

cumin

1 tsp

chili flakes
Juice from

1/2

a lime

1/2

can of coconut milk
Cilantro and green onion for garnish
Salt and pepper
rice to serve alongside stew
---
Instructions
preheat the oven to 425.
thoroughly dry chicken legs and season liberally with salt and pepper. add 3 tbs olive oil to a large skillet and bring to medium high heat. once oil is hot add 2 chicken legs skin side down and cook untouched for about 4-6 minutes or until the chicken easily lifts from pan and the skin is golden. turn and cook on the other side for another 4 minutes, move to a plate and repeat with the other two legs adding more olive oil to the pan if necessary.
while chicken is cooking (or before if you like) prep kale, potatoes, onion, garlic and 1/4 cup chopped cilantro stems (you could also chop cilantro leaves for garnish at this time as well). cover potatoes in cold water to keep from turning brown.
once all of the chicken legs are browned drain the oil from the pan but do not wash. reduce heat to medium, add butter and sliced onion along with 1 or 2 tbs water to deglaze the pan. scrape up brown bits and cook onion until it is translucent and starting to brown.
add garlic, mustard seeds, cumin, turmeric and chili flakes. stir and cook for about a minute or until all the spices are very aromatic. add the chopped cilantro stems, potatoes, kale and tomatoes with their juices – lightly crushing the tomatoes in your hand as you add them to the pan. fill the tomato can about 1/3 of the way with water, swirling to get the remaining tomato juices from the can and add to the pan.
slightly increase heat and bring liquid to a simmer, making sure the potatoes are submerged as much as possible in the liquid. cover and cook for about 10 minutes (maybe a little more), or just long enough so that the kale is all wilted and potatoes have started to cook.
stir in coconut milk, lime juice and season to taste with salt and pepper. start with about 1/2 tsp salt and go up from there depending on your taste.
carefully move contents of skillet to a roasted pan and nestle chicken legs into stew leaving the skin side up and above the liquid line so it stays crispy.
move to the oven and set a timer for 35 minutes.
cook white rice according to package instructions while the chicken finishes cooking.
after 35 minutes remove from the oven and pierce chicken with a knife to peek inside or insert a meat thermometer to make sure it's fully cooked. if not cook a little bit longer in 10 minute increments.
once fully cooked broil for 1 or 2 more minutes to re-crisp up the skin (being so careful not to let it burn! after all this work that would be sad).
garnish with chopped cilantro and green onions and serve with rice or another grain of choice.
Prep Time:

15 mins

Cook Time:

1 hour

Category:

dinner