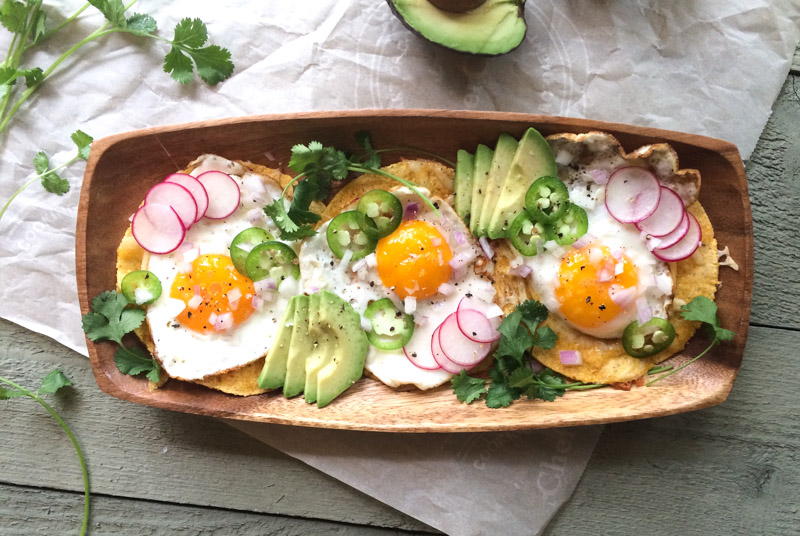 it's easy on the weekends to get lost in a fancy brunch recipe. sometimes the luxury of actually having the time to do this is exactly right for your weekend vibe, but other times you really want to make something delicious that still feels special but doesn't take up the better part of your day, so you can get into whatever fun or productive stuff you have planned with a full and happy tummy.
<cue in the breakfast taco>
these tacos are insanely customizable based on what you have in your refrigerator (read: not limited by a specific ingredient list – because sometimes running to the store before breakfast on a saturday means changing out of your pajamas waaay before that should be happening) and SO easy but so satisfying. not to mention easy on the eyes 😍.
best ever breakfast tacos have become a staple in our weekend breakfast circuit, and I think maaaybe if you give them a try, they'll stick around for you too. I mean… who doesn't like a breakfast taco?!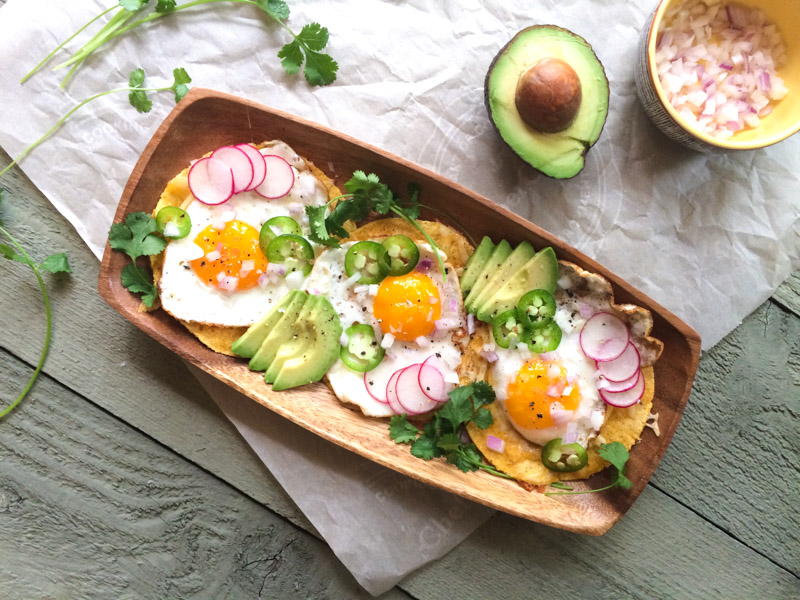 usually before the weekend hits I make sure I grab a pack of small tortillas and a dozen eggs to get the party started. the rest is based on what I have leftover from other weekday meals…leftovers can be really delicious re-purposed on a pan fried tortilla with a little cheese and a fried egg on top!
the way I'm presenting these tacos to you is my favorite arrangement. and we usually have most of the ingredients needed here hanging around – an avocado, along with some sort of onion – scallions, red, or even a plain old yellow onion would work if you diced very finely, cilantro is usually on hand and there's always some sort of cheese to grab and throw in the mix. if you have some sort of tender salad green you can sandwich that in between your cheesy tortilla and fried egg for extra healthy breakfast bonus points 😉!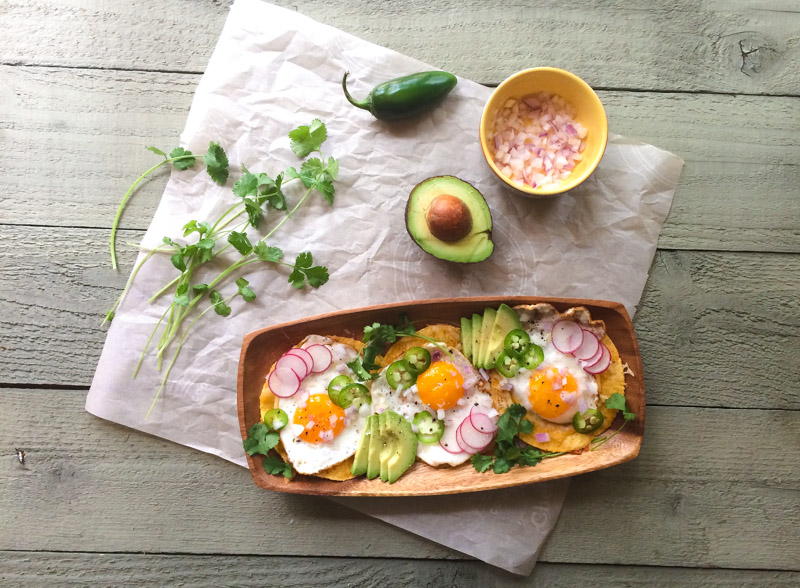 and the sauces! this is the perfect excuse to pull out all your favorite sauces. hot sauce, salsa, sour cream (don't have sour cream? plain greek yogurt makes an excellent substitute! especially if it's thinned out just slightly with a little water and a whisk. just don't tell P, he does not like plain yogurt 😉).
and —> GREEN SAUCE! <— if you have it, this is like the most perfect place to use it.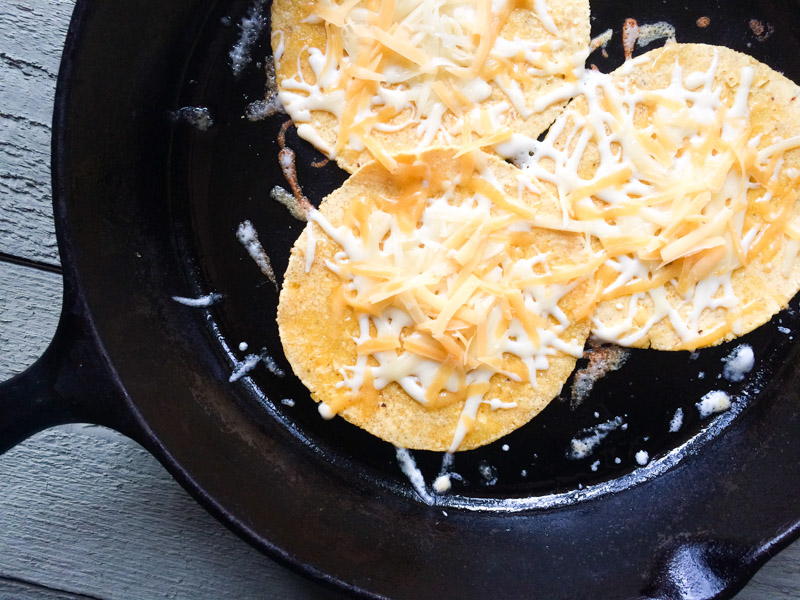 so the order of things goes like this:
warm up oven
fry eggs and move to warm oven as you go
pan fry tortillas and melt the delishus cheese
top with eggs and all the best toppings
STUFF YOUR FACE and go do fun weekend things!!!
sounds pretty good, right?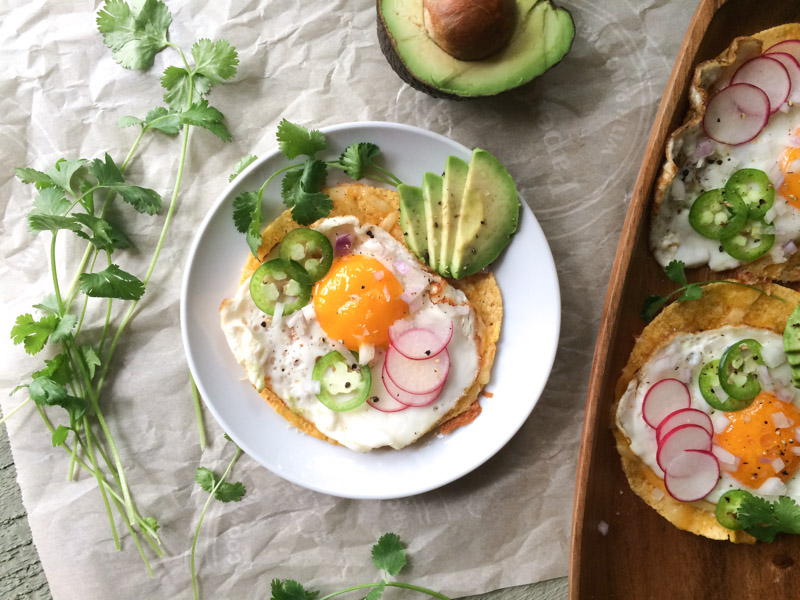 breakfast tacos for life. woohoo! 🎉
a note on quantity:
if you are wanting to make more than about 6 tacos (which usually works out to be about 2 batches of egg frying and tortilla + cheese melting), I would probably take a different approach than doing everything in one pan. still warm your oven, and move fried eggs to the warmed oven as you go, but instead of warming tortillas in the pan you might consider laying them on a baking sheet & and once your fried eggs are all ready, take them out and swap in your pan of tortillas and cheese. broil very briefly to melt cheese and slightly crisp up tortillas, then take out and top with eggs and toppings to your little hearts desire!
did you make this recipe? I would love (!!) to know how it turned out! you can leave me a comment below, or snap a picture and post it to instagram with the tag @nyssaskitchen or hashtag #nyssaskitchen! xo
Print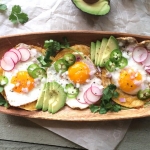 best ever breakfast tacos
---
Description
a recipe for incredibly easy and satisfying breakfast tacos with fried eggs, avocado, cilantro, jalepeño, red onion and radish.
---
---
Instructions
turn on oven to 350 degrees for 2 minutes and then turn off
prepare a baking sheet lined with parchment paper and have ready next to the stove top
heat a large skillet over medium heat with 1 tbs of chosen fat.
crack 3 eggs into pan and cook slowly to desired doneness. remove to waiting baking sheet and move to oven to keep warm.
repeat this step with remaining eggs.
add three small tortillas to the skillet and top with about 2 tbs cheese per tortilla. cook until cheese is melted. move to baking pan in the oven and repeat with remains 3 tortillas + cheese.
remove pan from oven, top tortillas with eggs and add desired garnishes.
serve immediately with salsa, hot sauce, sour cream and green sauce!
Prep Time:

5 mins

Cook Time:

15 mins

Category:

breakfast