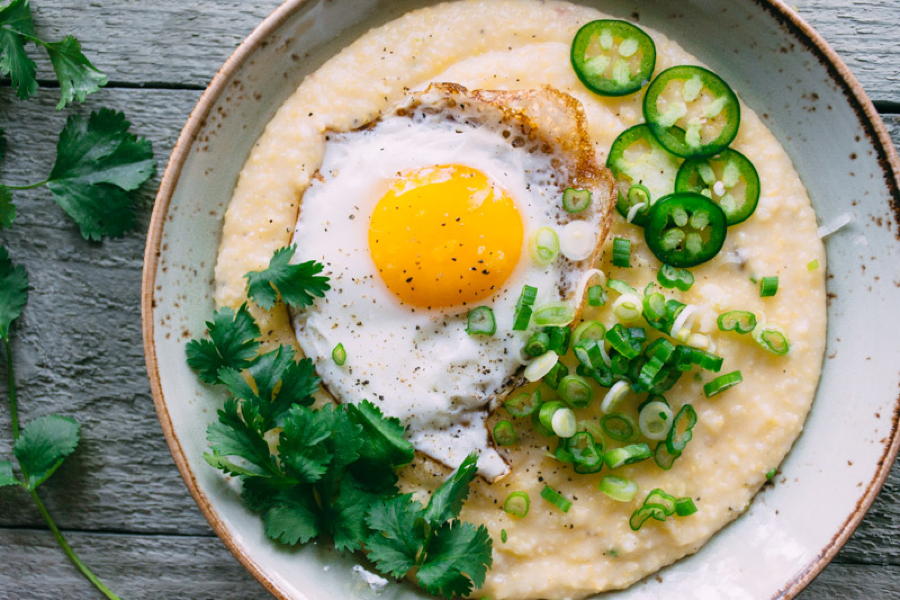 january feels like the perfect time to make some spicy cheddar grits with fried eggs.
my food philosophy really doesn't change too much throughout the year. as long as I'm eating mostly organic food that makes my body feel good and using minimally processed ingredients, I leave the guilt at the door. some days I feel like smoothies and oatmeal for breakfast, other days (like weekend time with P!) I go for the cheesy grits with fried eggs. life is too short not to treat yourself.
& while I'm not much into food resolutions I am into setting mindful intentions + increasing the time and energy I spend doing things I LOVE! there's going to be more of that in 2016 for this girl. I am a true believer that the world needs more people embracing what they love; that thing that makes them come ALIVE. because that's when the magic happens.
"Everything affects everything. In this universe, when one thing changes, everything changes. Hence the great power of human beings to change the world, changing him[her]self." Nisargadatta
that's when we can move mountains.
or at least make some super bomb spicy cheddar grits with fried eggs that satisfy and warm your tribe. and really, isn't that how most good things begin?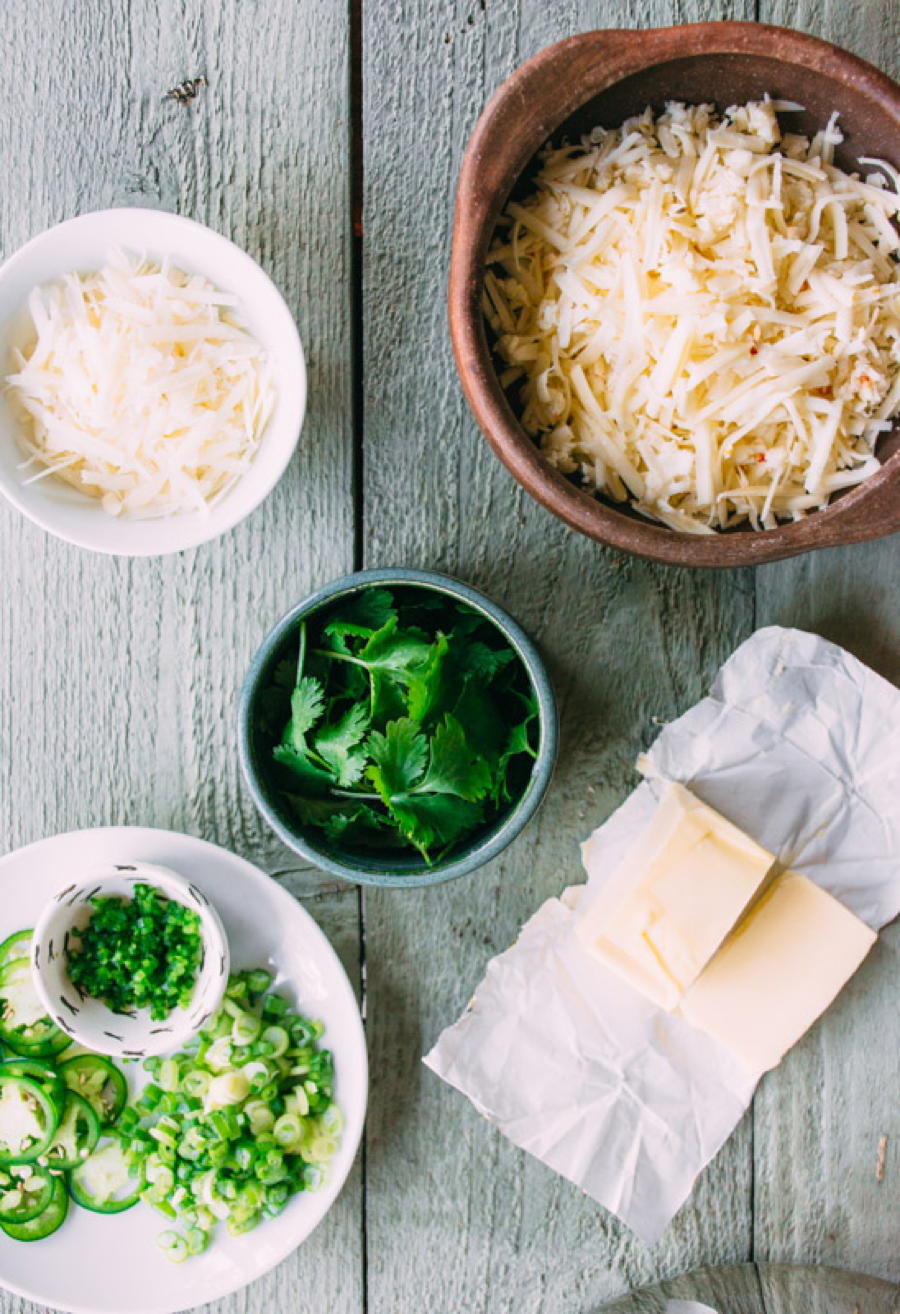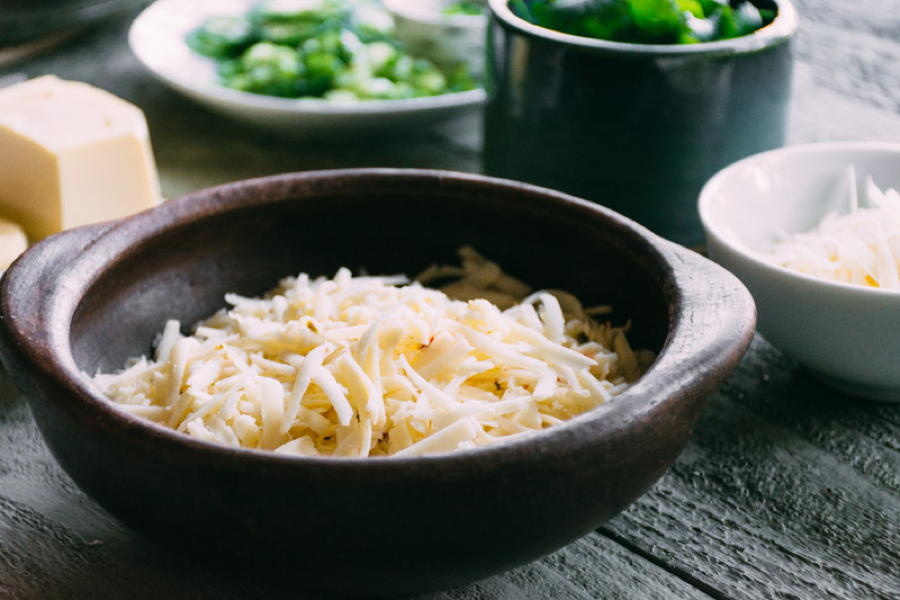 I had never even tried grits until I moved to Seattle 8 years ago. I was out to brunch with P somewhere in the city (that I now cannot remember for the life of me! anyone know of a breakfast spot in Seattle with killer grits?) when I stole a bite from his plate and my heart skipped a beat. after that I was determined to re-create the food crush at home.
I have since realized that they're such an easy thing to make, and (major bonus!!) a pantry ingredient that's easy to keep around and highly adaptable. I've never added a cheese and/or dairy product that hasn't enhanced the lush factor.
and really the more lush factor we have in our lives the better. the adjective to end all adjectives. wine can be lush, the landscape can be lush, sleep can be lush and lord knows food can be lush.
life goals = more lush.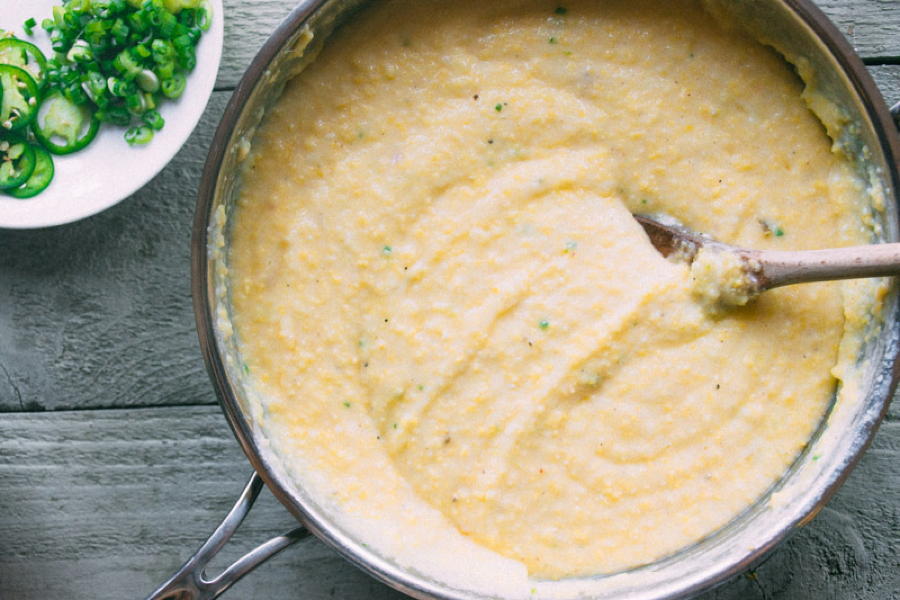 most package instructions for grits list a cooking time of 5-15 minutes. which, depending on the coarseness of the grind of corn you can totally get away with. but I have found that if you tack another 15 minutes on to that number you end up with a far better (more lush!!!) end result. everything just
melts together in a dreamy way, especially once you stir in some butter + cheese. seriously, any kind! I have used cheddar, parmesan, pecorino, gruyere and even cream cheese.
but this time I went with the pepper jack + parm combo. because bold spicy flavors make us happy.
while their cooking away, chop your garnishes and fry up your eggs for a luscious southern style breakfast that seems way more complicated than it actually is, in 30 minutes flat!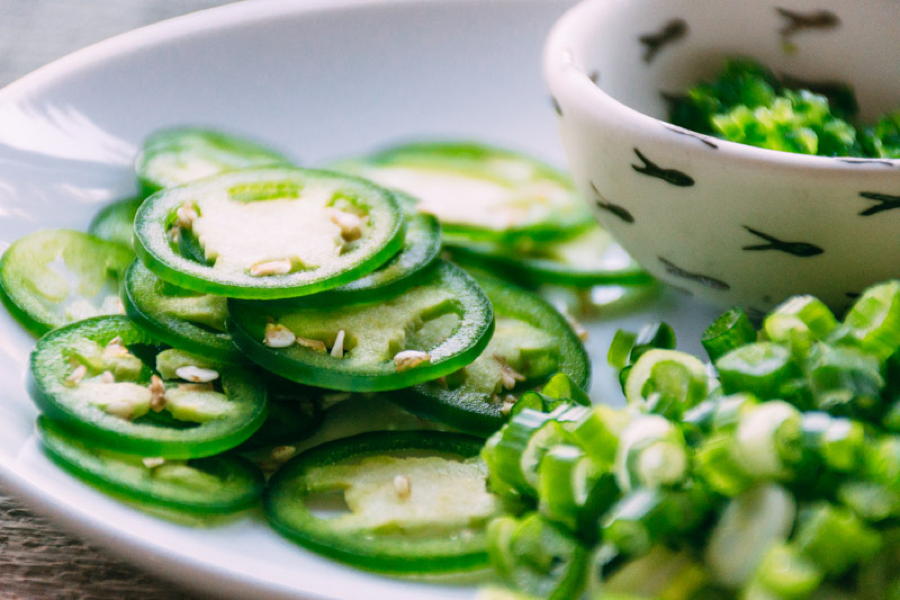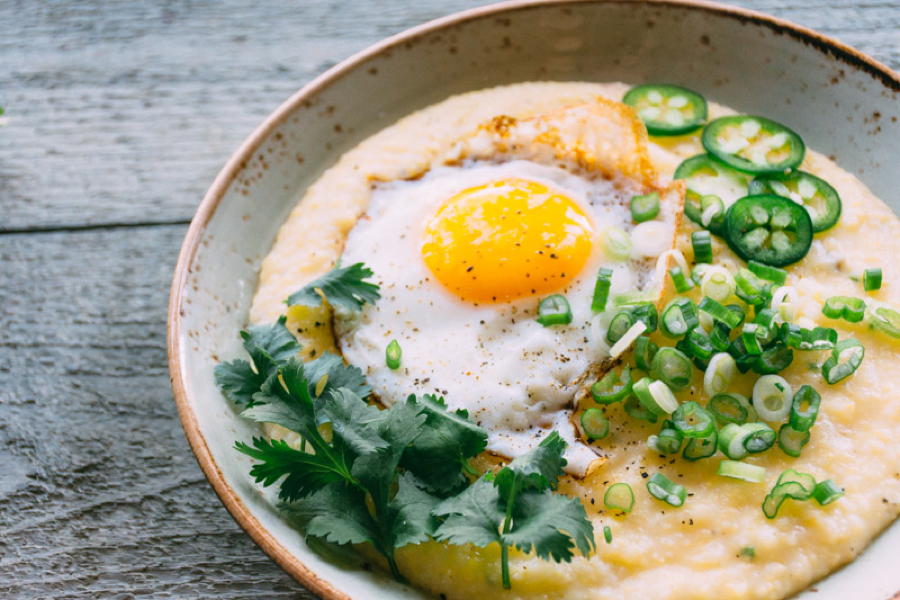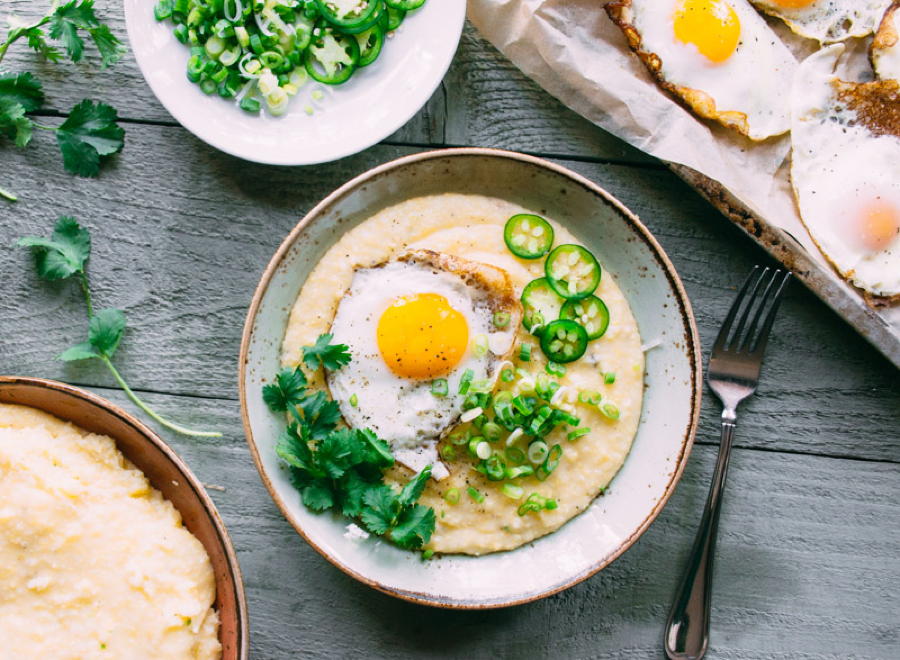 bam. a bad ass breakfast to share with all of your weekend crew.
a note on grits:
I love bob's red mill brand because of the consistent quality of the product and the very good message behind what they do. take a read of this and I bet you'll agree.
https://www.bobsredmill.com/about-bob.html
if you can't find this product at your local grocery store it can easily be purchased on here on amazon:
https://www.amazon.com/gp/aw/d/B001O8NNUG/ref=mp_s_a_1_6?qid=1452736836&sr=8-6&pi=AC_SX118_SY170_QL70&keywords=bobs+red+mill+grits&dpPl=1&dpID=51dWPRgnelL&ref=plSrch
I'm not making a penny on this recommendation, I just love the product and want to share it with you!
did you make this recipe? I would love to know how it turned out! you can leave me a comment below, or snap a picture and post it to instagram with the hashtag #nyssaskitchen! xo
Print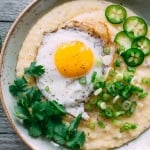 spicy cheddar grits with fried eggs
---
Author:

Nyssa Tanner

Total Time:

35 minutes

Yield:

6

servings

1

x
Description
a super easy and delicious recipe for spicy cheddar grits with fried eggs, cilantro, green onion and jalepeno.
---
6

eggs

7 1/2 cups

water

1 1/2 cups

grits
about

1 1/2 cups

pepper jack cheese (

6 oz

), grated

1/2 cup

Parmesan cheese, grated

1

tbs butter

1

jalapeño pepper (

3/4

sliced,

1/4

finely chopped), cut out seeds for less spice

3

green onions sliced

1/2 cup

cilantro leaves

1/2 cup

milk
black pepper

1 1/2 tsp

salt + more to taste
---
Instructions
bring water to a boil in a large pan.
lower to a simmer and add grits, stir slowly to incorporate. turn the temperature down a bit more to keep at a bare simmer. stir frequently to keep from sticking to the bottom of the pan. cook for about 30 minutes.
while grits are cooking shred your cheeses, prep jalepeno, green onions and cilantro.
when there's about 10 minutes left of cooking time for the grits, fry your eggs. *If I'm cooking for more than a couple of people I like to warm the oven just slightly to about 200 degrees and transfer the fried eggs to a baking sheet lined with parchment paper and keep warm in the oven while I cook the next batch.*
once grits are done (they shouldn't be any thicker than mashed potatoes, and the texture should be quite silky) stir in the butter, milk, cheeses and the finely chopped jalepeno. season to taste with salt.
serve hot top with a fried egg, some green onions, sliced jalepeno and cilantro.
if you plan to rehea the grits you may need to thin them out with a little more milk or water, as they will thicken once cooled.
Prep Time:

5 mins

Cook Time:

30 mins

Category:

breakfast

Cuisine:

vegetarian, southern