Well hey lovely people! How are you DOING?! Hope your week is off to a great start. Some of my favorite players are making an appearance in today's post – turmeric, ginger, cardamom and cinnamon are all a part of this amazing bedtime turmeric golden milk bulletproof latte! And why should you be excited?
because golden milk is The perfect tonifying remedy for winding down at the end of the day.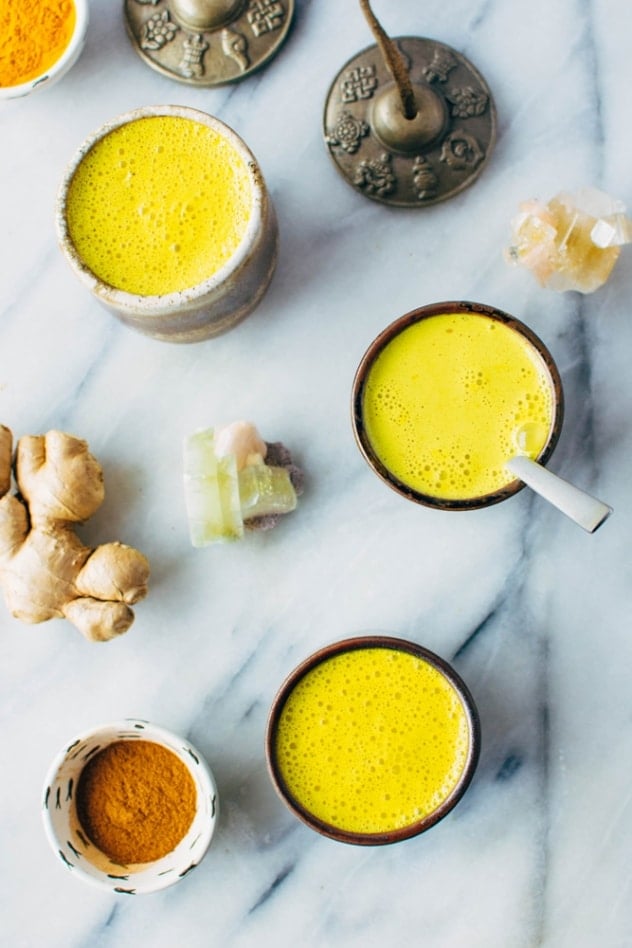 I've been getting home late since starting my new job, like 10 or 11 at night (if I'm lucky!) and while I'm SO grateful to have my days free to work on this site and take care of myself, it's been a little bit harder to wind down and get to sleep once I get home.
Sometimes I stay awake for a little while to bust out some work in the quiet and dark house, as it always tends to be a pretty productive time for me – there's something about that stillness that allows me to focus like no other. But I don't like staying up so late that I'm dragging to get out of bed in the morning. When I fall into that bad habit it always has a way of killing my morning yoga routine. Which if you can relate, tends to start a waterfall cascade of feeling like my day has totally fallen to bits and that I'm in no way living up to my potential. Yikes! that sounds pretty harsh when I write that down here.
I'm working on that whole self compassion thing.
I've known for awhile that golden milk can aid in relaxation, and therefore promote a good night's sleep, so I decided to give it a try. Boosting this turmeric latte with an extra dose of healthy fats was this sort of intuitive thing that I started adding to my own little recipe to have an even easier time falling and staying asleep.. Come to find out after some research, having a little bit of fat before bed isn't just some random thing. It really can help you fall and stay asleep by keeping your tummy is satisfied, and giving you that cozy sleepy feeling you get after finishing an especially satisfying meal.
I love it when my intuition is confirmed by scientific facts! Makes me feel like I'm tuning into my body in the right way. Our bodies have lots of messages to share with us if we create the space to listen!
so What is golden milk and why should you drink it?
Golden milk is a creamy, warm and nourishing beverage that actually goes back quite a way in history. Like centuries. It's roots lie in ayurvedic tradition, where turmeric, the main ingredeint in golden milk, has long been appreciated for it's countless healing and nurturing properties.
The most studied and prized agent in turmeric is called curcumin, a polyphenol that has been shown to have many beneficial health properties for everything from acting as a systemic anti-inflammatory, to a liver, digestive, and immune tonic.
Turmeric also has powerful anti-septic properties, which means that it helps stop or slow down the growth of harmful disease causing organisms – pretty rad, right?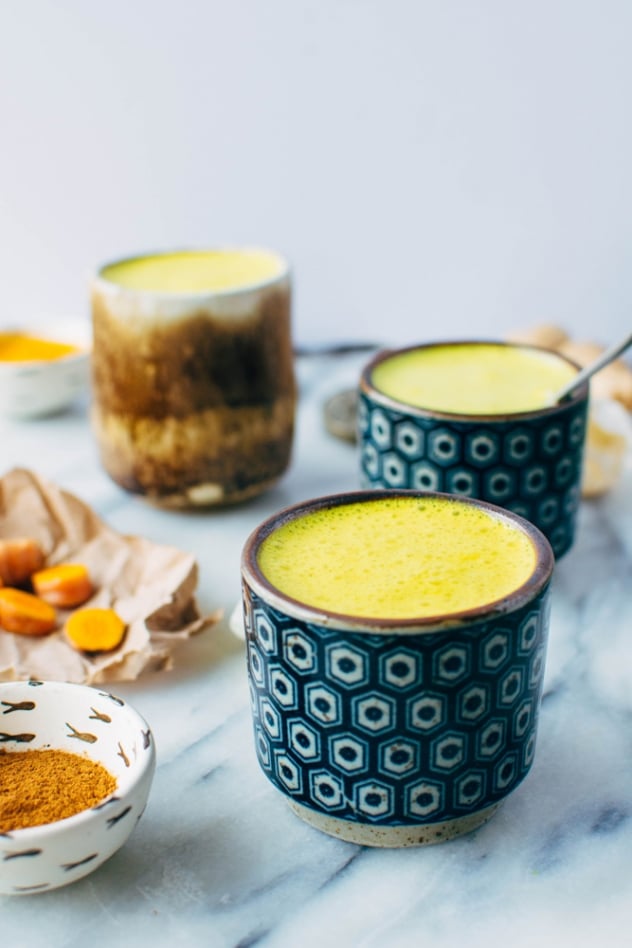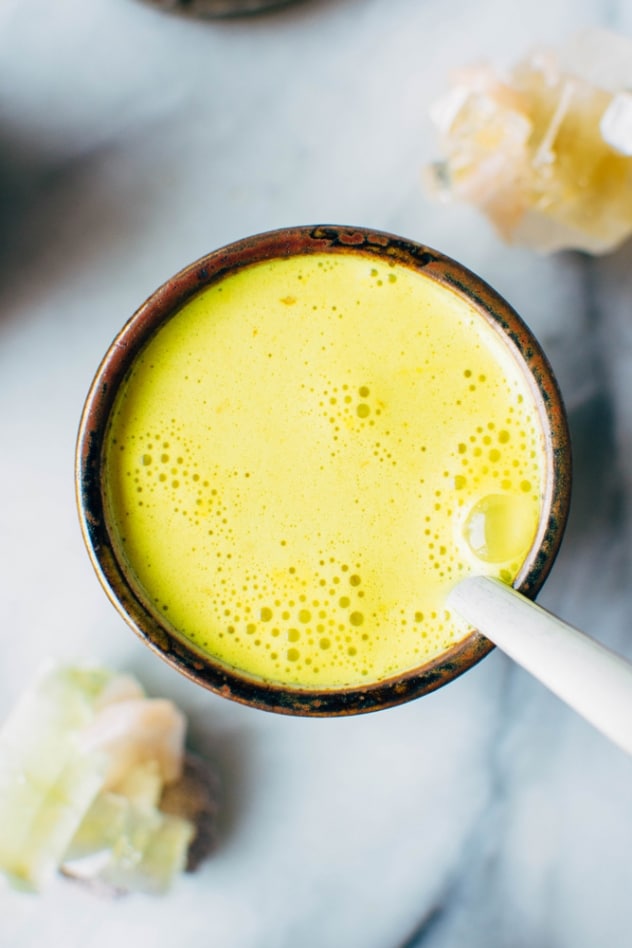 Why is Golden milk important?
In the fast paced world that we live in, inflammation is becoming a bigger issue for many of us. It can be triggered by stress, infection, toxic chemicals and eating foods that just aren't suited to our body type (helllloo last 2 years of my life!).
But when you think about adding something like turmeric to your daily regimine that helps with:
relaxation (therefore combatting stress)
has anti-septic and immune boosting properties (which may help ward off infection)
boosts our liver function (helping our body process toxic environmental chemicals)
and soothes and tonifies our digestive system (bringing a little more harmony back to our gut)
that kind of makes it sound like the perfect remedy to our modern lives, doesn't it? It's definitely been making a big comeback these days, and I don't think that's an accident!
that sounds great, but how exactly will golden milk help you sleep?
In my humble opinion, the answer to this question is like a puzzle. I think that it relates deeply to all of the individual ingredients in this recipe that work together to lull you into sweet, sweet dreamland.
So let's break it down.
These are the ingredients that I've chosen for my particular bedtime recipe:
Turmeric – The base of all goldenmilks, this spice offers healthy anti-inflammatory and immune  support for the whole body
Black pepper – There's a key chemical in black pepper called piperline, that can enhance the bio-availability of turmeric by 2000%! Making it a pretty important pairing for the bright orange spice
Ginger – Also long prized for it's anti-inflammatory and digestive soothing properties, this warming spice adds another layer of tonifying the body
Cardamom – Another digestive aid! Crazy how much managing our digestive systems has to do with relaxing and sleeping well. Second brain, anyone?
Cinnamon – This common and well-loved spice actually has a pretty awesome way of balancing your blood sugar, which in turn helps regulate your hormones, which can help you sleep more soundly!
Vanilla – This scent is well known for promoting relaxation. It can also stabalize your heart rate and lower blood pressure!
Coconut oil – There are many benefits of coconut oil, many of which I'm sure you already know, but the one I want to focus on here is that it's made up, almost entirely, of oleic acid, which is a precurser to oleamide, which is a naturally occuring sleep-inducing chemical.
Almond butter + Ghee – More healthy fat! And some fiber from the almond butter that will help you stay full and satisfied LONGER, making your sleep more deep and restful.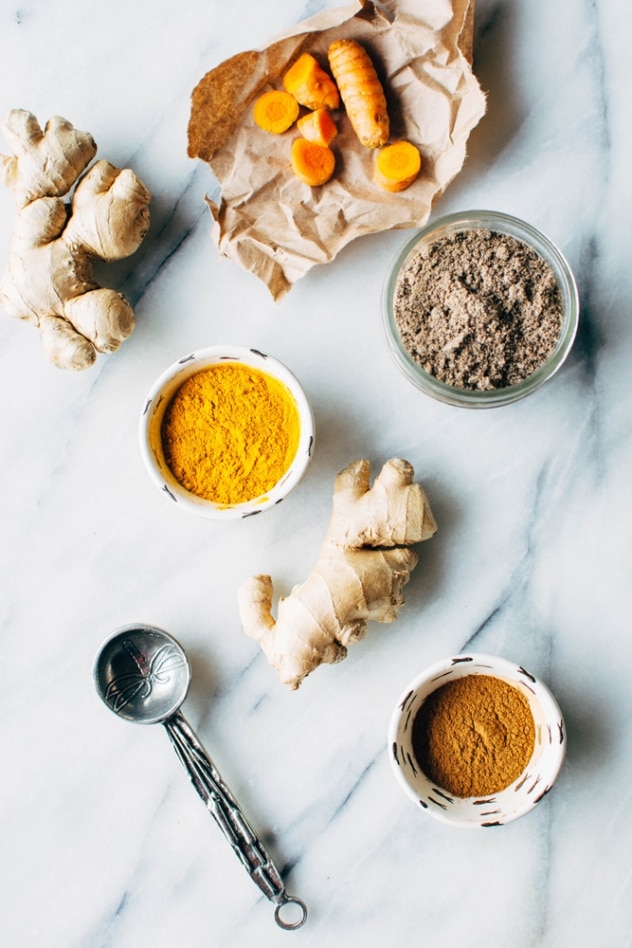 alright, I'm sold. now how do i make golden milk?
It's actually really easy to make! The basic idea is to heat all of the spices detailed in the last part of this post – turmeric, black pepper, ginger, cardamom, and cinnamon in a little bit of coconut oil, until they're very fragrant. That mixture will then get scraped into a blender with the remaining sleep inducing ingredients and hot water, and blended until creamy, cozy, and nourishing nirvana is reached!
If you like to plan ahead for your evening routine you can make a larger batch of the first part of this recipe and tuck it away into the refrigerator until you're ready to use it.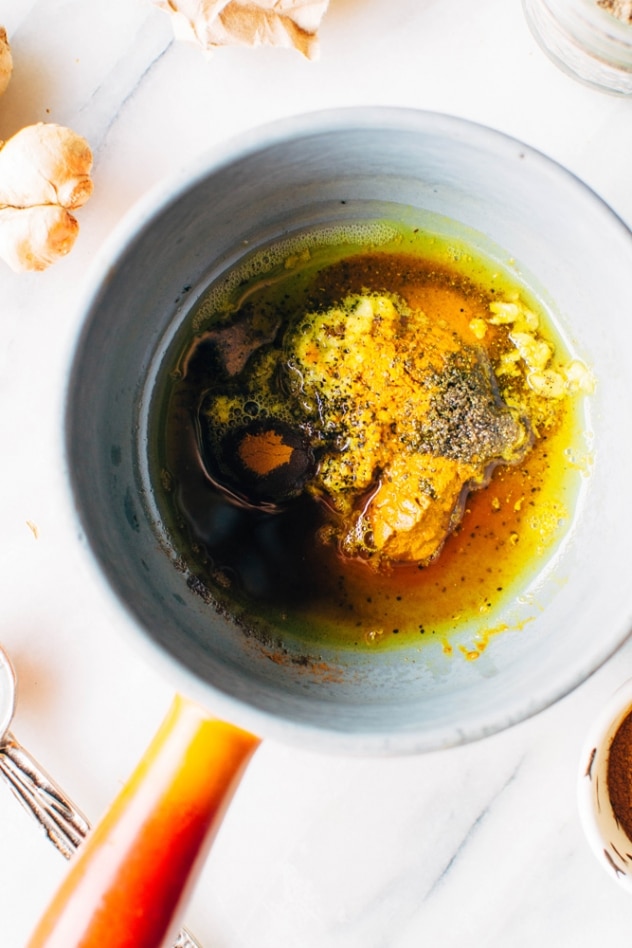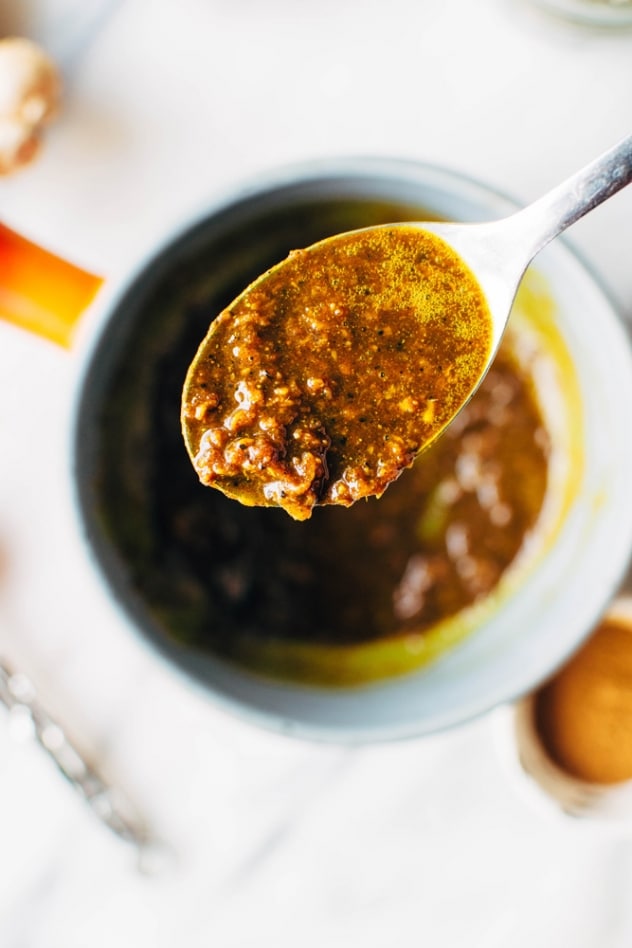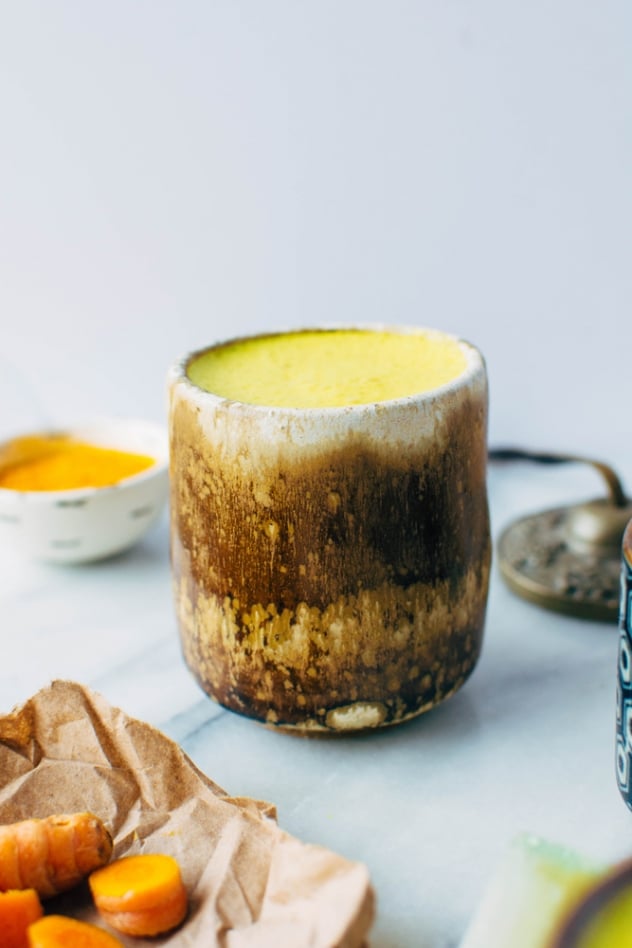 now that we know how much golden milk rocks, let's go out and make some!
Maybe this doesn't end up being something you rely on all the time to get some help falling asleep, it's at least nice to know that this remedy is there when you need it. And I don't know about you, but I would rather enjoy a lightly sweetned, creamy spiced cup of bedtime goldenmilk bulletproof latte over a sleeping pill (or a restless night of sleep!) any night of the week.
Want more turmeric boosted recipes? Check out these favorites!
did you make this recipe? I would love to know how it turned out for you! when you rate my recipes and leave feedback it helps me continue to improve. you can leave me a comment below, or snap a picture and post it to instagram and tag me for a chance to be featured in my insta stories! @nyssaskitchen and use the hashtag #nyssaskitchen! xo 
Print
bedtime turmeric golden milk bulletproof latte
---
Author:

Prep Time:

10 minutes

Total Time:

10 minutes

Yield:

2

8 oz servings

1

x
Description
An amazing bedtime tonic made with turmeric, black pepper, ginger, cardamom, cinnamon, vanilla, coconut oil and ghee + almond butter for extra satiating healthy fat!
---
Scale
Ingredients
1 tbsp

coconut oil

1

inch ginger, grated

1 1/2 tsp

ground turmeric

1/2 tsp

cinnamon

1/4 tsp

ground cardamom
pinch of black pepper

1 tbsp

ghee or butter (leave out for a vegan option)

1 tsp

almond butter

1 tsp

vanilla extract

1 tbsp

maple syrup (or less for a slightly less sweet version)
pinch of sea salt

16 oz

boiling water
---
Instructions
Heat coconut oil in a small sauce pan over medium heat.

Add ground turmeric, cinnamon, cardamom, black pepper and freshly grated ginger and stir, cooking spices until very fragrant, about 1 minute.

Scrape coconut oil and cooked spices into a high speed blender and add 1 tbsp ghee or butter, 1 tsp almond butter, vanilla extract and pinch of sea salt and water.

Blend on high until pale yellow and emulsified!

Enjoy immediately and say hello to a restful nights sleep!
Notes
Wash out your blender immediately after blending to avoid staining! Even with washing it out immediately you may have some yellow tint left behind. It will fade after some time, but if you want to avoid staining your blender another option is to use an immersion blender.

If you want to plan for future batches, double or even triple the coconut oil and spice mixture and save the extra in the refrigerator until ready to use.