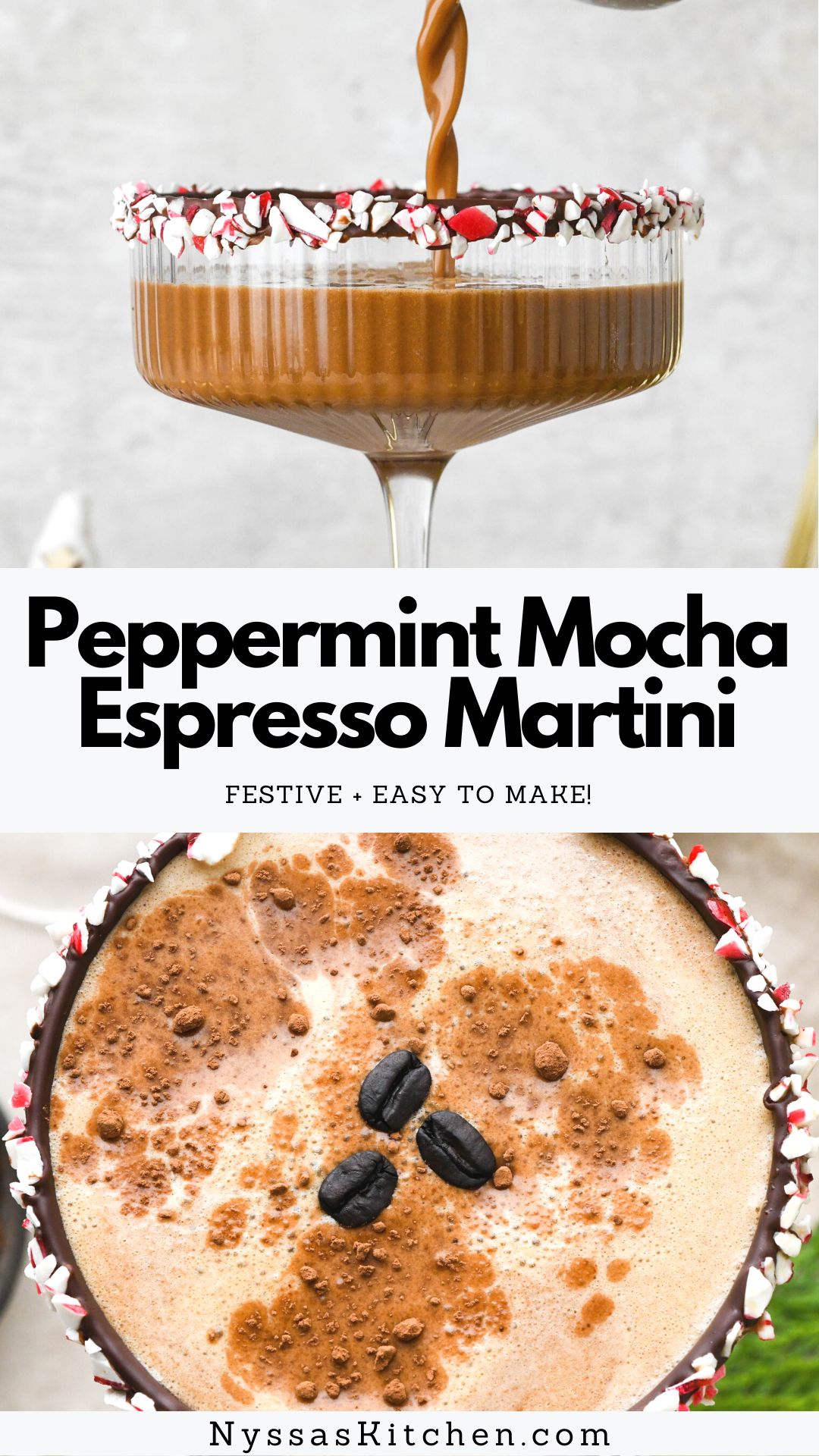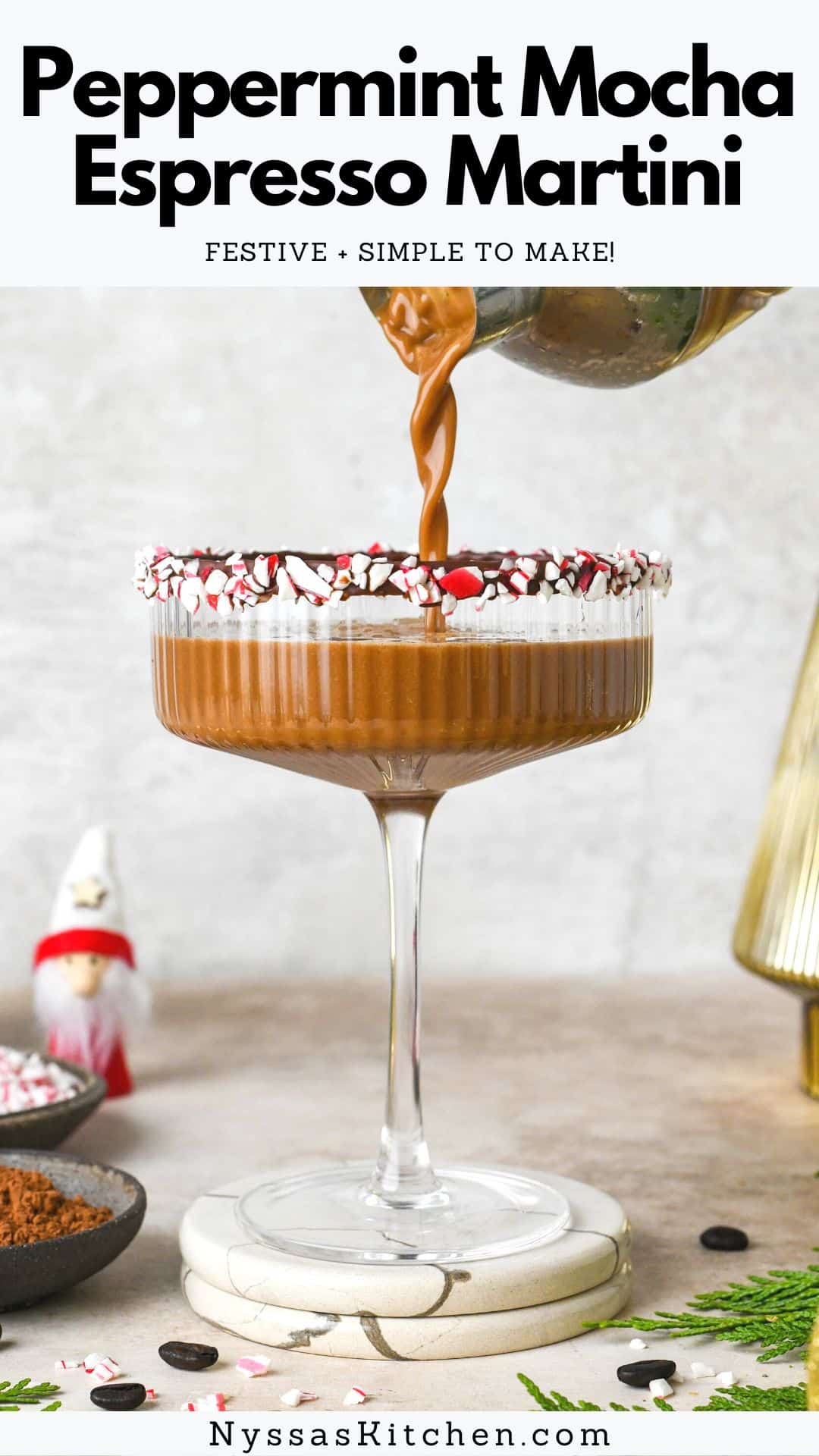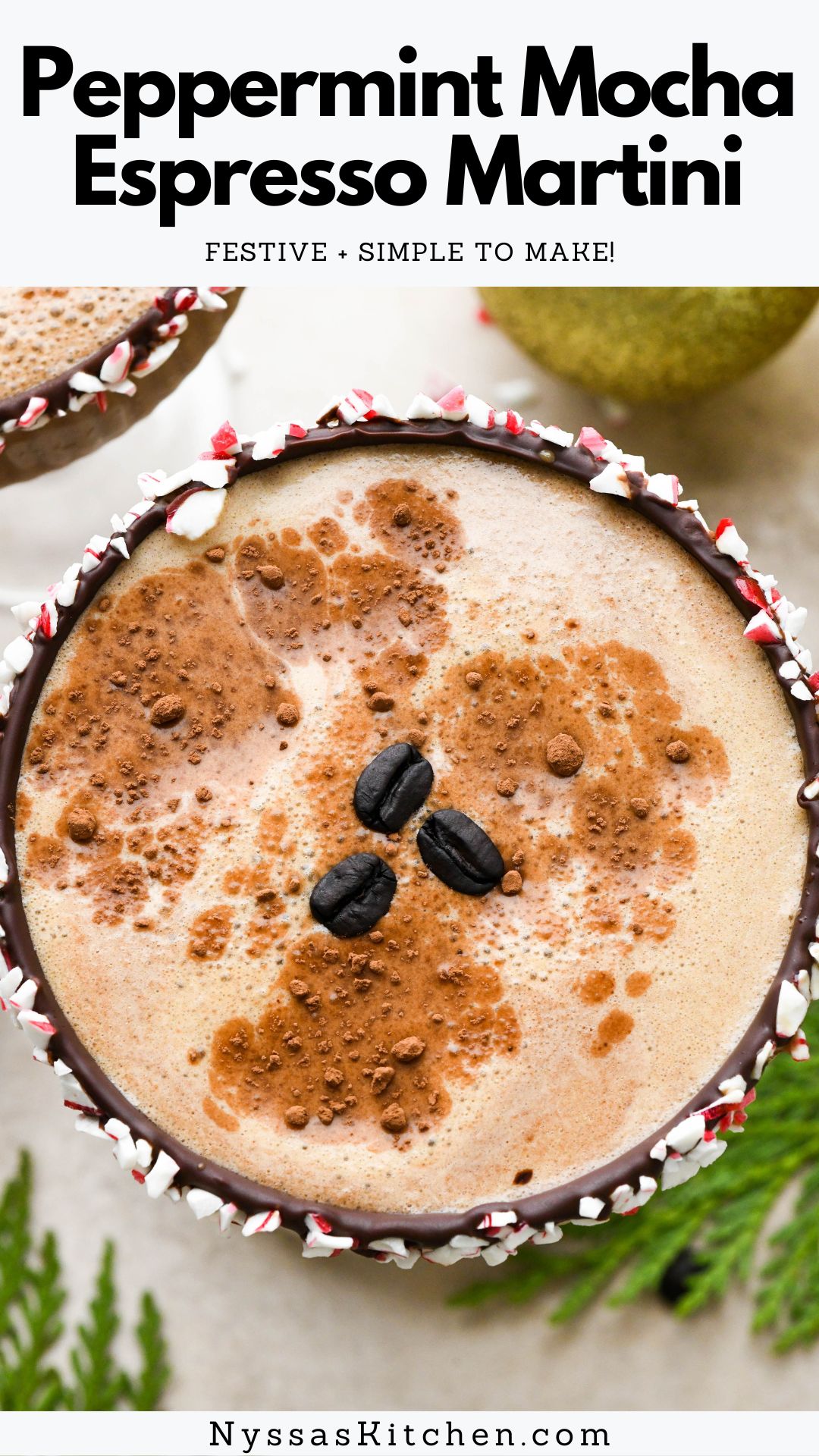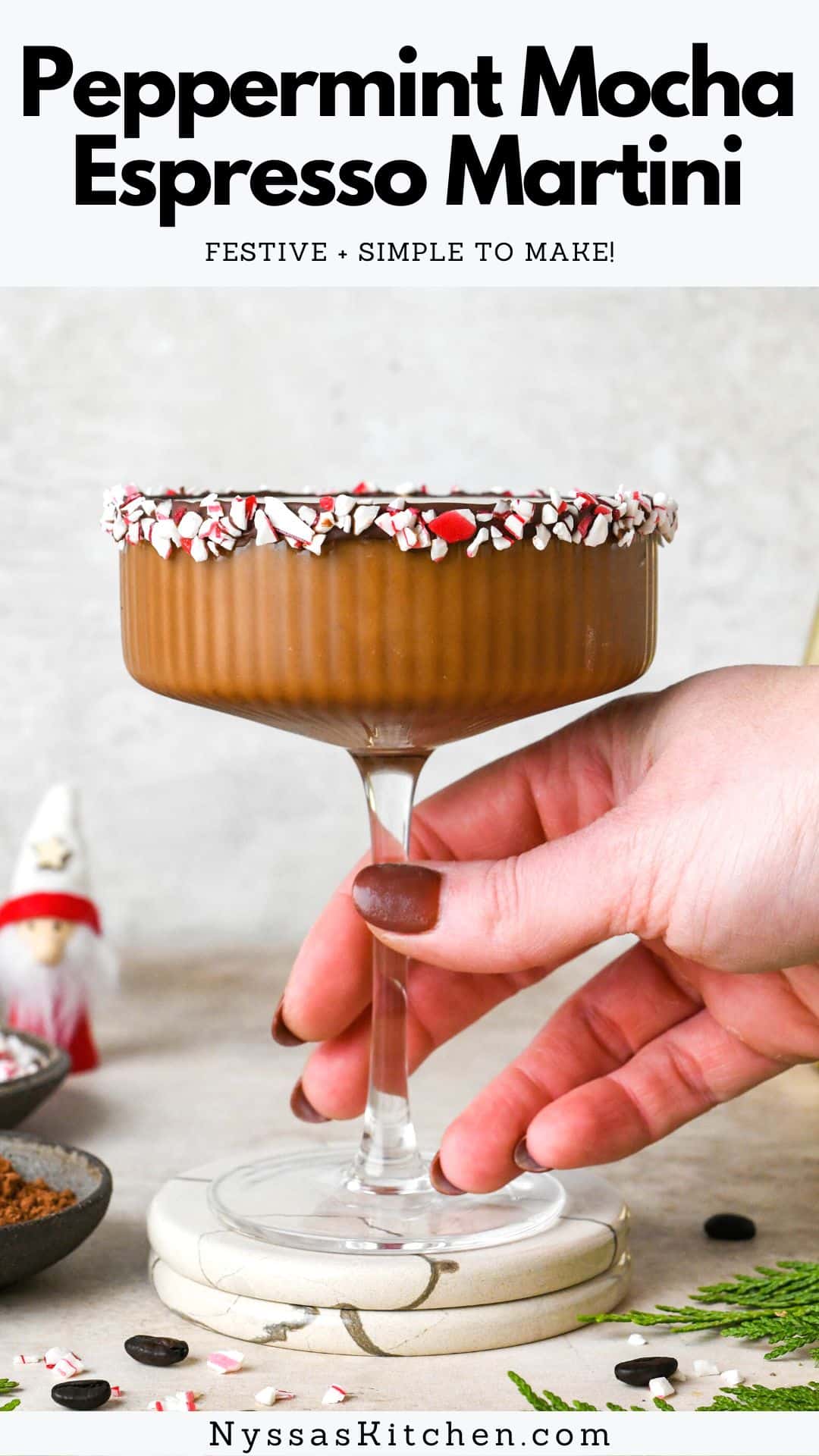 A peppermint mocha espresso martini is an easy (yet fancy!) make at home cocktail that's just perfect for the holiday season. Made with pantry staples that you likely already have on hand (no need to run to the store for any special ingredients), and simple enough that it can be whipped up in just a few minutes. Delightfully creamy, and laced with notes of chocolate and peppermint. A real treat of a drink to cozy up with throughout the winter season!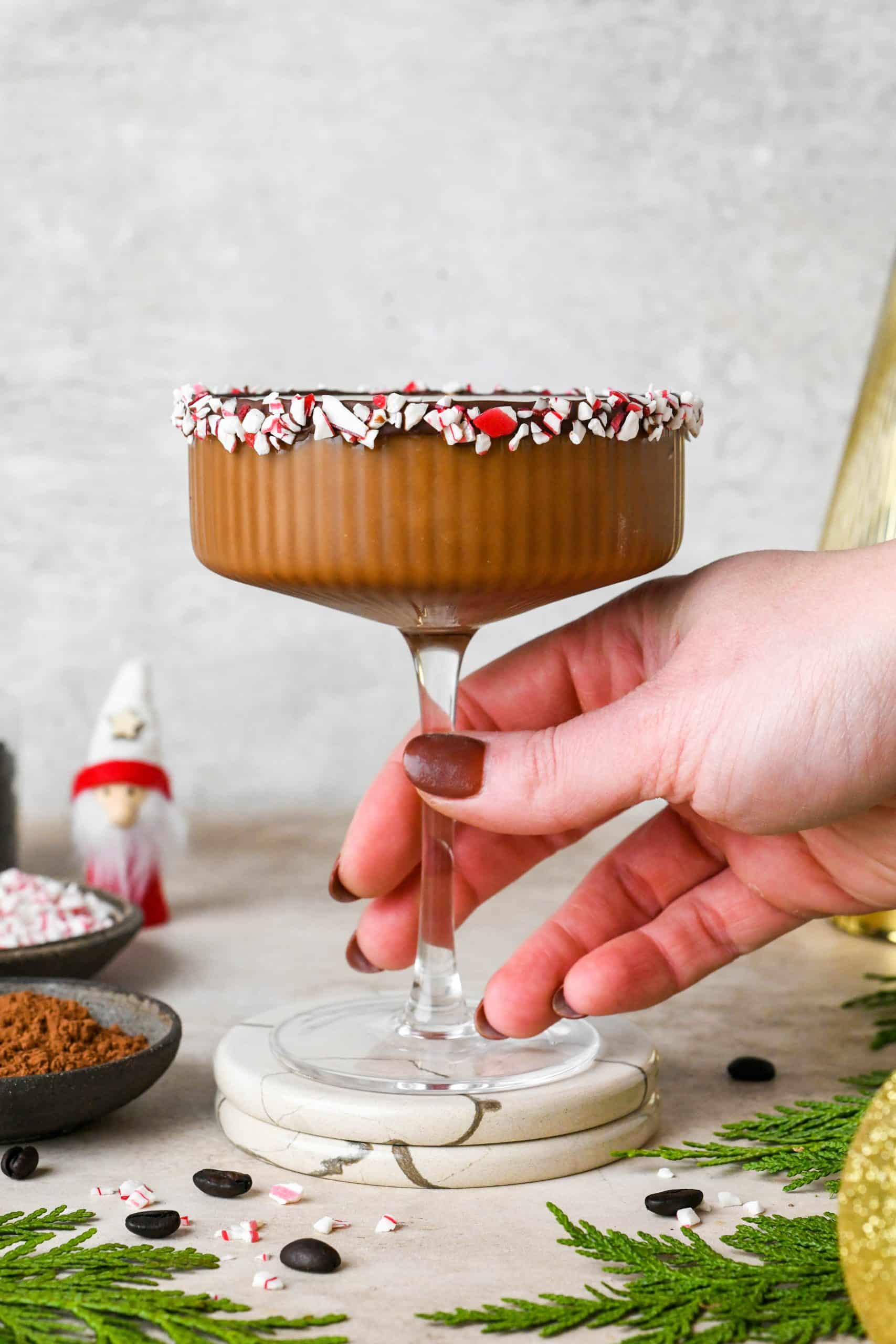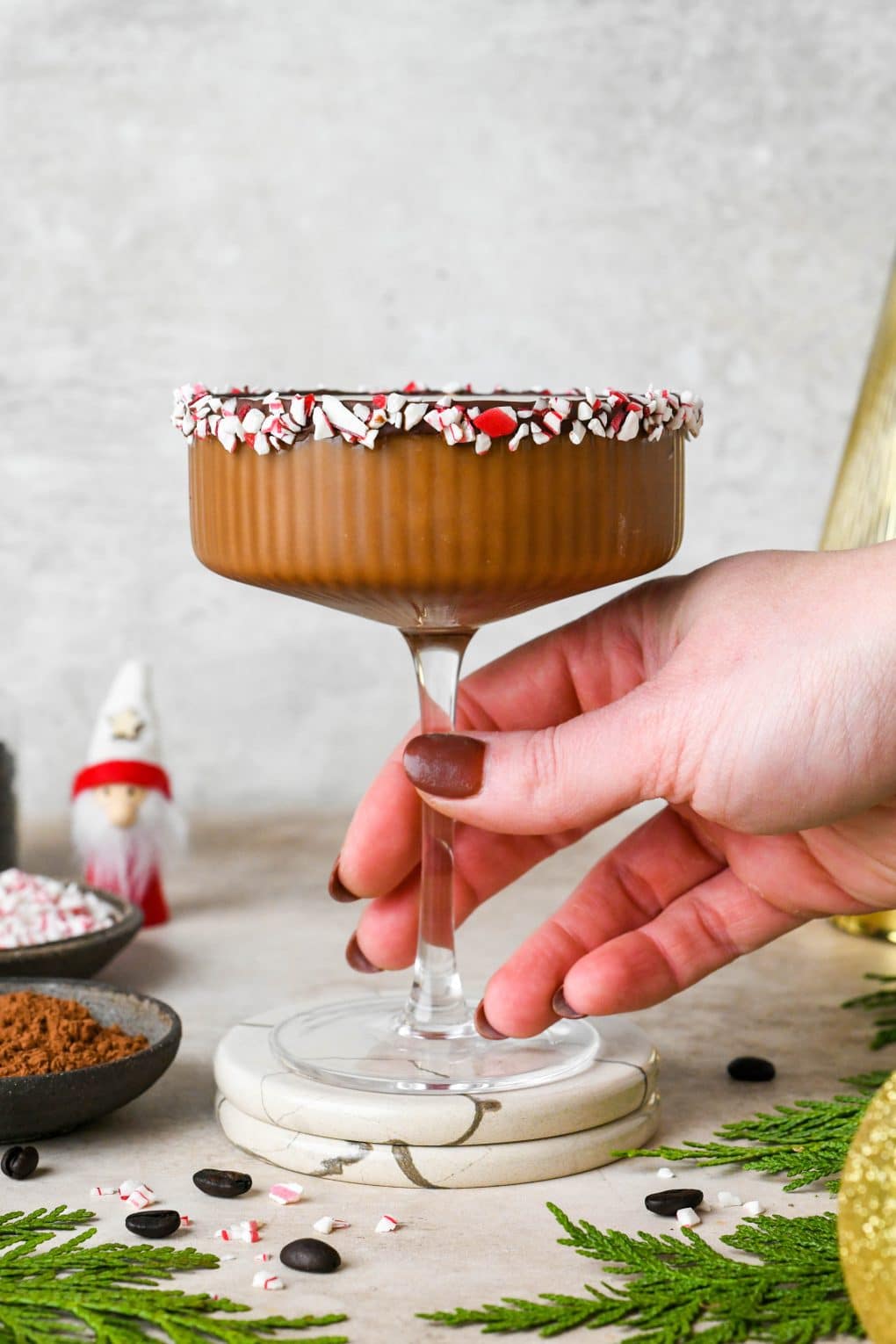 The best festive martini
There is something about the holiday season that makes it all the more fun to whip up a fancy cocktail at home.
Perhaps the lure is the ability to enjoy said drink while warm and toasty in PJ's and slippers? 😉
Espresso martinis fall firmly into the category of my favorite homemade cocktails, and my love of peppermint lattes also runs deep this time of year, so naturally I had to make a recipe for a peppermint mocha espresso martini.
Instead of relying on fancy liqueurs that you'll probably only pull off the shelf a few times a year, this martini is made with pantry staples that you likely already have on hand for your holiday baking.
Which means that it's not only irresistibly delicious, but also easy to make!
If you love espresso martinis as much as we do, you'll also want to check out our recipes for a classic espresso martini, eggnog espresso martinis with rum, and pumpkin spice espresso martinis.
Why you'll love this peppermint mocha espresso martini
It is:
Laced with notes of chocolate, coffee, and peppermint
Ready in less than 5 minutes – easy to make!
Delightfully festive
Made with pantry staples
Perfect for the holidays and New Years Eve parties
Luscious and creamy
Absolutely delicious!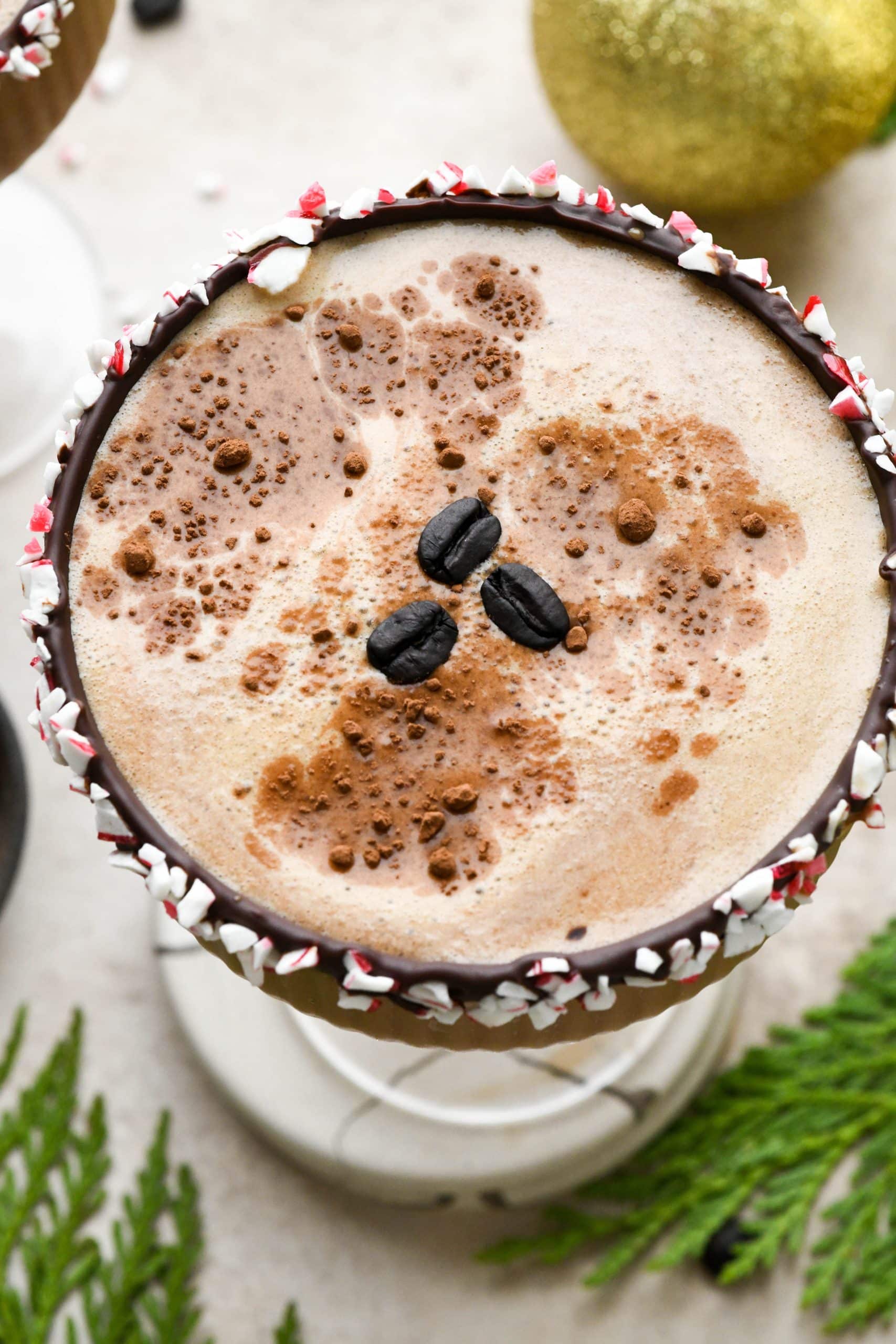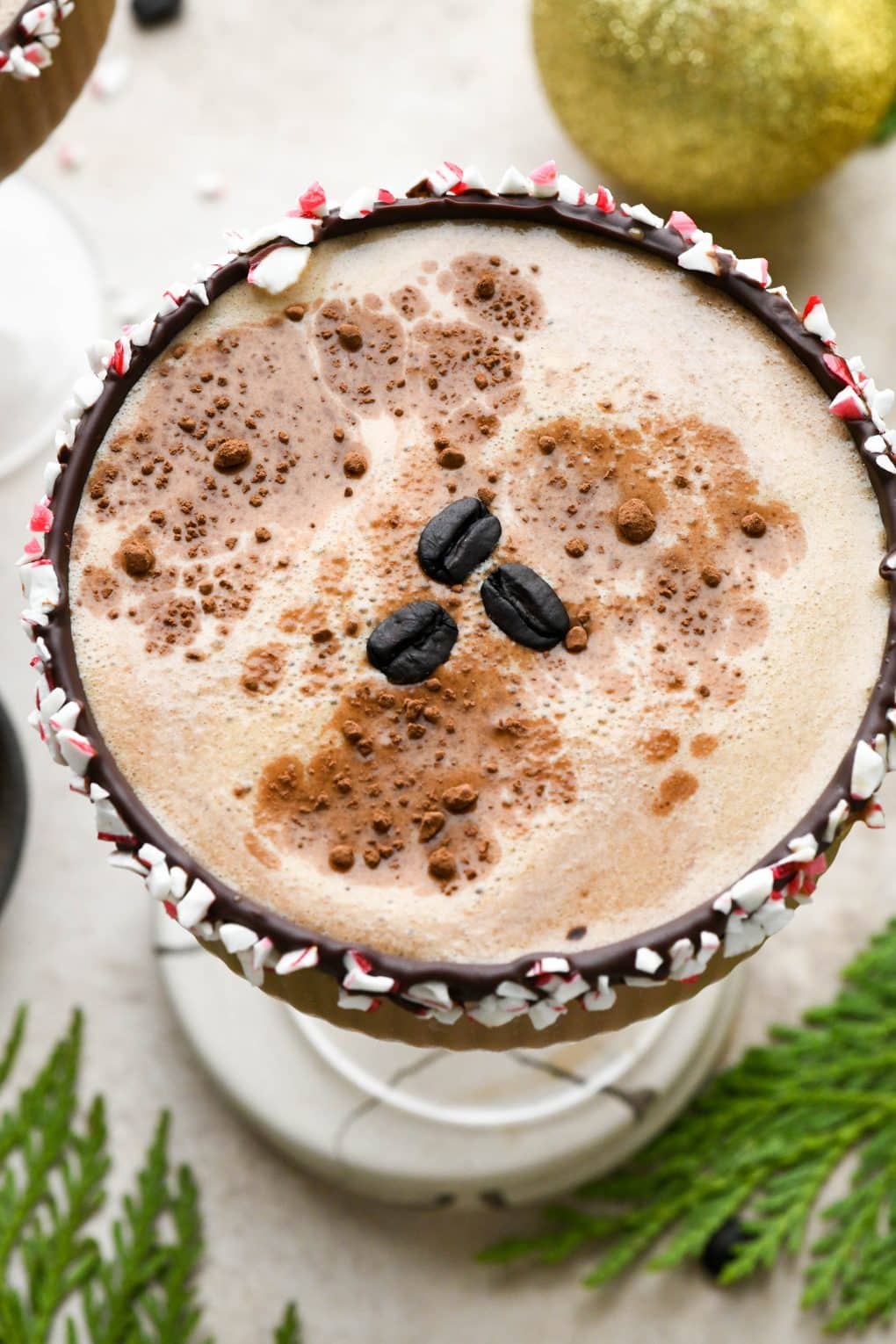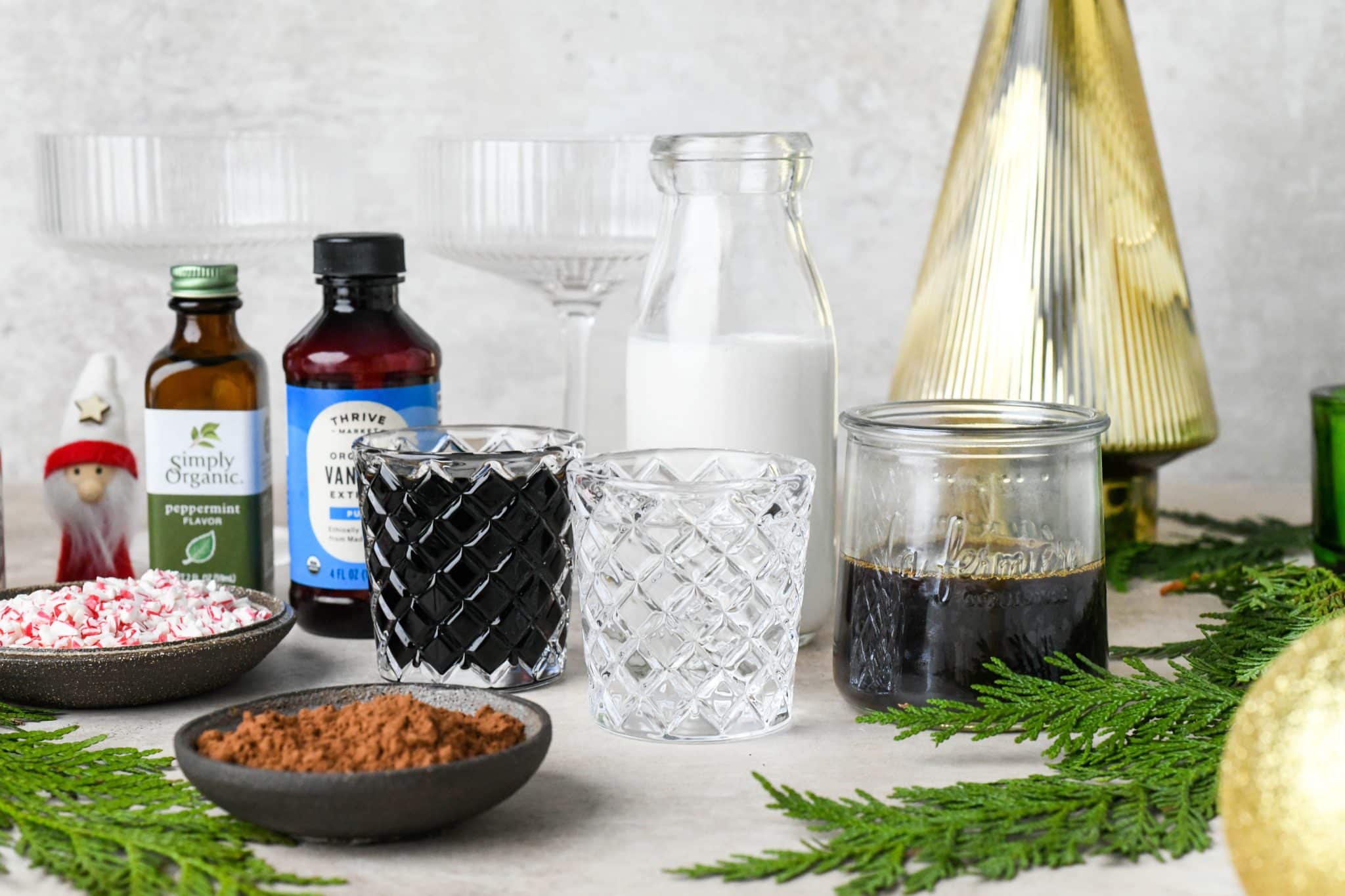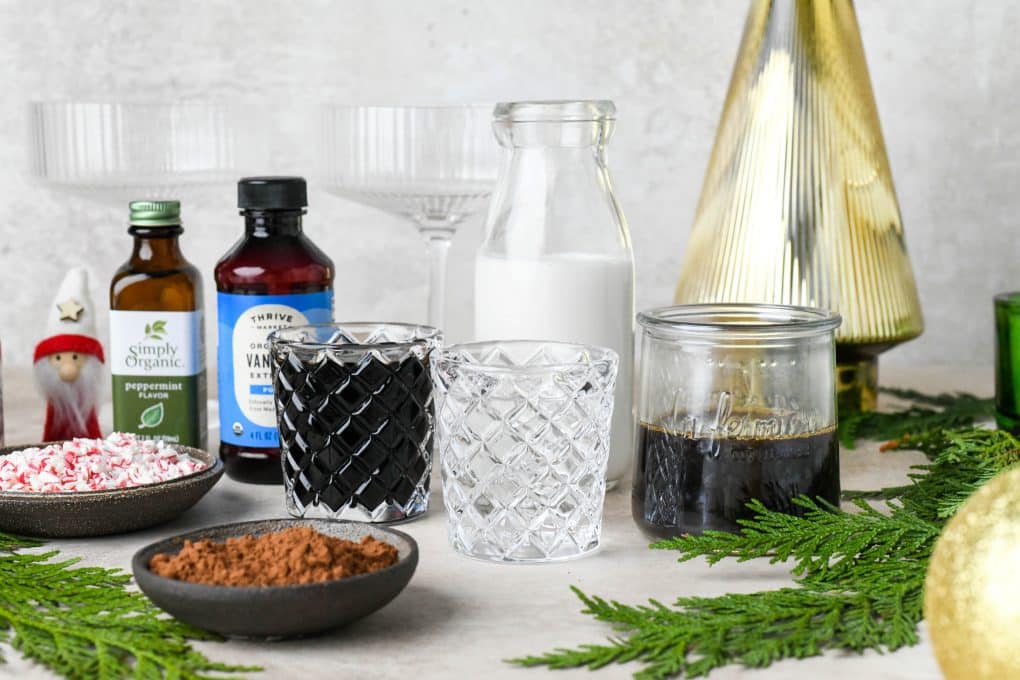 Ingredients and substitutions
This festive martini is made with just a handful of simple ingredients.
You'll need all the basics for a classic espresso martini, with a few additions for that peppermint mocha pizzaz!
Here's exactly what you'll need:
Vodka – Vodka is the traditional spirit used in espresso martinis. There are however variations that use rum, mezcal, tequila, or gin. But for this recipe I would stick with vodka or rum.
Espresso – Real, hot espresso is the best coffee to use in espresso martinis. But if you don't have access to an espresso machine there are other options! You can use extra strong hot coffee, cold brew concentrate, or even a high quality instant coffee. Some people might give me a hard time for giving you the green light on instant coffee, but we've done it many times and the result is always delicious! (& I doubt anyone would notice if you don't tell them 🤫).
Kahlua – Kahlua is our favorite coffee liqueur for making espresso martinis because of the density of the coffee flavor and the sweetness level. Other recipes might call for less coffee liqueur and added simple syrup, but I like the simplicity and flavor of the sweetness coming from the liqueur itself. Tia Maria and Mr Black are both slightly less sweet coffee liqueur alternatives to Kahlua.
Cocoa powder, peppermint extract, and vanilla extract – For that perfect peppermint mocha flavor. You could also use cacao powder, or a single drop of food grade peppermint essential oil.
Creamer of choice – Our personal favorite is We love this high quality organic brand of instant coffee if you're curious about what we'd use.

Should you use hot or cold espresso?

Again, this is a topic with varied opinions, but based on my experience hot espresso or hot coffee produces the best espresso martini.

I think it has something to do with the oils that are in the coffee beans and the crema that you see in fresh espresso that helps create the foam on top of the martini.

But if all you have is cold brew or room temperature coffee it will also work, you may just end up with less foam than if you were using hot espresso.

If using hot esspresso, it is important to add it last, so it doesn't melt all the ice in your shaker while you measure and pour the other ingredients.

What tools do I need to make an espresso martini?

You'll need a few basic home bartending tools to make this peppermint mocha espresso martini. But if you don't have all of them, don't stress – there are workarounds that I'll share below.

These are the tools you'll need:

If you don't have a cocktail shaker or a strainer, this article has some awesome solutions for missing pieces for the home mixologist.

How to make a peppermint mocha espresso martini

Whipping up a peppermint mocha espresso martini is really no different than mixing any other cocktail!

This recipe is for one cocktail, but some shakers will be able to fit a double batch.

Here's the step-by-step

Gather your ingredients. Prepare your espresso or coffee, measure out the vodka, kahlua, cocoa powder, and flavor extracts, and add plenty of ice to a cocktail shaker.
Add ingredients to cocktail shaker. Add all ingredients to your cocktail shaker, making sure to add the hot espresso last so the ice doesn't melt immediately.
Shake it up! Seal the cocktail shaker and shake vigorously for 15-30 seconds. Properly aerating the cocktail is what helps build the foam on your finished drink so don't be afraid to use some muscle power and shake for longer than you think you should.
Strain into a glass. Strain into a glass (chilled if you like), garnish, and enjoy!

How to rim your martini glass with peppermint candy

While absolutely not necessary, the extra step of lining the rim of your martini glass with peppermint candy does add a festive touch!

I found that this is the easiest way to do it:

Melt a small amount of chocolate in a flat, shallow bowl (big enough to fit the rim of your glass). Crush some candy canes and transfer to a small plate.
Dip the martini glass into the chocolate just enough to coat about an 1/8 of an inch of the rim. Allow the excess chocolate to drip off into the bowl.
Before the chocolate dries roll the edge in the crushed candy canes. You can also pick up candy cane pieces with your fingers and sprinkle them onto the wet chocolate.
Move the garnished martini glass to the refrigerator to set the chocolate quickly so it's ready to use!

I've also seen the suggestion of using simple syrup or chocolate syrup, but I have not tested those options.

How to garnish

The classic garnish on an espresso martini is three coffee beans. It is said that they represent health, wealth, and happiness!

For this cocktail I like to add a dash of cacao powder or chopped chocolate as well.

Which type of coffee liqueur is best for espresso martinis?

There are a ton of options available on the shelf when it comes to coffee liqueurs.

So which one is best?

The answer is really that it depends on your personal taste / preferences.

We typically reach for Kahlua (a rum based coffee liqueur) when making espresso martinis because it has the perfect amount of sweetness, which means no additional sweetener is needed in the cocktail.

Mr Black is another popular option that is about 50% less sweet than kahlua and vodka based. If you use this brand you may want to sweeten your cocktail up with a small amount of maple syrup or simple syrup.

Tia Maria is a second rum based option that's quite common, boasting strong notes of vanilla and genuine coffee flavor.

When to serve this martini

This peppermint mocha cocktail is the perfect drink to enjoy around as soon as the holiday season hits, and would be a delicious cocktail to serve for a holiday party, a New Years party, or a cozy night in with your friends and family!

Would also be lovely served as:

A cocktail for a white elephant party
An after dinner drink
Happy hour beverage
A party starter
Weekend brunch drink!

Love this espresso martini? Try these other NK cocktail recipes!

If you enjoyed this recipe we'd love it if you take 5 seconds to rate and review it below. It's also super helpful to me and other readers if you share any changes you made to the recipe. Thank you for sharing your kitchen with NK 🙏🏼 We are so grateful you're here!

Print

Peppermint Mocha Espresso Martini

---

Author:

Nyssa Tanner

Total Time:

5 minutes

Yield:

1

cocktail

1

x

Diet:

Gluten Free

Description

A peppermint mocha espresso martini is an easy (yet fancy!) make at home cocktail that's just perfect for the holiday season. Made with pantry staples that you likely already have on hand (no need to run to the store for any special ingredients), and simple enough that it can be whipped up in just a few minutes. Delightfully creamy, and laced with notes of chocolate and peppermint. A real treat of a drink to cozy up with throughout the winter season!

---

1 ounce

vodka

1 1/2 ounce

Kahlua or another coffee liqueur

1 1/2 ounces

hot espresso, strong coffee, or prepared instant coffee

1 1/2 ounces

creamer of choice, dairy free or regular both work well

1/2 teaspoon

cocoa or cacao powder

1/4 teaspoon

peppermint extract

1/4 teaspoon

vanilla extract
Optional ingredients: Melted chocolate and crushed candy canes to rim your glass
Garnish: Cacao powder or chopped chocolate and coffee beans

---

Instructions

Gather your ingredients. Prepare your espresso or coffee, measure out the vodka, kahlua, cocoa powder, and flavor extracts. Rim martini glasses with crushed peppermint candy if desired (see instructions in notes below).
Add ingredients to cocktail shaker. Fill

shaker with plenty of ice. Add all ingredients, making sure to add the hot espresso last so the ice doesn't immediately melt.

Shake it up! Seal the cocktail shaker and shake vigorously for 15-30 seconds. Properly aerating the cocktail is what helps build the foam on your finished drink so don't be afraid to use some muscle power and shake for longer than you think you should.
Strain into a glass. Strain into a glass (chilled if you like), garnish, and enjoy!

Equipment

Notes

To rim your glass with chocolate and crushed peppermint candy:

Melt a small amount of chocolate in a flat, shallow bowl (big enough to fit the rim of your glass). Crush some candy canes and transfer to a small plate.
Dip the martini glass into the chocolate just enough to coat about an 1/8 of an inch of the rim. Allow the excess chocolate to drip off into the bowl.
Before the chocolate dries roll the edge in the crushed candy canes. You can also pick up candy cane pieces with your fingers and sprinkle them onto the wet chocolate.
Move the garnished martini glass to the refrigerator to set the chocolate quickly so it's ready to use!

This recipe is for one cocktail, but some shakers will be able to fit a double batch and make cocktails for two!

If you don't have a cocktail shaker / strainer this article outlines some awesome solutions for the home bartender.

Prep Time:

5 minutes

Cook Time:

0 minutes

Category:

Cocktail

Method:

Shaken

Cuisine:

American

Keywords: cocktail, espresso, martini, home bartender, mocha, peppermint, christmas, new years, winter, holiday, party