where my lavender lovers at?! I've got an incredibly easy lavender coconut iced coffee recipe on deck for you that I'm betting you're gonna fall hard for.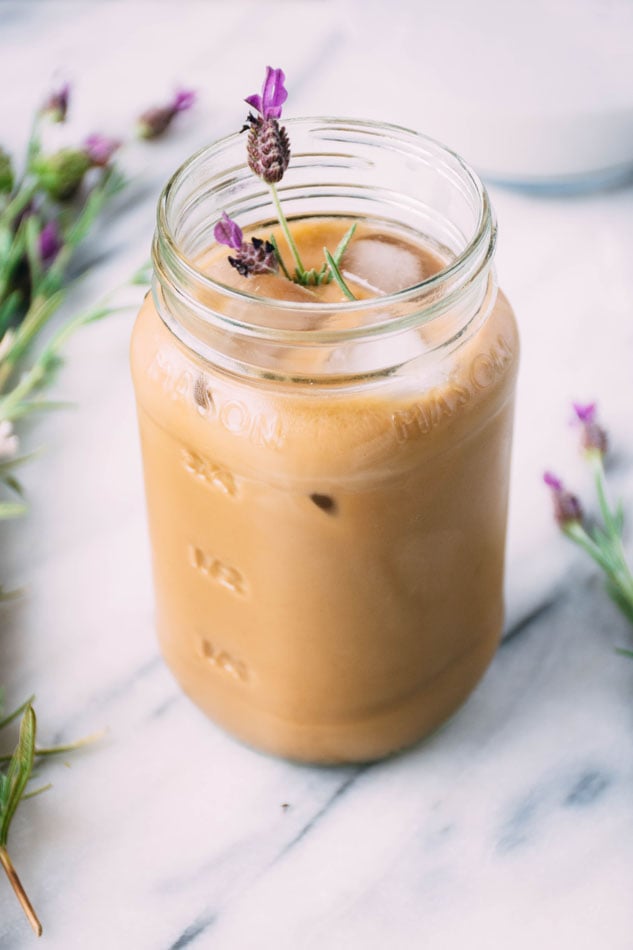 since we travel so much during the summer, sadly, we don't end up growing a lot of food in our garden. but my little food loving heart has a plan to some day either;
a) travel less and be around to tend to the garden
b) invest in an irrigation system to do the work for us while we take off to dance barefoot in the grass and sleep under the stars
I'm guessing the second option is more likely since who want's to give up a summer full of camping + music + road trips? not this girl.
but until that happens we do have a few plants that don't take much caring for that we get to harvest around this time of year. there's a couple of blueberry bushes (the birds got most of them this year, though.. sigh), several raspberry bushes, some herbs and of course, lavender.
it was my one request when my honey was planting out our backyard. there's something about the flowers that make me so happy – plus I love using them in the kitchen, and they attract so many honey bees! hosting some lavender bushes in our yard makes me feel like I'm doing something good to help those little guys out.
last year the plants were too small to really put out many flowers, but this summer they literally tripled in size and I couldn't wait to harvest them and turn them into something delicious.
That's where this easy lavender coconut iced coffee comes into the picture.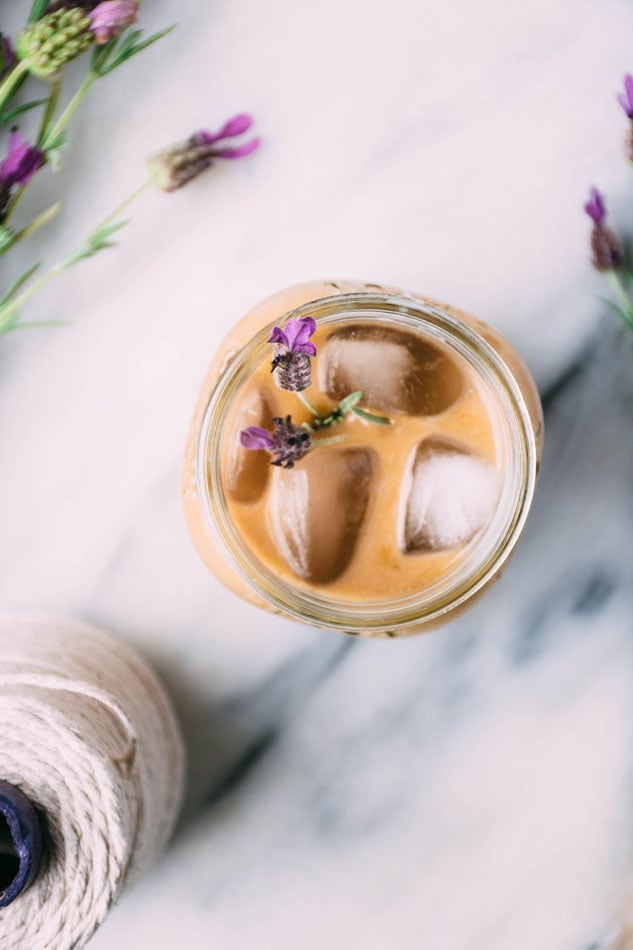 if you're thinking lavender? in my COFFEE?! I'm begging you to give it a try before you brush it aside as a weird match of flavors that would not and could not ever belong together.
because it. is. life-changingly. delicious. floral, lightly sweetened and indulgently creamy-dreamy from the coconut milk.
ready for the lavender coffee origin story?
over the summer when we were away on one of our adventures we had brunch at this cute little gluten free restaurant called Sundial in Eugene, OR. after devouring a mouthwatering shakshouka, the coffee bar caught my eye, so while everyone else went next door to the natural foods store I snuck on over to see what they had. I'm a fairly adventurous eater (and cook) so when I see something that I've never tried before I usually go straight for it – and an iced lavender latte with hemp milk? well that sounded pretty damn tempting. I had to do it. and oooh my goodness I was not disappointed.
and so as the summer days started to dwindle and it came time to clip our lavender flowers from our garden I knew I had to try my hand at making some lavender coffee of our very own.
if you want to join in on the fun all you need to make lavender coconut iced coffee is some fresh lavender sprigs plucked from your – or your neighbors – yard (or dried culinary lavender), coconut milk, strong brewed coffee and a sweetener of choice if desired.
I recently did a food sensitivity test which rules out honey as an option for me (I'm surviving without it.. not sure how, but I am), so I used a blonde coconut sugar, but you can really use whatever suits you.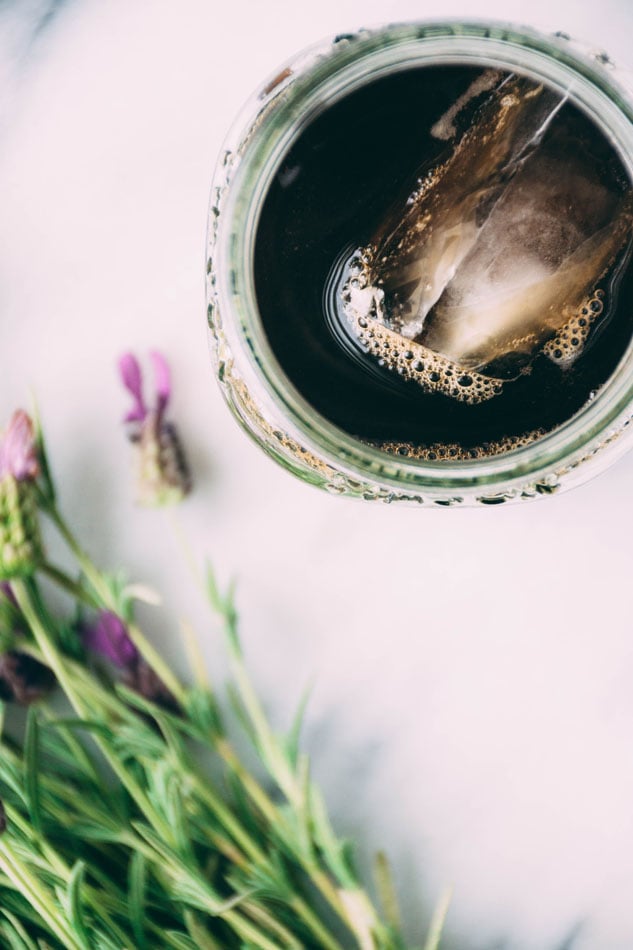 the lavender is infused into the coconut milk by bringing the coconut milk to a simmer, adding the lavender sprigs and then letting it sit off the heat for about 15 minutes, after which you strain out the flowers. I like to brew and sweeten my coffee ahead of time so that it can be stored in the refrigerator and easily enjoyed chilled over ice, but you could also brew it extra strong and then add ice to cool it down immediately.
or if you're fancy and make homemade cold-brew coffee this recipe would be a perfect place to use it.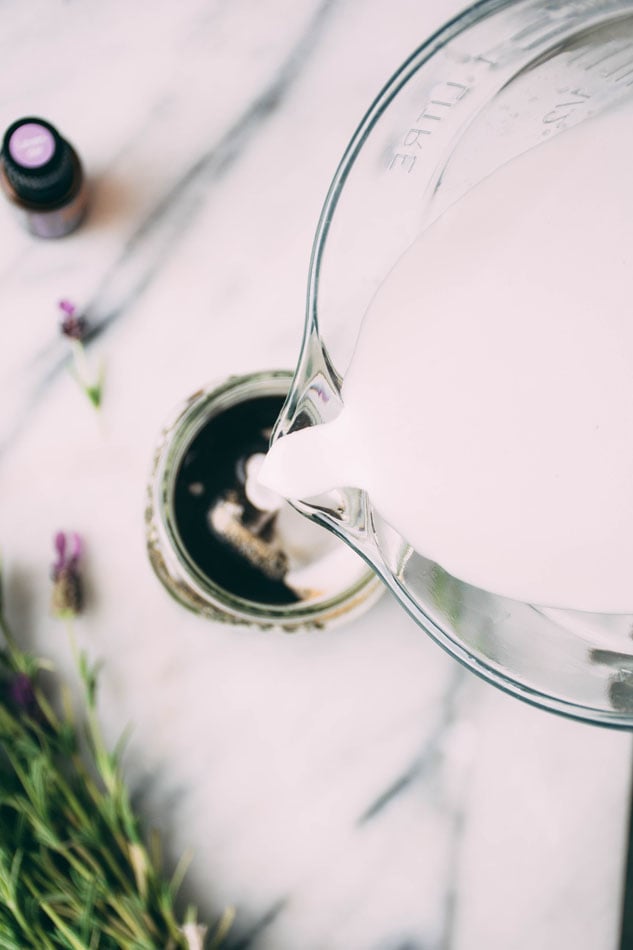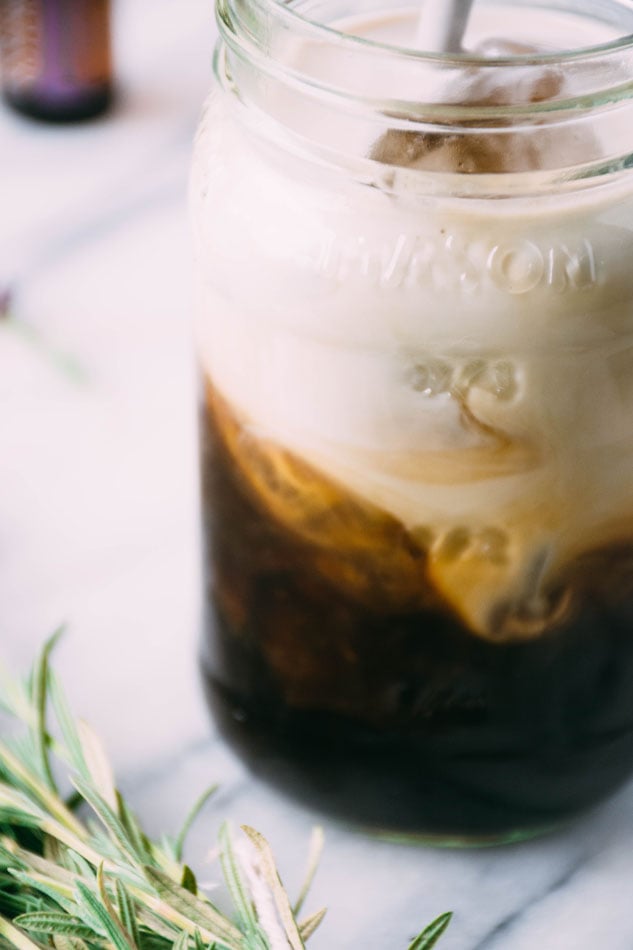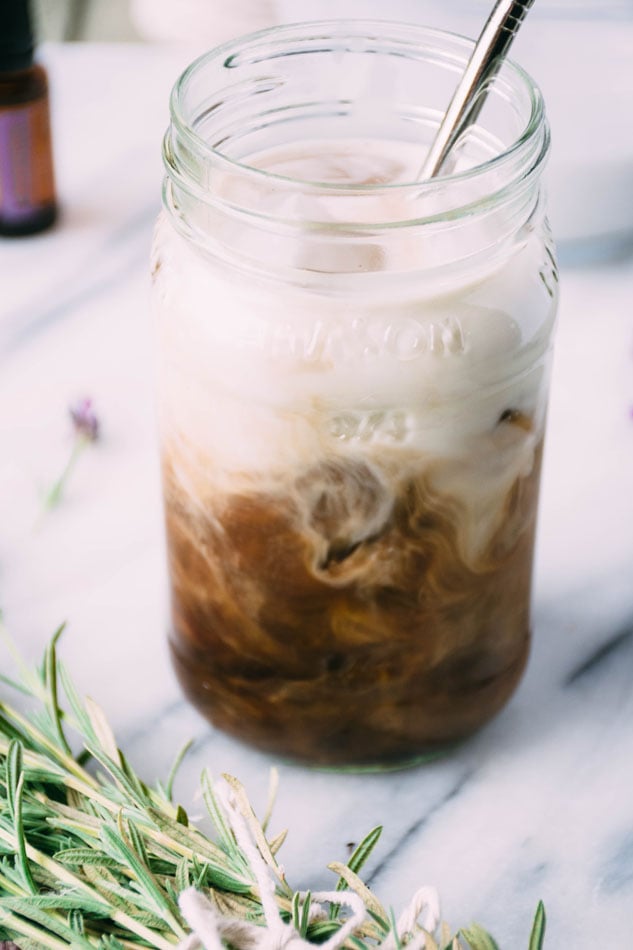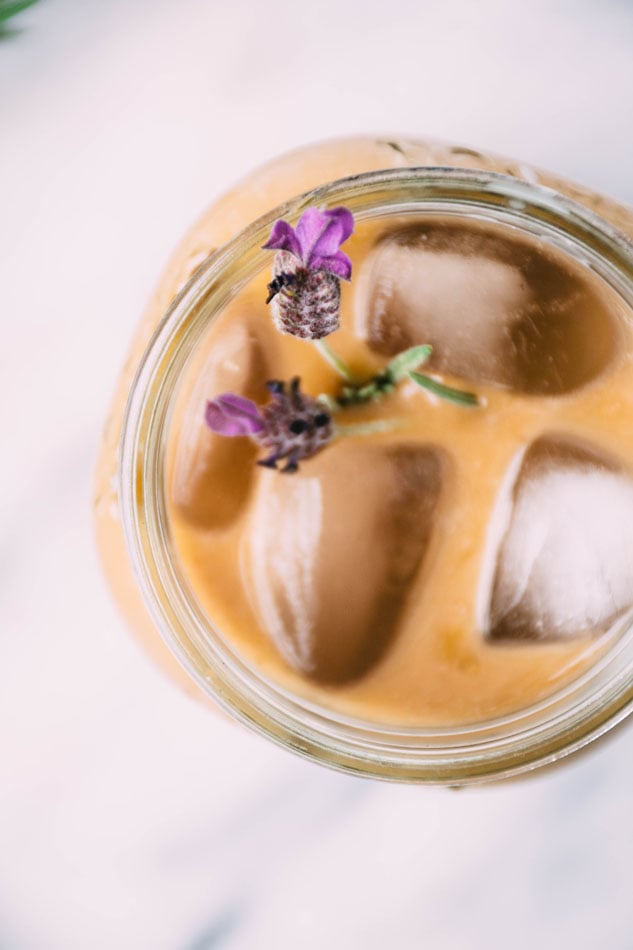 one batch of the lavender coconut creamer will probably make about 5-6 coffees, so it's a perfect treat to make on the weekend and enjoy all throughout the week. or it could be made as a delightful addition to your next brunch party! if somebody brought some of this over to my house to sip alongside some crispy fried eggs and bacon they would have my whole heart.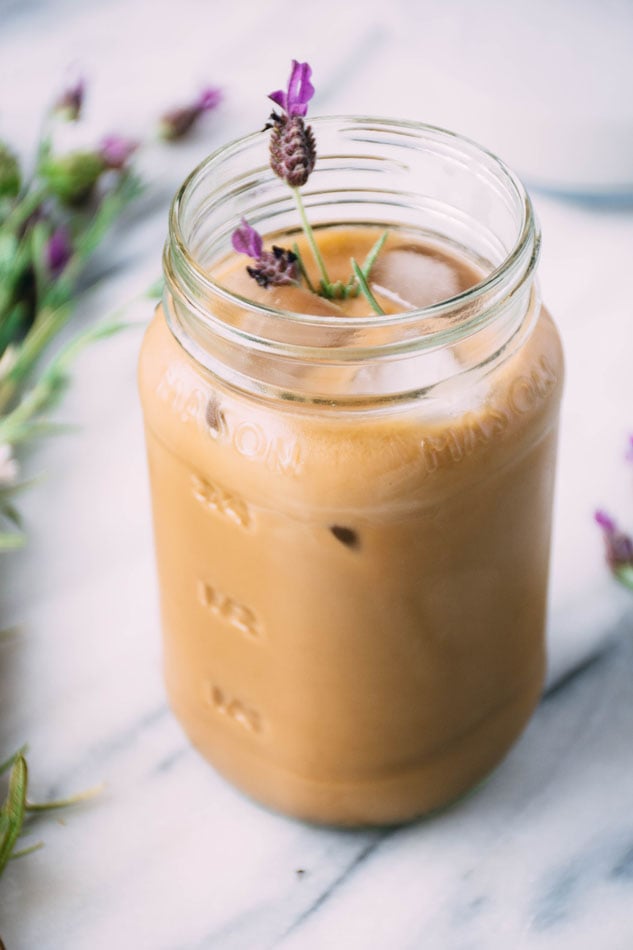 did you make this recipe? I would love to know how it turned out for you! when you rate my recipes and leave feedback it helps me continue to improve. you can leave me a comment below, or snap a picture and post it to instagram with the tag @nyssaskitchen or hashtag #nyssaskitchen! xo
Print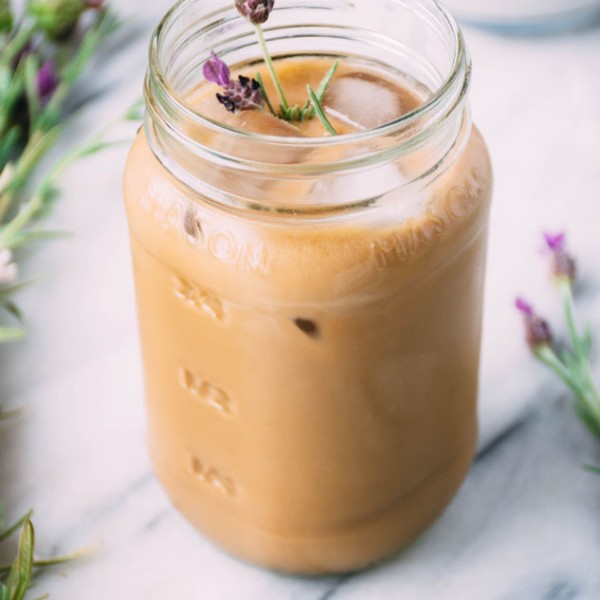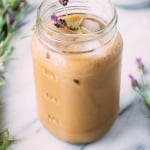 lavender coconut iced coffee
---
Author:

Nyssa Tanner

Total Time:

20 minutes

Yield:

6

servings

1

x
Description
easy lavender coconut iced coffee is a delightfully simple dairy free fancy coffee recipe perfect for the late summer months. made with coconut milk, lavender, iced coffee and coconut sugar or honey.
---
6

sprigs of fresh lavender (or substitute with

1 tbsp

dried culinary lavender)

1

13.5 ounce can of coconut milk
chilled coffee
sweetener of choice (I used coconut sugar – about 2 teaspoons per 8 oz coffee, but honey or maple syrup would also be good refined sugar-free options)
---
Instructions
brew coffee in whatever method desired. while coffee is still warm you can stir in a bit of your sweetener of choice if desired. I used about 2 teaspoons coconut sugar per 8 oz of coffee. move to refrigerator to chill.
bring one can of coconut milk to a simmer, press heads of lavender with the side of a knife to release their aromatic oils and add to coconut milk. cover pan, and remove coconut milk from heat. let sit for 10-15 minutes
strain out lavender flowers from coconut milk, pressing to release all of their flavor. store in a jar in the refrigerator for up to 6 days.
fill a cup about 2/3 of the way with coffee + ice, and top with lavender coconut creamer, and a sprig of lavender if you're feeling f-a-n-c-y and ENJOY!
Prep Time:

5 mins

Cook Time:

15 mins

Category:

drink, coffee

Cuisine:

vegan