there are some summers here in Seattle where July 4th passes and it still doesn't feel quite feel right wearing shorts and grabbing your sunglasses on the way out the door in the morning… this is sooo not one of them.
I swear the sun hasn't stopped shining since may, and I'm pretty sure that if it rained right now I would run outside and lay on my lawn. not exaggerating even one tiny bit. the lawns are brown here in seattle, – when was the last time you heard someone say that?
it's so hard on these days to want to turn on your oven and crank up the heat in your house even more, so I've been playing around with some recipes that are quick and require very little heat output from the kitchen to help keep you cooking at home!
fresh, simple and authentic, this summer caprese salad with an herbed board dressing is nice vegetarian dinner or salad option that fits perfectly into that category. most of the work is on your cutting board, and the only thing you might want to use heat for is the piece of toasted crusty bread you serve underneath this lovely mess.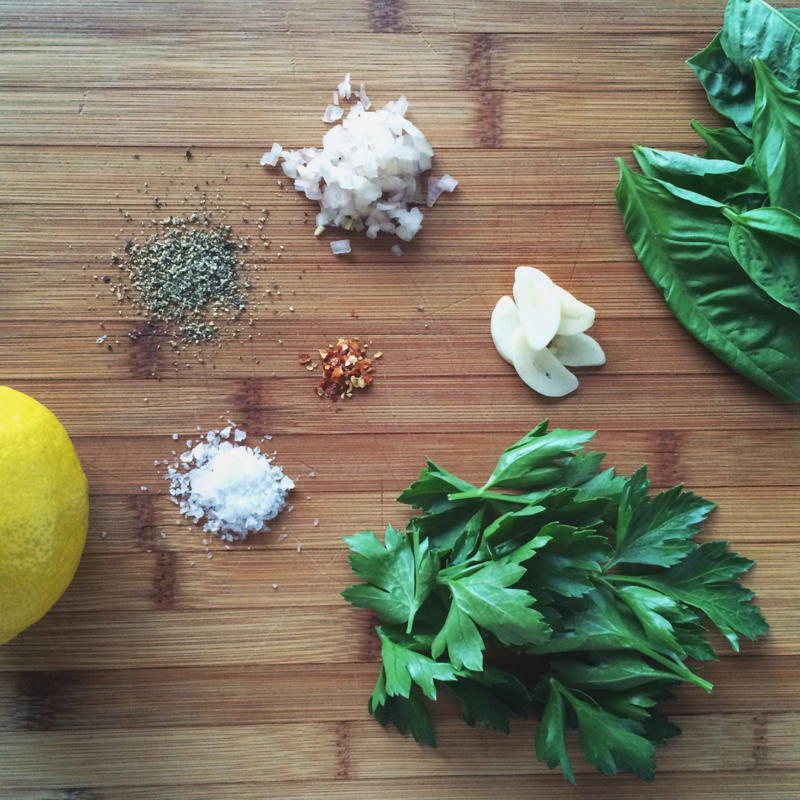 to start, you're going to load all of your ingredients onto your board except olive oil and lemon juice and begin chopping to combine. don't worry about keeping things tidy, you're actually trying to get all the flavors working together in their own beautiful way, so fold and chop and fold and chop again!
once all of your ingredients are getting pretty friendly and well incorporated you will add the olive oil and lemon juice and continue to chop just a bit more to marry the new flavors. it should look about like this.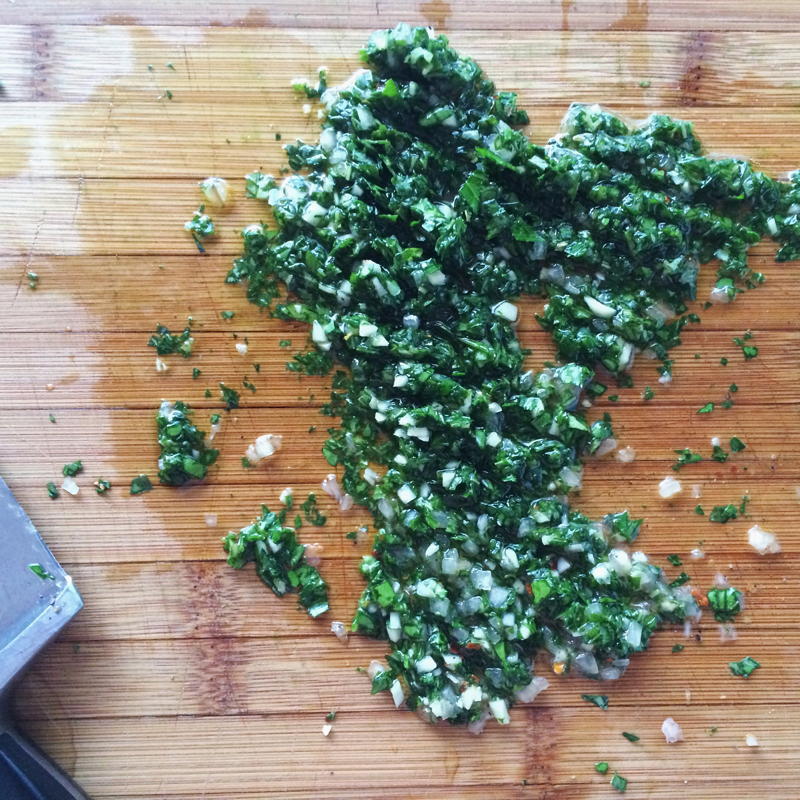 toss this board dressing with your mozzarella, tomatoes, & toasted pine nuts until everything is well coated, and just before serving drizzle with some balsamic reduction or regular balsamic vinegar. I love this balsamic reduction from trader joe's. but you can easily make your own at home too.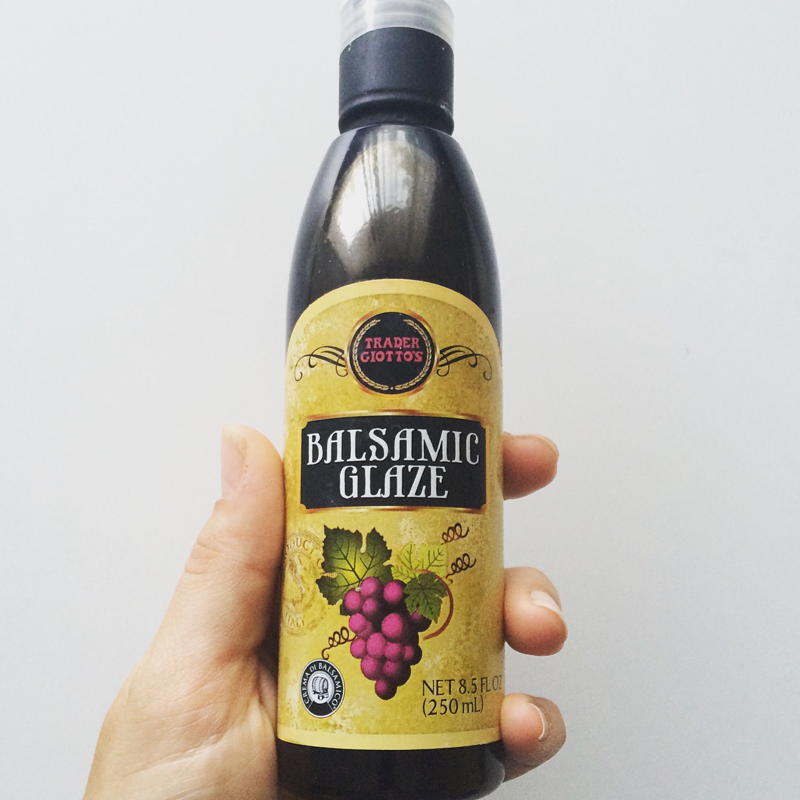 before you serve grab a nibble to see if you want to finish with some salt and pepper (it may be well seasoned enough already) and scoop onto a hot toasty piece of your favorite crusty bread or serve along side the main event!
no heat + summer's freshest tomatoes + creamy mozzarella + all the fresh herbs = winniinng!! 🎉
Print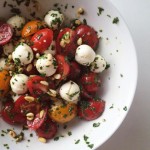 summer caprese salad with board dressing
---
Author:

Nyssa Tanner

Total Time:

15 minutes

Yield:

4

servings

1

x
Description
a fresh summer caprese salad with an herbed board dressing.
---
1 pint

cherry tomatoes

1 pint

sized container of ciliegine mozzarella balls, well drained

1/4 cup

pine nuts

1/4 cup

loosely packed parsley leaves

1/4 cup

loosely packed basil leaves

1

garlic clove thinly sliced

1

small shallot finely chopped

1/2 tsp

black pepper

1 tsp

salt

1/4 tsp

chili flakes (optional – or add more if you like more spice!)

1

tbs lemon juice

3

tbs good quality olive oil

1

or 2 tbs balsamic reduction or balsamic vinegar (depending on how much you like)

4

slices of crusty bread for serving (optional)
---
Instructions
lightly toast pine nuts over low heat in a small pan on the stove top. be patient here – heat slow and keep a very close eye on them as they will go from toasted to burned very quickly! set aside.
slice tomatoes in half and put in a bowl with the well drained mozzarella balls.
put parsley, basil, garlic, shallot, salt, pepper, and chili flakes on a large cutting board. chop everything together until it is uniform
in size and well combined.
add olive oil and lemon juice to the cutting board and chop some more to mix in wet ingredients and marry all the flavors.
scrape this mixture into the bowl with tomatoes and mozzarella. add pine nuts and gently toss to coat.
taste and add more salt & pepper if needed.
top with balsamic reduction or balsamic vinegar and serve scooped over hot-toasty-crusty bread if using!
Did you make this recipe? I would love to know how it turned out! you can leave me a comment below, or snap a picture and post it to instagram with the hashtag #nyssaskitchen! xo