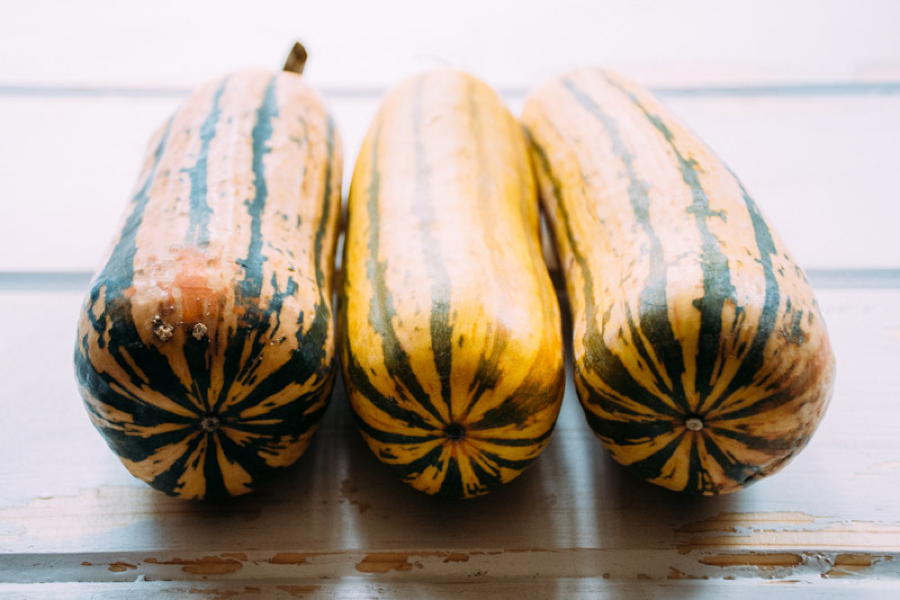 when the days are short & cold as they are this time of year I often find myself looking for any (even slightly) justifiable reason to sneak into the kitchen and turn on the oven.
this time that reason was three pretty delicata squash and a bunch of fresh herbs that needed to be used before they wilted. oh, and brown butter. because brown butter has been on my mind like monkeys on bananas lately. (I blame these blondies). so much so that I have had to talk myself out of putting it in everything I make.
but in this recipe it wasn't forced. cross my fingers: roasted delicata squash with fried shallots, herbs and brown butter yogurt sauce? you are a natural pairing.
obviously. 😍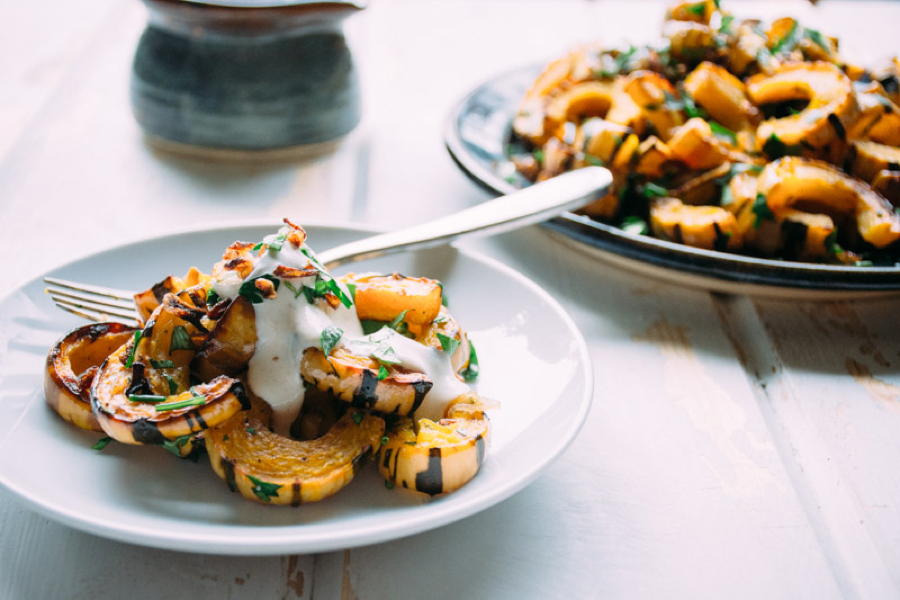 there's a pretty easy flow happening here. squash get's prepped and popped in the oven, and while it roasts away into tender and caramelized perfection the shallots are fried, butter browned, stirred into the yogurt with some salt and lastly the are herbs chopped. voila! squash is done and ready to be tossed with all the goodies and served.
this dish makes for an awesome winter side dish for any weeknight dinner, but is unique and splendid enough to be served for guests at your next gathering. and if you have any leftovers, you might wanna think about throwing them on top of some spicy salad greens for a fancy + healthy lunch that does not suck.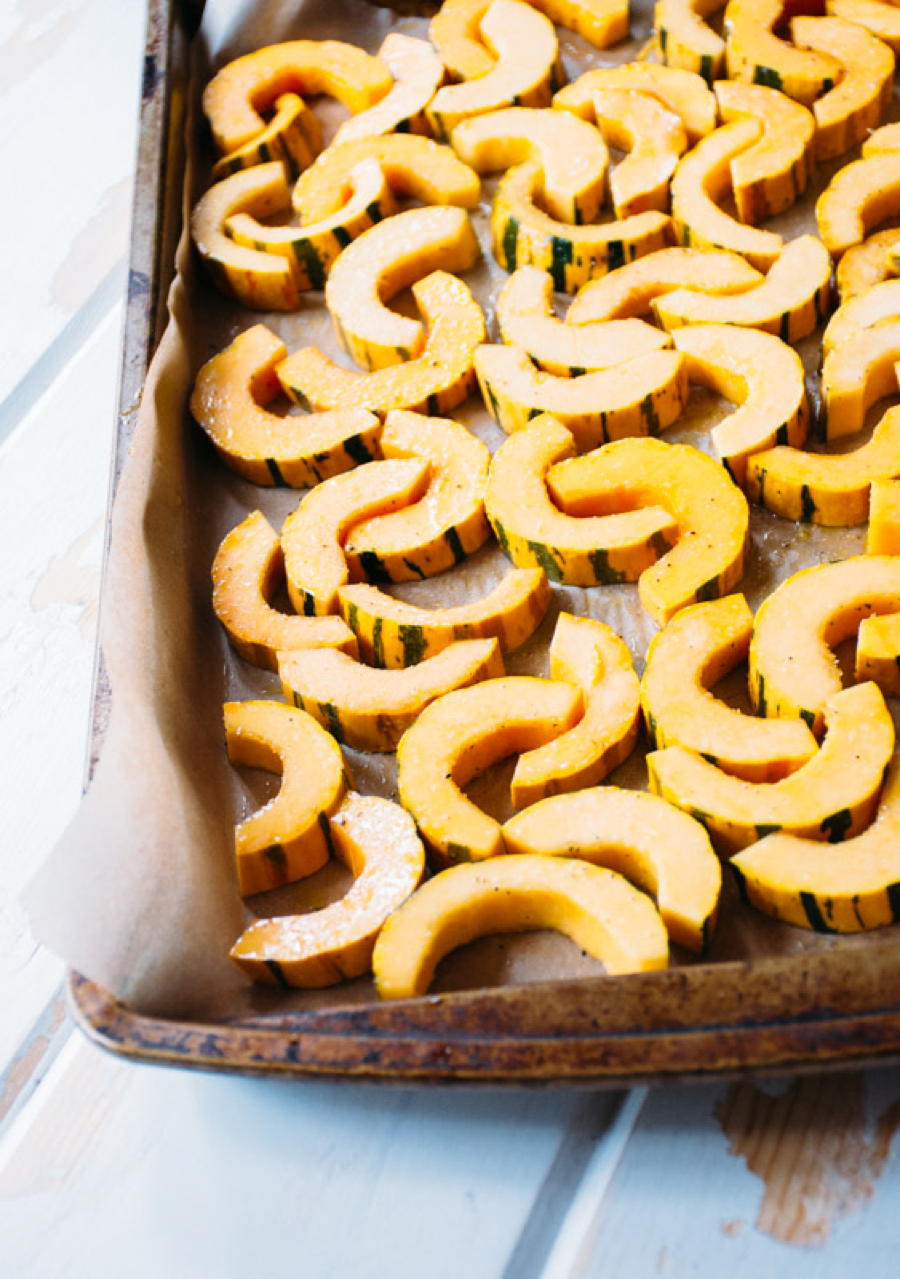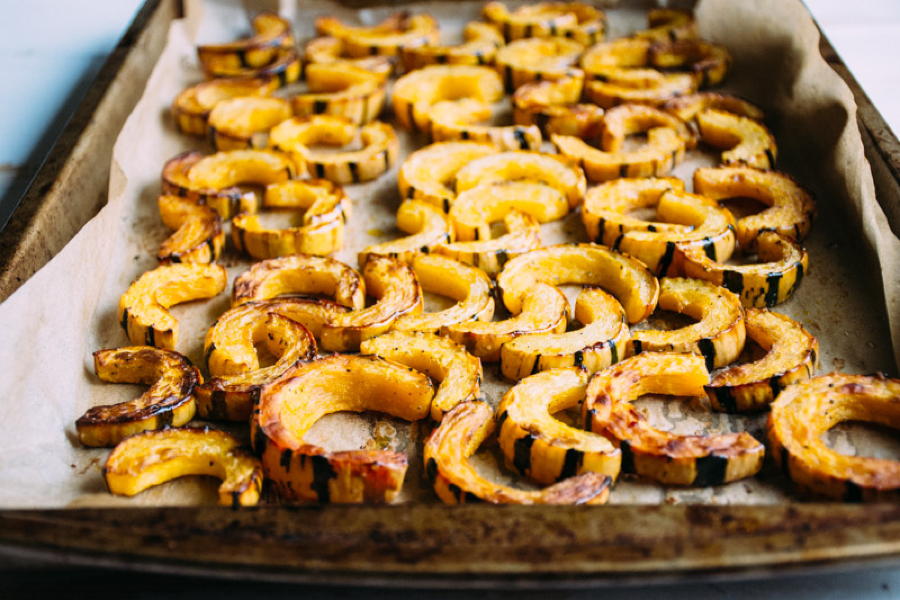 I am completely in love with using delicata squash because it's super DUPER easy to prep (and delicious). the seeds scrape out in one or two swoops and you don't even need to peel that skin, which (besides being a time and finger saver – I'm notorious for close calls with sharp things and my fingers) actually adds some really nice contrast to the texture once roasted. think soft and caramelized, and crisp and crackling.
BUT if you can't find any delicata squash please don't be heart broken + give up hope, as this recipe would easily work with another type of winter squash. just be mindful that the roasting time may change in one direction or the other depending on the squash and what size the pieces are cut. when in doubt – use that oven light! 💡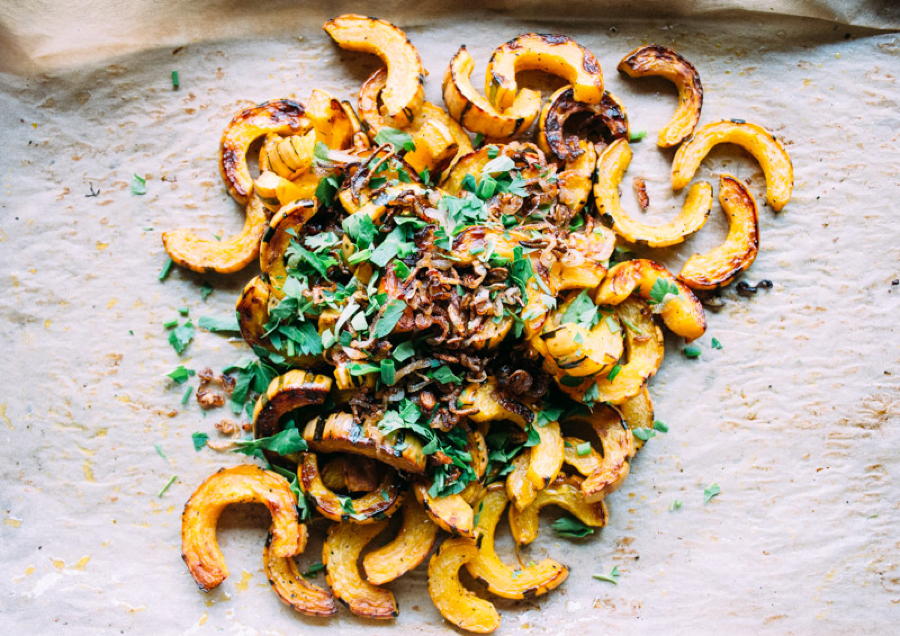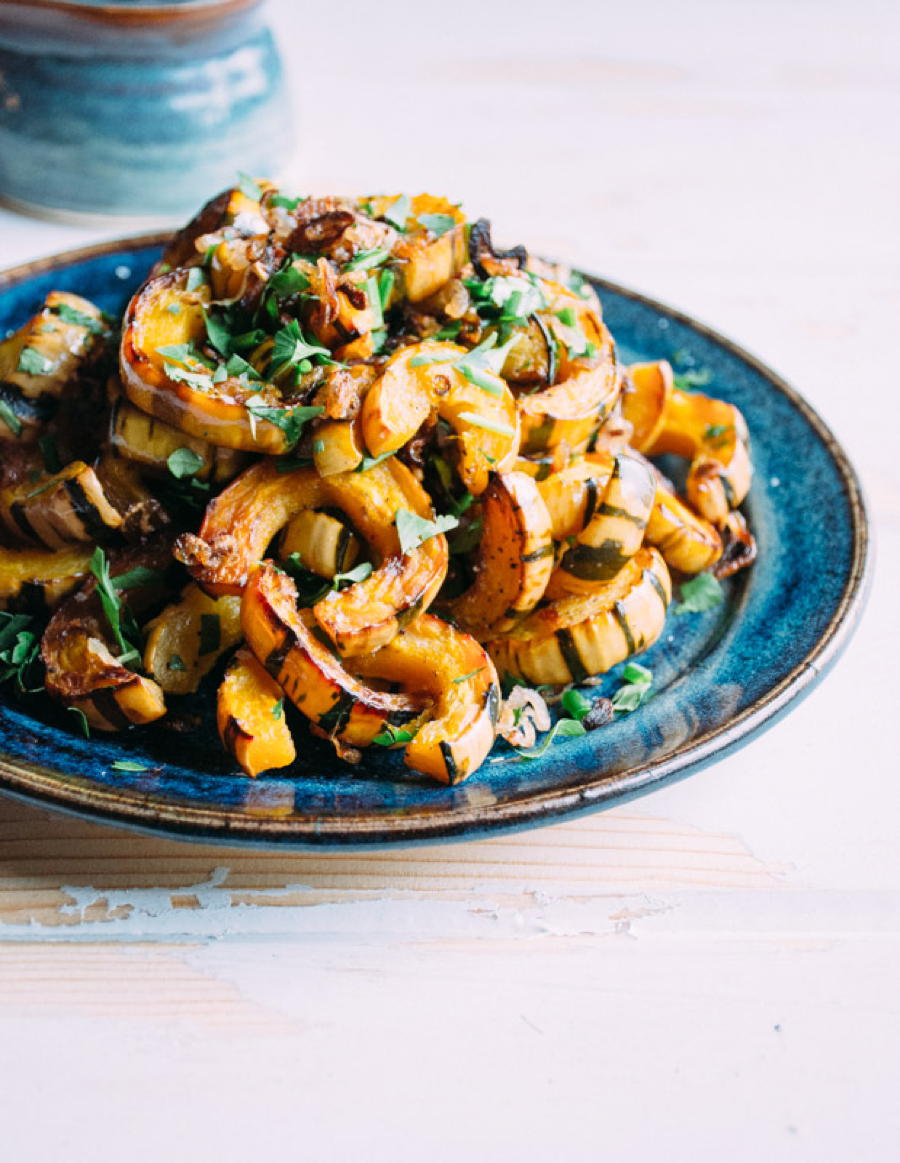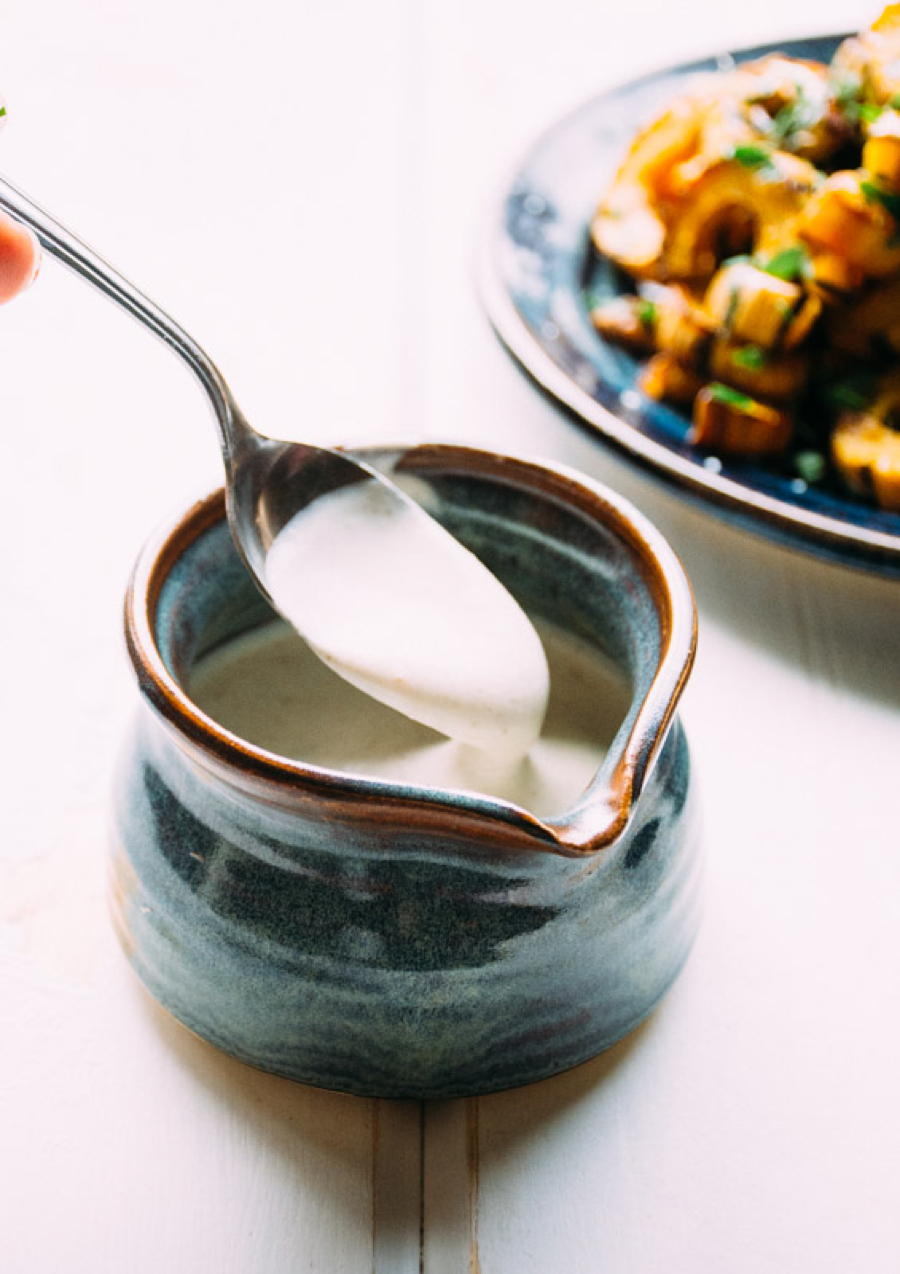 and the brown butter yogurt sauce? well you might just want to make a double batch of this stuff. I'm guessing that once you've indulged in it's creamy + nutty + salty goodness you're going to find lots of reasons to eat it off the spoon use it in your kitchen. just make sure you give it a little time to come to room temperature before serving for the best texture. (or in a brown butter yogurt sauce emergency about 12 seconds in the microwave + a little stir, stir will work just fine).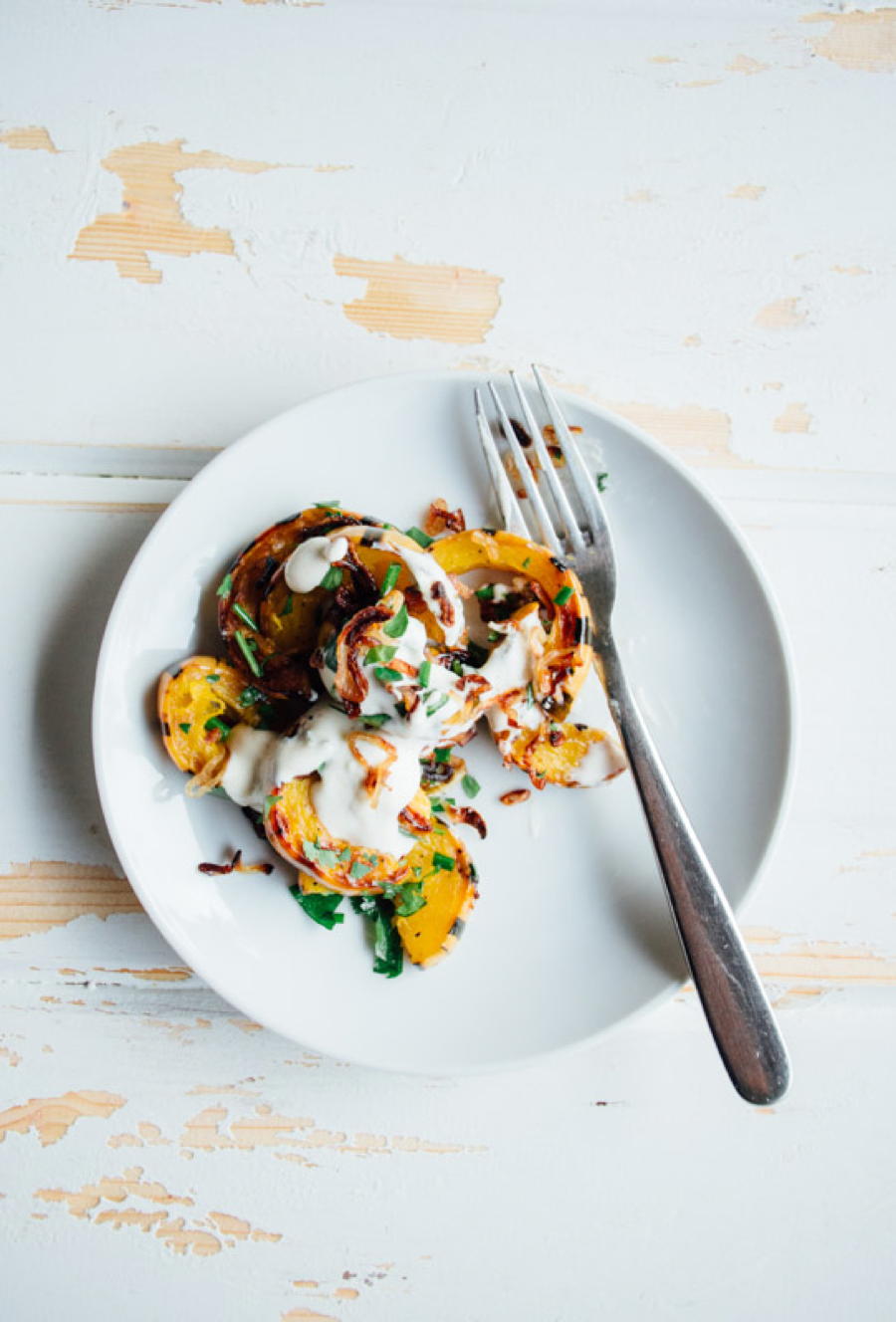 and as this is the first post here on my site of 2016, happy new year y'all. may it be an exceptional one full of joy and all the good good things!
The trick of it, she told herself, is to be courageous and bold and make a difference. Not change the world exactly, just the bit around you. Go out there with your double-first, your passion and your new Smith Corona electric typewriter and work hard at … something. Change lives through art maybe. Write beautifully. Cherish your friends, stay true to your principles, live passionately and fully and well. Experience new things. Love and be loved if at all possible."
― David Nicholls
did you make this recipe? I would love to know how it turned out! you can leave me a comment below, or snap a picture and post it to instagram with the hashtag #nyssaskitchen! xo
Print
roasted delicata squash with fried shallots, herbs and brown butter yogurt sauce
---
Author:

Nyssa Tanner

Total Time:

45 minutes

Yield:

4

-

6

servings

1

x
Description
delicata squash roasted and tossed with crispy fried shallots, fresh herbs and served alongside a salted brown butter yogurt sauce.
---
3

small delicata squash

2

tbs olive oil
black pepper
about

1/4 tsp

salt + extra for fried shallots and yogurt sauce

2 tablespoons

olive oil, ghee, or coconut oil

5

small shallots thinly sliced (about

1 cup

)

1/2 cup

greek yogurt

2 tablespoons

butter

1/2 cup

mixed chopped herbs (parsley, cilantro and chives)
---
Instructions
preheat oven to 425 and bring greek yogurt to room temperature. if yogurt is not at room temperature the brown butter will solidify a bit when you mix them together.
cut squash in half lengthwise, scoop out seeds and slice into 1/2 inch thick pieces.
toss with 2 tbs olive oil, a bit of black pepper and about 1/4 tsp salt.
roast for 25 minutes, take out and flip all pieces and roast for another 10-15 minutes, until squash is tender and the edges are nicely browned.
while squash is roasting:
heat 2 tablespoons of olive oil, ghee or coconut oil over medium low heat and fry shallots slowly, stirring often until they are dark brown and crisp. watch carefully so they don't burn.
move to a plate lined with a paper towel to drain and season with salt.
melt 2 tbs butter over medium heat to brown in a light colored pan – this way you can gauge how quickly the milk solids are browning and avoid burnt butter!
butter will melt, start to foam and froth (this is ok, means the water is evaporating), and then the milk solids will slowly start to darken. tilt pan and stir with a spatula to ensure even browning. once it's at that perfect toasty light brown point immediately remove from heat and allow to cool slightly.
while butter cools chop your herbs.
mix room temperature yogurt with browned butter and 1/8 tsp salt. taste and add more salt if desired.
toss squash with about 1/2 of the chopped herbs and half of the fried shallots.
serve topped with the extra herbs, shallots and brown butter yogurt sauce.
Prep Time:

15 mins

Cook Time:

30 mins

Category:

side dish

Cuisine:

vegetarian