The best vegan black bean soup is made with simple ingredients like canned black beans, veggies and some flavorful spices. Hearty and full of flavor and nutrition! Top it with your favorite garnishes like cilantro, red onion and lots of lime for a satisfying and easy soup!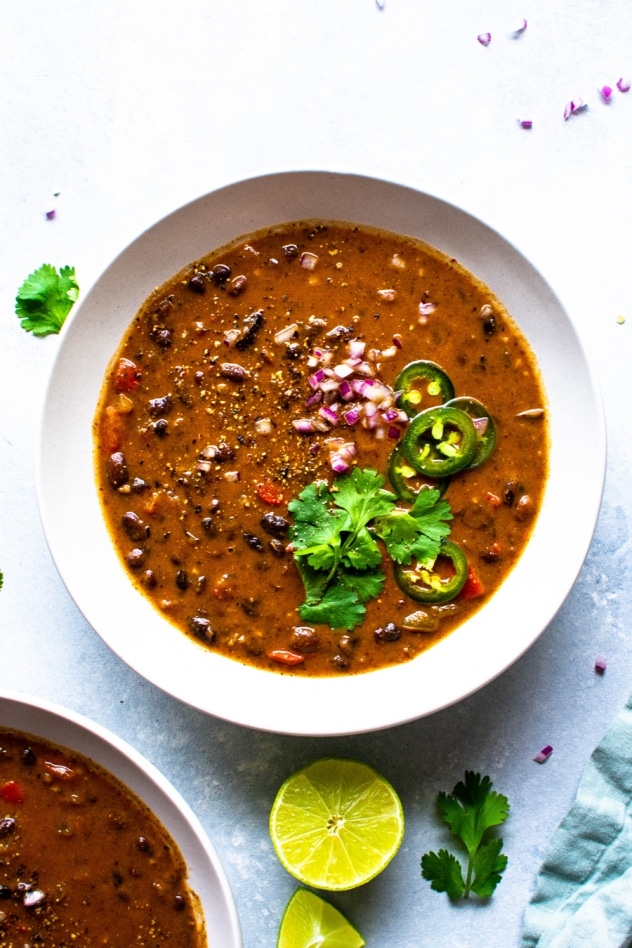 Alllllrighty. Happy Friday, friends! The weekend has arrived once again. Let's get down to business and talk black bean soup! The BEST vegan black bean soup to be specific.
I get it. Black bean soup is not exactly a revolutionary recipe. Nothing crazy or super out of the box here. But this one is very good. I wouldn't call it the best if I didn't mean it.
Of course that is just my opinion but we've been doing this long enough that I think you've got some level of trust in me 😉
I've been making this soup sort of on the fly for the last handful of years and it never gets old. Always quick, easy, healthy and filling! Basically everything you could ever want from a black bean soup.
And now, I've got good news and I've got bad news.
I would ask you which one you want first, but since we can't really do that I'm just gonna go good news first.
Good news: you can make the best vegan black bean soup for your people after reading this post!
The bad news: These pictures kind of make me cringe. But I'm hoping you guys have a more forgiving opinion of my photography than I do. Or at least don't judge the quality of my recipes by the quality of my photographs 😝