Happy Friday friends! There's something about a Friday that makes me wanna make something fancy in the kitchen and celebrate the start of the weekend. Which is why I decided that today is the day for these wholesome and delicious 5 minute antioxidant smoothie bowls!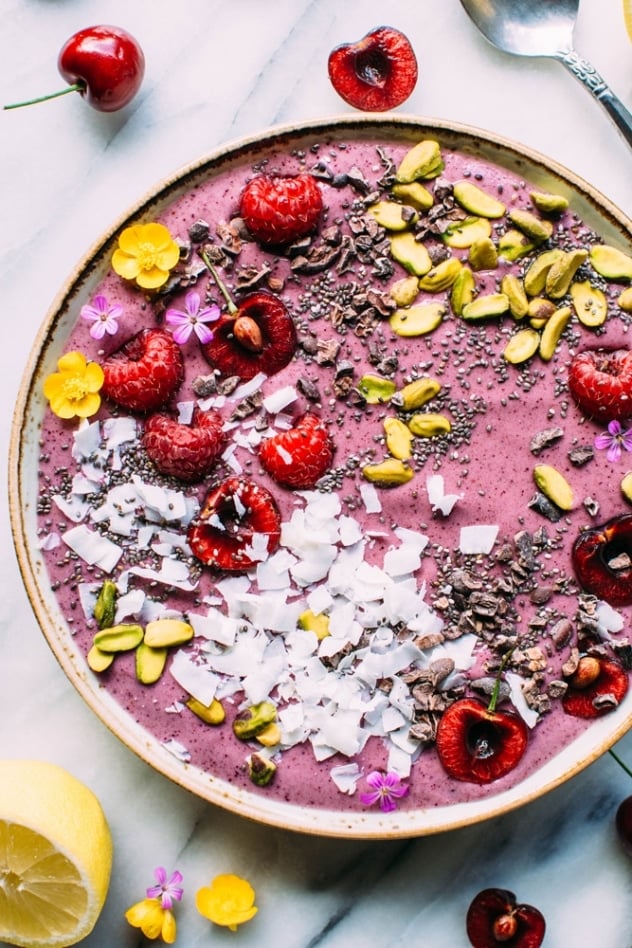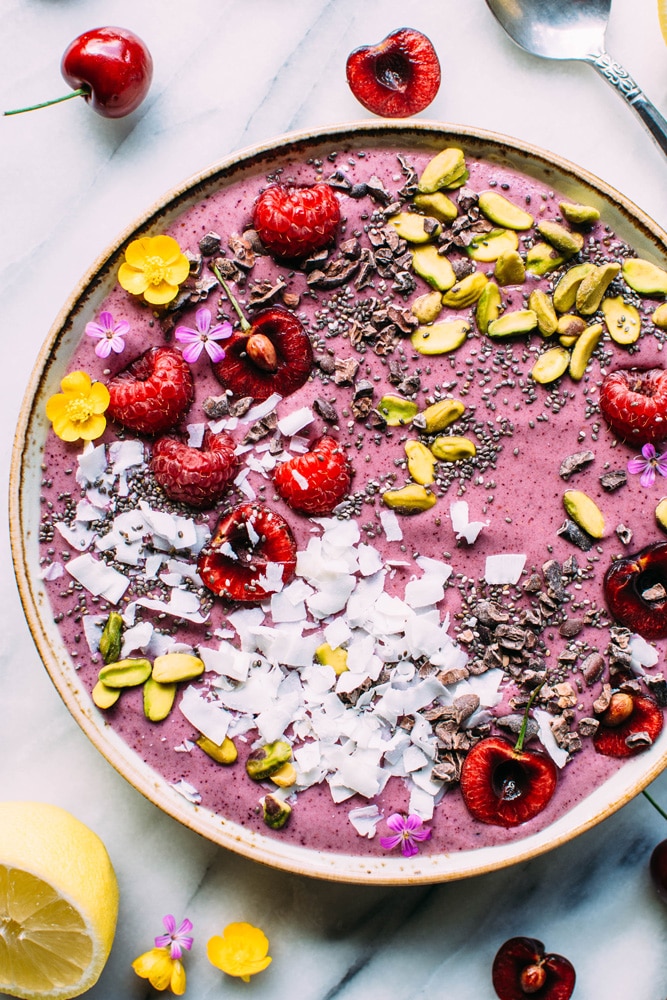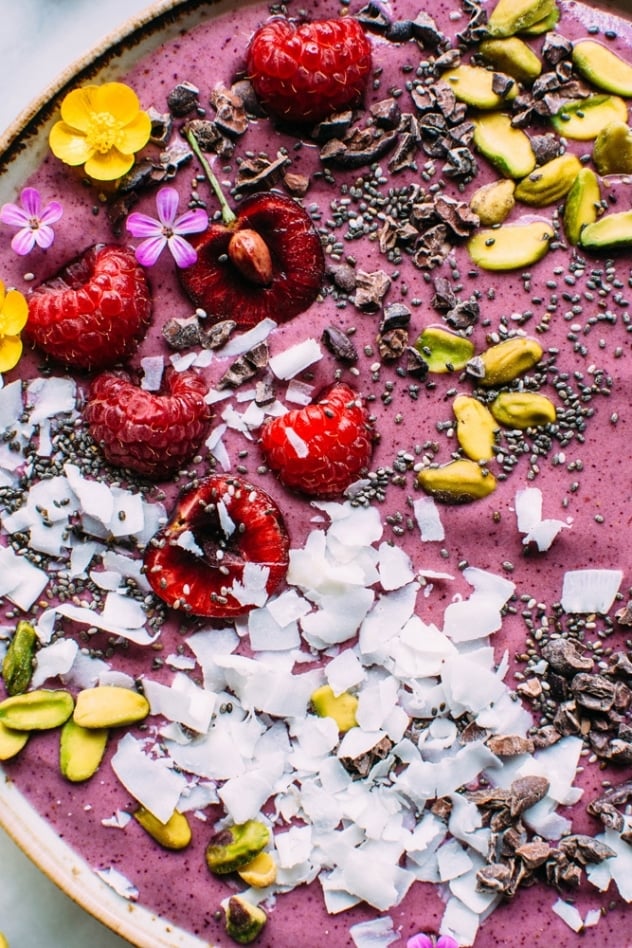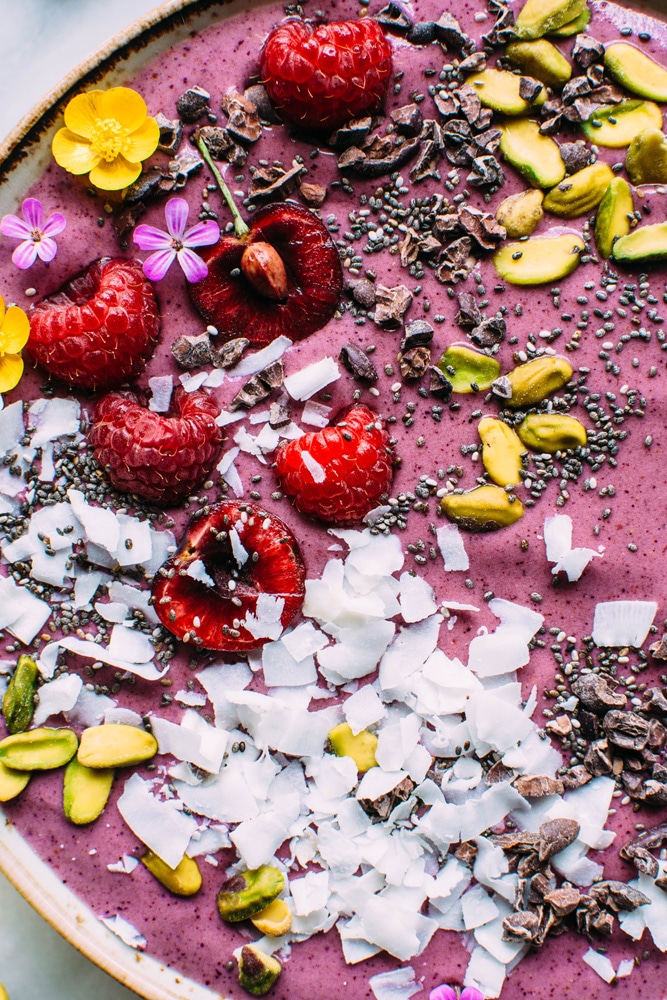 They are loaded UP with all the antioxidant rich ingredients to fuel whatever activities you have planned for the weekend.
I hadn't really gotten on the smoothie bowl train yet (I know I know… what have I been doing with my life?!), until after I started kicking my exercise routine up a notch over the last couple of weeks with the help of this awesome app called aaptiv. Have you guys tried it? It's pretty life changing! It's like having a personal trainer with you throughout your whole workout, with music that's timed to the intensity of the run/strength train/yoga sesh. I'm not usually the most motivated runner – okay honestly I've NEVER even so much as liked running, but I have gone on TWELVE runs in the last two weeks!
Not like I'm counting or anything…
I might kinda feel like a rockstar?
I just never thought I would feel the way I do about running. Which says a lot for their program.
If you've been looking for something to turbo charge your at home or gym workout routine I would definitely recommend checking it out! There's something about getting your body in motion that feels so GOOD.
So one thing that I've been trying to focus on in addition to getting my sweat on is fueling my body with the right stuff after the working out is done.
It's a pretty important piece of the puzzle, right?
I made this smoothie base a couple of times post workout and it turned out so luscious and creamy. I was IN LOVE. And since it was on the thicker side I thought; let's just go ahead and make this love official and turn it into a smoothie bowl.
Smoothie bowl = a smoothie that's all grown up and has it's life figured out.
This bowl knows how to get you glowing from the inside out, and in only 5 minutes!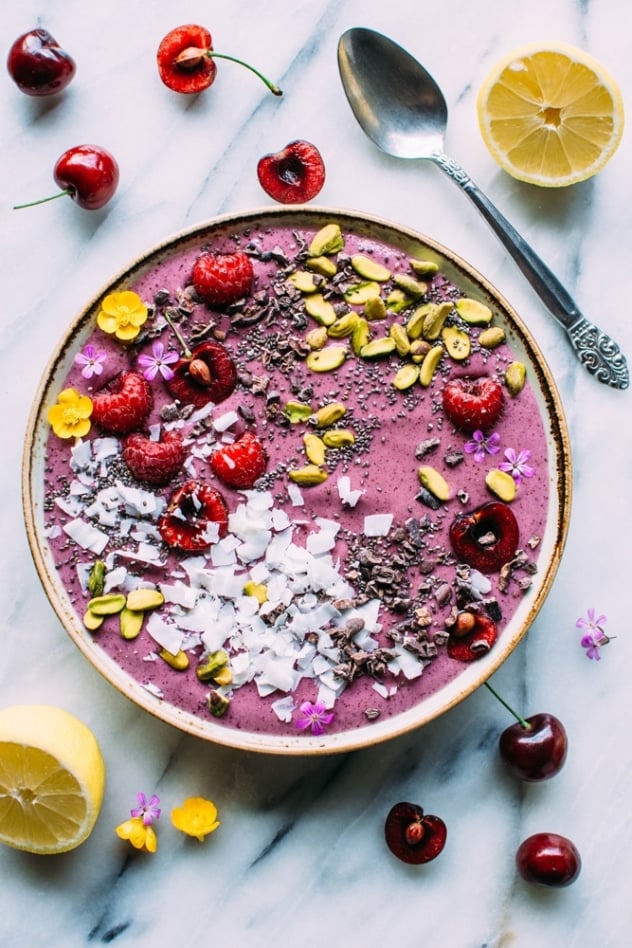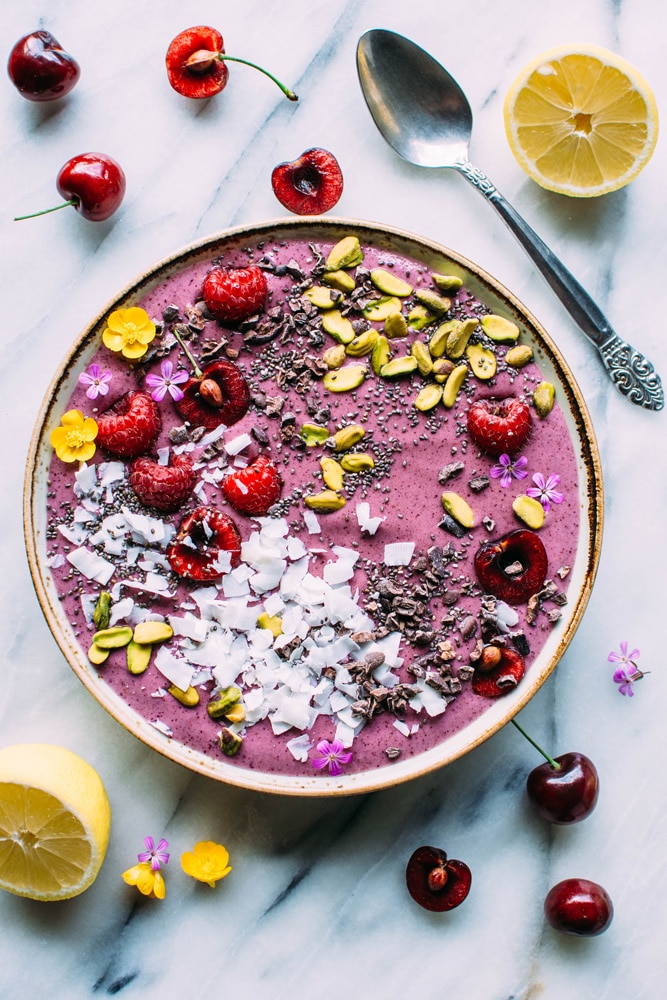 What glow worthy ingredients are in the 5 minute antioxidant smoothie bowl?
Dark sweet cherries

Blueberries

Coconut milk

Banana

Collagen beauty water

Frozen cauliflower.. wait.. what?!
Yep you heard me right! Frozen cauliflower. After all, cauliflower has antioxidants too, right?
Adding frozen cauliflower to smoothies is a trend that's been circling the online blogosphere for a while now, and I've just been dying to try it. Maybe half out of skepticism? I mean.. how good could frozen cauliflower really be in a smoothie?
Well, apparently.. pretty damn good!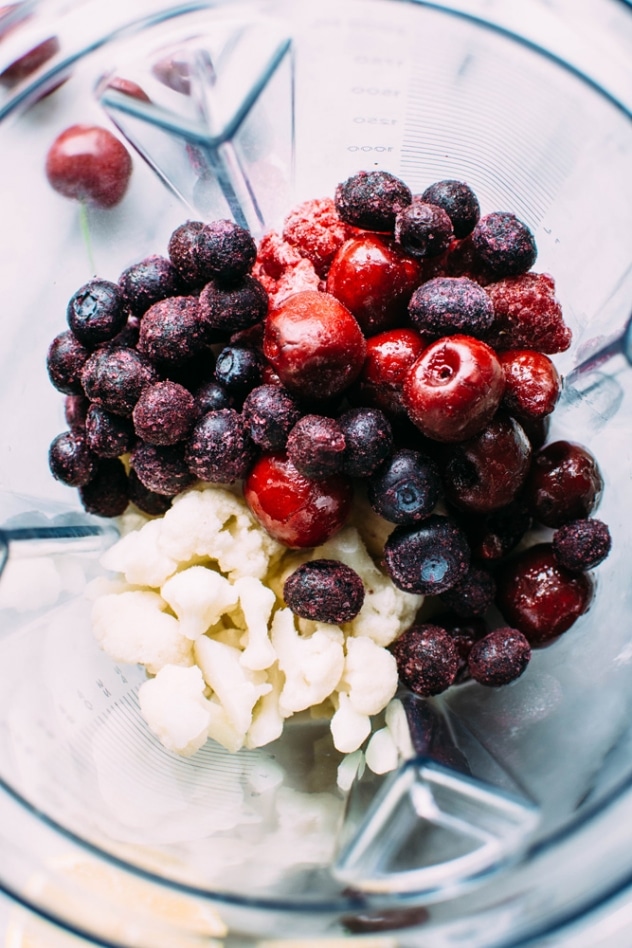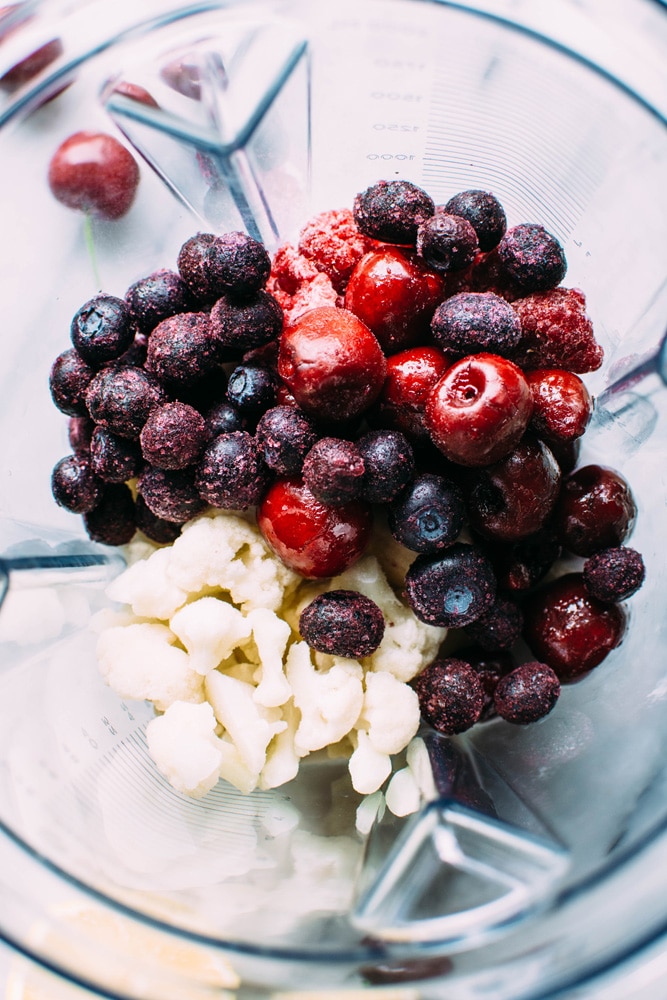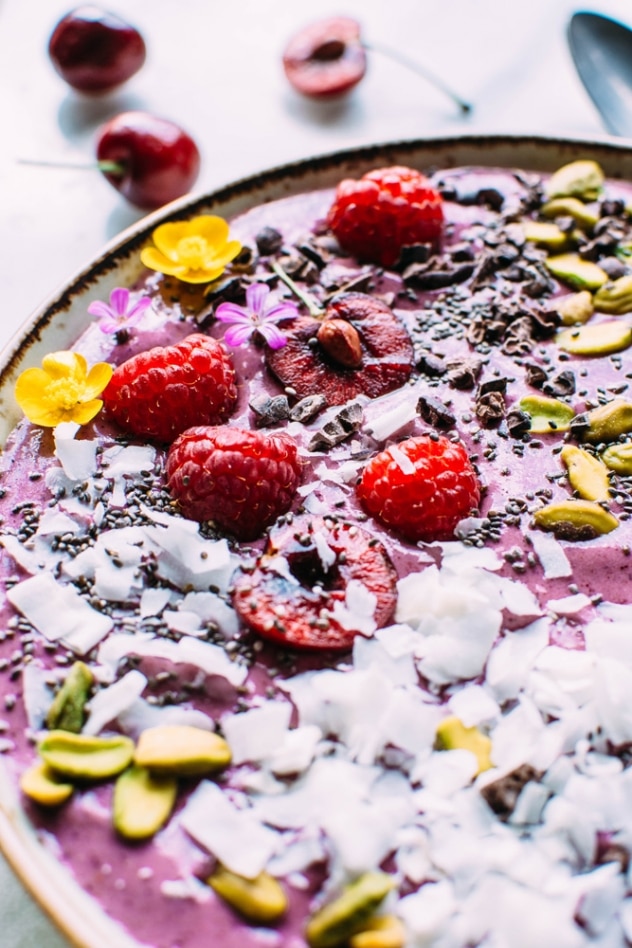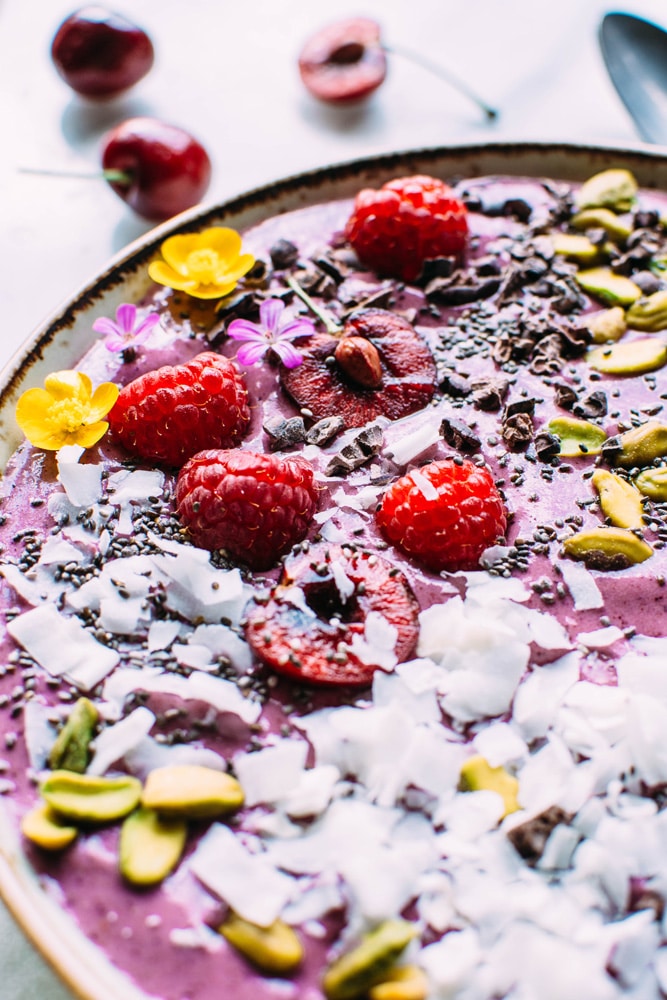 It adds a certain creaminess that usually can only be achieved by including massive amounts of bananas (which I LOVE but is maybe not the most blood sugar + low carb friendly option for smoothie building).
It also does this crazy volume trick, where less suddenly becomes MORE.
Like a mousse-y fluffy more.
Like an I wanna eat this for breakfast every day more.
No but seriously, it will make your smoothie situation more airy, fluffy and creamy without adding any extra sugar or carbs!
Pretty darn good trick to have up your sleeve if you ask me.
And if you wanna avoid adding banana to your smoothie bowl at all using frozen cauliflower instead is a totally doable option.
why add collagen?
Because this smoothie is all about doing something a little extra special for yourself after you put in the work, I wanna mention the beauty collagen water that I added to this smoothie from Vital Proteins and why you might consider adding it.
It's packed with:
Protein – Essentail for recovering after a workout. And also really important to include in smoothie bowls so your blood sugar levels don't spike from too much fruit.
Collagen (obvi!) – Collagen has been having a moment in the spotlight lately, and for good reason. Not only is it incredibly nourishing for your skin, nails and hair, but more importantly it also helps rebuild muscle and connective tissue in our body, and supports healthy muscles, joints, and all connective tissue in our bodies. Pretty much the best thing you could be including in a post workout (or any!) meal.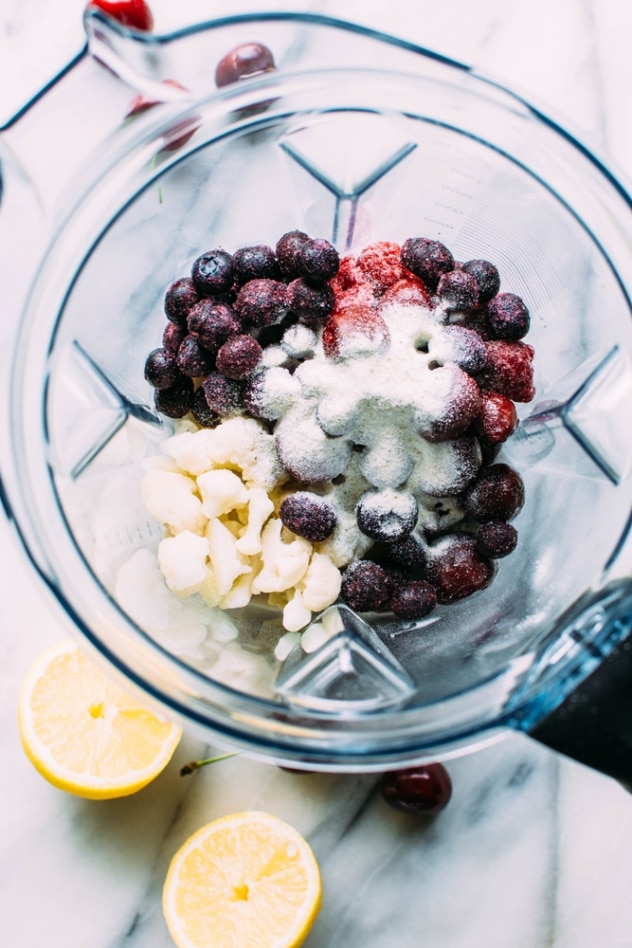 how about the toppings?
This smoothie bowl is topped with so many good things! A lot of them add a little more of an antioxidant punch to the whole formula, fiber (which also helps balance blood sugar), and healthy fats which keep us full and give us long term energy. All good things.
What were my choices?
Berries + Cherries – there's also a lot of berries and cherries in the smoothie bowl, so these could be left out, but they just look so pretty and they boast a grand amount of antioxidants.
Chia seeds – for more antioxidants, omega 3 fatty acids, fiber, and a little protein!
Cacao nibs – the original chocolate chip! Cacao nibs are incredibly rich in Magnesium, have more antioxidants than blueberries, tea, wine and goji berries, and are MOOD BOOSTING!
Raw coconut flakes – which contain a special type of fat called MCT (medium chain triglycerides). This special type of fat gives us long lasting energy and boosts cognitive function.
Pistachios – Because they're so pretty! Annnd they also have a healthy dose of antioxidants, fiber, and a wide array of essential vitamins and minerals.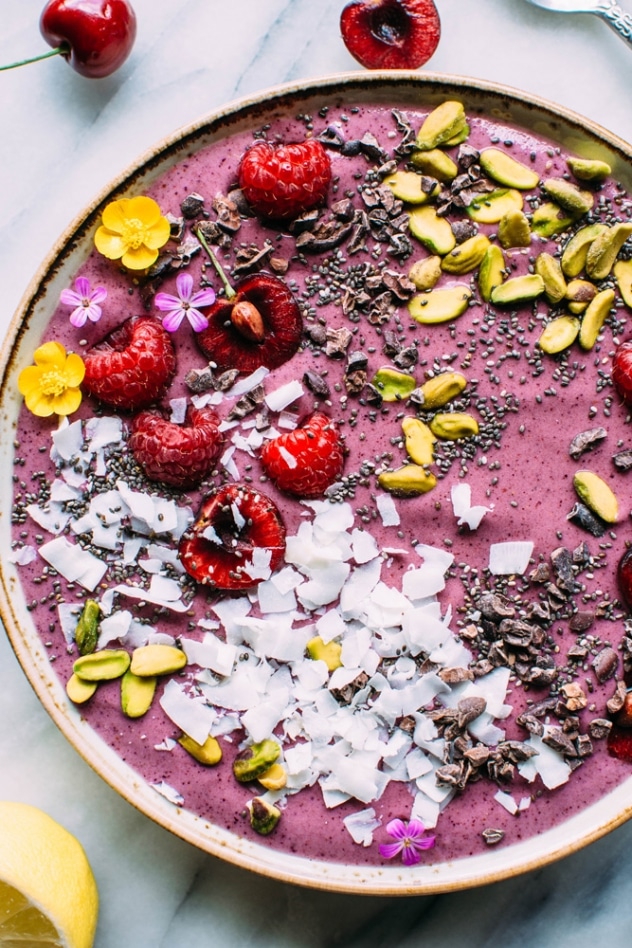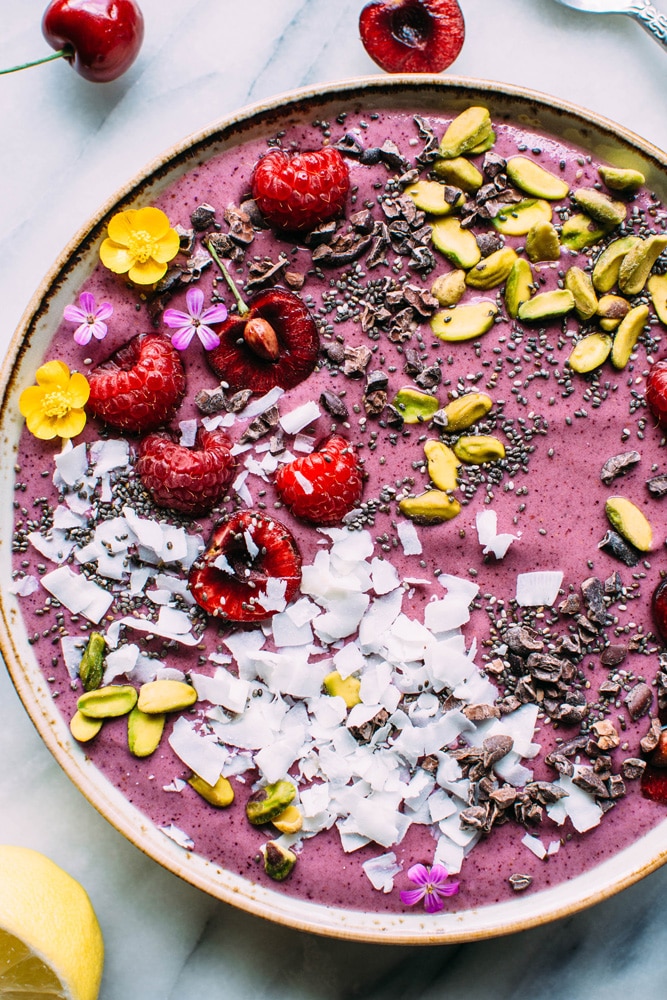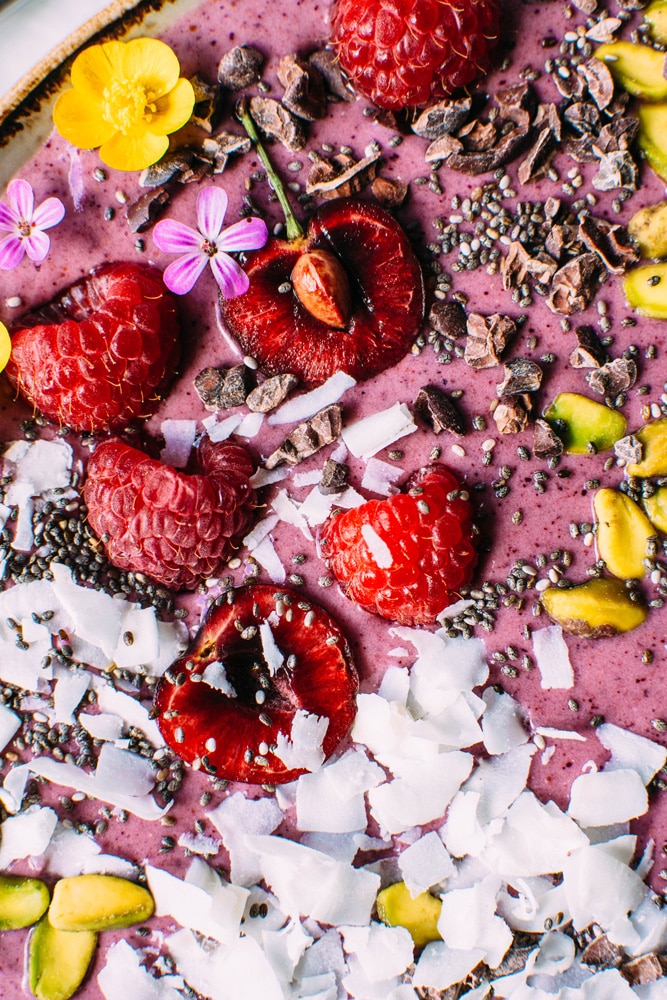 All in all, I think we can agree that this antioxidant smoothie bowl is a KEEPER! Ready to fit into your post workout routine, busy weekend, or as a treat for breakfast next week!
Want more easy grain free breakfast recipes? Check out these favorites!
did you make this recipe? I would love to know how it turned out for you! when you rate my recipes and leave feedback it helps me continue to improve. you can leave me a comment below, or snap a picture and post it to instagram with the tag @nyssaskitchen or hashtag #nyssaskitchen! xo
Print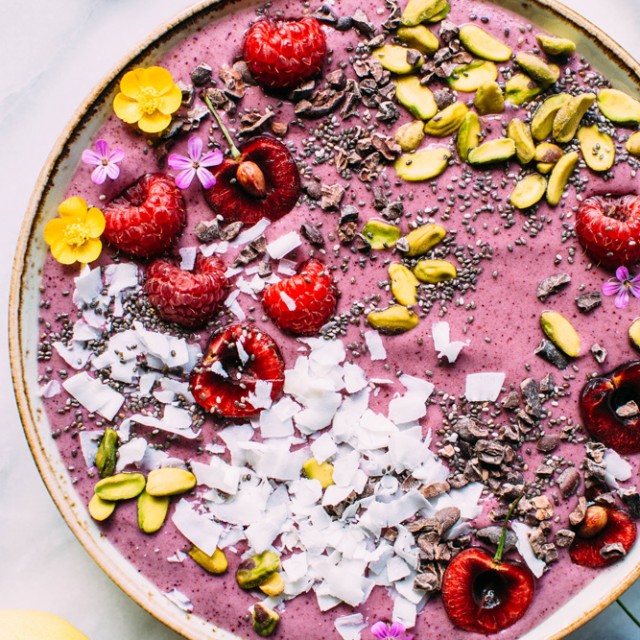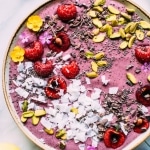 5 minute antioxidant smoothie bowl
---
Author:

Nyssa Tanner

Total Time:

5 minutes

Yield:

2

servings

1

x
Description
This 5 minute antioxidant smoothie bowl is packed with cherries, blueberries, banana, frozen cauliflower and collagen powder for all the glow from the inside out goodness you need!
---
1

banana 

3/4 cup

frozen cauliflower

1/2 cup

frozen blueberries

1/2 cup

frozen cherries

3/4 cup

coconut milk 

pinch of sea salt 

1 tsp

lemon juice 

1

–

2

scoops collagen powder (optional but adds protein and collagen which is good for your hair, skin, nails and joints!)

Top with fresh cherries, berries, coconut flakes, cacao nibs, chia seeds and pistachios
---
Instructions
Add all ingredients to a blender and blend on high until smooth and creamy. Pour into 2 bowls and top with cherries, berries, coconut flakes, cacao nibs, chia seeds and pistachios for a whole lotta antioxidant love!