The best paleo bean free chili! This crazy delicious chili is not only bean free (making it paleo and whole30 friendly), it's also loaded up with a rainbow of veggies – carrots, celery, onions, peppers, tomatoes, fennel and garlic that deliver serious flavor and mega nutrition!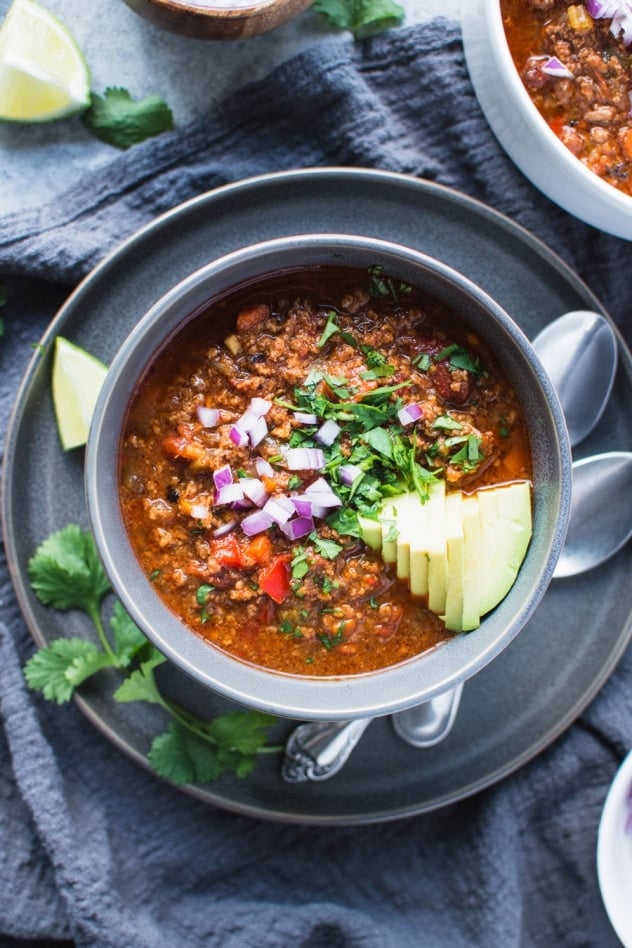 I am pretty sure Seattle is confused about what season it's supposed to be (SPRING, SEATTLE. IT'S SUPPOSED TO BE SPRING!). Because the trees are blooming and the crocuses and daffodils have sprung up from their earthly depths but it was SNOWING last Friday, you guys. SNOWING. Like big wet flakes falling to the ground for at least two hours 🙄 I know we're not the only one's but it just makes me wanna say COME ON ALREADY.
(Very ready for sun over here 🙋🏼)
So while at first I thought I might be a little too far past the cold weather season to share this recipe for the best paleo bean free chili, after this recent flash back to winter-like weather that we've been having around here I realized that no, it's definitely not too late. In fact, this chili recipe is probably needed now more than ever. Because if we're gonna have to deal with snow at the end of March, we might as well be eating delicious paleo bean free chili while we do it!