Even though Spring has officially "arrived", we are (of course) still in the middle of our rainy season here in Seattle, and so we're still taking comfort in a delicious pan of roasted veggies now and then! This week it's black pepper roasted carrots with savory cilantro yogurt and toasted almonds.
All the yummm!!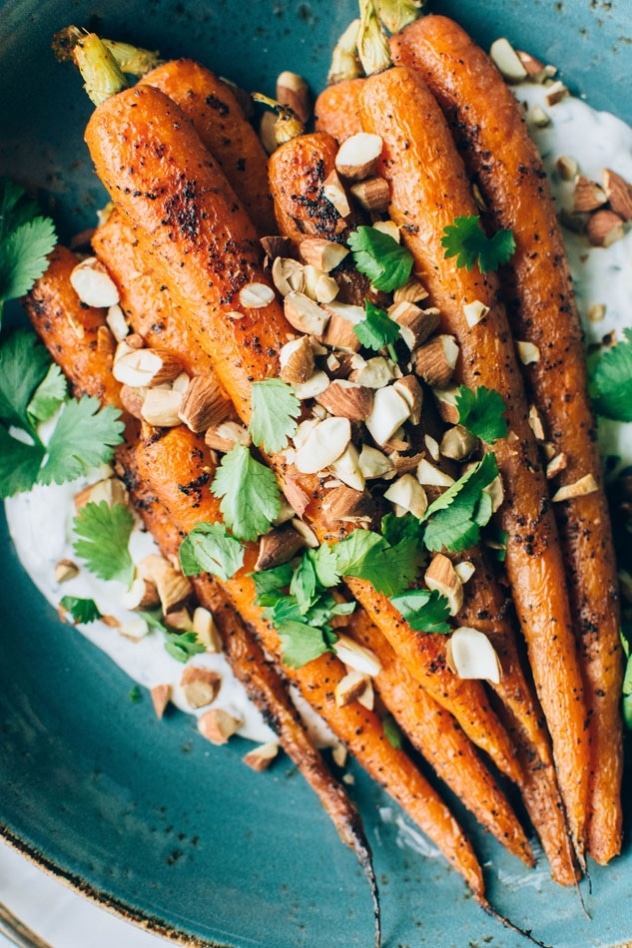 And really, as long as it's not too hot to turn on the oven, I feel like roasted veggies always have a place in the kitchen, no matter what the season is. There's just something so amazing about the caramlized sweetness and intensity of flavor that you get when you roast vegetables. It really adds a level of complexity and focus that keeps you coming back for another bite!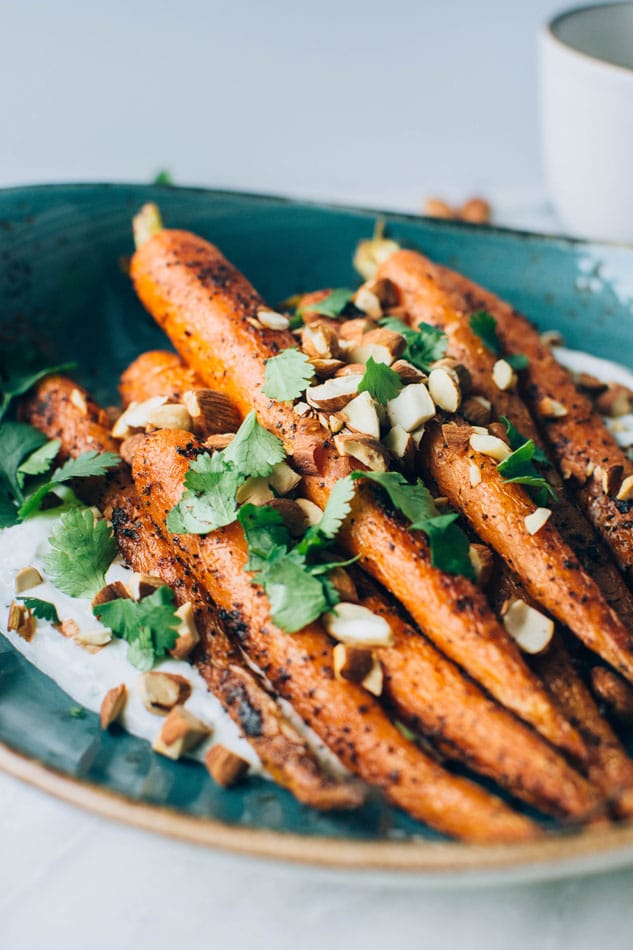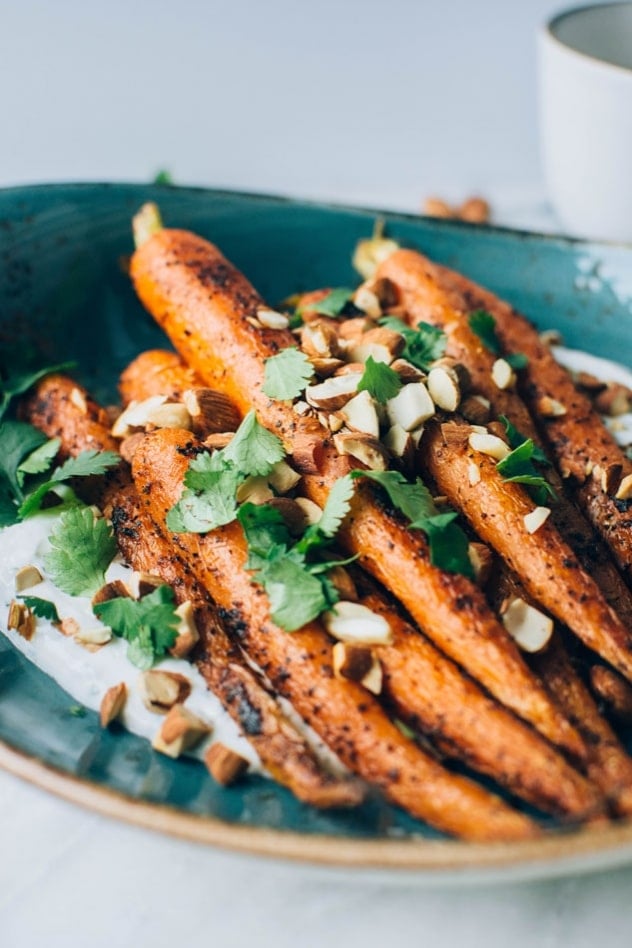 And carrots are probably one of my all time favorites to roast, if you can't tell from my recipes 😉
I decided to season this batch with looots of black pepper, a little bit of paprika, and pair it with some really bright + savory cilantro yogurt sauce – which, it turns out is a super delicious match! If you wanted to take it up a notch you could even add a dash or two of cayenne pepper OR ancho chili powder to the carrots as well. I think that smokey flavor would be spot on when paired with the cooling yogurt!
And of course there's some roasted almonds for some crunch factor! Always gotta think about that crunch factor.
The dish comes together pretty darn easily – just how we like it. Real food in less time is always a good thing.
You'll start by toasting your almonds (if you buy raw almonds instead of already roasted – which I tend to prefer anyway so they don't lose their bite), and while they roast you can prepare the carrots by breaking off the greens and giving them a good little scrub, especially up by the top where the green meets the carrot. I like leaving that part on but there always seems to be some gunk hanging out in there. It's not necessary to buy carrots with the tops on but I try to since you know that they're fresh and will have the highest nutritional value!
Once the almonds are done the carrots go into the oven all slicked up with some avocado oil (or another high heat cooking oil of choice) and coated with black pepper to roast to perfection. And while the carrots are roasting you can throw together the yogurt sauce!
See I told you it was gonna be easy 🙂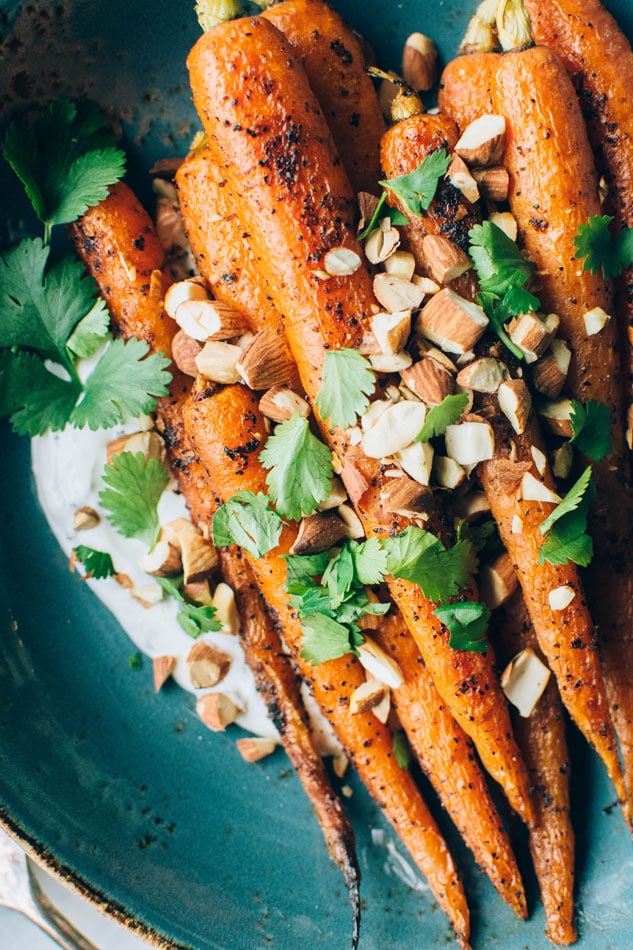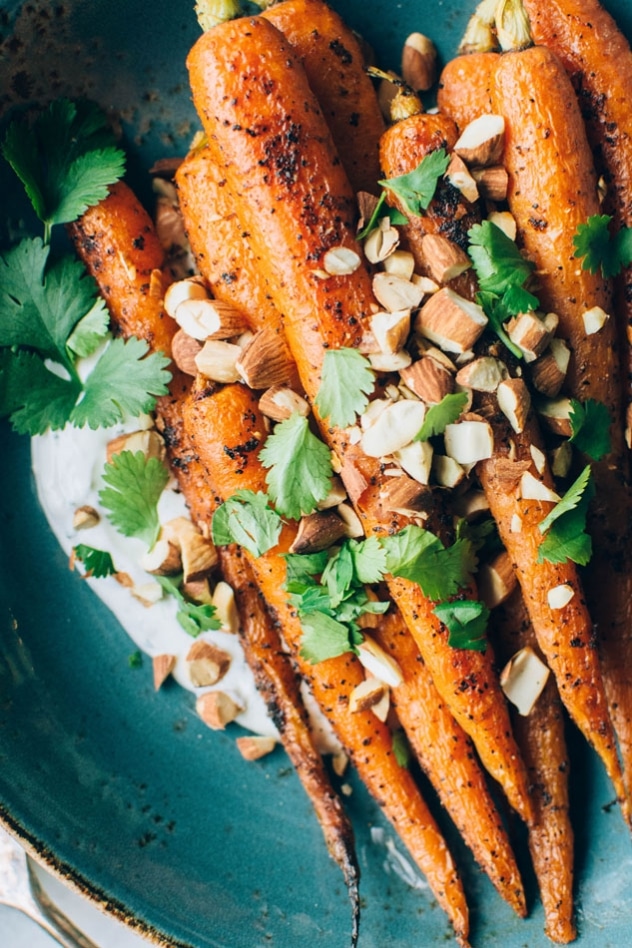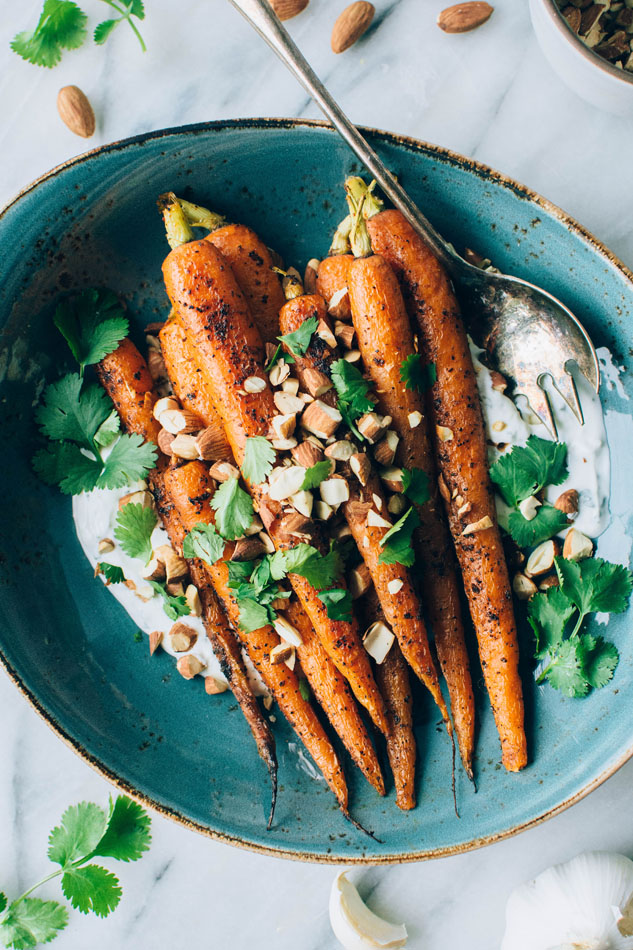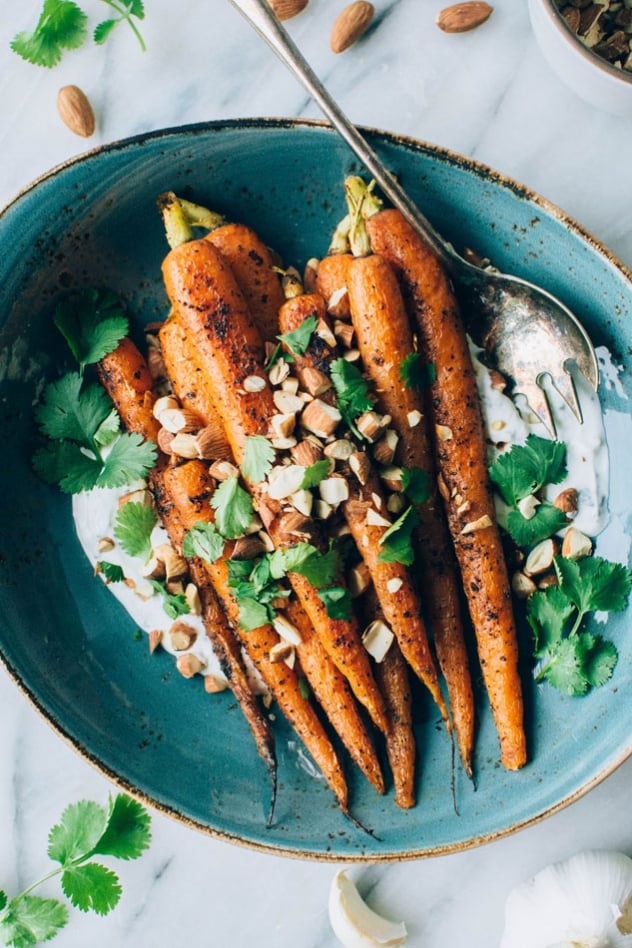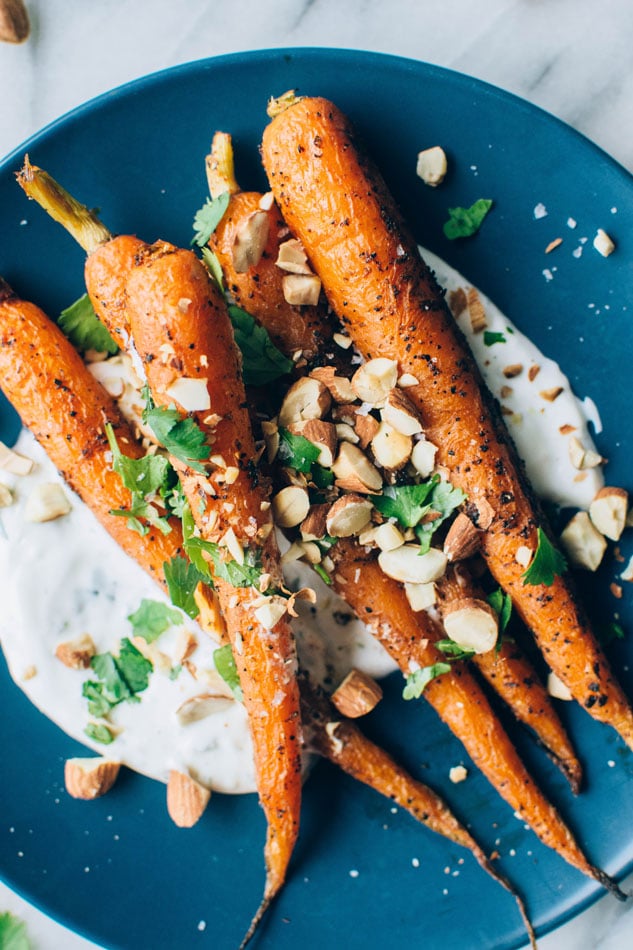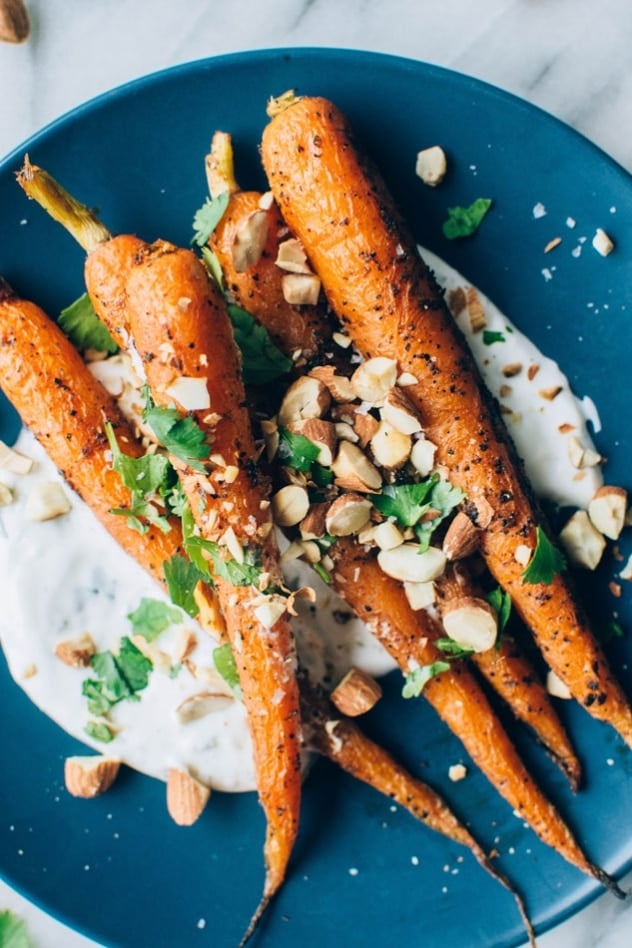 This recipe could EASILY be made dairy free by substituting the cashew cream for the yogurt sauce. You could also made some kind of delicious tahini sauce with the same flavor profile, too. Tahini sauces usually need to be thinned out with a little water to get a perfectly creamy consistency, but that would be another excellent option!
And team sauce over here got a little off track 🙋🏻 – but you get the idea with where my mind is wandering!
I did a crazy little thing after I finished shooting this recipe and fried an egg to eat on top some of the carrots for a quick lunch. It turned out so yummy I decided to sneak in a couple shots of that in case you need a quick protein boost to your vibrant plate, too! Fried egg on anything pretty much passes as a complete meal in my book 😎
I know you guys agree with me.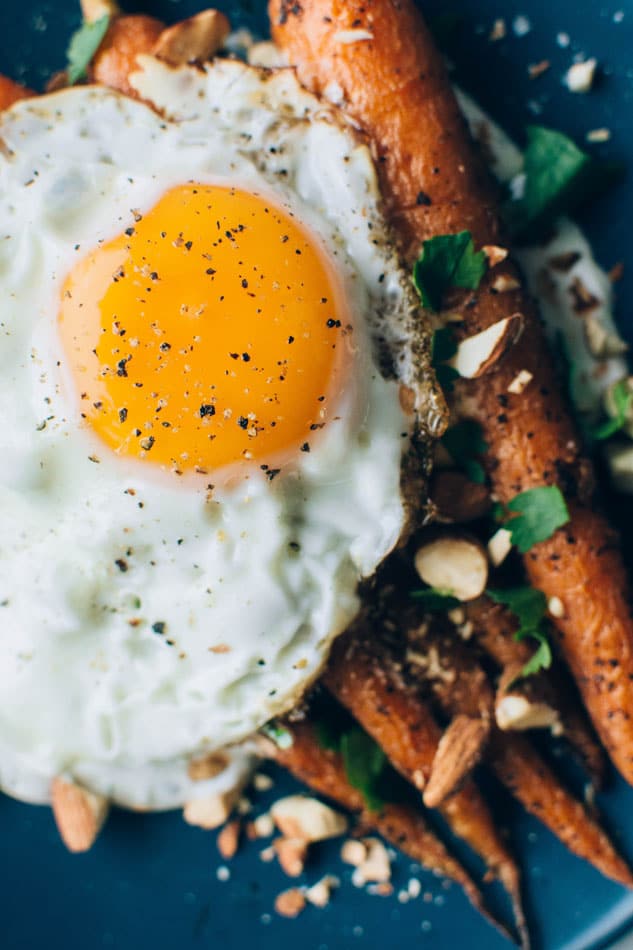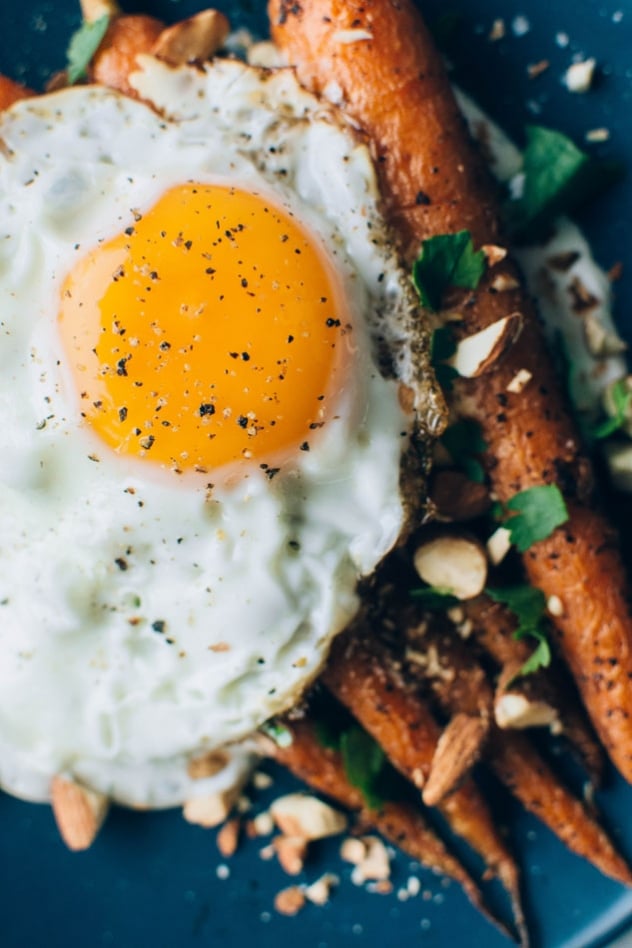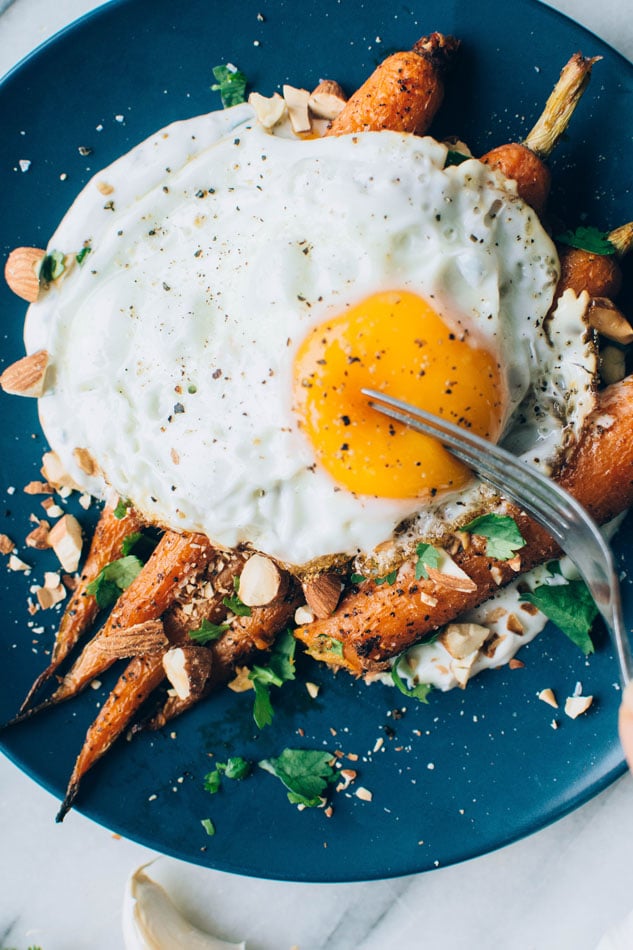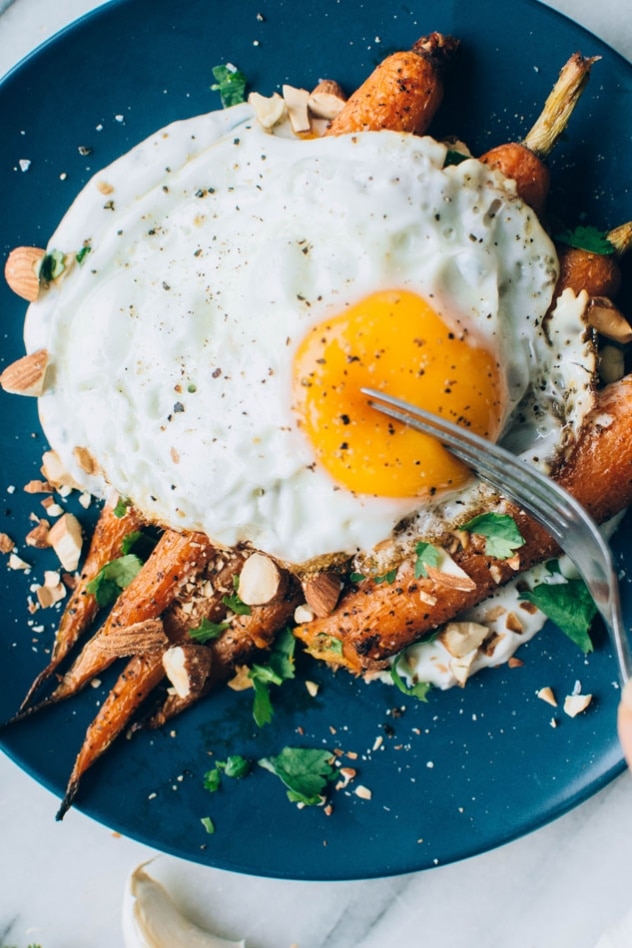 Now let's rock this week with some super easy + healthy black pepper roasted carrots cuz you guys deserve GOOD food that nourishes and energizes you from the inside out.
Sounds like a pretty good way to have an awesome week, right?!
did you make this recipe? I would love to know how it turned out for you! when you rate my recipes and leave feedback it helps me continue to improve. you can leave me a comment below, or snap a picture and post it to instagram with the tag @nyssaskitchen or hashtag #nyssaskitchen! xo
Print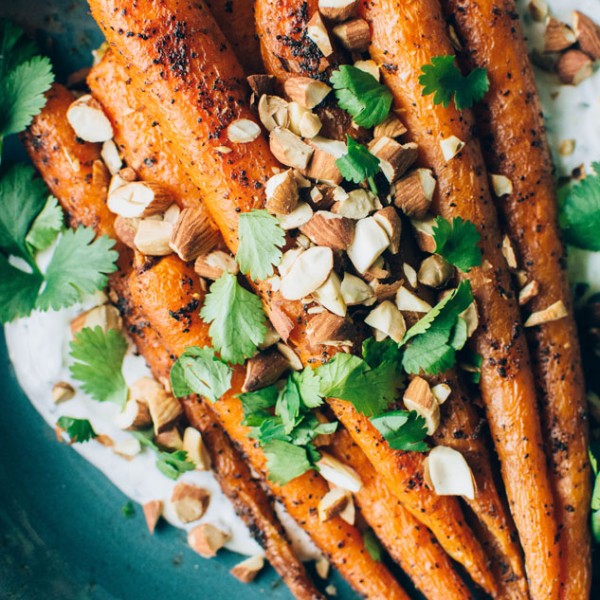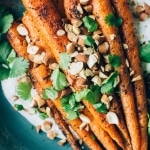 black pepper roasted carrots with savory cilantro yogurt and roasted almonds {gluten free + dairy free option}
---
Author:

Nyssa Tanner

Prep Time:

5 min

Cook Time:

25

Total Time:

30 minutes

Yield:

4

servings

1

x
---
---