Hey guys! I've decided to give something new a try here on the blog. Amongst the grain free recipes that I share, I'm going to start sprinkling in some Seattle restaurant reviews of places that are grain free, allergen friendly, and paleo-aware. Can that be a verb? I think so. Gonna roll with it 🙂
I can't promise that it will be the best, most articulate restaurant review that you've ever read, because really I have zero experience with this sort of thing. But I can promise you that I'll give you my honest opinion, and that if you have any questions about my experience or what I know about a place, that I'll answer the best I can.
*All of the opinions and photography of this restaurant are my own, and I have not received any compensation in exchange for this review.*
---
The first spot that I'm going to cover is a little cafe in the Capital Hill neighborhood of Seattle called, Niche – A Gluten Free Cafe and Bakery. It was started about 2 years ago by a 20 year trained pastry chef, Toby Matasar, who found health through a gluten free / paleo diet, and left the traditional pastry kitchen to start her own quaint and sunny, 100% gluten free cafe.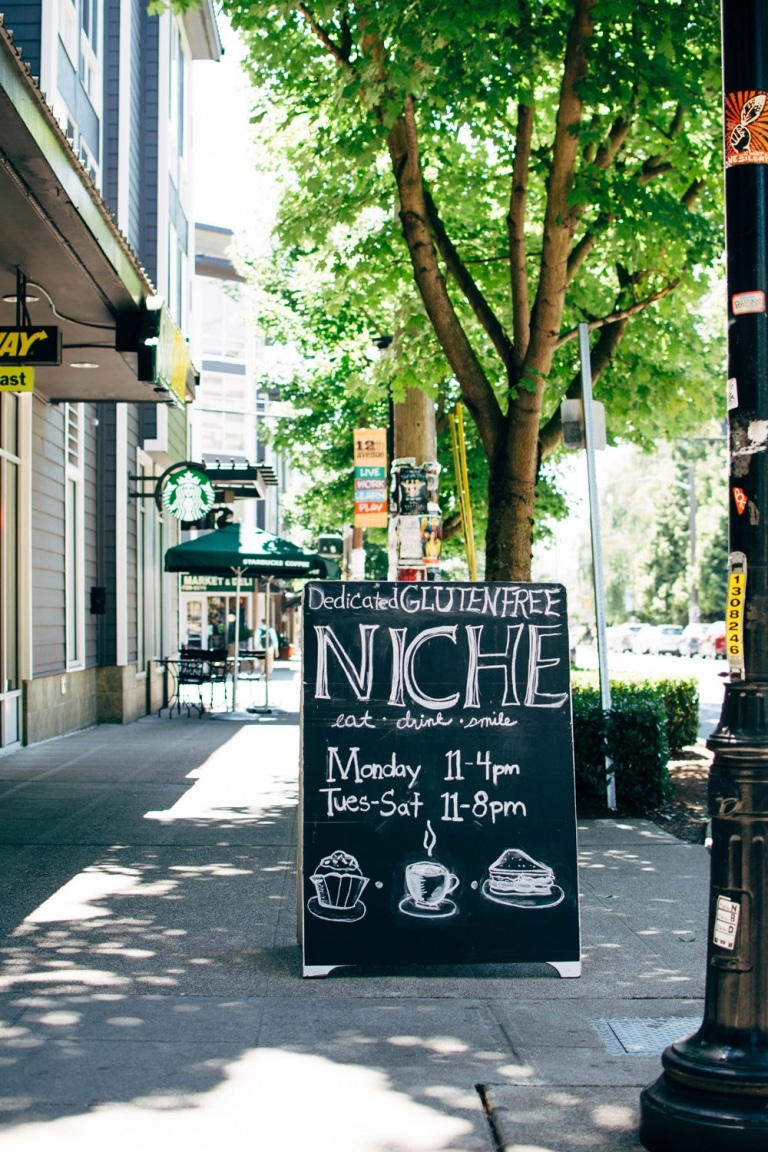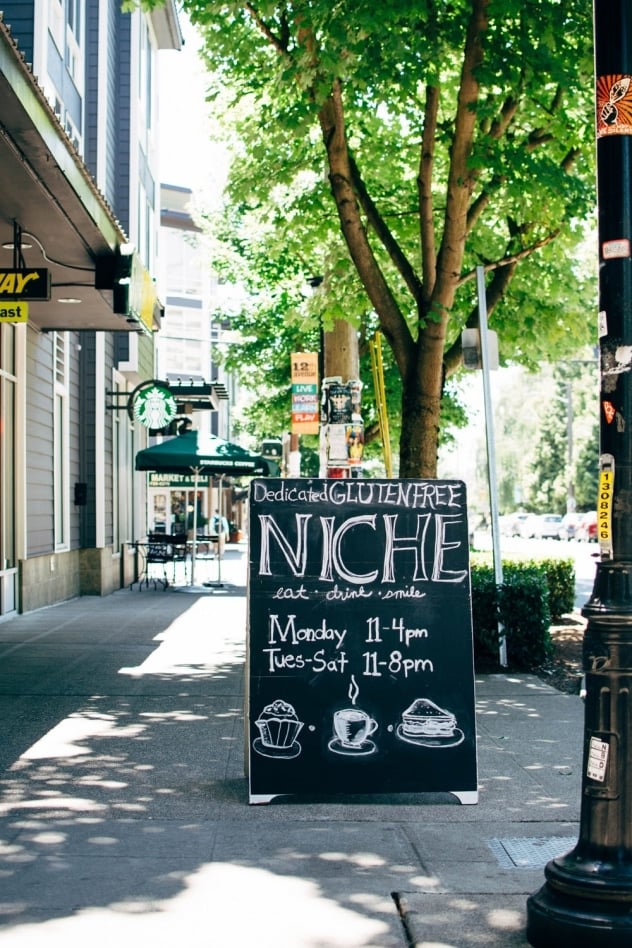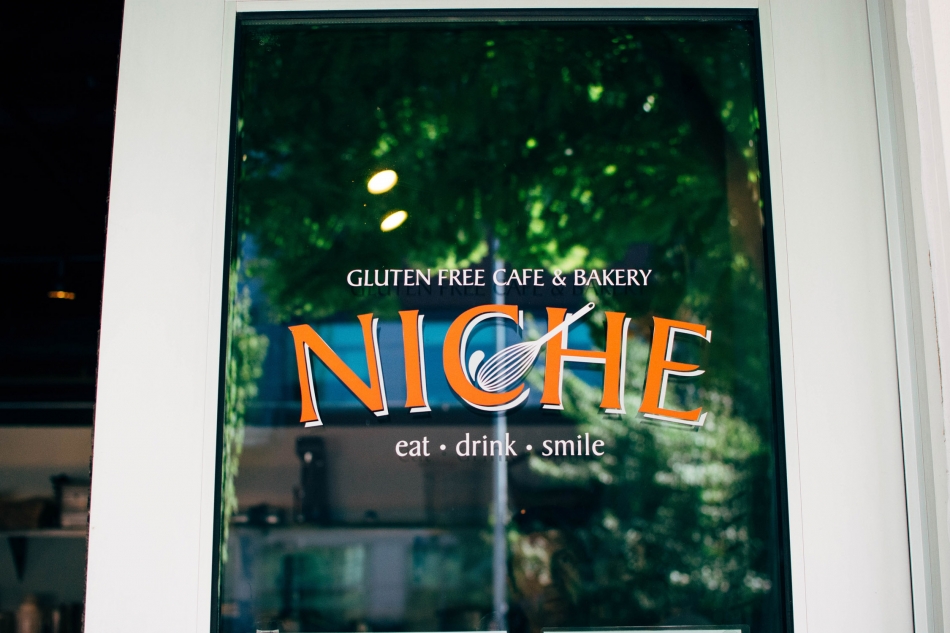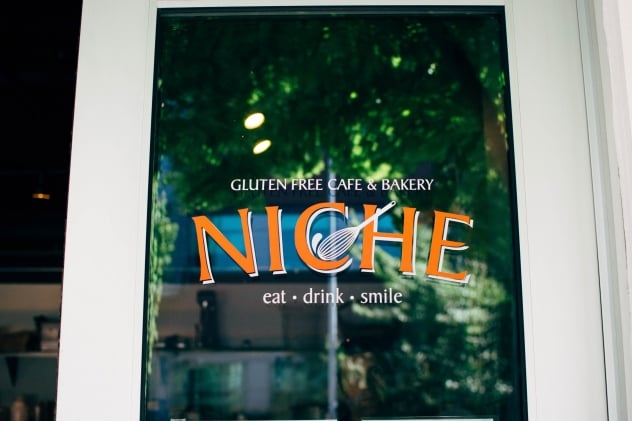 I went in one afternoon with a girlfriend to catch a midweek lunch and was not disappointed. The atmosphere is very relaxed and quaint – large windows line the front of the cafe, and it's just the right size for right around 10 tables. We were able to walk right in and sit down. The menus line the wall near the entrance and you order at the counter.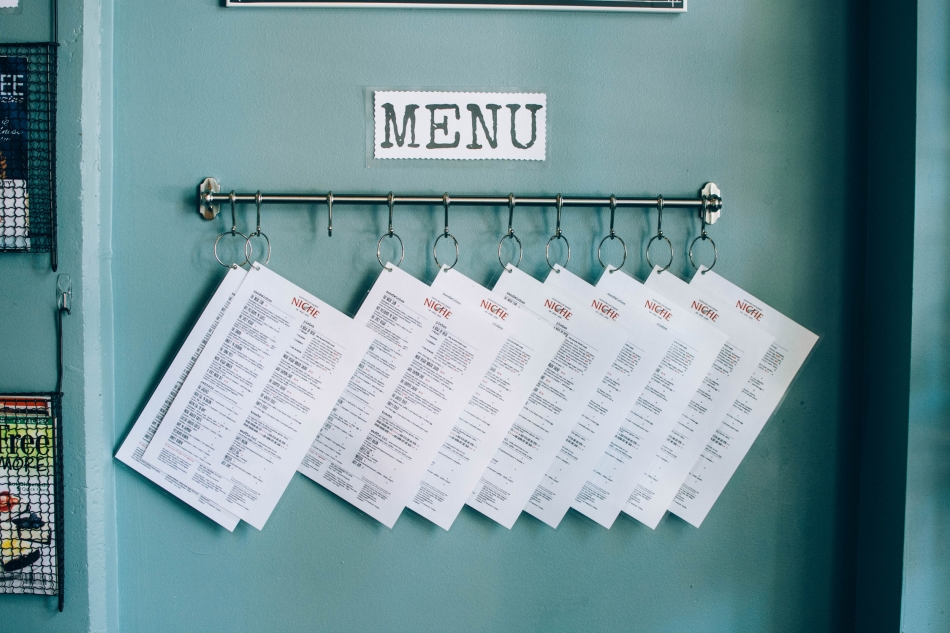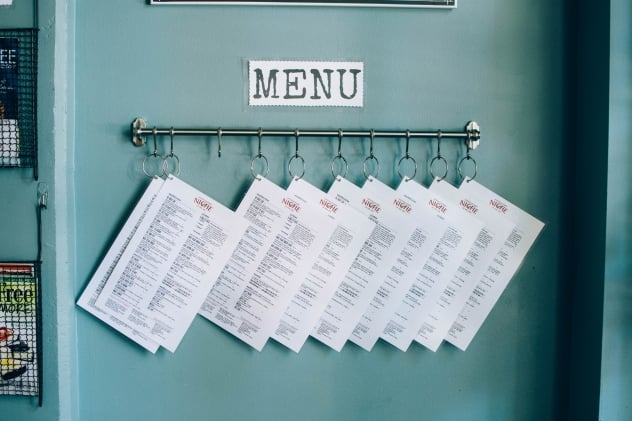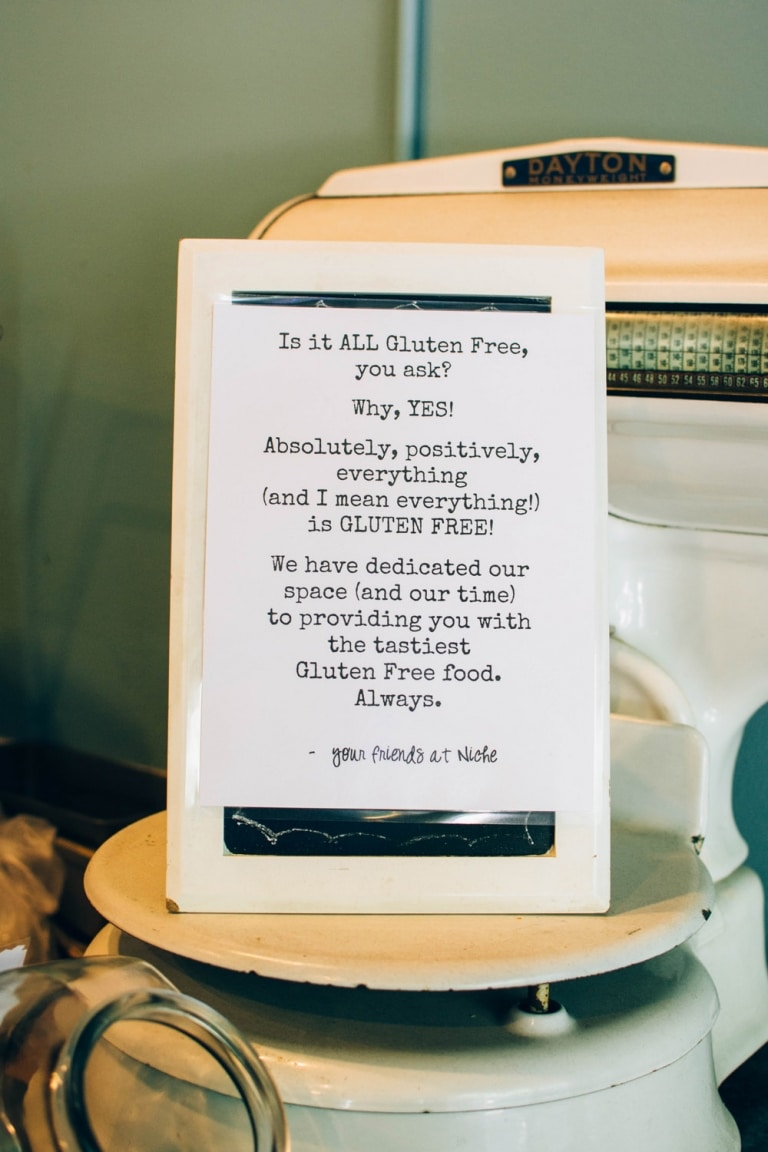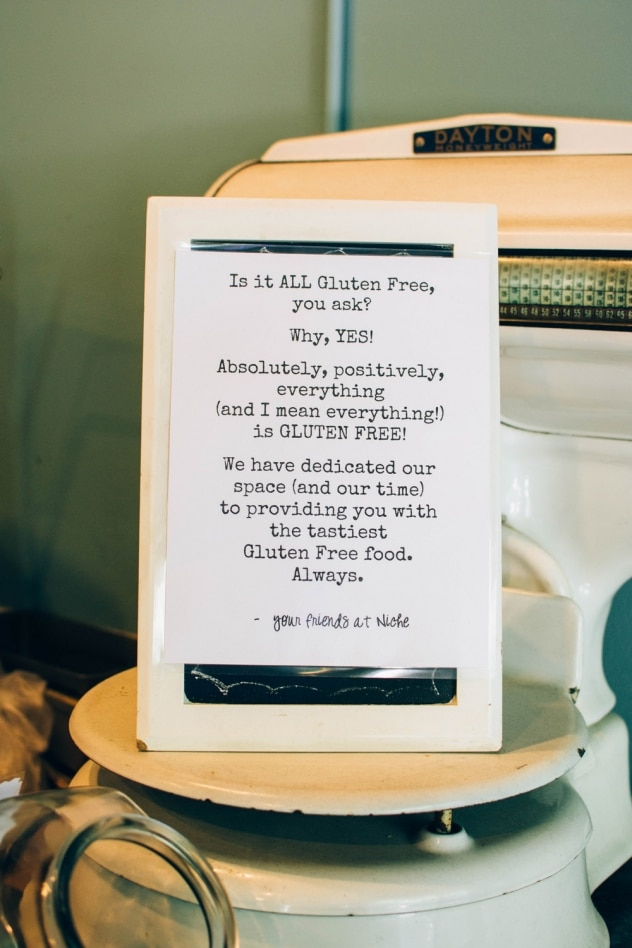 Get ready to be tempted by some seriously mouth-watering treats as you browse their main menu since the ordering counter is lined with whatever sweet treats are fresh baked for the day – you may even be able to watch them frosting some cupcakes or pulling cookies out of the oven, as their workspace is directly behind it.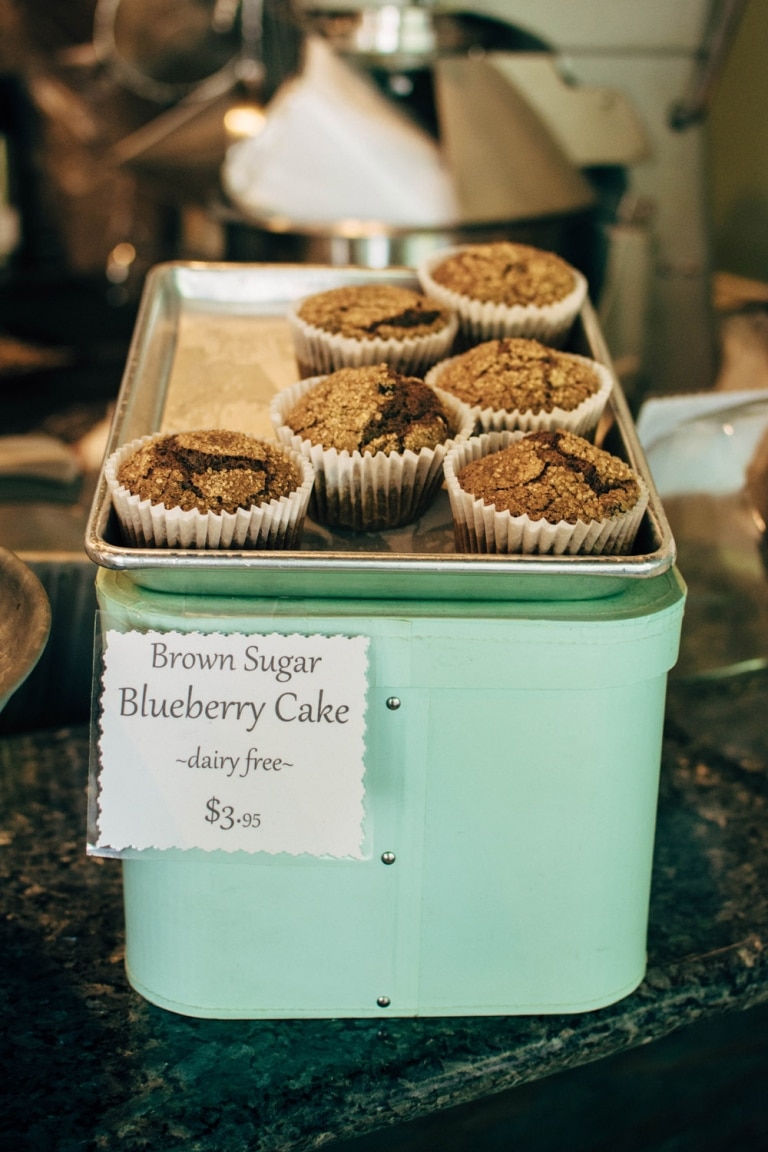 Their non-bakery items menu consist mostly of various types of sandwiches, bowls, salads, and WAFFLES (and waffle-inis – read: waffle paninis 😱). Definitely more gluten free options than paleo + grain free options, but everything is nicely labeled on their menu with:
P – for paleo
D – for dairy free
V – for vegetarian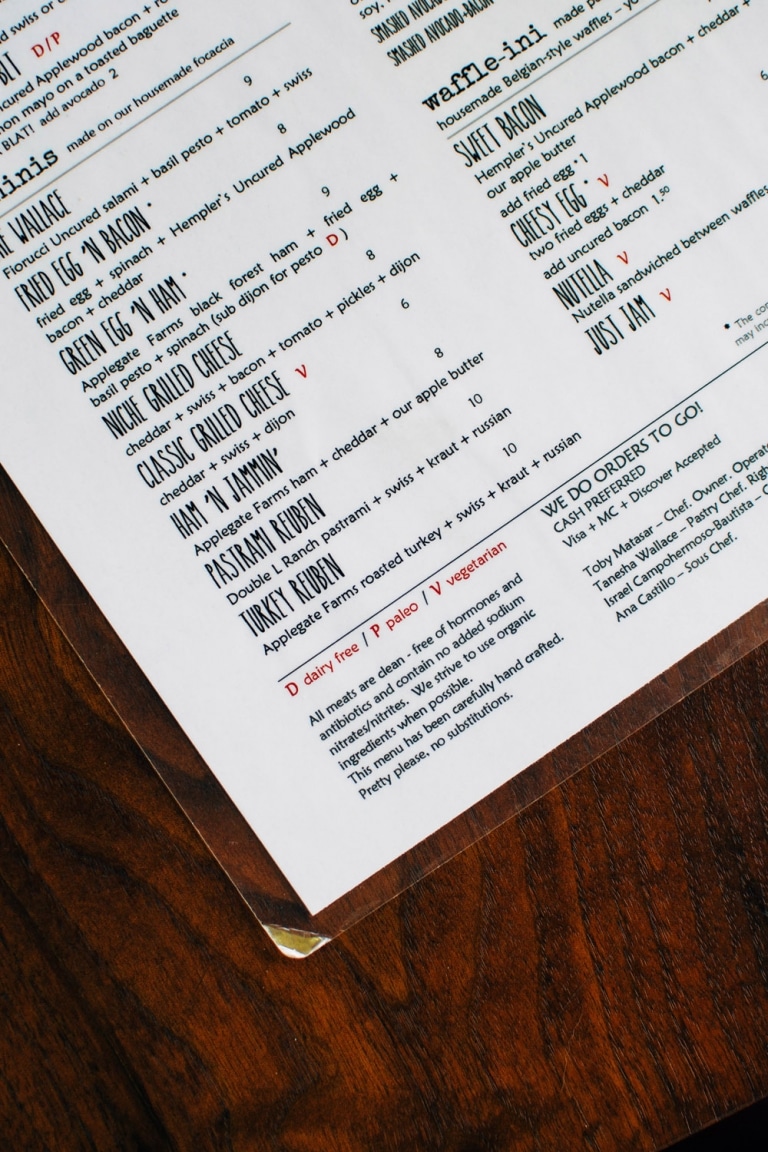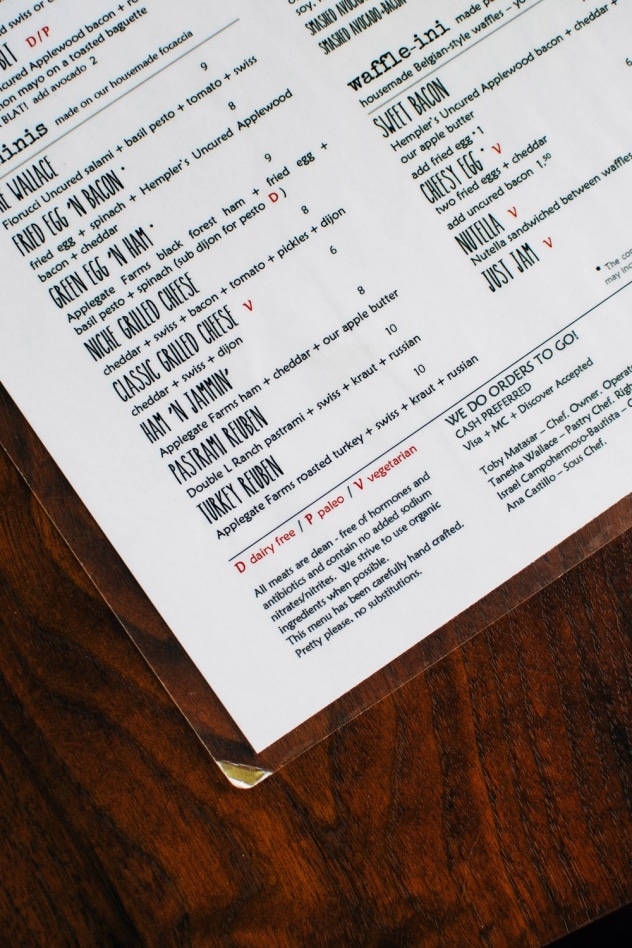 the food
The strict paleo options are somewhat limited. They do list their dairy free baguette sandwiches as being paleo, when in reality they use Olivia's Super free bread, which does contain Sorghum Flour. A grain which some non-grain eating folks tolerate fine, while others not so much. But besides the Olivia's baguette sandwiches they also have hash bowls made with sweet potatoes and lots of other yummy toppings such as bacon, salmon, kale and a variety of veggies. There's a chopped salad that you can substitute chickpeas for the uncured salami to make it paleo (this would also be the best keto menu option), and a wild salmon cake plate that looks delightful.
If you're just looking for gluten free options, the whole menu is your oyster! They even make their own housemade gluten free focaccia bread.
I had the "Very Niche BLT" and my girlfriend who I met had the "Cowboy Hash Bowl" with a fried egg.
I had tested Olivia's bread previously and knew that I would do fine it, and it had been AGES since I'd had a BLT, so it felt like the obvious crave-worthy choice 🙂
the very niche blt
The Olivia's super free bread really is a delightful option for those who are paleo-ish / gluten free. Their baguette is free of most major allergens – corn, rice, potato, wheat, dairy, soy, and nuts. It toasts up very nicely, the texture is great and it made an excellent base for this classic sammie. The bacon was thick cut and had just the right amount of bite, there was plenty of avocado, a delightful smear of mayo (I didn't find out what type of mayonnaise) and of course, fresh tomatoes and crunchy romaine. It definitely checked the box of classic BLT and satisfied my craving!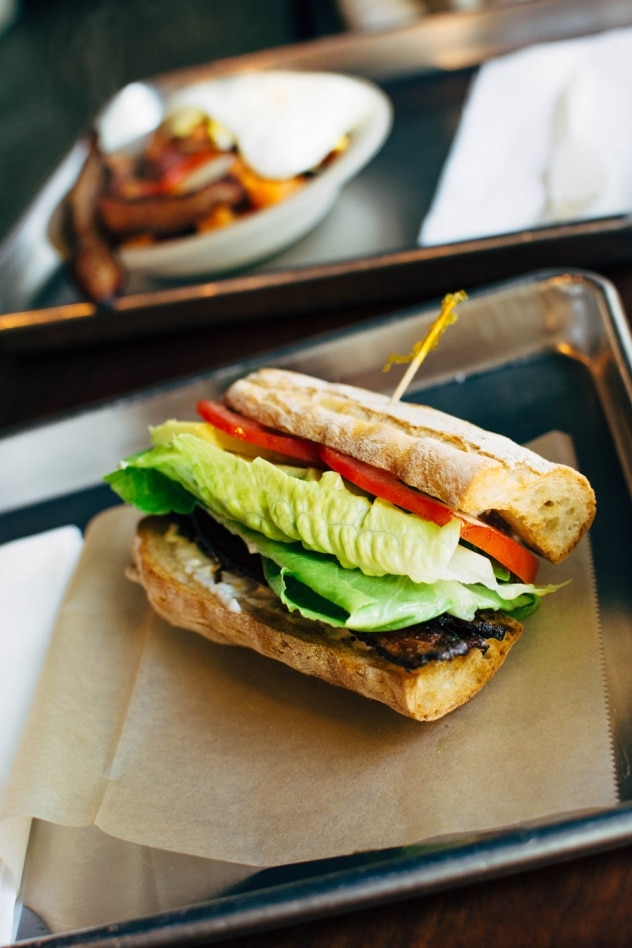 the cowboy hash bowl
The main component in this bowl is sweet potatoes, there's also some sweet bell peppers, onions, and for protein – pastrami, and Hempler's uncured applewood bacon (the same delicious bacon that's on the BLT sandwich). She added a fried egg (this is an option for an additional $1) bc duh, fried eggs are good on everything.
This definitely was a super hearty dish – so even though it was $14 (including the price of adding the egg), you could easily eat half and take the other half home. I will say that if I had ordered it I would have wished for a little more variety in veggies, or at least less sweet potatoes and more of the other stuff, to make it a little more interesting. But the flavors were on point, the egg was nicely cooked, and the protein was from a clean source, which definitely makes it a win.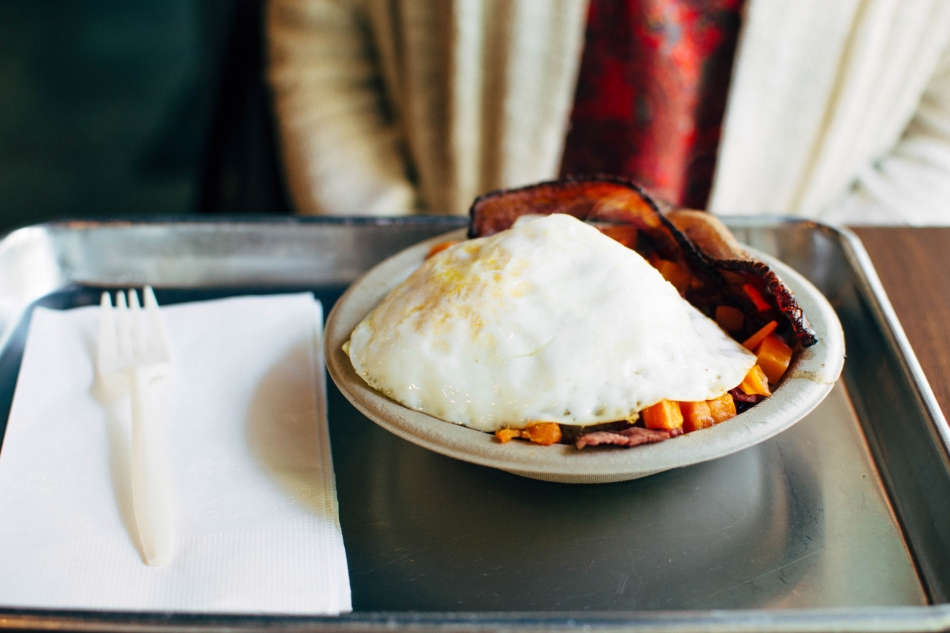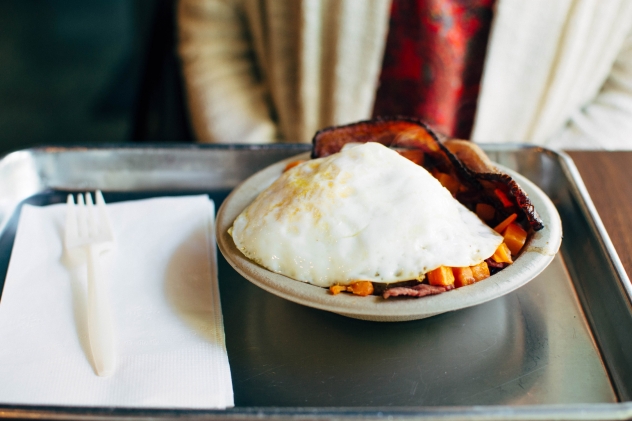 We paired our food with some delicious iced chai tea made with almond milk, but they have a wide variety of beverages including beer and wine.
the location & contact information
address:
808 12th Ave Seattle, WA 98122
phone number:
(206) 999-2801
hours:
Mon: 11 AM – 4 PM
Tues – Sat: 11 AM – 8 PM
Closed Sundays
Website
Overall I LOVED this place and will definitely be going back! The service was friendly, atmosphere lovely, and the food healthy and easy to identify what options would best suit your dietary restrictions.
Thank you Niche, for bringing some serious gluten free game to the table.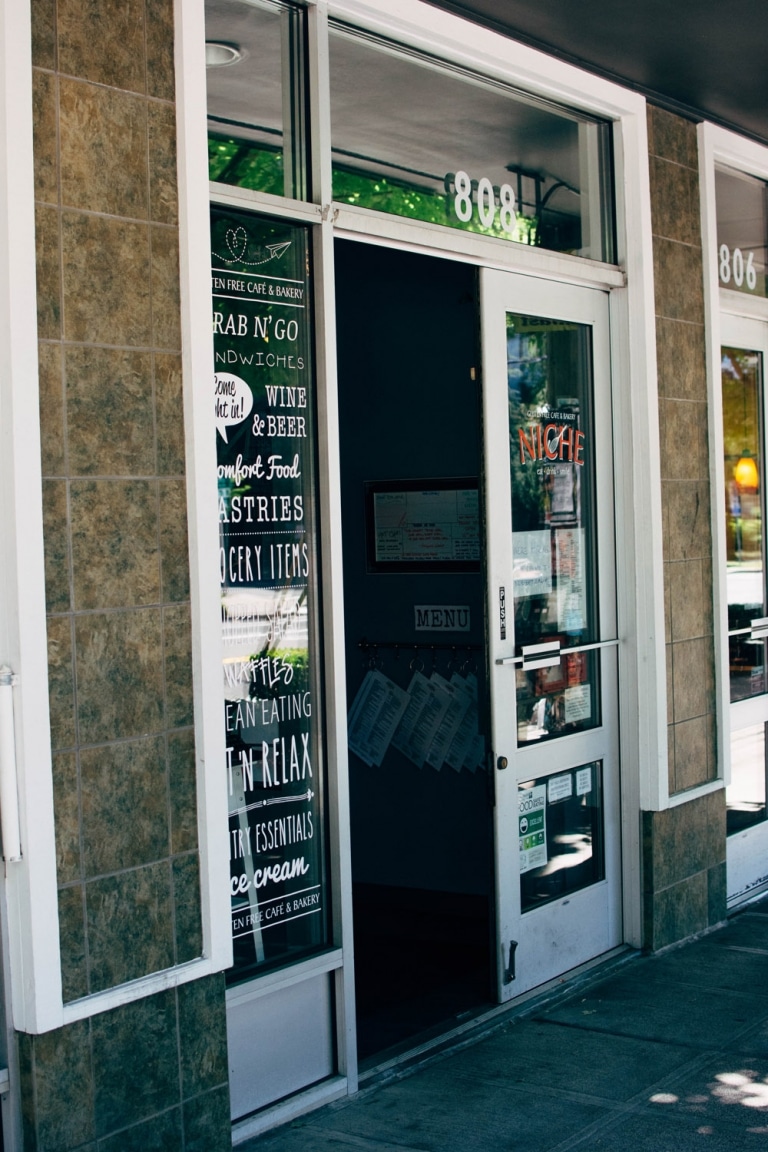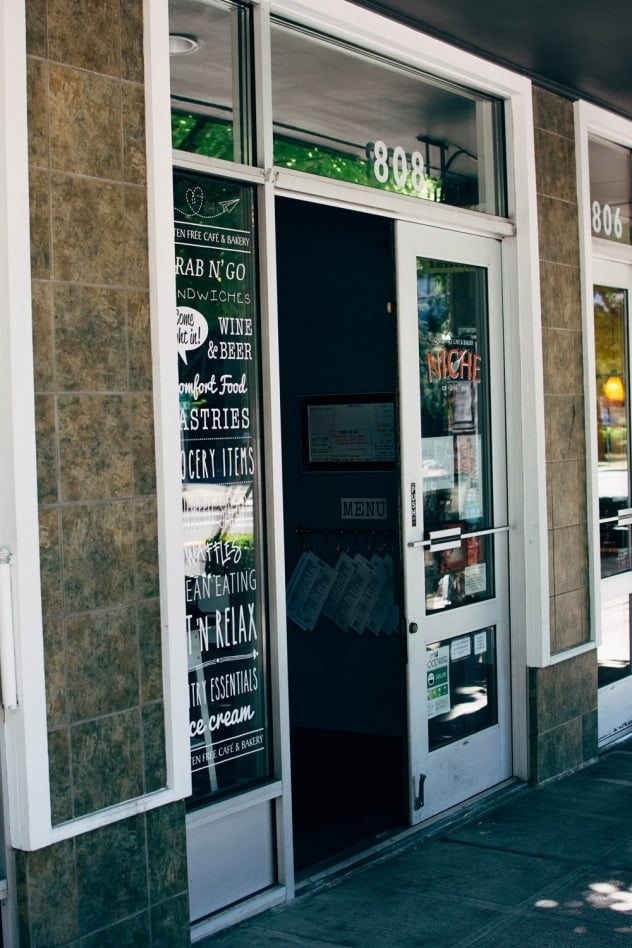 Do any of you have an experience eating at Niche? I would love to hear about it! Leave a comment below to jump into the conversation 🙂