This twice baked garlic parmesan sweet potato casserole is a savory twist on a classic autumn side dish. Made with smooth and luscious sweet potatoes, parmesan cheese, and roasted garlic. Nourishing, delicious, and full of flavor!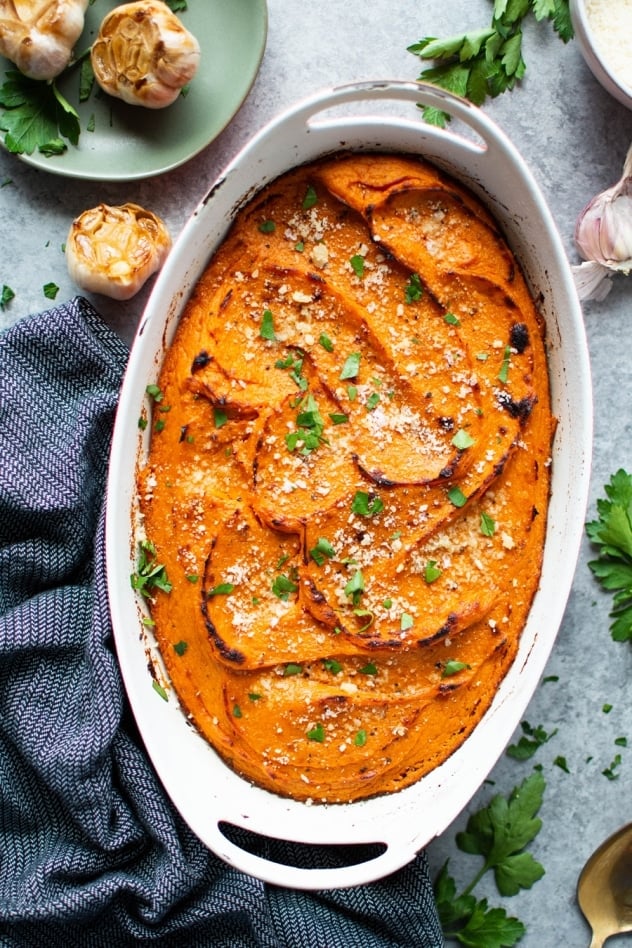 Ohhh the classic sweet potato casserole. Many Thanksgiving tables would not feel complete without it.
But we're gonna do it a little different this time and take the savory route. As everyone who has ever sat down to a traditional Thanksgiving table knows, typically the sweet potato side dish leans toward the sweeter side of the flavor spectrum. Ingredients like maple syrup, pecans, marshmallows (no offense but I just can't with that last one), are the usual suspects.
This recipe swaps those sweet ingredients out for more savory, punchy ones like parmesan cheese and roasted garlic. And because you still have the natural sweetness of the sweet potato you end up with a dish that hits every single note on your palate. <– YES!
If you want you can call me a rule breaker, but I'm gonna be a rule breaker taking giant bites of this delicious twice baked garlic parmesan sweet potato casserole, so I ain't made about it 😉