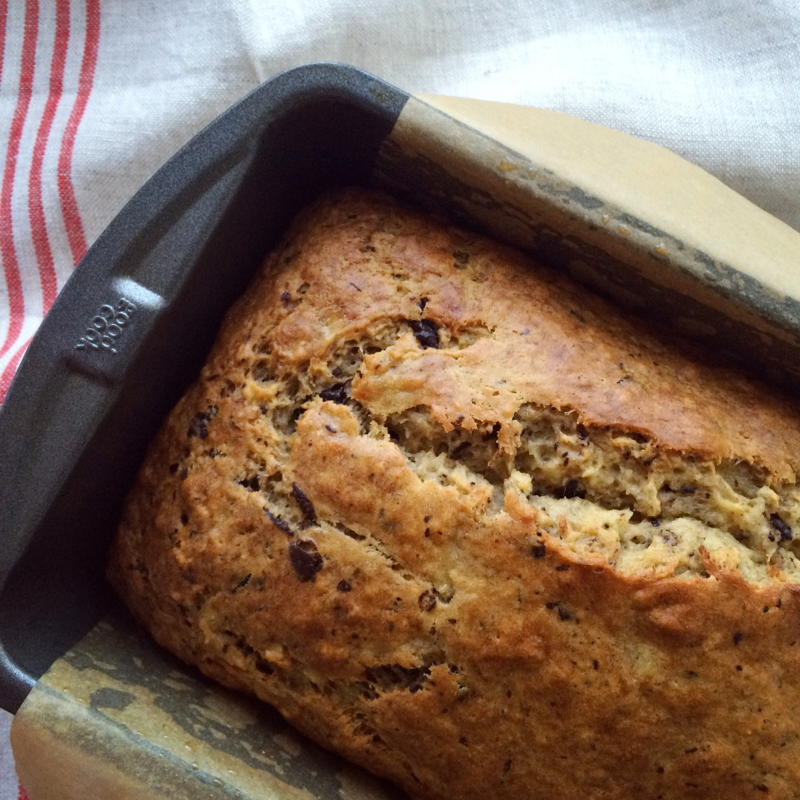 so this recipe has got me like, woah. i mean, really.
i know i often get excited about new and delicious things, but i made this when it was 80 degrees outside and i had zero regrets about turning on the oven. totally worth it.
there's so many banana bread recipes out there. i've tried SO many of them, as I'm sure you have too, but this one really, truly takes the cake. errr, bread. whatever. it's GOOOD!
this recipe doesn't call for a ton of butter, and you don't even need an electric mixer to make it. plus it bakes up all puffy & brown on the outside, and moist & tender-crumbed on the inside. what more could you ask for?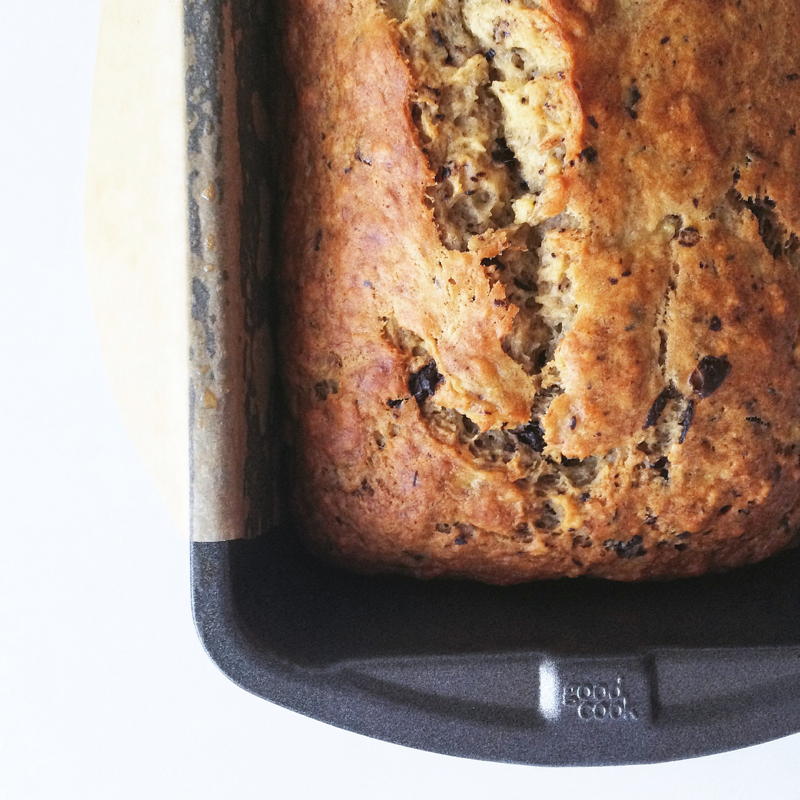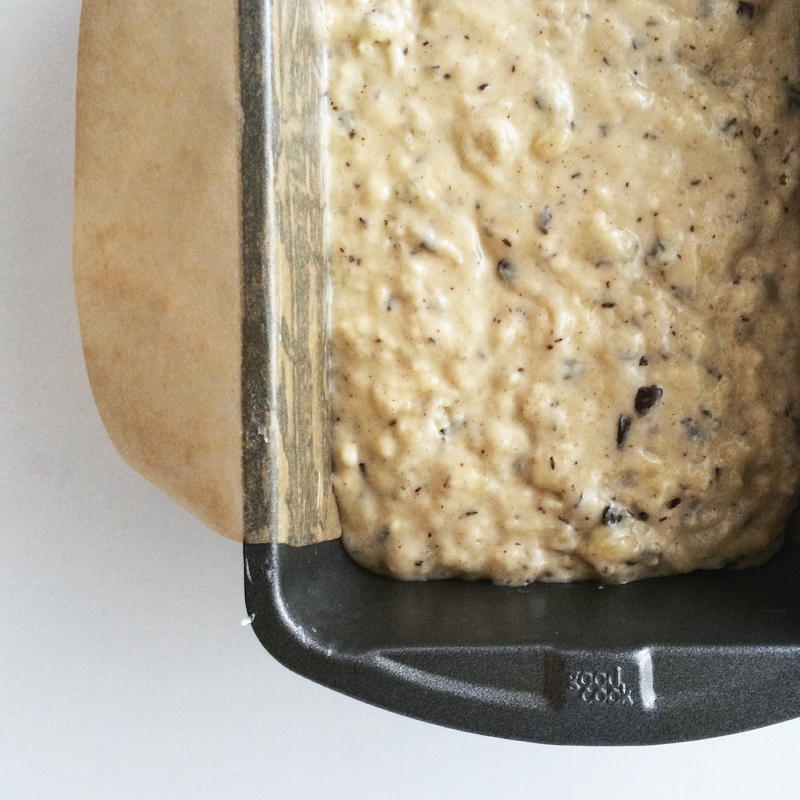 the original recipe is here at food52's website. which – side note – if you've never taken the time to browse around what they have going on, prepare yourself to get lost in a sea of amazing recipes and beautiful photographs. a lot of what they do is geared toward involving the home cook community which i think is pretty neat too.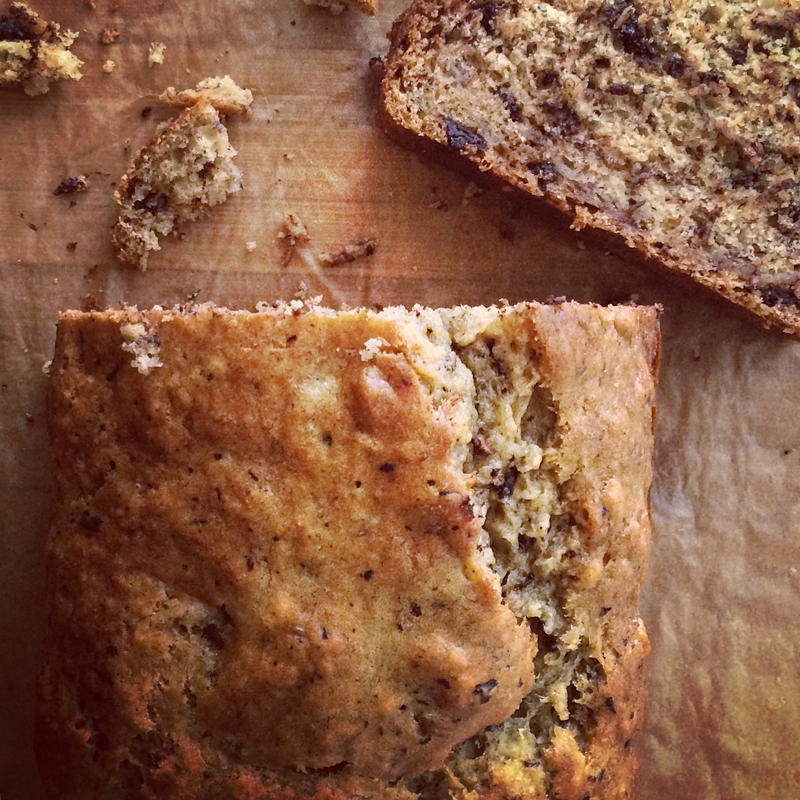 but back to banana bread.
this one could be totally perfect as is, but there's definitely room for some banana-bread-personalization. i tweaked just a couple things in the realm of basics – a little more butter & a little bit of yogurt for added moistness. for add-in's I chose cinnamon and some freshly shaved bittersweet chocolate. that's our style but you could throw in nuts, coconut, maybe even a few oats or some cacao nibs instead of the bittersweet chocolate. spice it up the way you like!
this is definitely my new go to, and if you make it, i think it will be yours as well!
Print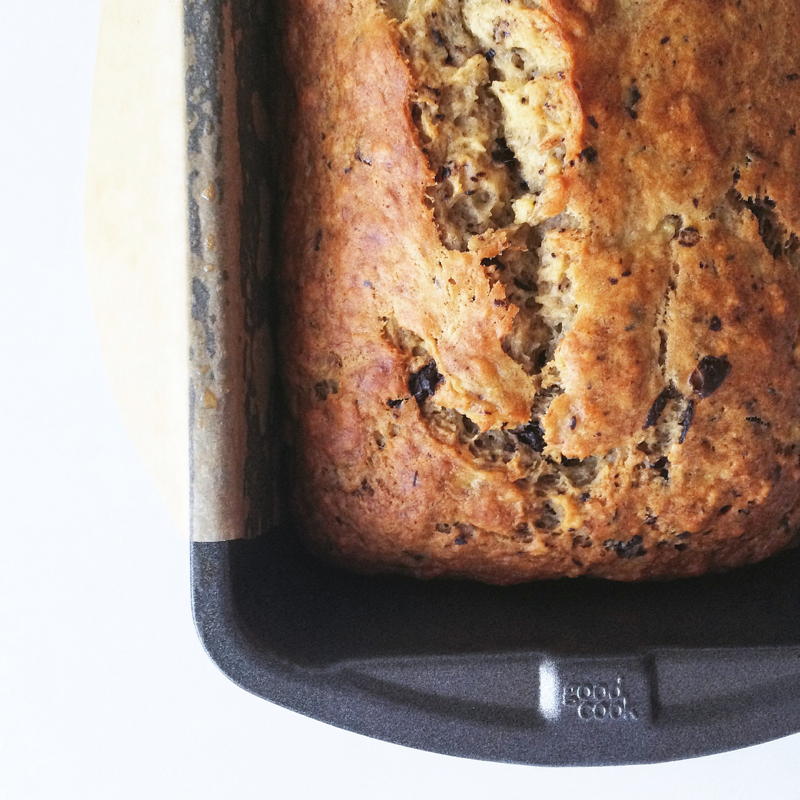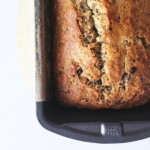 chocolate flecked banana bread
---
Total Time:

1 hour 5 minutes

Yield:

one

2

lb loaf

1

x
Description
everything you want from a banana bread. need i say any more?
---
4

tbs melted butter plus more to grease your pan

3

–

4

large ripe bananas depending on size (once mashed, you should have about

1 1/2 cups

)

1

large egg, beaten lightly

3/4 cup

sugar

3

tbs plain greek yogurt

2 cups

flour

1 tsp

baking soda

1 tsp

baking powder

1/2 tsp

salt

1/2 tsp

cinnamon

3/4 cup

chopped bittersweet chocolate*
---
Instructions
preheat oven to 350 degrees.
butter a 9 x 5 loaf pan then cut a piece of parchment paper to fit the pan with edges hanging over the side. by taking this extra step you prevent the possibility of any bit of your tasty treat sticking to, and you can lift it right out of the pan once it's cooled and you're ready to slice. while I use butter instead of spray (butter, always!), and generally don't go for the second piece of parchment paper, here's a tutorial with good instructions from the awesome folks over at the kitchn.
melt your butter and set aside
mash your bananas. add sugar, yogurt, and the lightly beaten egg. mix. add melted butter and mix again until all the wet ingredients are thoroughly combined.
sift* together flour, baking soda, baking powder, salt, & cinnamon. whisk to combine and stir in your chocolate.
add the dry ingredients into the wet a little bit at a time. folding together very gently so as not to over-mix as this will result in a tough loaf!
pour into your greased and parchment-ed loaf tin and bake for 45-55 min, until the top is nice and golden, and your toothpick comes out dry. you know the drill.
Notes
*on chocolate; i love shaving off chocolate from a big block of the bittersweet stuff. it makes for a nice varying texture in the chocolate, giving it a "flecked" quality! but, that being said you could easily substitute chocolate chips, or chocolate chunks.
*on sifting; i used to be a non sifter. i didn't believe in the added tedious step, but i have since changed my tune. especially for recipes like these, where you don't want to have to worry about over mixing. if you sift & then whisk all your dry ingredients together you can rest assured that everything will be evenly distributed, and you will have a more consistent final product.
Prep Time:

10 mins

Cook Time:

55 mins
Did you make this recipe? I would love to know how it turned out! you can leave me a comment below, or snap a picture and post it to instagram with the hashtag #nyssaskitchen! xo