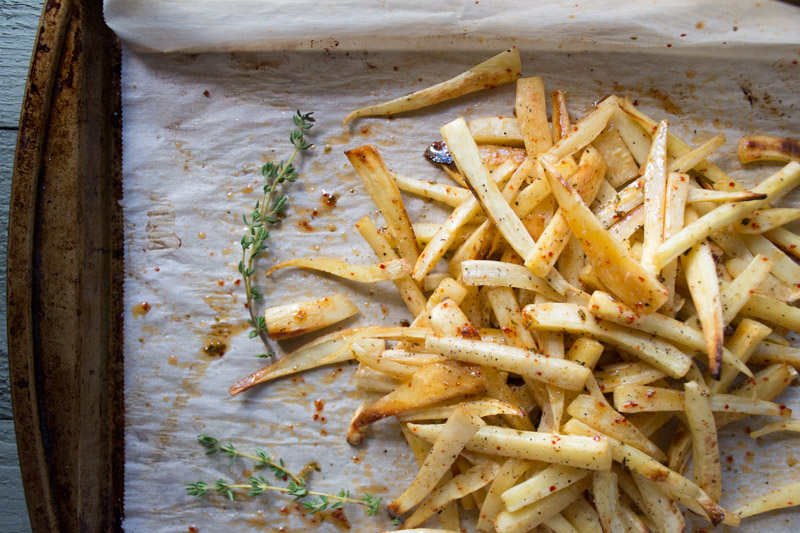 I think it's safe to say that we can officially give root vegetable season a big fat welcome hug! the last of those gorgeous heirloom tomatoes have actually disappeared from the shelves, and squash, root vegetables, and hardy greens have taken their place.
I absolutely love measuring the seasons by what we bring to our dinner table – it feels like a way to really experience each season and all of it's little flavor nuances. the change in what we eat is one of the most comforting things about ushering in the cold weather!
I'm super excited that this easy and tasty roasted parsnip recipe with a honey, chili & thyme glaze is going to be a new addition to our thanksgiving table this year. I've made it a bunch of times already and it always seems to disappear in a flash. pow! like magic. sweet, spicy, aromatic, and utterly delicious. and did I mention it's really easy to make? I think it would make a great last minute option for the veggie side dish you need to bring to your thanksgiving dinner.
and while parsnips are the only veggie I've tried with this glaze I think it would also be super duper tasty yum with roasted carrots, beets or even brussel sprouts.
because really who doesn't want an excuse to roast all the veggies?!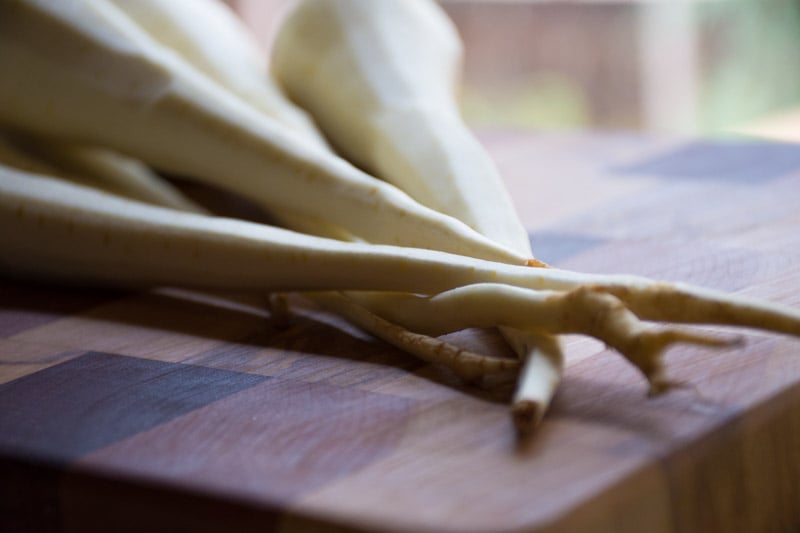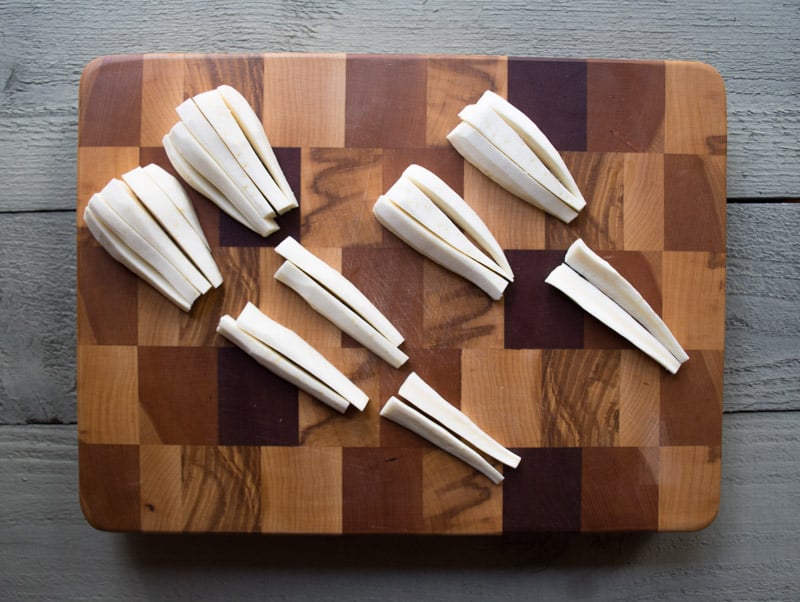 these chili, honey & thyme glazed parsnips have all the characteristics of the perfect cold weather vegetable side dish – roasted until they're caramelized and soft and sweet, and glazed with a super easy stove top mix of butter, honey, dried chili, thyme and a bit of vinegar.
I tweaked it just a tiny bit from the original recipe which can be found here, at bon appetit, by adding some fresh thyme to make it a little more festive and thanksgiving-y and adjusting the cook time.
if you follow these fundamental rules of roasting veggies you'll have no trouble with this recipe at all.
cut into equal sized pieces for even roasting
don't crowd the pan so the parsnips actually roast and don't just steam
really fire up that oven (450 degrees) to get those nice deep brown toasty spots (and 👅👅👅 flavor!!)
season generously with salt and pepper
bake until they're really nicely caramelized and crispy crispy on the edges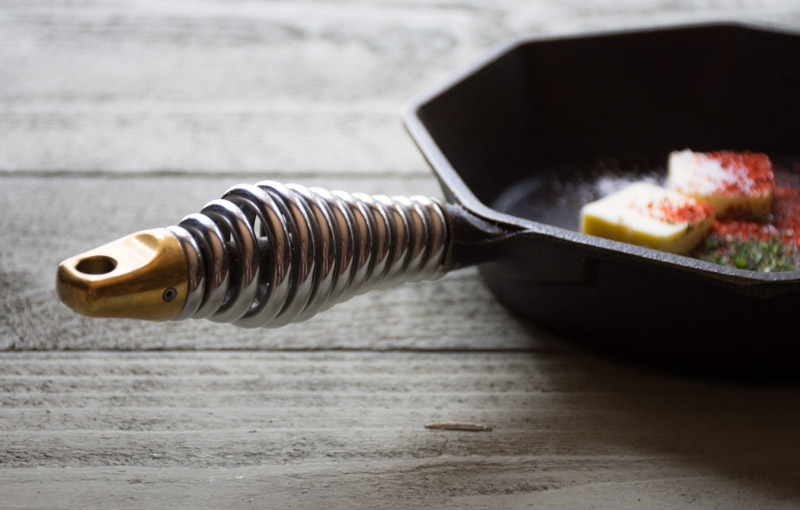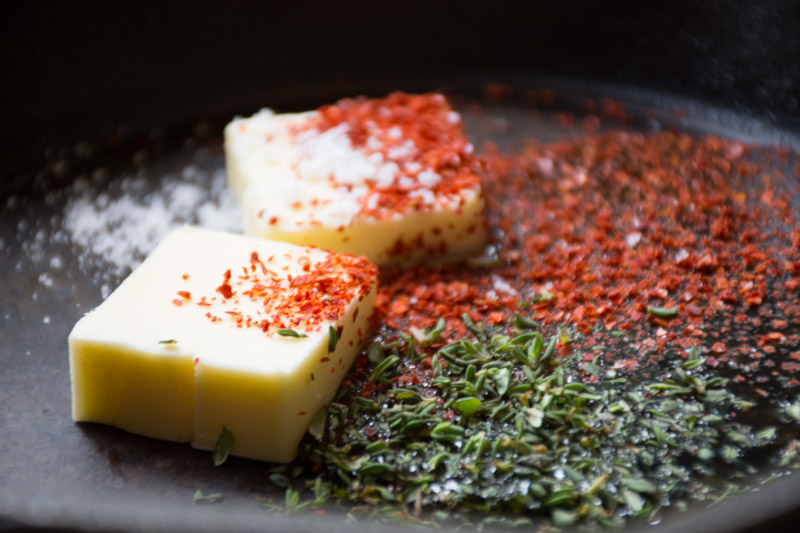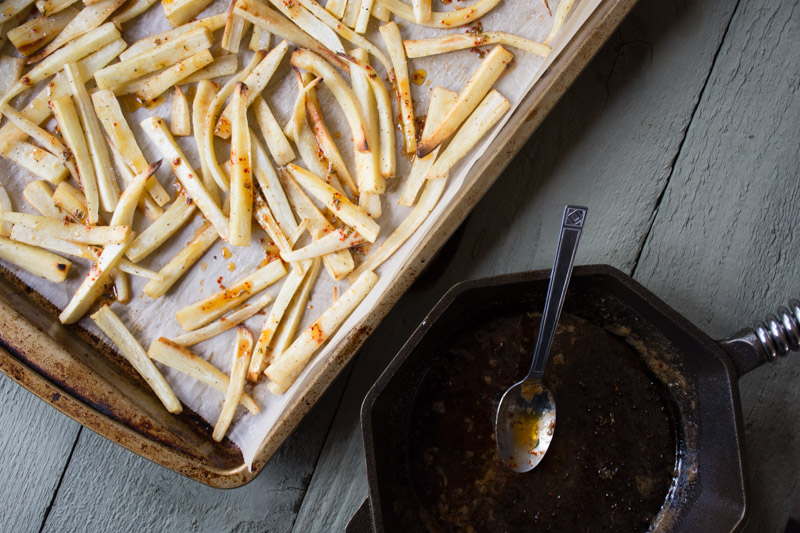 the only other part of this recipe is the glaze, which comes which comes together chop-chop in a small pan on your stove top, and is then drizzled over the parsnips and tossed just before serving.
these are great served on their own as a tasty side dish but I've had some daydreams of making a healthy meal out of them by tossing with a cooked whole grain (farro, spelt or brown rice) caramelized onions, a sautéed hearty green and a sprinkle of sesame seeds.
did you make this recipe? I would love to know how it turned out! you can leave me a comment below, or snap a picture and post it to instagram with the hashtag #nyssaskitchen! xo
Print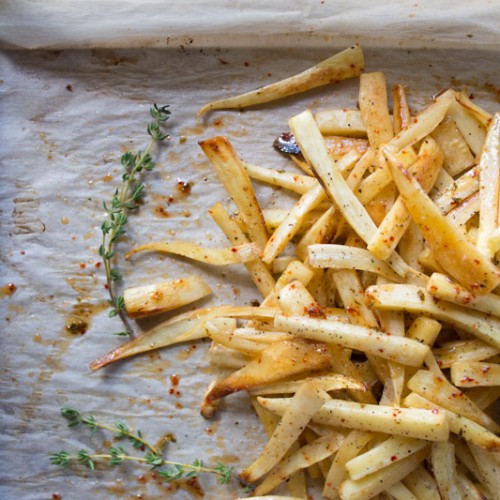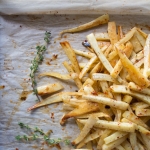 chili, honey & thyme glazed parsnips
---
Author:

Nyssa Tanner

Total Time:

50 minutes

Yield:

6

servings

1

x
parsnips
6

medium sized parsnips, peeled and cut into equal sized pieces (about 3 inches long and

1/4

–

1/2

inch in diameter is a great size)

2

tbs olive oil
sea salt and black pepper
chili thyme glaze
2

tbs butter (pastured is best!)

1

tbs honey

1/2 tsp

aleppo pepper flakes or

1/4 tsp

red chili flakes

1 tsp

chopped thyme

1

tbs apple cider vinegar
pinch of sea salt
---
Instructions
parsnips
preheat oven to 450.
line a baking sheet with parchment paper and toss cut parsnips with olive oil, a few generous pinches of sea salt and a few grinds of black pepper.
move to the oven and set a timer for 25 minutes.
glaze
while parsnips are roasting prepare chili honey thyme glaze.
add butter, honey, chili flakes, and thyme to a small sauce pan over medium low heat. melt, stirring to combine.
once everything is melted and it starts to simmer add 1 tbs apple cider vinegar and cook for one more minute. if you're butter is unsalted add a pinch of salt, if it's salted you can leave it out. turn off heat.
after 25 minutes remove parsnips from oven and toss. return to the oven for another 5-10 minutes, or until tender and deep brown in some spots.
once done remove from oven, and when ready to serve drizzle with glaze, toss, taste for salt and serve.
note on serving:
you can keep the glaze warm over very low heat until you're ready to serve, however I do recommend serving shortly after glazing otherwise it will start to solidify at room temperature.
Prep Time:

15 mins

Cook Time:

35 mins

Category:

side dish

Cuisine:

vegetarian, roasted vegetable