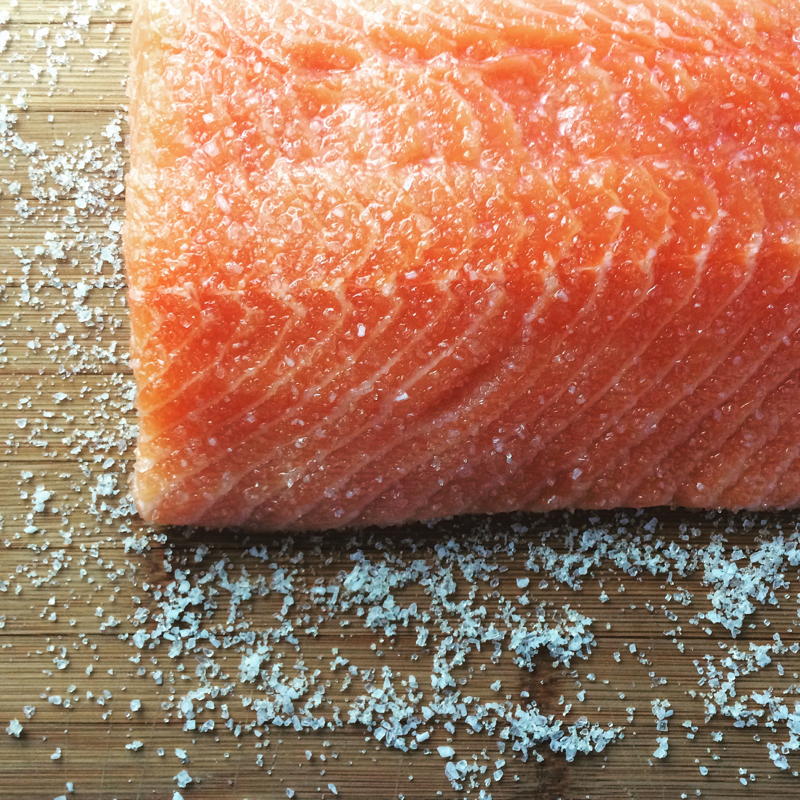 I have discovered a revolutionary secret when it comes to cooking fish and I am so excited to tell you about it! the folks over at chef steps turned me on to this one simple trick that can take your seafood game to the next level. think better texture, infusion of flavor, and vibrant color. (side note – those peeps over at chefsteps are doing some awesome things in sharing brilliant kitchen knowledge. I highly recommend you set aside some time to explore their site).
but back to the secret! dry brining is the answer my friends. I have been dry brining my poultry for a long time, but it never occurred to me to try it out on a filet of fish until I read this great tutorial. the method is pretty simple. you just cover your fish with a generous amount of equal parts salt & sugar and let it sit for about 30 minutes while the magic happens. rinse it off, dry your fish, and go on with whatever delicious plan you have in store for your filet.
that delicious plan in my case was summer-y blackened salmon tacos with mango and GREEN SAUCE because yes we're still eating that stuff on everything. these tacos are simple enough to make on a weeknight, but the flavors are complex enough to serve for a gathering of friends.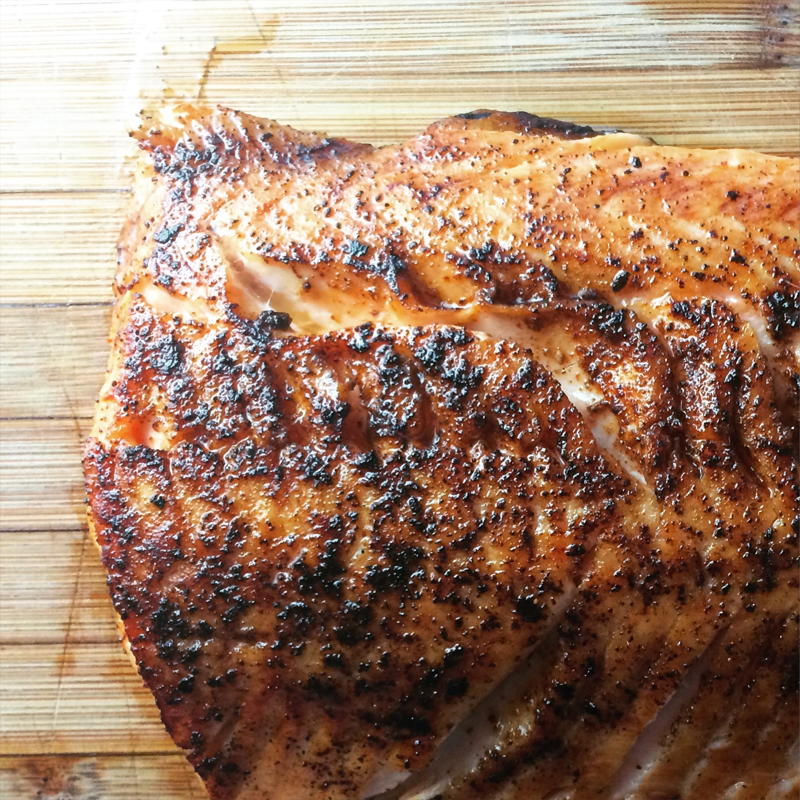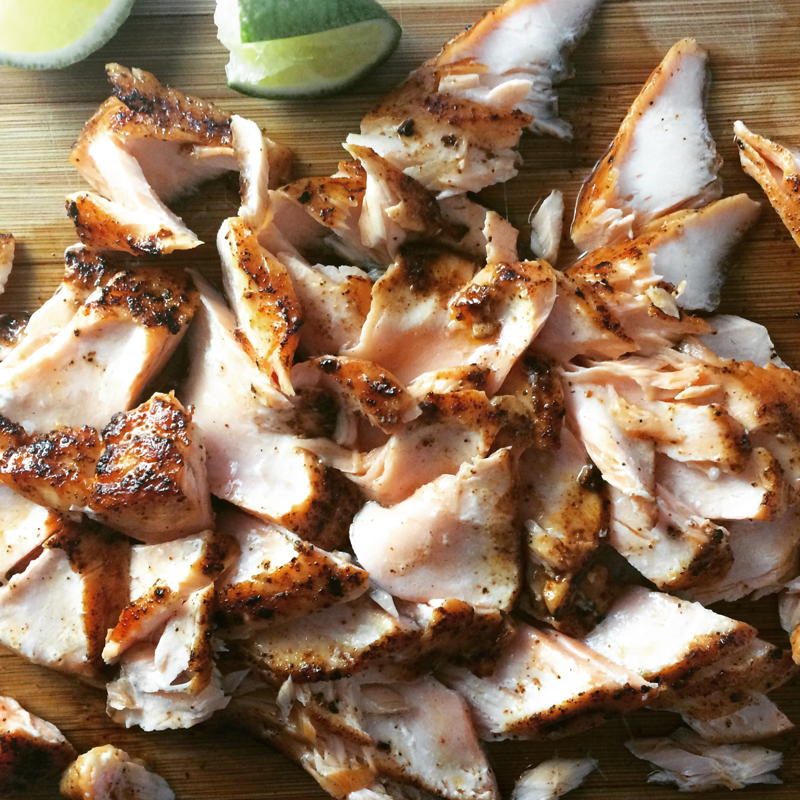 after dry brining according to the tutorial mentioned above I re-season my fish with some chili powder and cumin, and sear on both sides until just barely done. then you get to do that satisfying thing where you separate the fish exactly where it wants to fall apart into medium size pieces, squeeze some lime over the top and pile into some charred toritillas with all the fixings.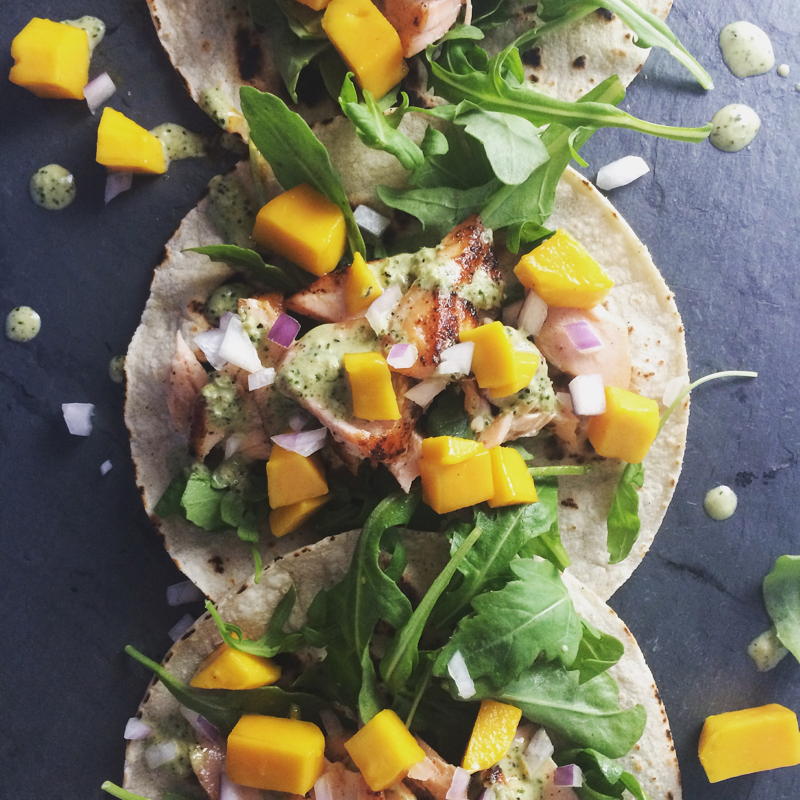 never look back my friends.
Print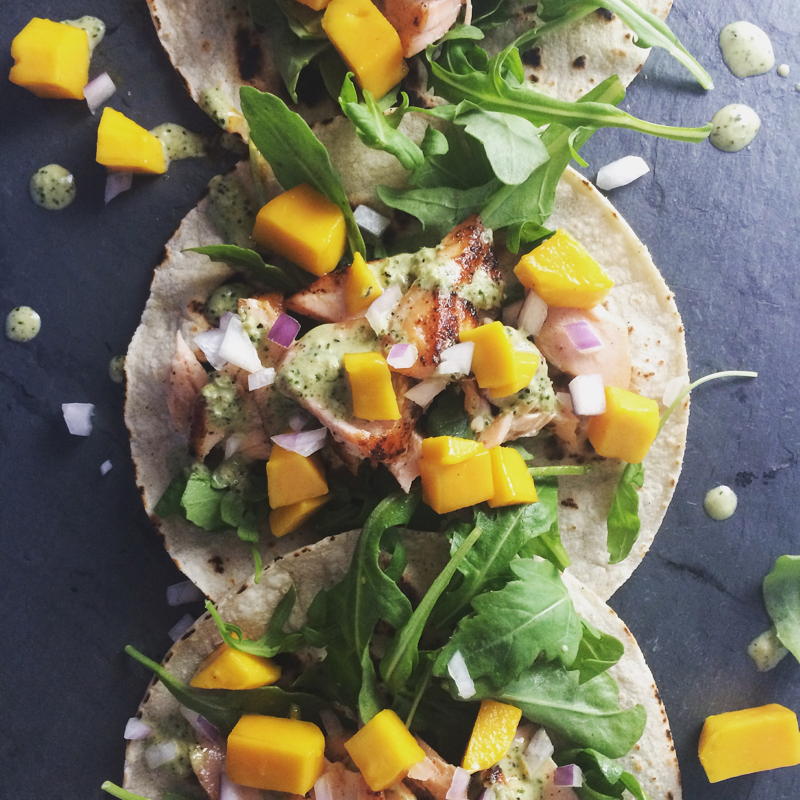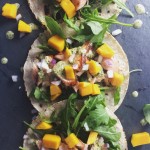 blackened salmon tacos with mango, arugula and green sauce
---
Author:

Nyssa Tanner

Prep Time:

30 mins

Cook Time:

8 mins

Total Time:

38 minutes

Yield:

4

servings

1

x
Description
a fresh and simple summer time fish taco.
---
1

lb skinless salmon filet (you can ask for help removing the skin from your fish monger when you buy, or you can do it at home too – i love this technique)

2

tbs salt

2

tbs sugar

1 tsp

chili powder

1/2 tsp

ground cumin

1

tbs olive oil

1

wedge of lime

1

ripe mango cut into a small dice
a few handfuls of arugula
a bit of diced red onion for garnish (optional)

8

small corn tortillas
---
Instructions
make sure all bones are out of your filet of fish. I keep a small needle nose pliers in my kitchen drawer for this purpose. this is another thing you could ask for help with from your fish monger, although salmon bones tend to be pretty easy to remove.
mix together your salt and sugar and sprinkle evenly over your fish. let it sit for 30 minutes while you move to the next few steps.
dice your mango and red onion if you haven't already.
preheat your oven to 200 degrees while you warm a pan (preferably cast iron) to med-high heat. char both sides of your tortillas, moving to the oven as you go. leave burner on, reducing the heat to medium.
once it's been 30 minutes, rinse your dry brine off of the salmon and pat dry with paper towels.
season fish evenly with chili powder and cumin.
put 1 tbs of olive oil into your pre heated pan and wait about a minute for the oil to heat up.
place salmon in pan and cook for about 3 minutes without moving to get a nice brown crust.
very carefully flip your filet (a fish spatula really comes in handy here – it's a nice long flexible spatula that allows you to get under your filet without making too much of a mess) and cook for about another 3 minutes on the other side.
check for doneness by carefully sliding a knife into the center of your fish to peek at the interior.
remove to a platter or cutting board and wait just a minute or two so it cools just slightly.
break apart into medium sized pieces, squeeze with lime and taste for salt.
plate your tacos! my order goes: charred tortilla, arugula, salmon, green sauce, mango, red onion. MOUTH! 🙂 yum.
Did you make this recipe? I would love to know how it turned out! you can leave me a comment below, or snap a picture and post it to instagram with the hashtag #nyssaskitchen! xo