These maple chili glazed carrots with thyme and pomegranate are an easy and delicious side dish for your holiday table. Paleo, vegan and oh-so-yummy! Savory, sweet, and loaded up with fresh and bright pomegranate seeds to delight your taste buds!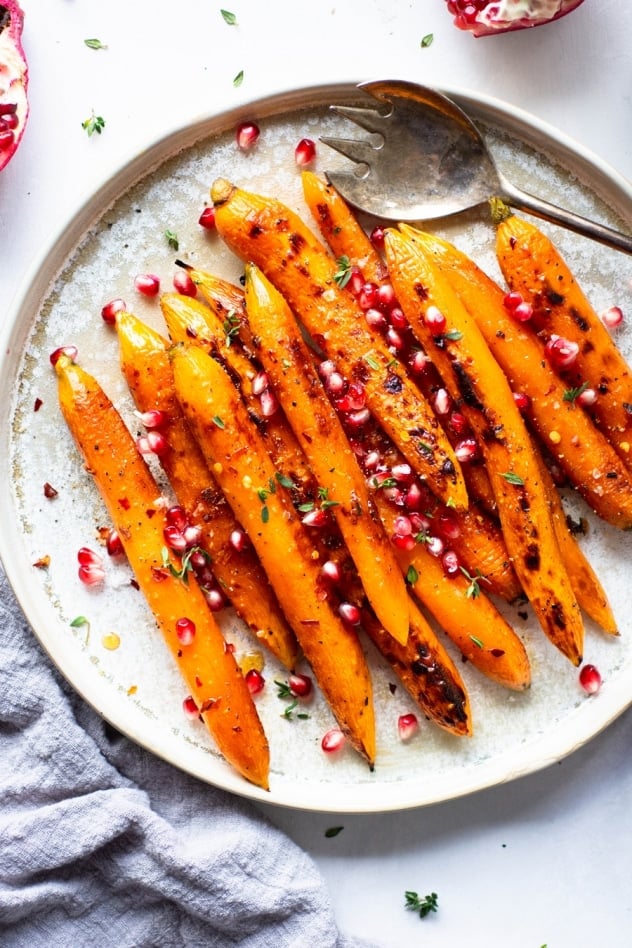 Okay guyssss! The final stretch is here.
My dinner plan is made and most of my shopping is done. I spent the weekend running around and gathering all the necessities for the BIG DAY.
AKA now my refrigerator and pantry are absolutely at their max capacity 😛 And fitting it all wouldn't have even been possible without A LOT of rearranging. Hiiii 18 pound turkey! 👋🏼
We might have to eat out for the next few days since I'm pretty sure literally nothing else will fit in my refrigerator. Either that or buy the ingredients for dinner and head straight to the kitchen to cook.
We're not traveling to see family for this holiday, but instead taking it easy and eating all the yummy things and giving thanks with the perfect little family of friends that we've got here in Seattle.
Which means that even though we're hosting, we kind of get off easy on the cooking portion of things, because we're doing the big dinner potluck style.
I'll be making the maple glazed spatchcocked turkey from Play's Well With Butter – substituting ghee for butter, my paleo (and vegan!) healthy green bean casserole, a gluten free southern style  stuffing (bacon included 💯), two kinds of gravy (my gluten free and vegan mushroom gravy, and a more classic style), the stunning holiday hummus from With Food and Love for pre-dinner snacking, and this gorgeous perfect pumpkin cheesecake (with gluten free gingersnap cookies for the crust) also from Plays Well With Butter for dessert.
Plus an apple tangerine rum spritz cocktail (that's the last thanksgiving recipe coming your way in a day or two!) to get the good vibes rolling while we finish making all the tasty things in the kitchen.
Everyone else is filling in the rest.
Aaaaand how could I forget, ALSO these maple chili glazed carrots with thyme and pomegranates bc I'm 100% #teamsidedish 😜