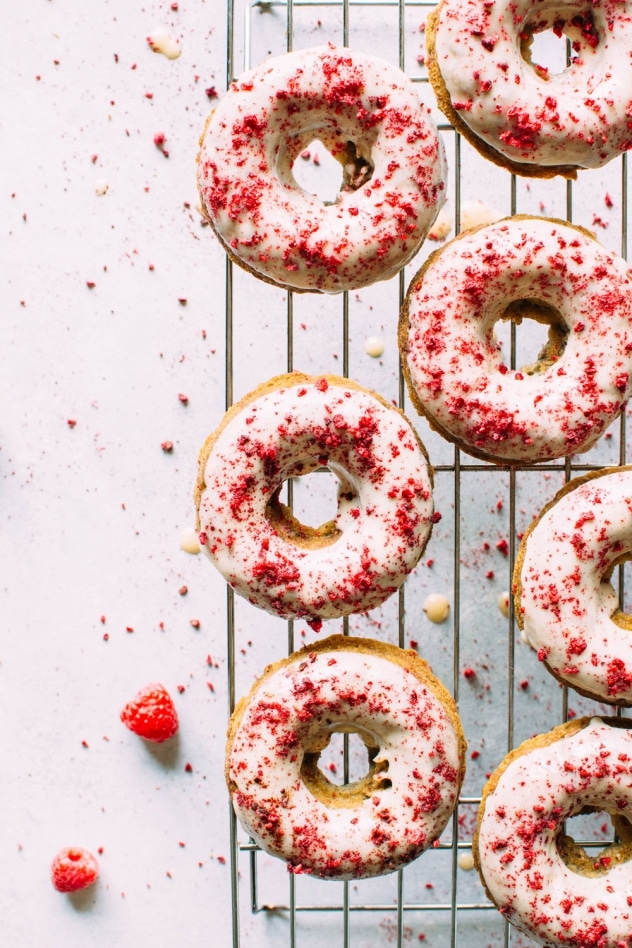 YOU GUYS! THESE DONUTS! Crumbly in all the right ways, slightly springy in texture, studded with fresh raspberries, dipped in a luscious vanilla coconut glaze and sprinkled with tart dried raspberries because donuts like to look pretty, too!
These maaay actually qualify as my new best friend. Is that too pathetic of a statement? How about: good enough to make a NEW best friend. There we go. That sounds a little more social-normal. I don't know about you guys but I've neverrr chosen donuts over friends… *blink blink*
But anyhooo… (that wasn't awkward at all now was it.. ) 
I'm super excited to be bringing you this scrumptious recipe in collaboration with Windy City Organics and Dastony, a company that makes raw and stone ground nut and seed butters with 100% organic ingredients. They make everything from out-of-this-world-good coconut butter, to pine nut butter, brazil nut butter, pumpkin seed butter and good old standby's like almond butter. 
And this company is so rad that they've offered to do a giveaway for a jar of your very own coconut butter (my personal fave!). It's happening RIGHT NOW over on my Instagram page until September 12th. ✨ Head on over there now to snag an entry! ✨