I'm back with my weekly series where I detail what I ate during the previous week. Welcome welcome to "What I Ate This Week"!
My hope is that by sharing with you what I eat in a week you can get some inspiration for easy + healthy snacks, lunches, and dinners, that don't make it onto the blog. I know I love hearing what people eat in their every day – it always helps inspire me to try new things! It's so easy to get stuck in a rut eating the same things everyday. I thought it would be fun to share what I'm eating so that you (and I!) can be a little more inspired to try new things!
Let's jump right in!
Before digging in, an important disclosure:
Some of the links below are affiliate links, which means that if you choose to make a purchase, I will earn a commission. This commission comes at no additional cost to you. Please understand that I have experience with all of these products, and I recommend them because they are tried and tested, not because of the small commissions I make if you decide to buy something. Please do not spend any money on these products unless you feel you need them or that they will help you achieve your goals 💯
What I ate this week
Breakfast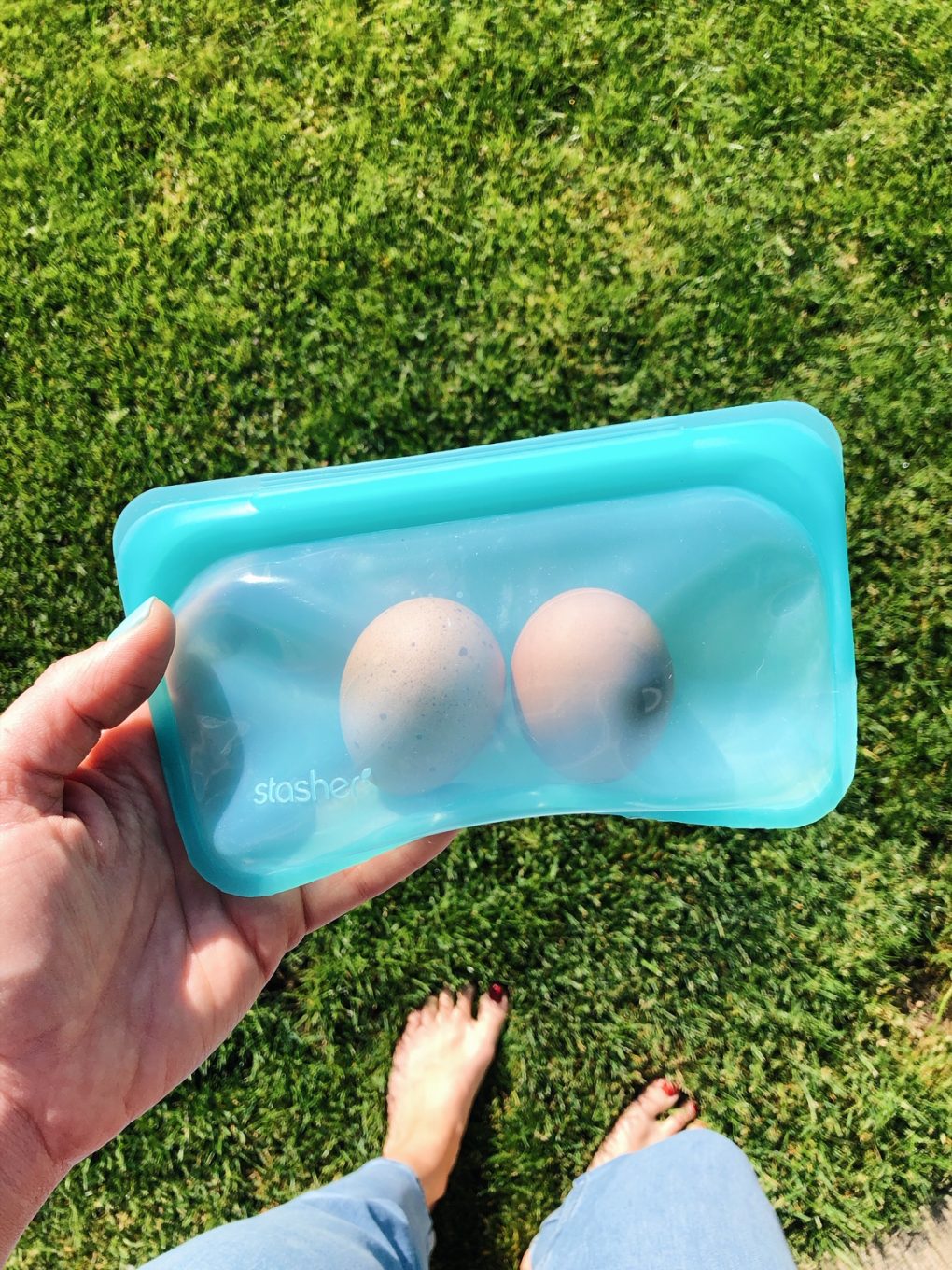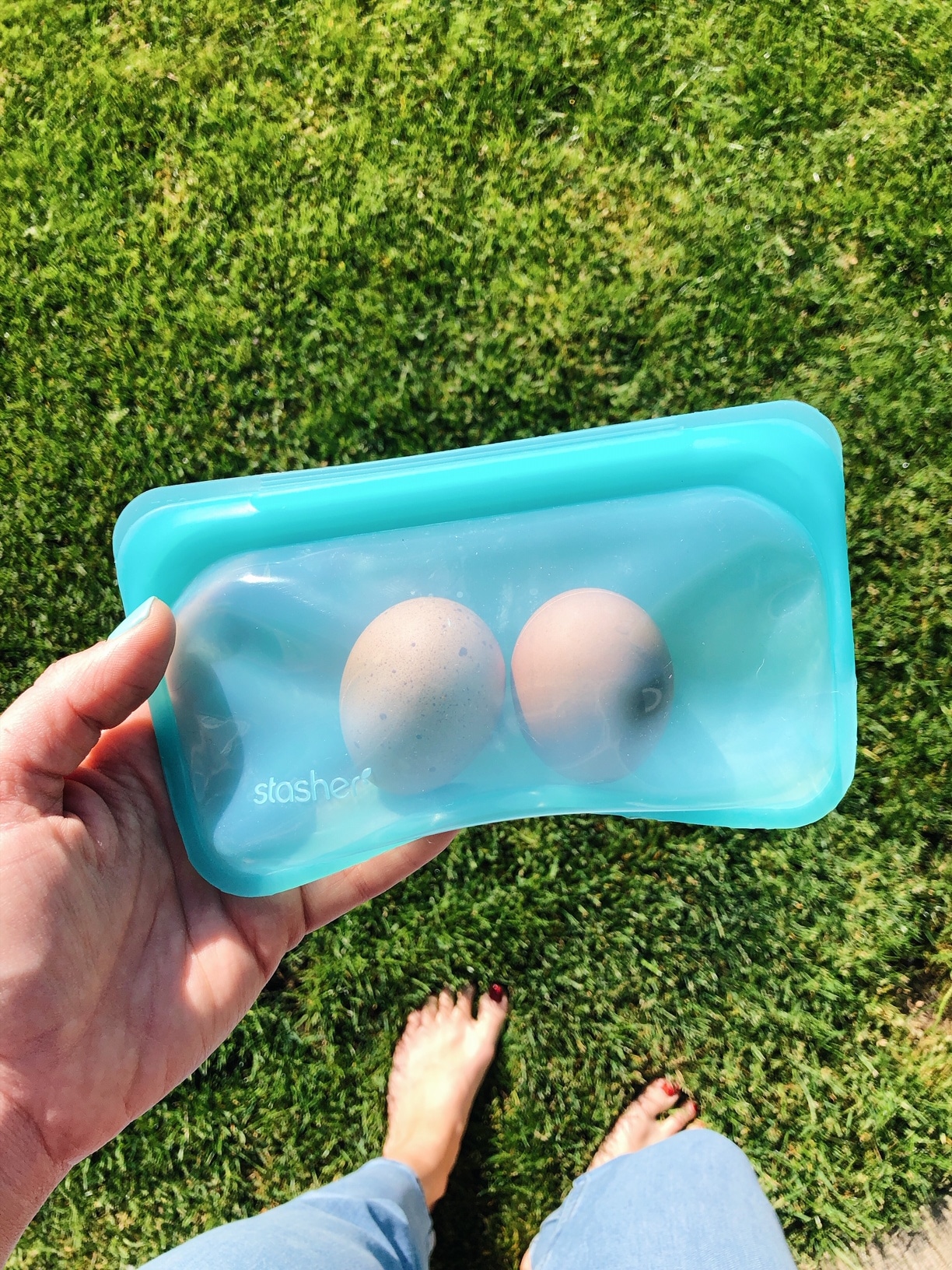 Since I just got back from my food blogging conference, and was turning around to pack for another big trip the same week we kept it pretty simple with breakfasts. Mostly it looked like a big ass iced matcha latte and 2 hard boiled eggs in my new stasher bag! It's just the right amount of protein and YUM to keep my satisfied until a late morning snack craving hits.
Side note: I'm totally obsessed with these stasher bags. I used them for every item I could this week in my lunch / snack bag. I also used them to pack a bunch of snacks / bulletproof coffee supplies / and toiletries for the trip I'm on!
They're kind of spendy but supposedly last forever if you take care of them, and help A TON with reducing plastic waste. So far I'm very impressed – easy to use, they stay closed, are leak proof, easy to clean, and smell resistant!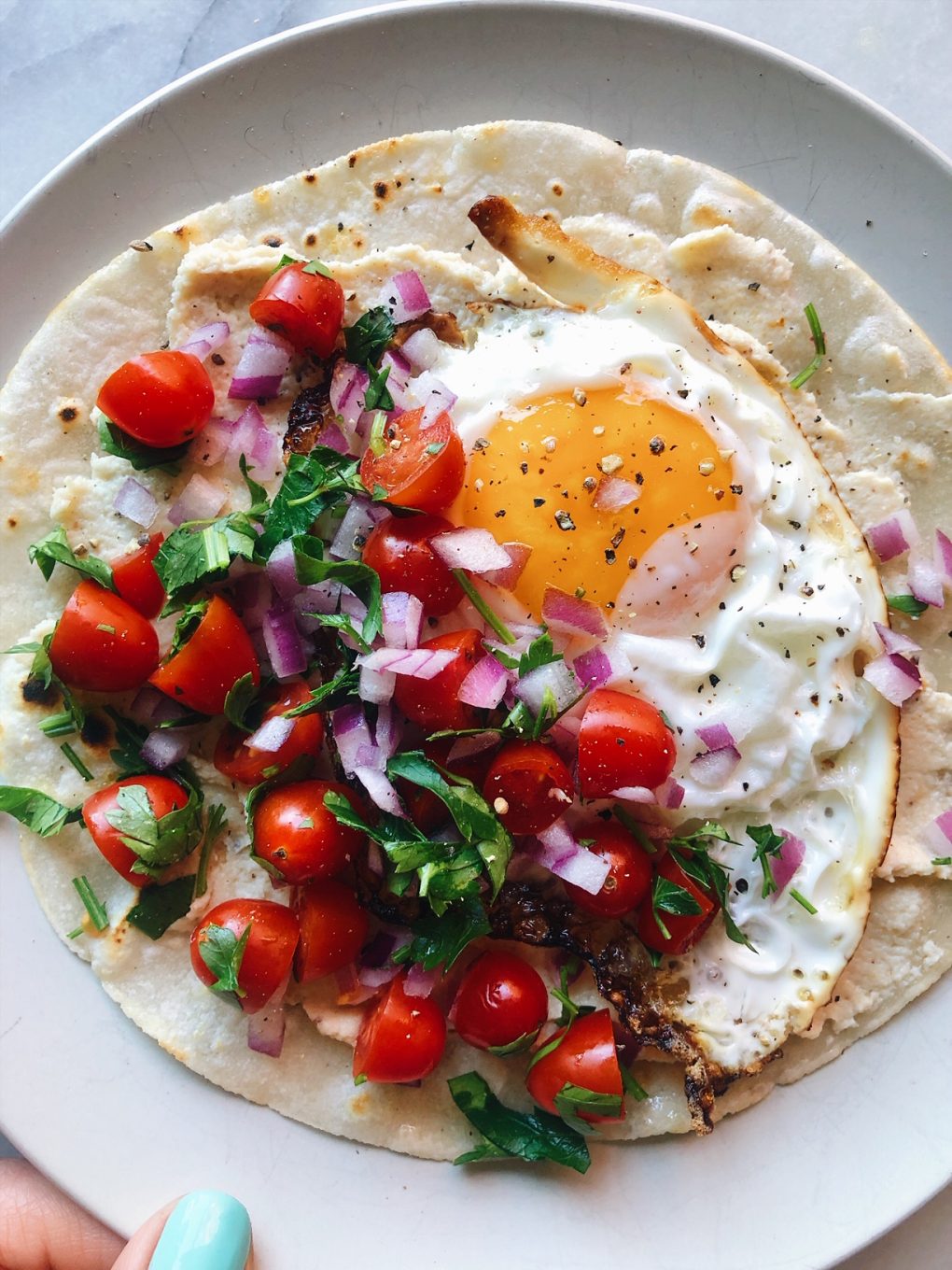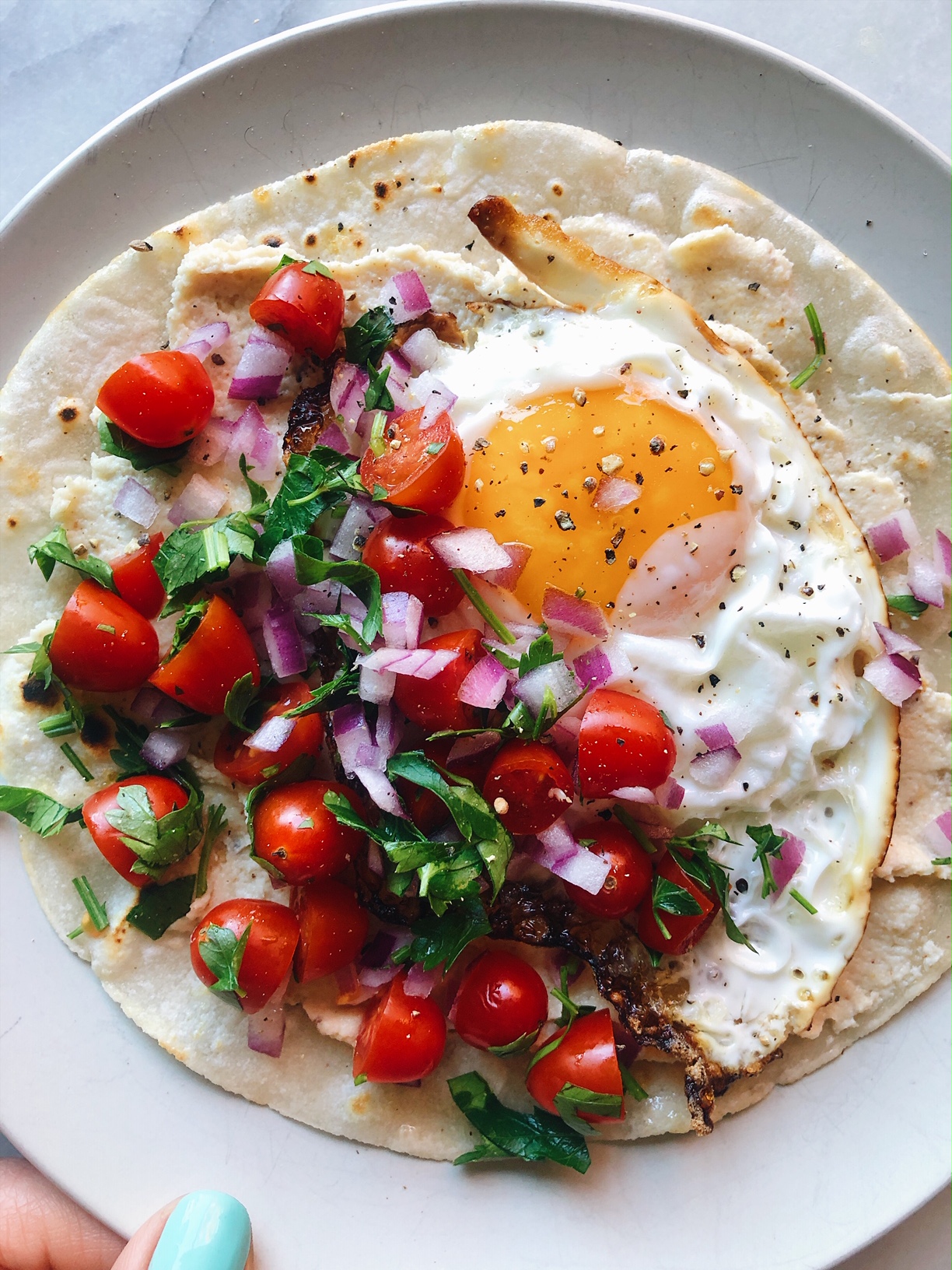 I did make one fancy-ish / but still totally easy breakfast this week while I was packing. It was sort of like a mediterranean breakfast taco and I'm so in love with how it turned out. I think it's going to need to become an official recipe here on NK!
I layered Siete foods cassava tortillas with my new roasted cauliflower hummus recipe and a simple tomato + herb salad. So easy and so many good flavors and textures happening 💯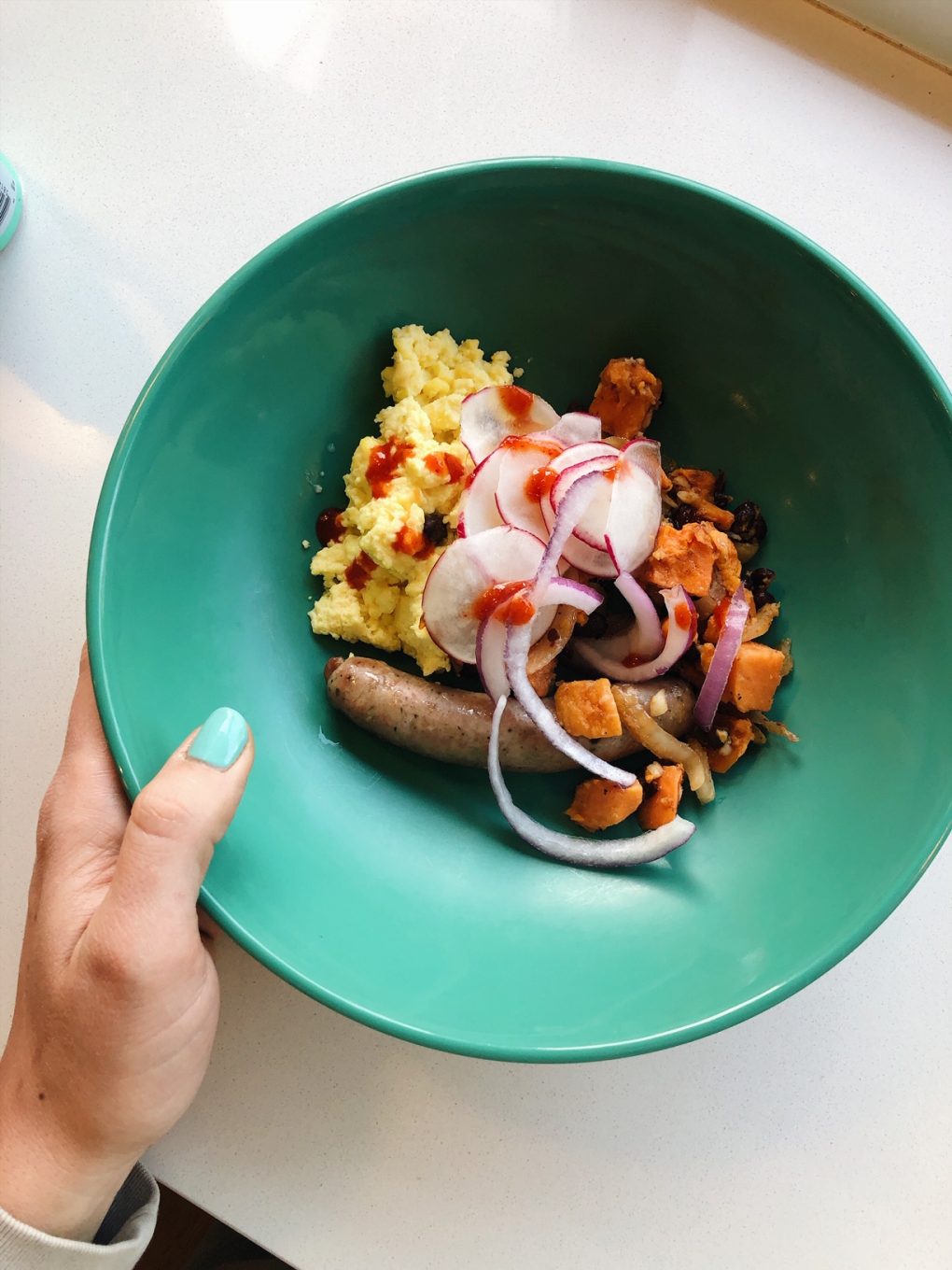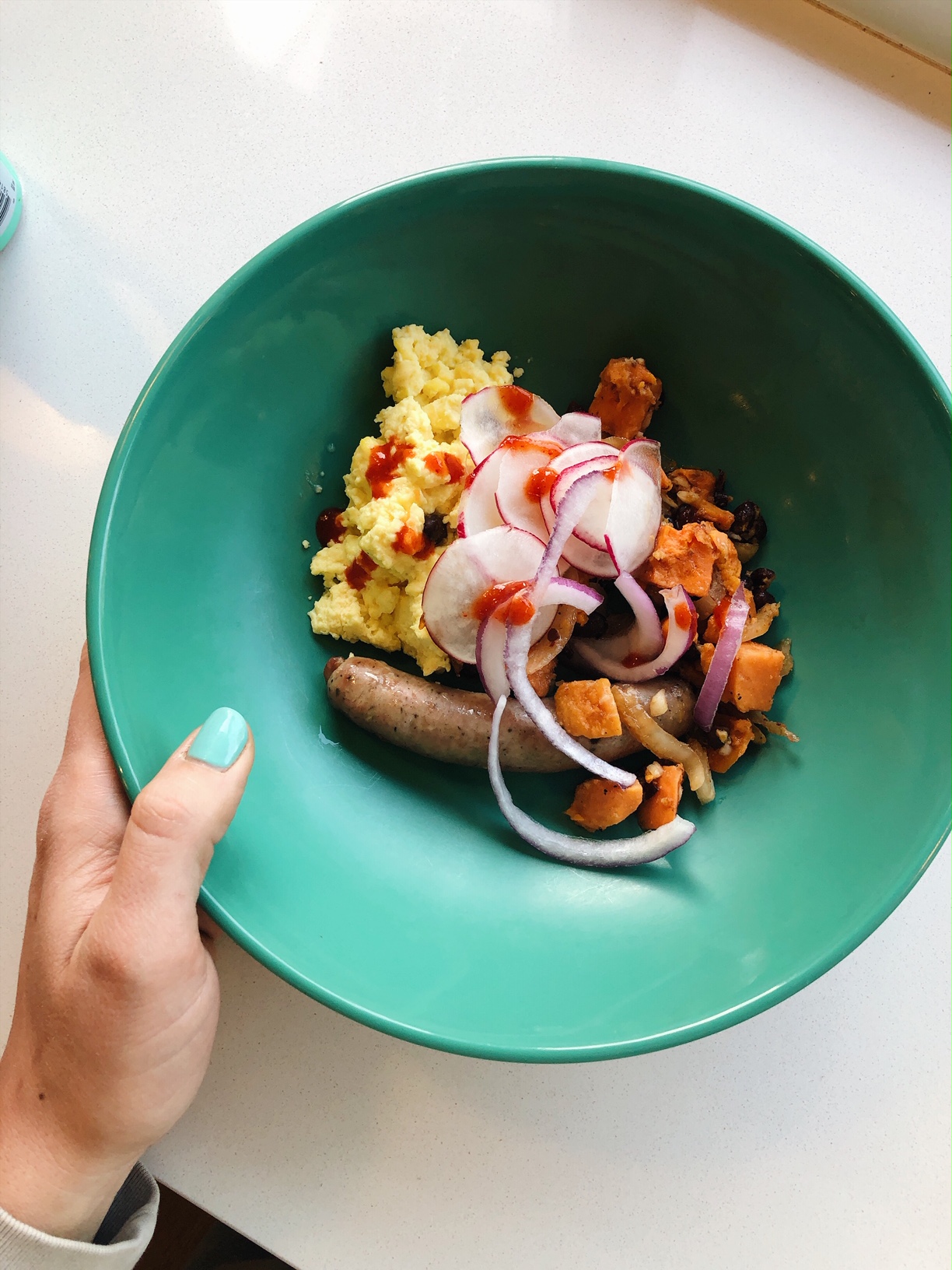 I almost forgot! I did grab one quick breakfast at Whole Foods as well. Just a sausage link, some roasted sweet potatoes with onions and black beans, scrambled eggs, and raw onion + sliced radishes + hot sauce. I think it was like $6 for this plate and it kept me full for hours. Hot / salad bars at our local health food stores are my savior during busy weeks.
Lunch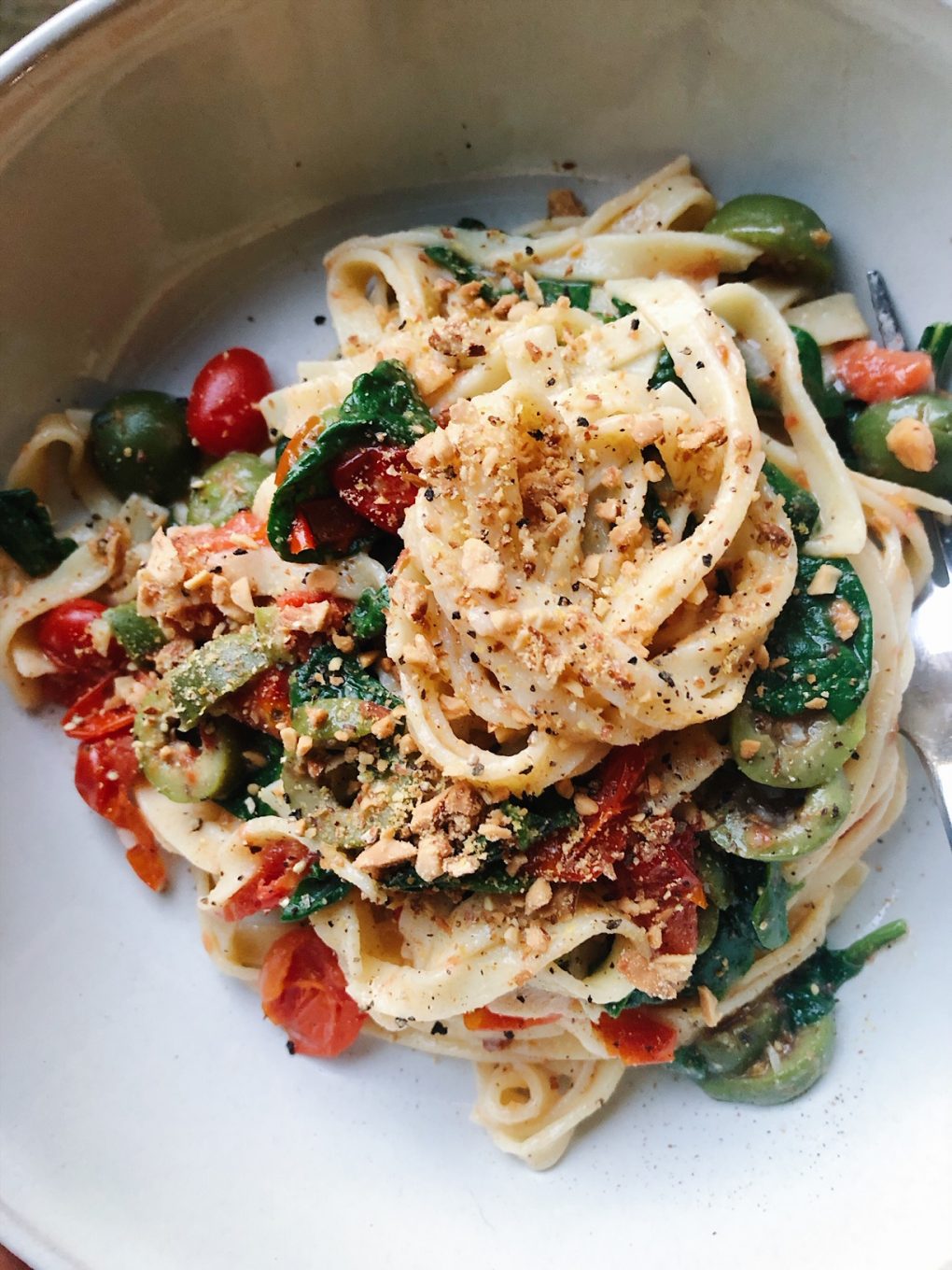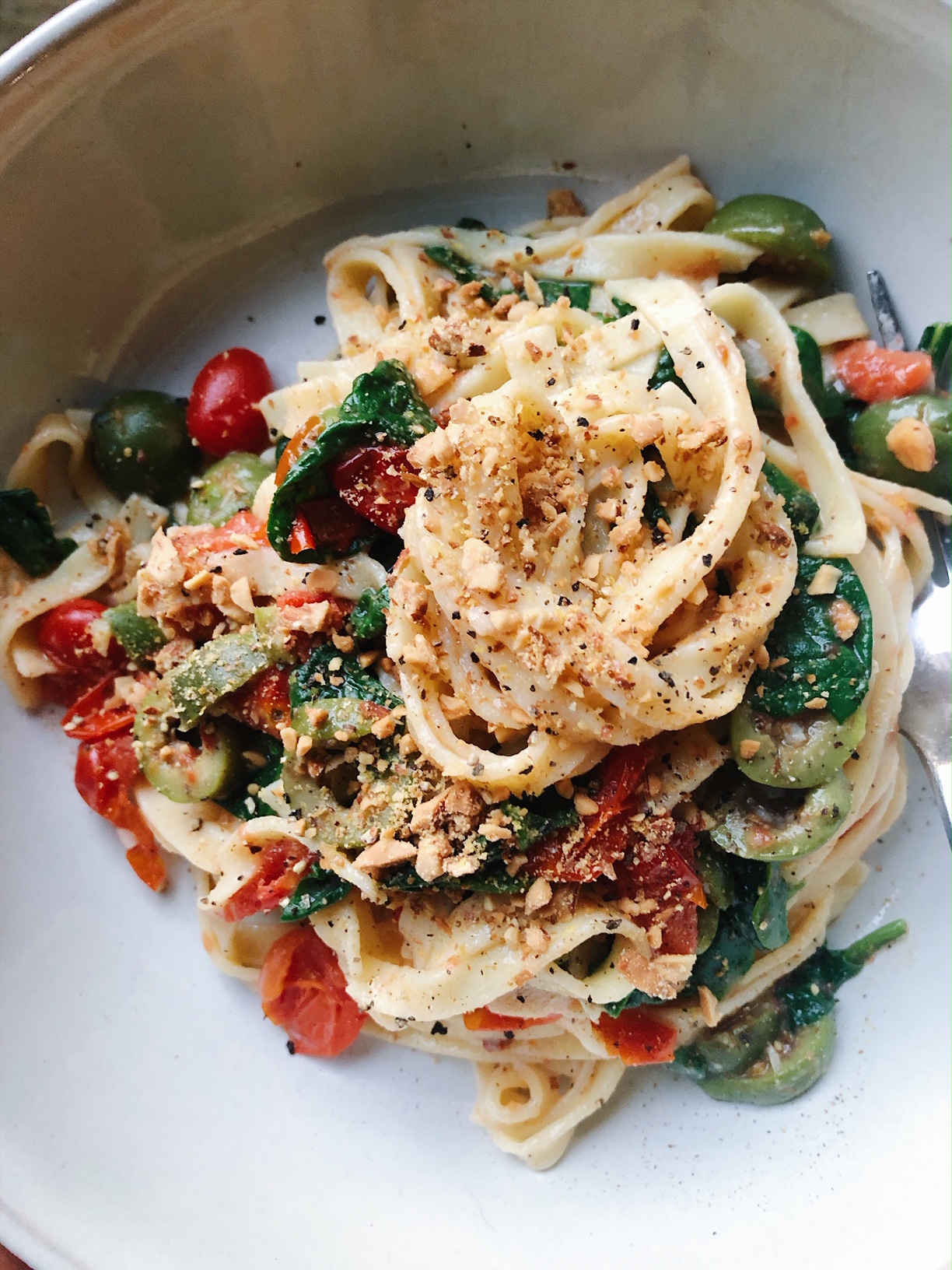 After my (mini) Whole30 over the past couple of weeks I was craving a bowl of pasta in the biggest way!
When I'm eating out I will sometimes indulge in whatever gluten free pasta the restaurant has, but if I make it at home I almost always use Cappello's grain free + paleo friendly fettuccine pasta.
It is made with some super simple clean ingredients that are paleo friendly, and the texture and flavor are on point.
Their almond flour fettuccine pasta is made with:
Almond flour
Eggs
Tapioca flour
Xanthan gum
Sea salt
They are a little bit expensive – about $10 / box at Whole Foods. But each box has 2-3 servings. So the cost per person is really not much when you consider the quality and how it compares to eating out at a restaurant.
Cappellos also makes lasagna sheets, gnocchi, cookie dough, pizza crusts, and pizzas.
How I made the pasta
To make this pasta I first boiled the pasta in super salty water, drained it, and set it aside. In the same pot that I cooked the pasta I sautéed a bunch of garlic, cherry tomatoes, and sliced castelvetrano olives (AKA THE BEST OLIVES IN THE WORLD) in plenty of ghee and olive oil.
Once the garlic was fragrant and the tomatoes had started to burst I added the pasta back to the pot along with several big handfuls of baby spinach. Folded it all together until the pasta was warm and the spinach had wilted.
I topped it off with some homemade toasted almond "parmesan" cheese and DUG IN! So good and so satisfying.
This was the first time I tried making the almond "parmesan" cheese and it turned out super yummy!
The toasted almond "parmesan" is made with:
Roughly 1/2 cup of toasted almonds
2 tablespoons nutritional yeast
a few big pinches of sea salt (or to taste)
All you need to do is pulse it together in a food processor until the texture is crumbly and even. You can taste it and add more salt or nutritional yeast if you think it needs it.
Dinner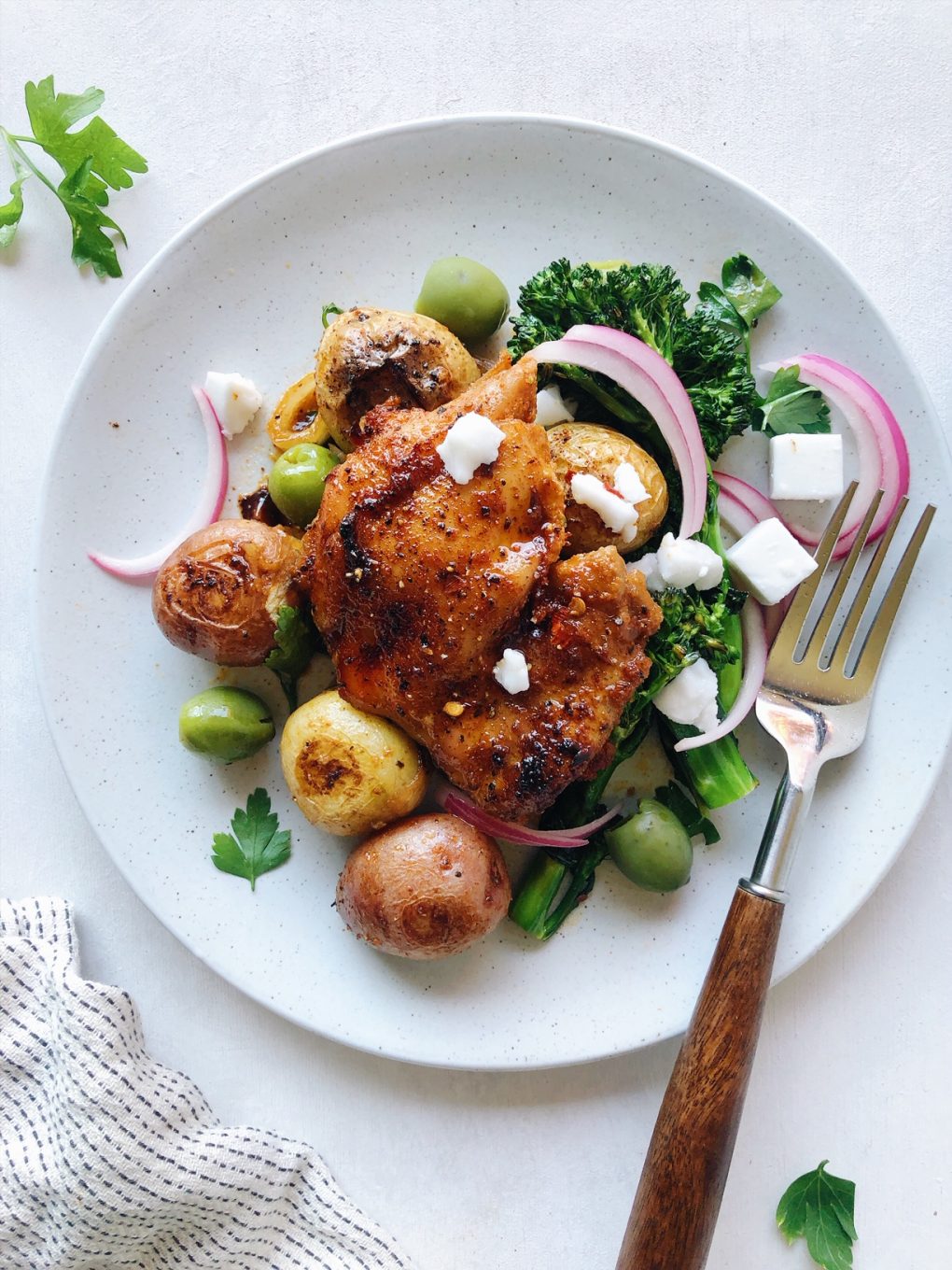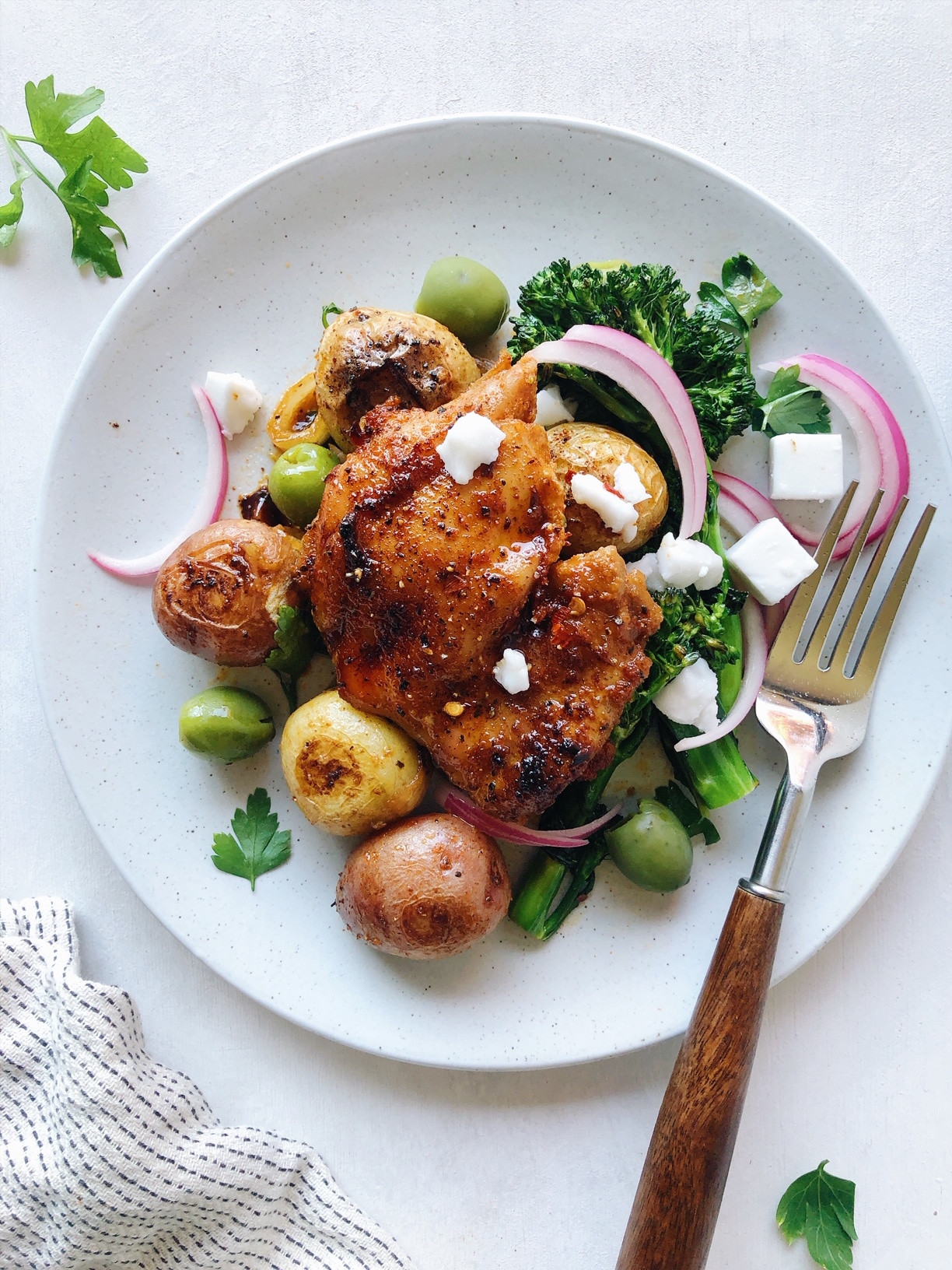 This is a sheet pan chicken dinner that I've been working on for awhile for the blog. I finally got the recipe dialed in before I left for my trip – it will be up on the blog in the next week or two!
We ate it for a bunch of meals before I left and I'm super excited to share it with you! It's easy, healthy, and full of big flavors.
It's a mediterranean sheet pan chicken with roasted baby potatoes and broccolini. The spiced chicken thighs cook on top of the potatoes and onions and create the most addicting and delicious caramelized onion sauce situation. The broccolini is added at the end so it cooks perfectly – bright green and just a little bit charred. And of course it's loaded up with garnishes.
We're talking pickled red onions, castelvetrano olives (I told you they're my favorite 😉), and some feta cheese.
I've used regular feta cheese for this recipe and a new dairy free version from Violife that I recently found at the grocery store. It's made with whole food ingredients ingredients and while there's no true replacement for actual cheese, the flavor and texture are quite impressive! But the dish will also be excellent w/o any sort of cheese, as well.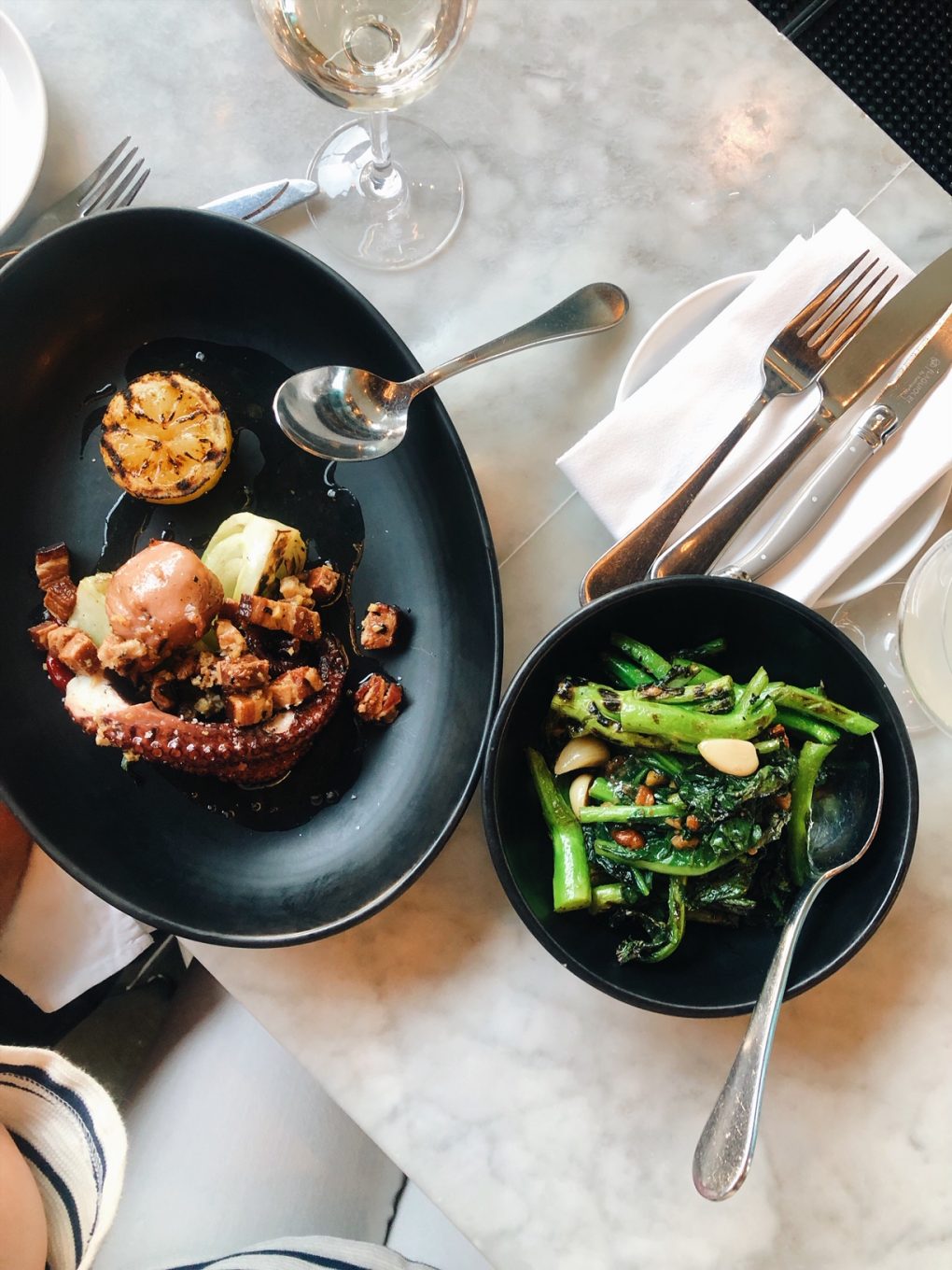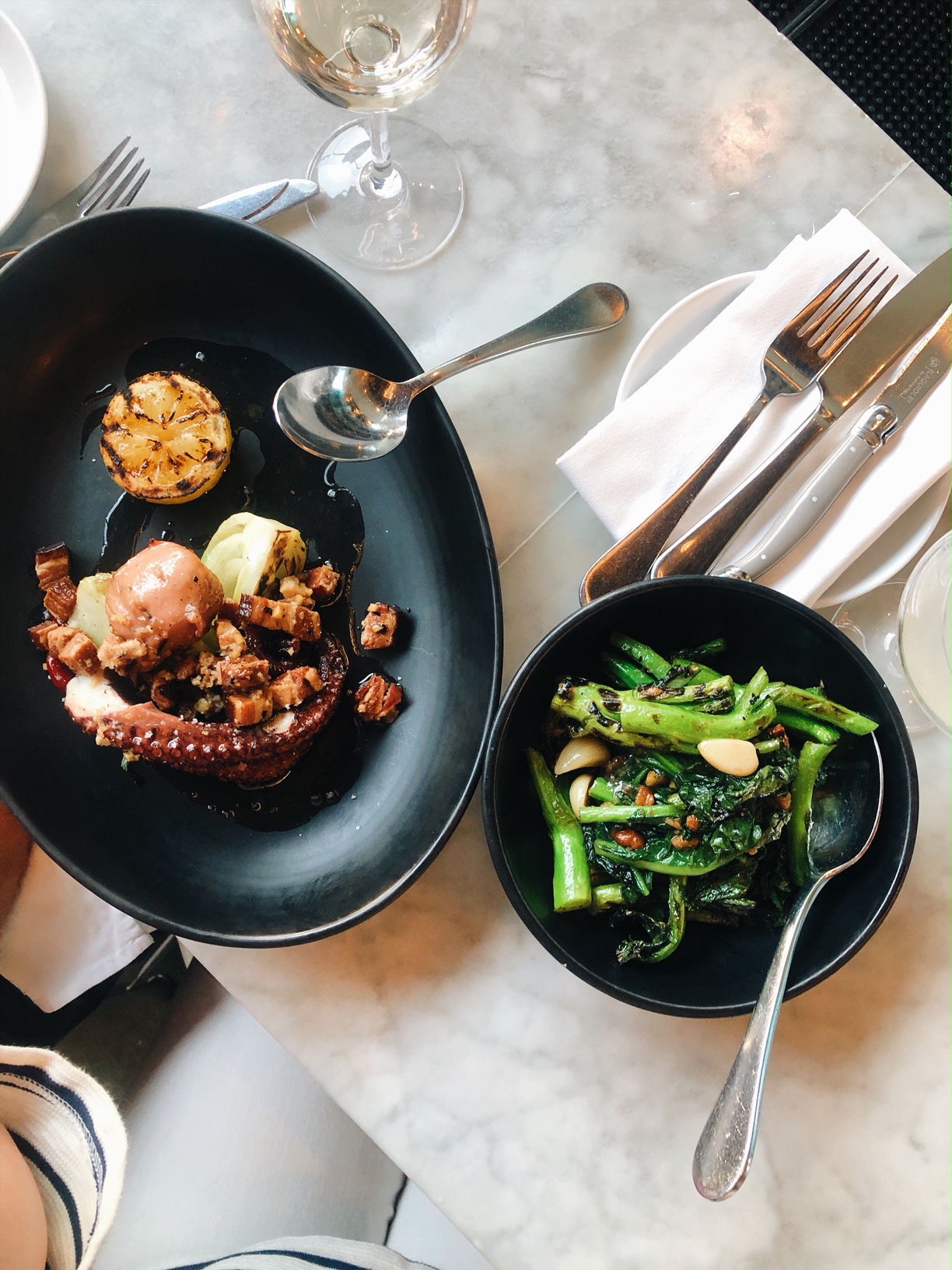 My husband and I have a tradition of going out for a special dinner together before I leave for long work trips like the one I'm on right now.
One of our all time favorite restaurants to eat at for date night's is Joule in Seattle.
It is a contemporary Korean Steak house with some of the best steaks I've ever eaten. The menu is meant to be enjoyed family style, and they have a separate menu you can request with all of the GF and GF option available menu items noted.
Our favorite menu items are:
The prime bavette steak (need to request to be prepared GF)
Chinese broccoli with walnut pesto
Grilled octopus with bok choy and a hot bacon vinaigrette
The smitten cocktail – made with gin, elderflower, lime, and grapefruit, it is in my opinion the perfect cocktail! Not always on the menu but it has been the last few times we've eaten there. Perfectly tart with just the right amount of sweetness!
If you can eat gluten (or at least tolerate non GF soy sauce) you MUST try the spicy rice cakes with chorizo and pickled mustard greens. With my gluten sensitivity it's been YEARS since I've had them and I still dream about how delicious they are! 😜
Snacks + Treats
I enjoyed LOTS of yummy snacks this week! I don't know about you guys but I live for delicious snacks, and this week did not disappoint!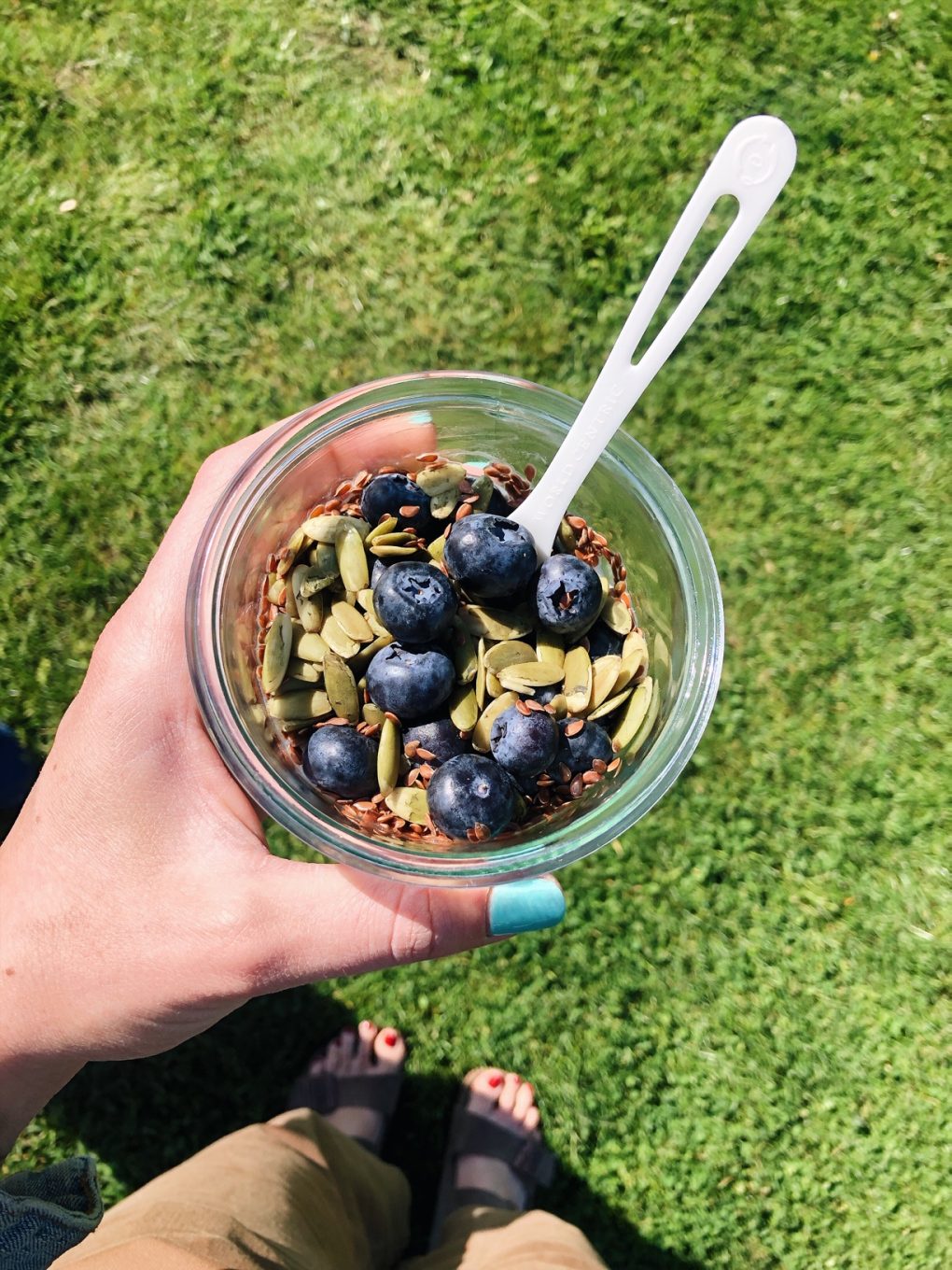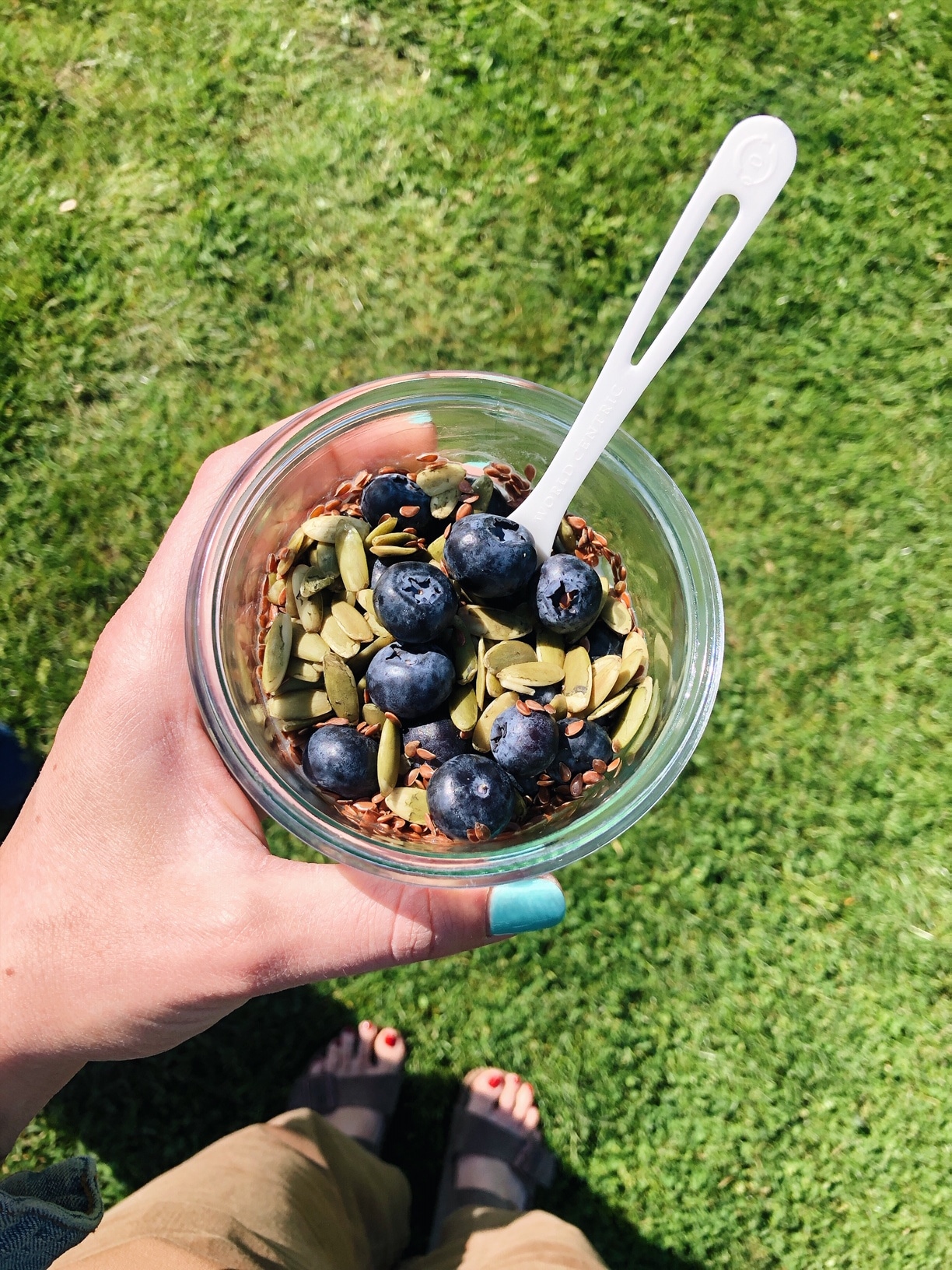 Since my Whole30 I've realized that dairy really is a trigger for my acne. I don't get a crazy amount of blemishes but just enough to notice and make me feel self conscious. So instead of eating regular yogurt I've been getting back into coconut yogurt.
Coyo is my favorite option for ingredients and flavor. It's creamy, filling, and made with live probiotic strains. Because it's so filling I find I need a smaller serving than with regular yogurt. about 1/2 of a cup topped with fresh blueberries and some seeds is the perfect nutritious snack!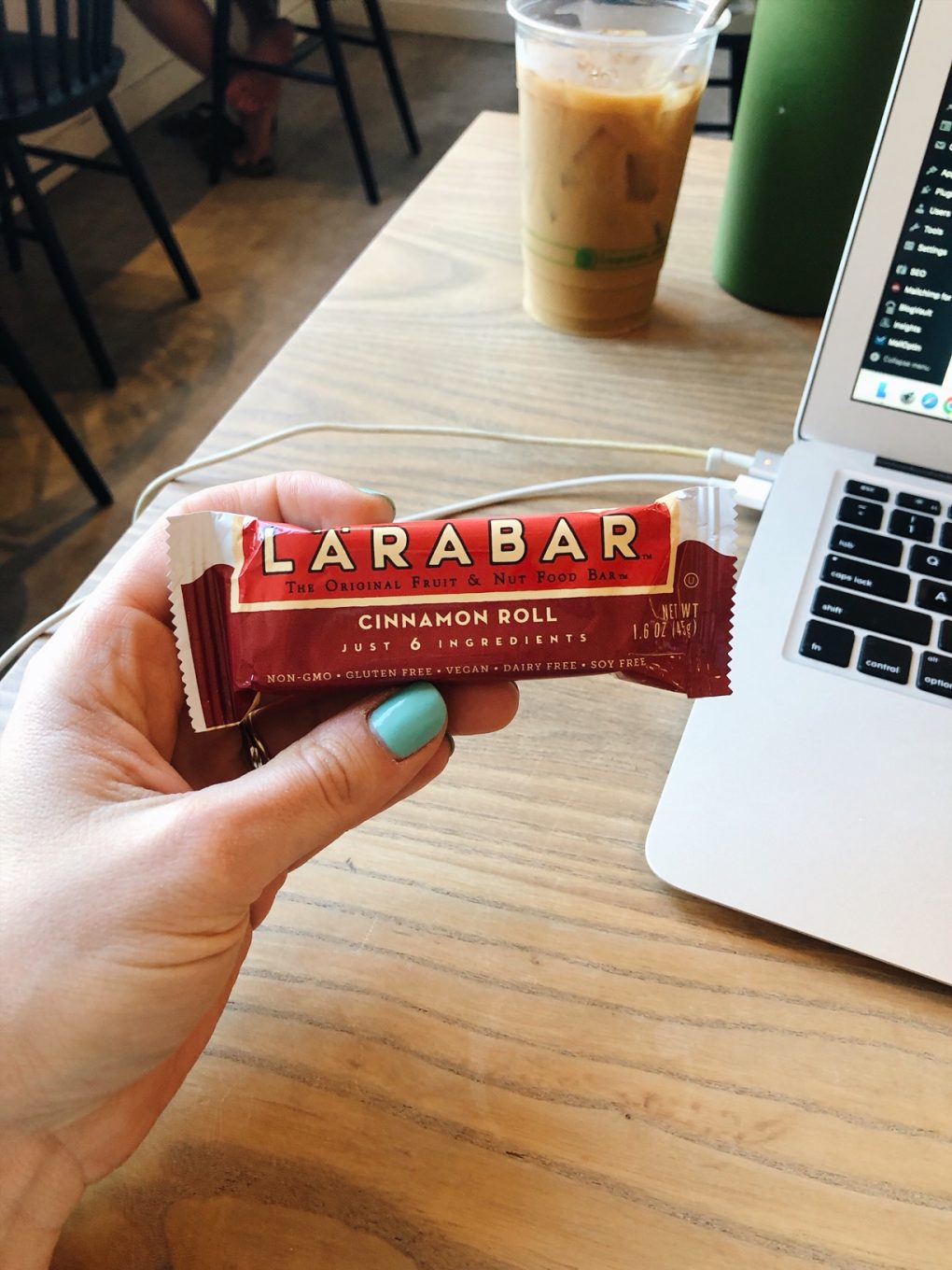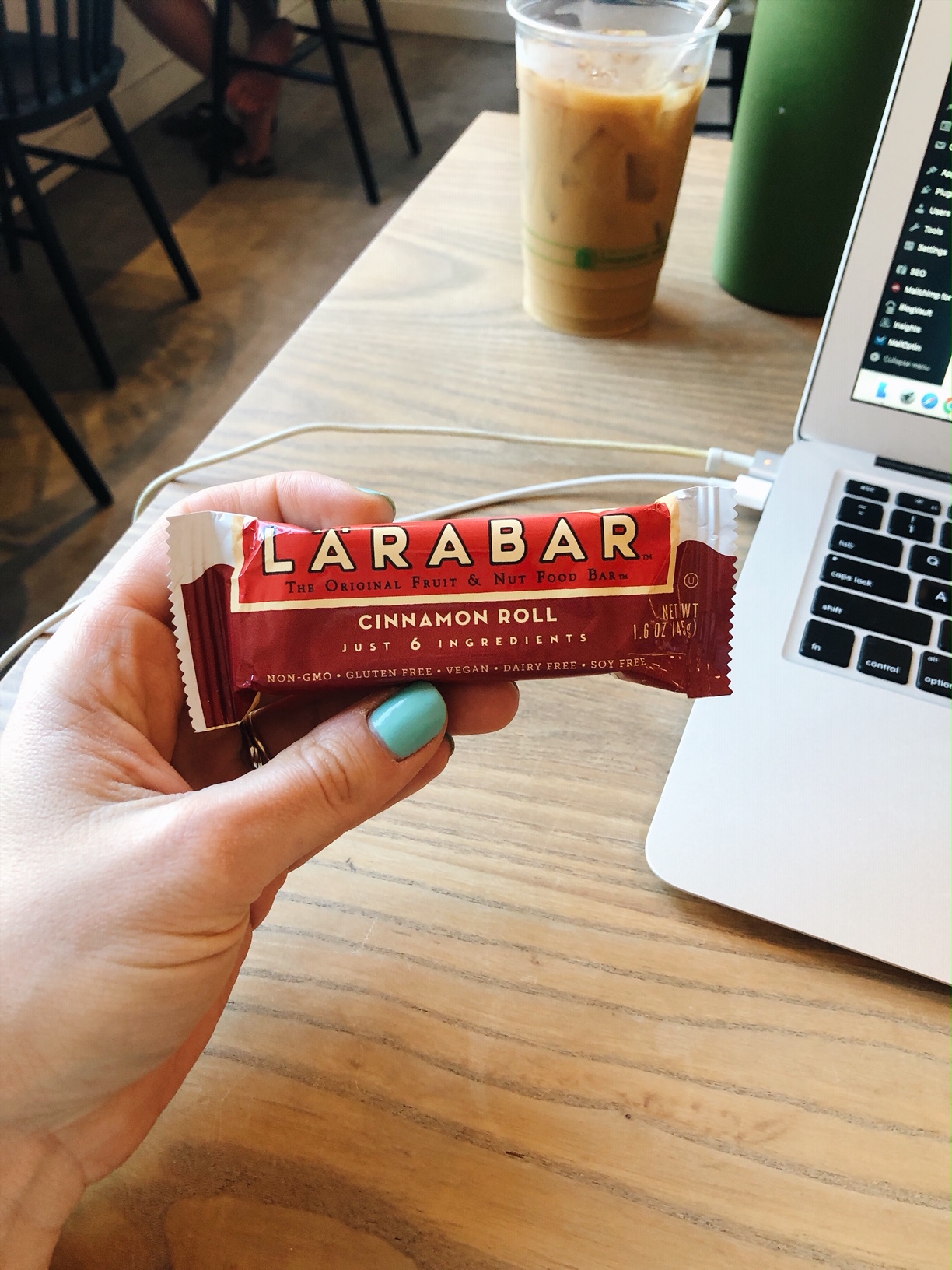 Back this week with another one of my favorite Lara bar flavors! Cinnamon Roll! I've been rocking these almost every day with my afternoon coffee / work session. It's also one of my go to snacks to sneak into my purse for when hunger strikes and I'm out and about.
They're made with super simple, healthy ingredients that will fill you up and tide you over until you can grab a bite!
These Lara bars are paleo, vegan, and Whole30 friendlyyyy 💯
The cinnamon roll flavor is made with:
Dates
Walnuts
Almonds
Raisins
Cinnamon
Sea salt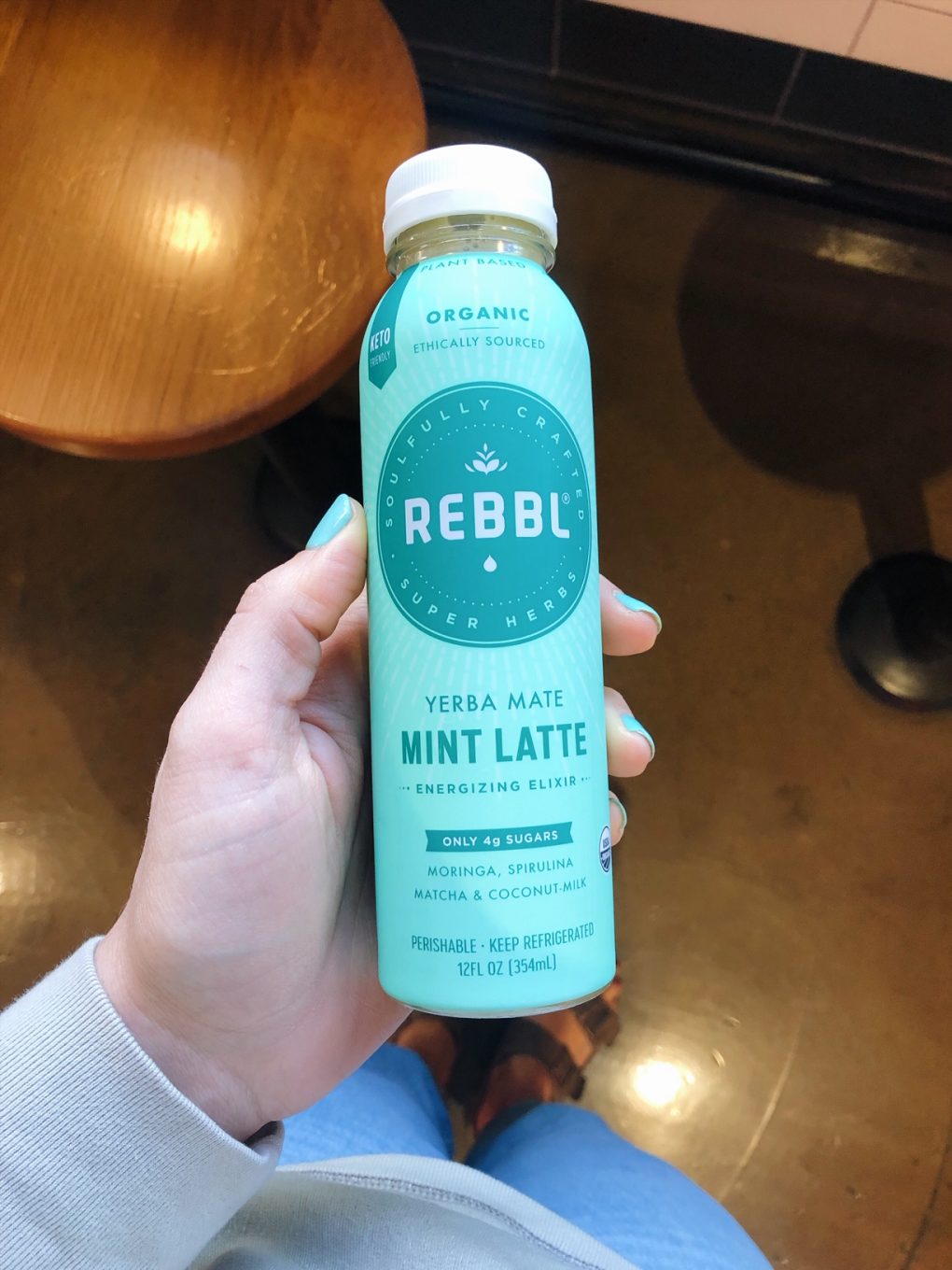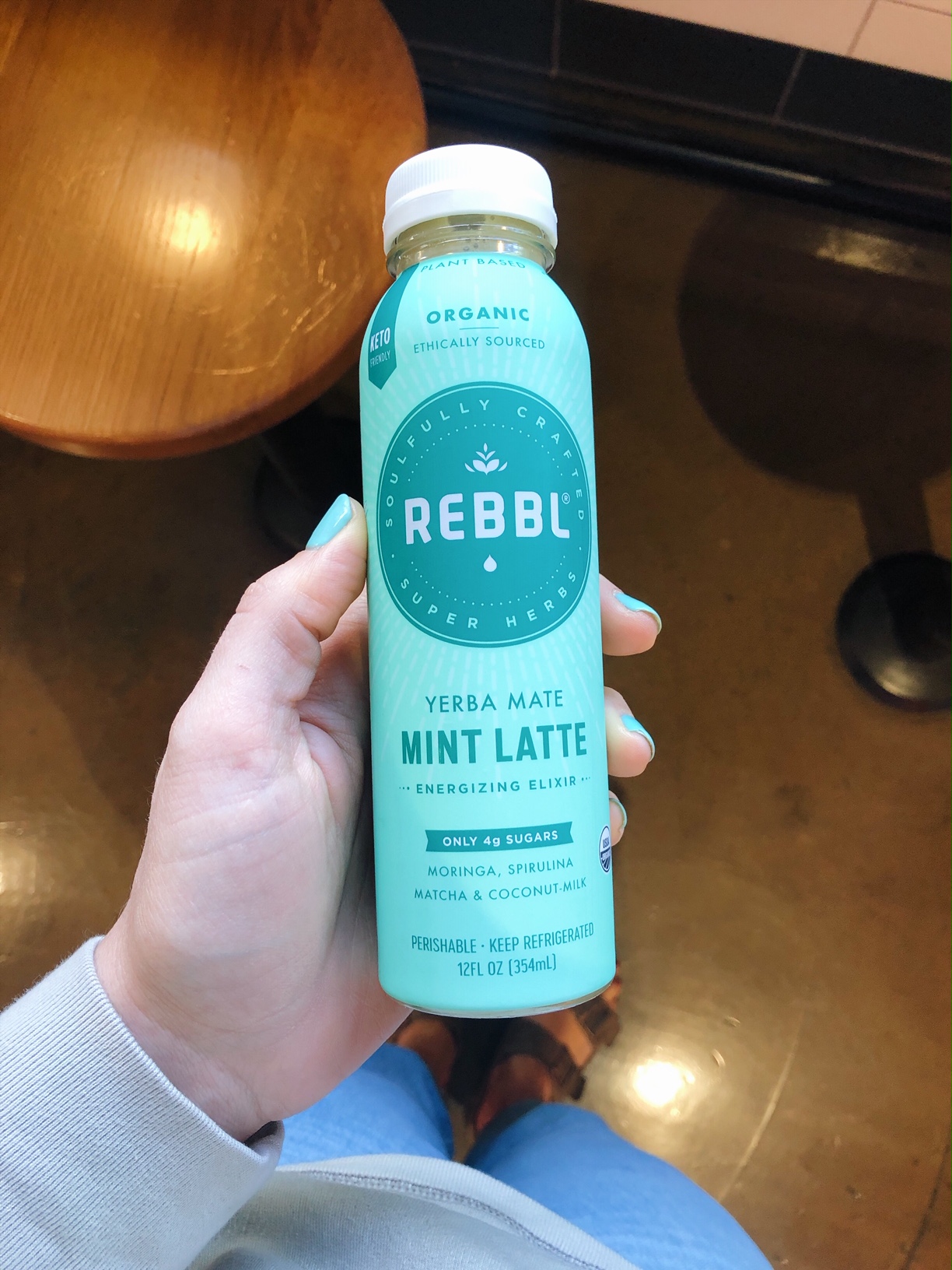 I've been a long time fan of the plant based super herb powered elixirs from Rebbl, and this new (to me!) yerba matte mint latte was completely on par with their other flavors that I love.
The min latte flavor is made with:
Coconut milk
Yerba mate
Acacia fiber
Matcha
Vanilla
Moringa
Spirulina
Spearmint
Pink sea salt
Stevia
They use unique superfoods in all of their beverages, and keep their sugars really low which I totally appreciate! Also they just became certified B Corp, and have a strong mission statement of ethical sourcing and mindful environmental practices, which is pretty rad.
Besides this new mint latte flavor some of my favorite Rebbl Elixir flavors are the: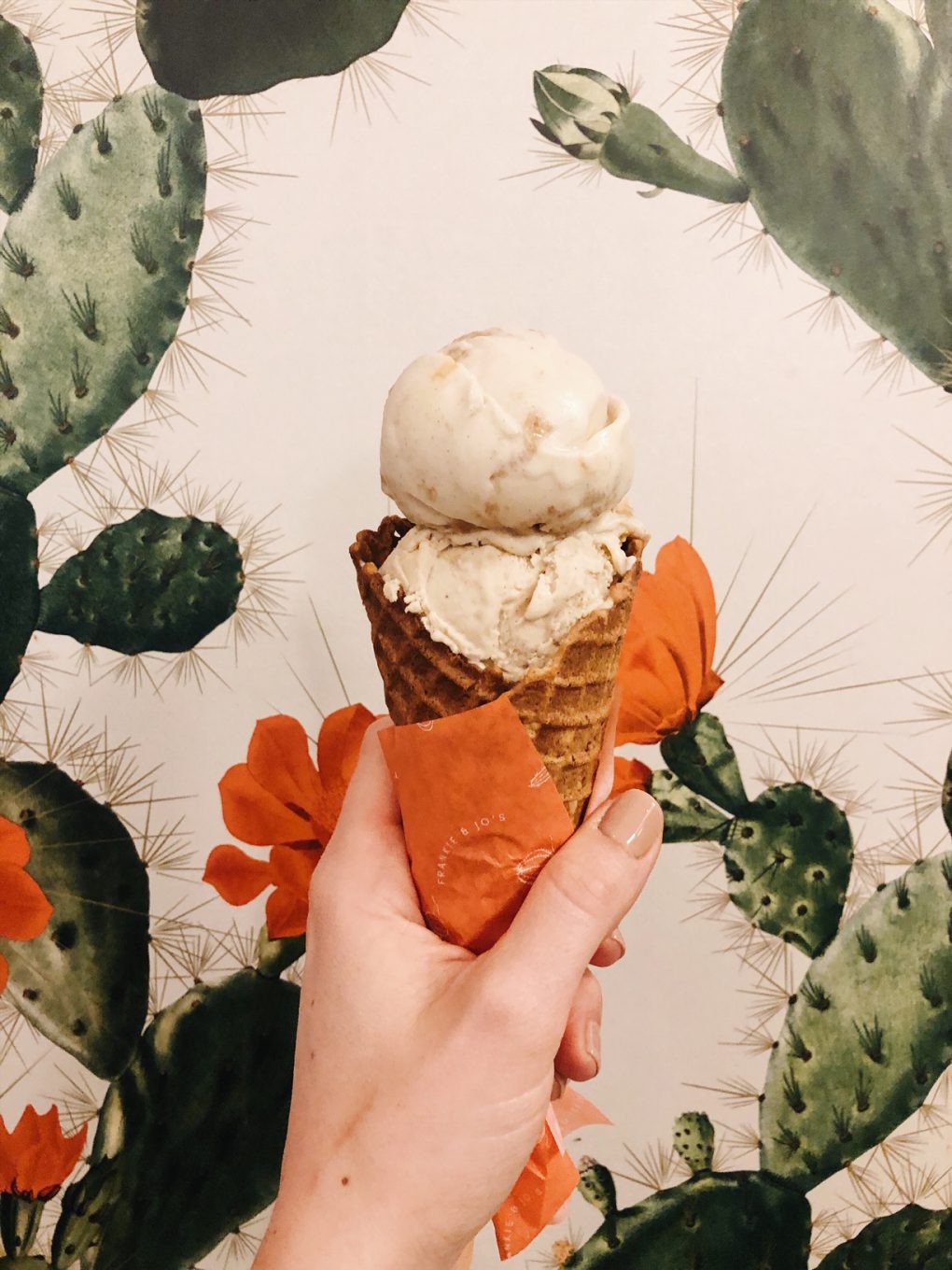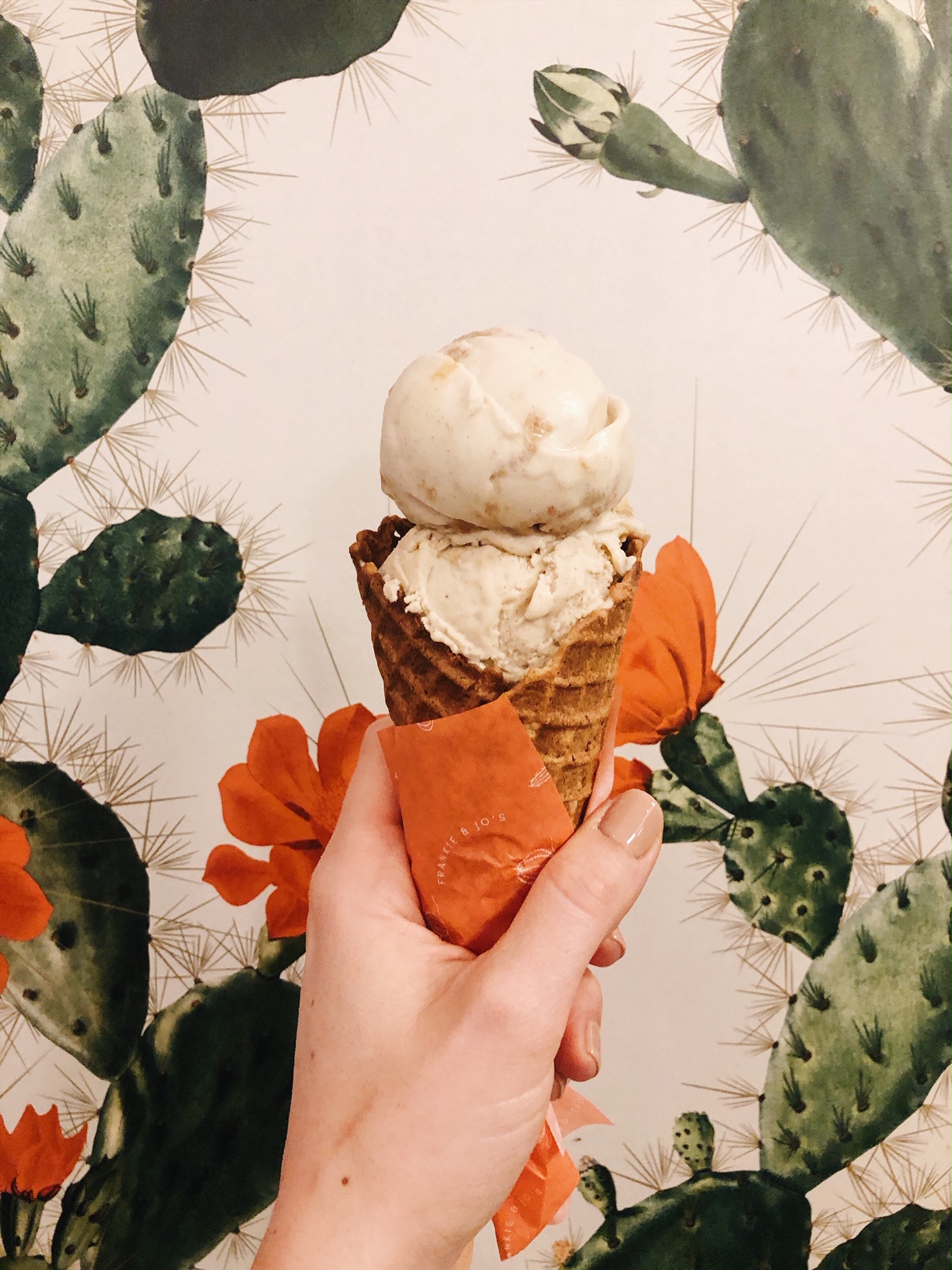 And of course a trip out of the country would not be the same without digging into the seasonal flavors from my favorite plant based Seattle ice cream shop – Frankie & Jo's!
This months seasonal flavors are:
Veracruz vanilla
Mexico Morning
I got a split scoop of each in one of their famous GF oat flour waffle cones and I don't think I could pick a favorite between the two if I tried – they were both amazing!
So amazing that we snagged a pint of each to stash in the freezer for my homecoming later this month 😜
Some of my other favorite flavors from their everyday menu are:
Besides having the BEST dairy free, plant based ice cream that everyone will love (even folks who enjoy dairy!), all of their flavors and products are gluten free 🙌🏼
They also have two flavors on the menu that are sweetened only using DATES! How cool is that?
If you're ever in Seattle I highly recommend making a stop at one of their picture perfect shops. The line can be long but it's totally worth the wait. Their original shop is in Capitol Hill, and this last year they just opened one in Ballard, as well. Try going during off hours to beat the crowds and give yourself enough time to taste test as many flavors as you want 😏🍦
And that's a wrap babes! I hope that you enjoyed reading this week's series. If you did be sure to leave me a comment below. You can also let me know if there's anything more you would like me to discuss in these posts!
Have a crazy delicious week!
XO