I'm (finally!!) back with another installment of my weekly series where I detail what I ate during the previous week. Welcome welcome to "What I Ate This Week" for the week of June 12th!
My hope is that by sharing with you what I eat in a week you can get some inspiration for easy + healthy snacks, lunches, and dinners, that don't make it onto the blog. I know I love hearing what people eat in their every day – it always helps inspire me to try new things!
Before digging in, an important disclosure:
Some of the links below are affiliate links, which means that if you choose to make a purchase, I will earn a commission. This commission comes at no additional cost to you. Please understand that I have experience with all of these products, and I recommend them because they are tried and tested, not because of the small commissions I make if you decide to buy something. Please do not spend any money on these products unless you feel you need them or that they will help you achieve your goals 💯
What I ate this week
DANG BABES! It's been a minute since I sat down to write one of these.
Like holy moly – the past month has been an absolute whirlwind.
It started off with a big 3 week work trip to Israel which was pretty amazing, but my phone got stolen pretty early into the trip. I was actually really looking forward to sharing my "What I Ate This Week" from abroad because the FOOD is one of my absolute favorite parts of Israel. If you know, you know (GF falafel sandwich anyone?!).
But the few pictures I had were lost bc they were not backed up 😭, and I went without a phone of my own for the rest of the trip, so not much to show food-wise. Had to take mental pictures of everything instead, which was kind of nice for a change, but I don't have much to show for it 😉
And after getting back it's kind of just been one thing after another. Not going to bore you with the details buuuut needless to say this little series got pushed to the back of the burner for awhile. I haven't forgotten about it though! And I'm super pumped to be back here sharing a week's worth of meals that will hopefully inspire you and give you some ideas to answer the famous question: "what's for dinner"? 👅
So here we go!
Breakfast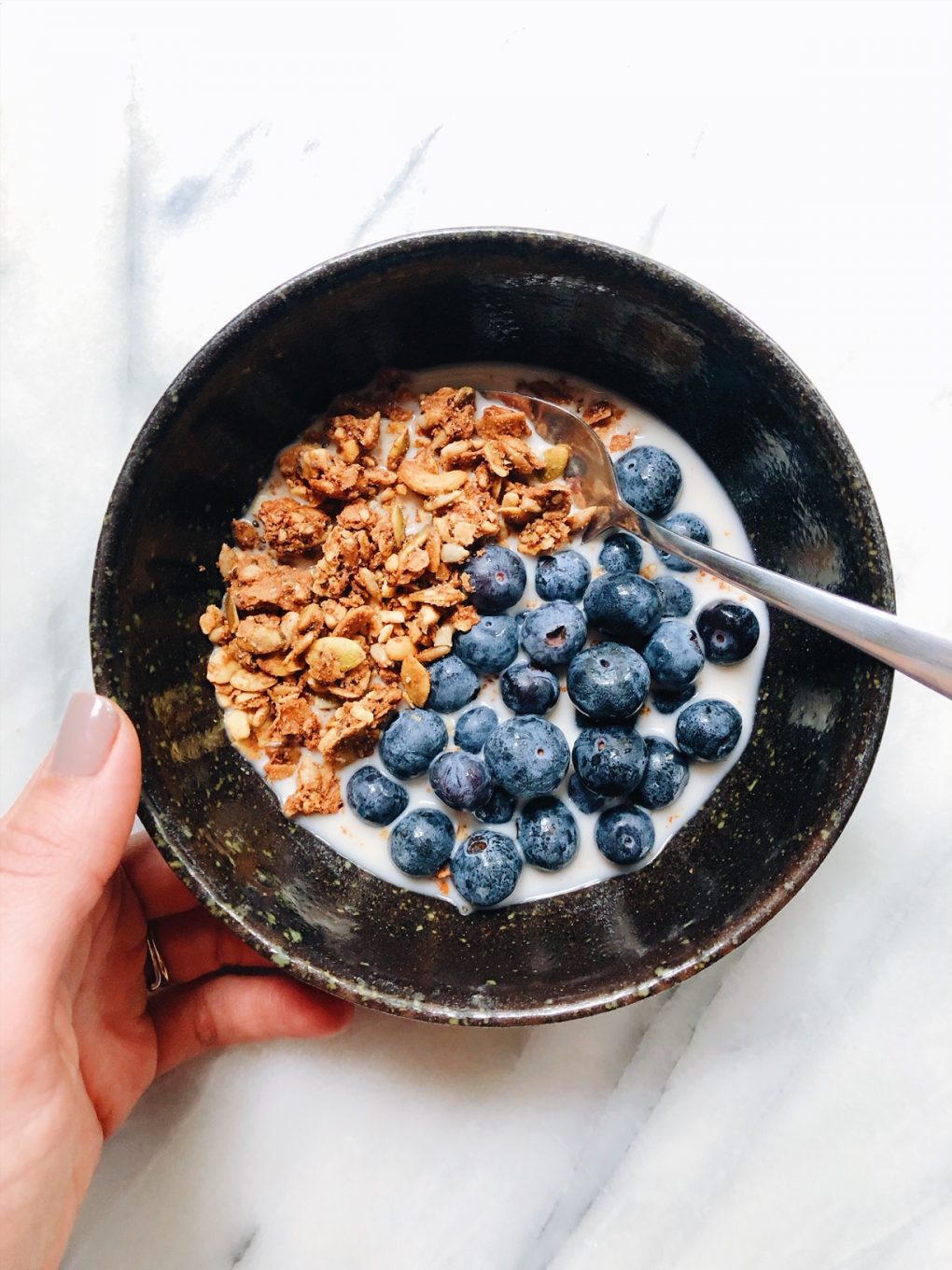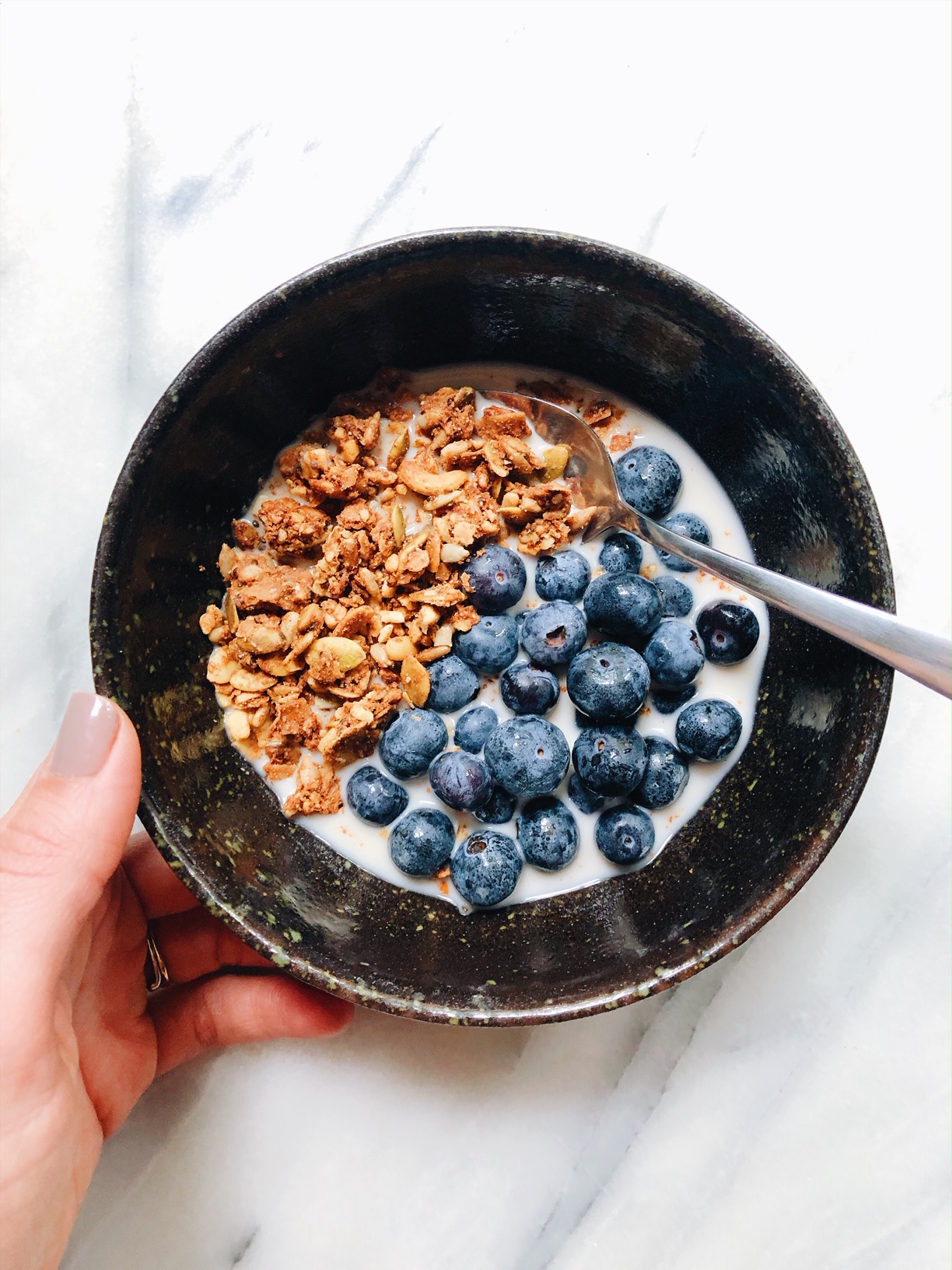 We have been rocking some serious Purely Elizabeth granola around our house these days. A scoop of granola plus some fresh or frozen berries and a healthy glug of almond milk and I am set for the morning. My favorite flavor right now is the original ancient grain granola, but I'm also a huge fan of all of the grain free granolas, too. They're gluten free, naturally sweetened, and made with ancient grains (or no grains at all if you get the grain free version!).
You can buy them online on Amazon, at Thrive Market for a bit of a discounted price, or at most natural food stores.
We also took this little breakfast with us camping one weekend! I washed and cut the berries before we left and stashed them in a glass tupperware with some paper towels. Brought along a container of my favorite nut milk from Malk – the bottle was the perfect size to fit in the cooler and just enough to make a couple granola breakfasts + iced coffees!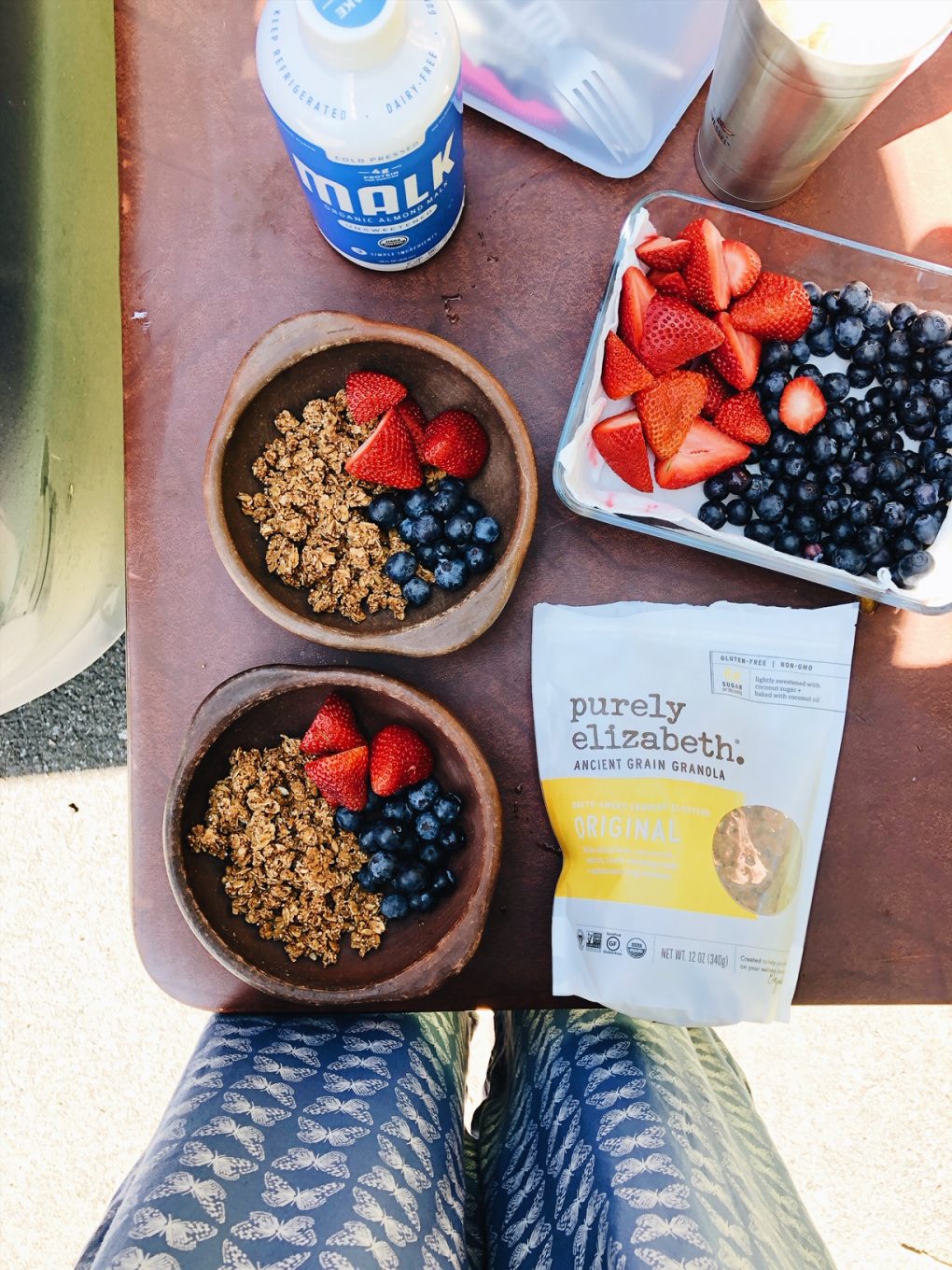 We don't often often have bread around the house, but I did buy a loaf of Olivia's Super Free for our camping trip to make sandwiches. I didn't eat much of it on the trip so when we got back home I stashed it in the freezer. Sooo lots of open faced breakfast sandwiches have been happening!
The one on the left is toasted with dairy free feta cheese, topped with a fried egg, some baby spinach, sliced red onion, and some everything bagel spice from TJ's. YUM.
The one on the right is a little more simple. I had some bacon fat leftover in my cast iron skillet from cooking bacon so I used that to fry 2 eggs, and then toast the bread. After that I threw in the rest of some baby spinach I had on hand in the pan and sautéed it super quick with a pinch of salt so it was just baaarely wilted. Super easy 4 ingredient meal that was SO satisfying! Healthy fats and greens FTW 💯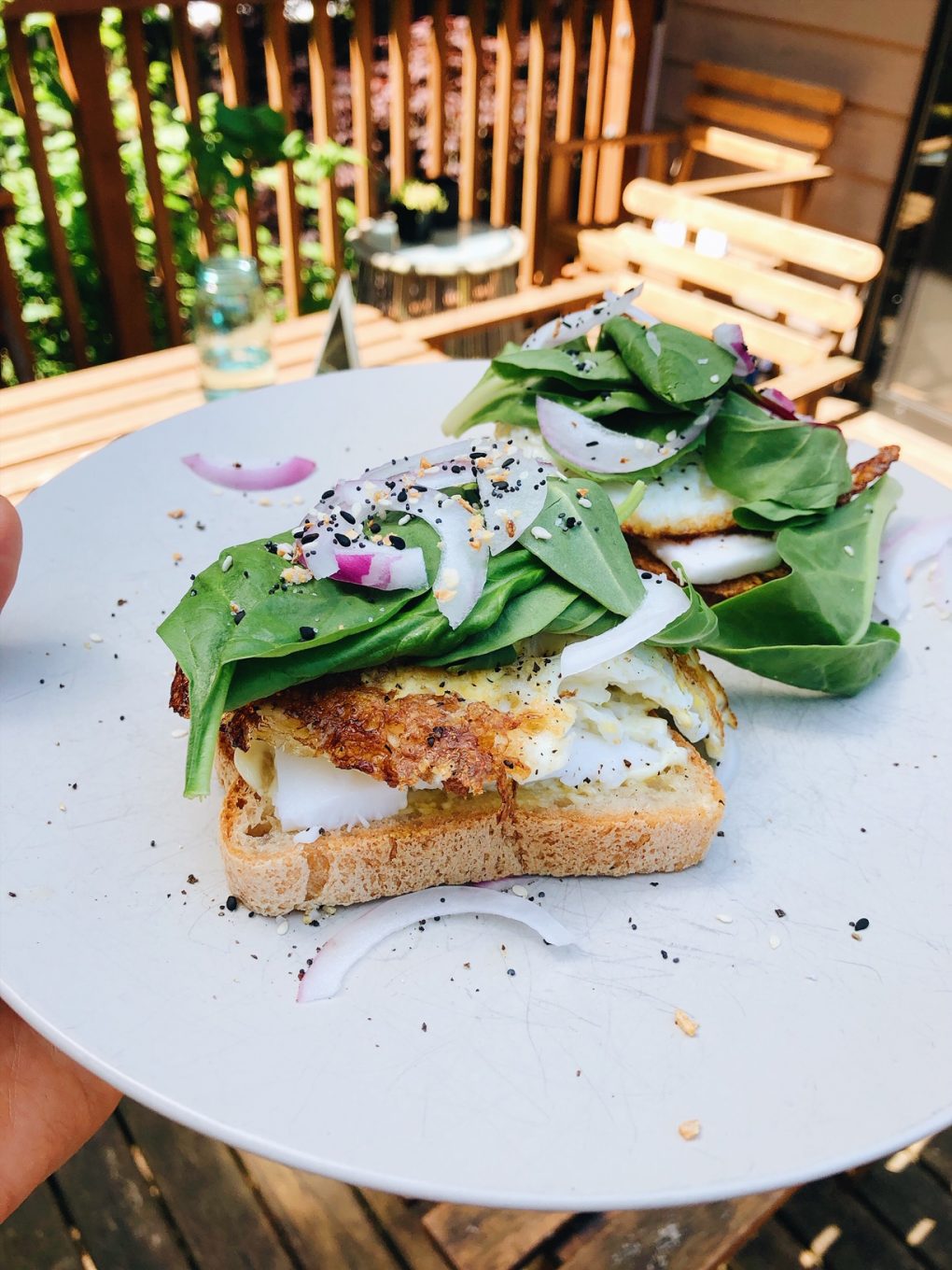 Lunch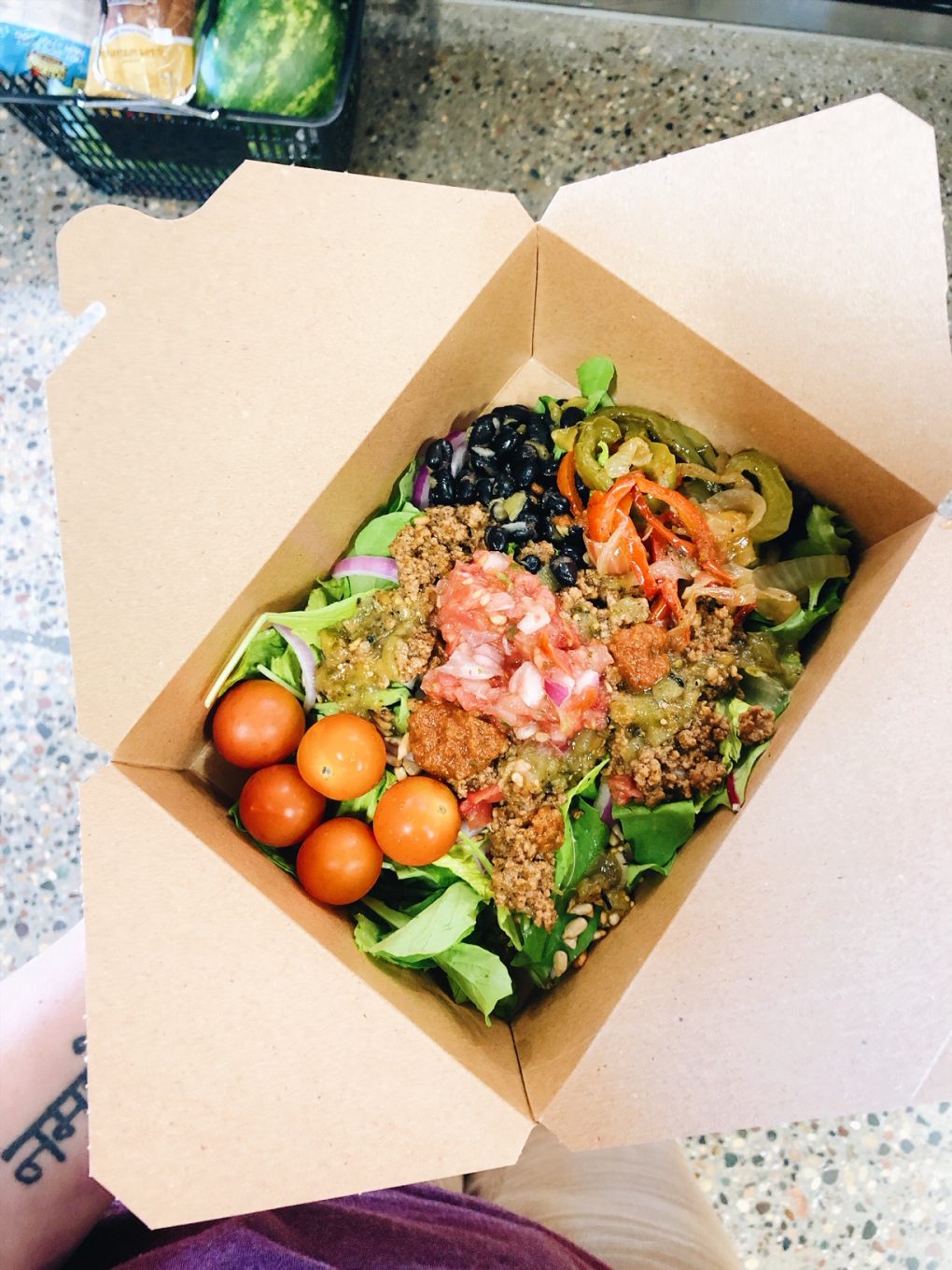 I recently went home to Wisconsin to visit my mom, and I always like to stop along the way at the natural food store to pick up some lunch and some goodies for snacking and eating throughout my visit.
One of my favorite things to do when I'm traveling is to visit the local natural food stores. I could spend hours just browsing the different local products. It drives Patrick crazy 😂 But this trip I was flying solo so I got to spend aaaall the time I wanted checking out the organic goodies 😉
I put together a yummy taco salad from their hot + salad bar with mixed greens, black beans, tomatoes, sautéed veggies, taco meat, and a few types of salsa for a late lunch and then filled my cart with some snacks for the long weekend.
The other items I bought were
Simple Mills garlic + herb crackers – A nice change from their classic almond flour crackers. The garlic + herb flavor have a similar texture to the everything spice crackers – they're just a little bit thicker with more of a "bite" to them.
GT's guava kombucha – current favorite flavor! Brings the tropical vibes for sure.
Wilde chicken chips – I'm obsessed with this snack you guys. They're like potato chip chicken jerky if you can even imagine what that would taste like!. I had never seen the buffalo flavor so of course I had to try. A little on the salty side but overall delicious and would 100% buy again.
Some new barn almond milk for the Purely Elizabeth granola that I packed (I told you I was on a kick!)
Deli made hummus
A little coconut water kefir shot that was locally made
Hail Merry dark chocolate espresso cups 😍 Such a delicious "healthier" treat that always satisfies my sweet tooth! Amazon doesn't sell these exact treats, but they do have some of their other treats. They're all gluten free, paleo friendly, and vegan! Linked here if you wanna check them out!
Fresh fruit!
It was a good haul that kept me happily snacking for a few days.. except for the chicken chips… they were gone the first day 😜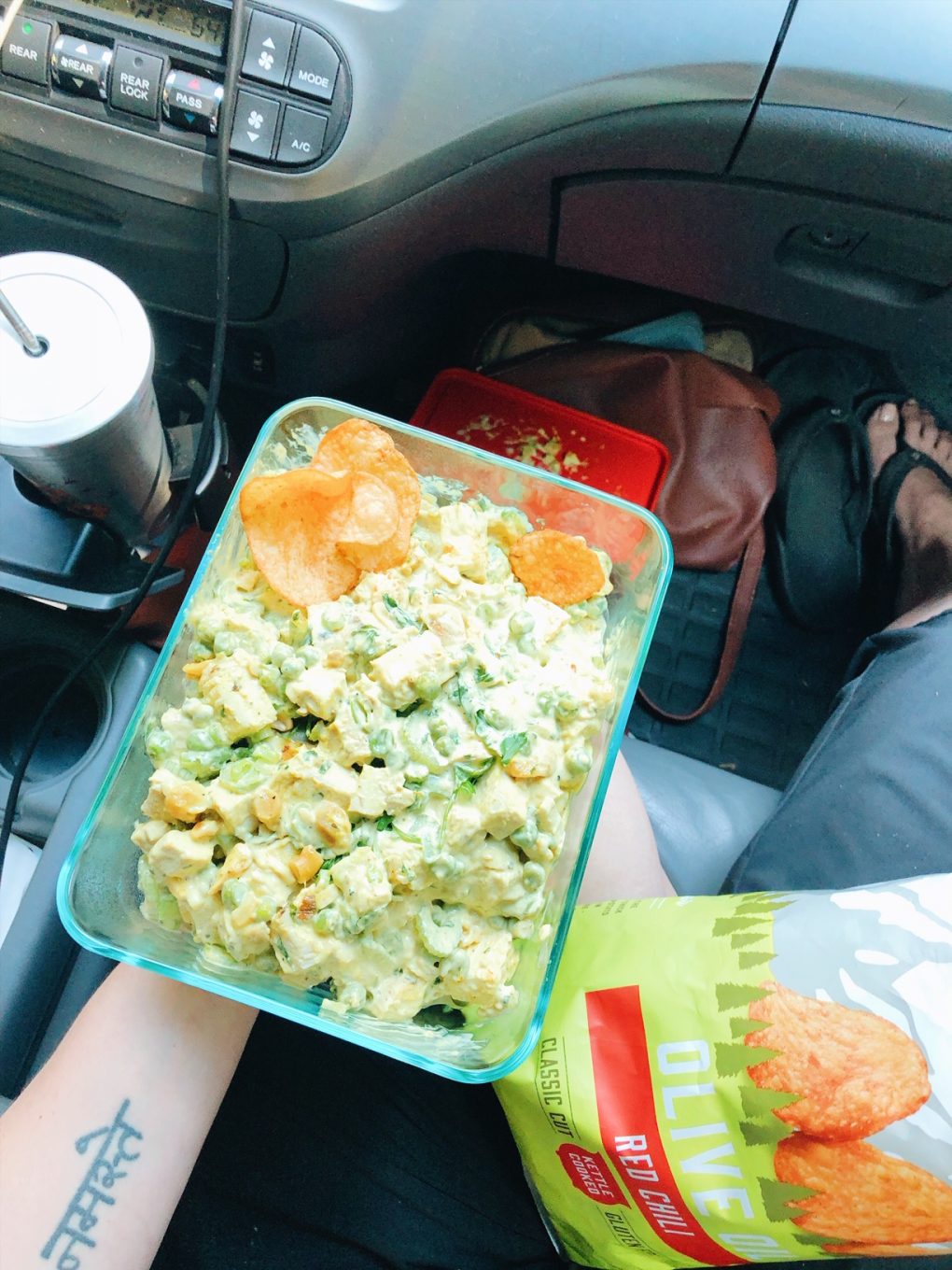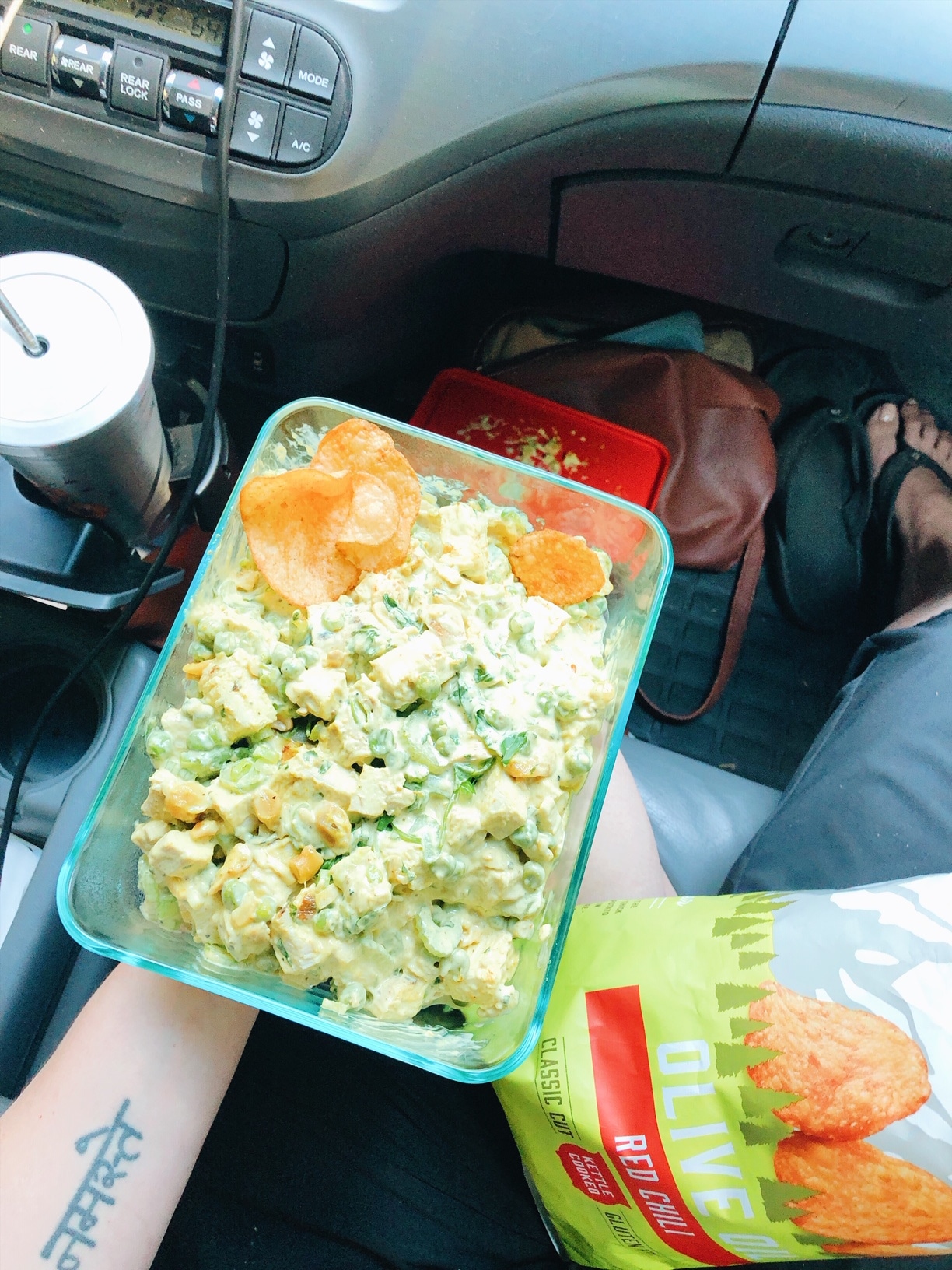 Okay so I know this lunch does not look very appetizing, but I had to share because it's such a classic "on the go" meal for me! And despite how it looks, it is freaking delicious. This is some of the Curried Chicken Salad from the blog that we brought camping with us. I ate some on the way to our camp spot scooped up with olive oil potato chips. Super yum and totally filling.
Chicken salad + chips / crackers = my lunch love language 😍
If you guys love chicken salad and you haven't tried this Curried Chicken Salad yet, you MUST. It's made with cashews, celery, green onions, and peas, and it's the bomb.com!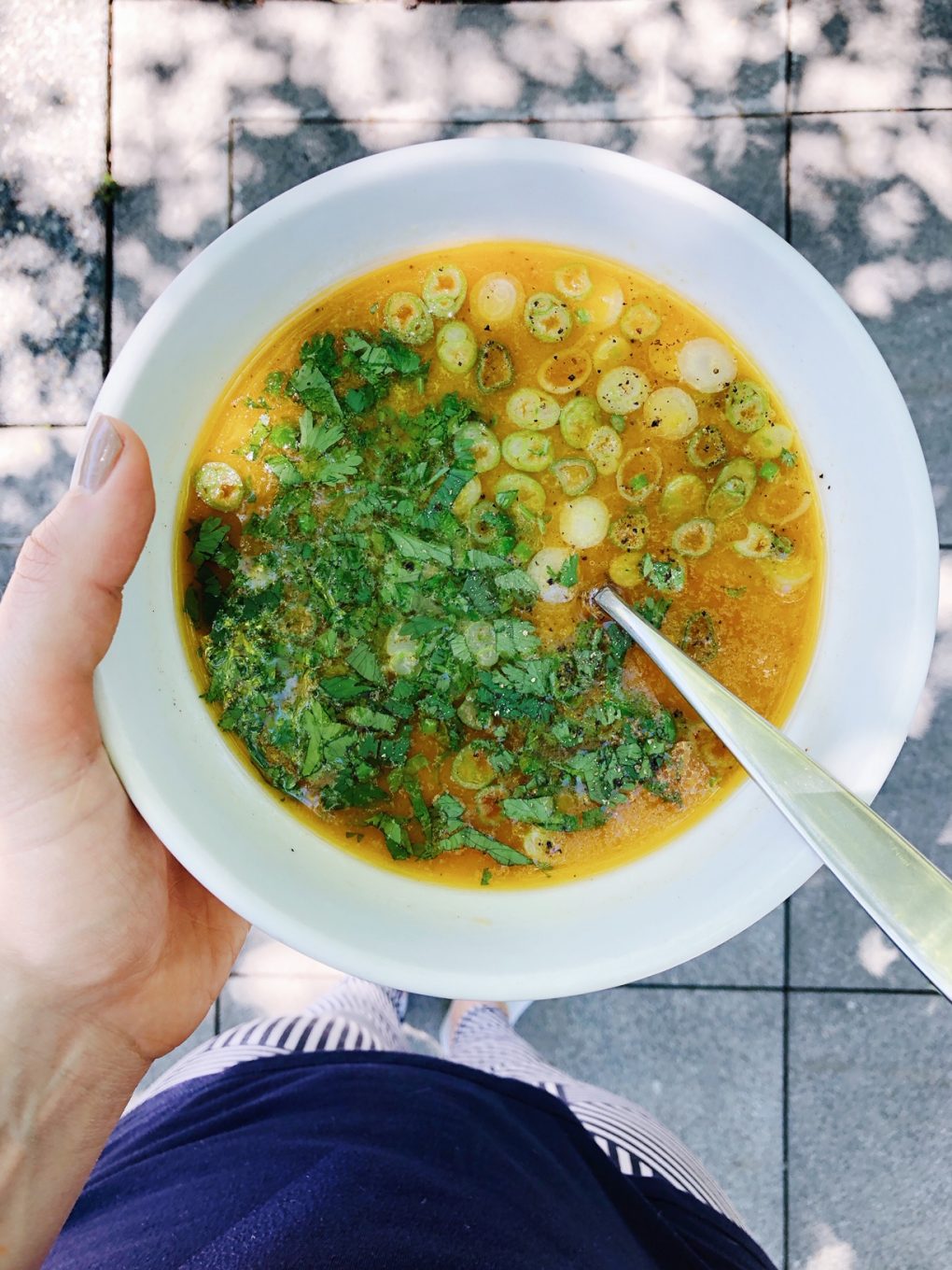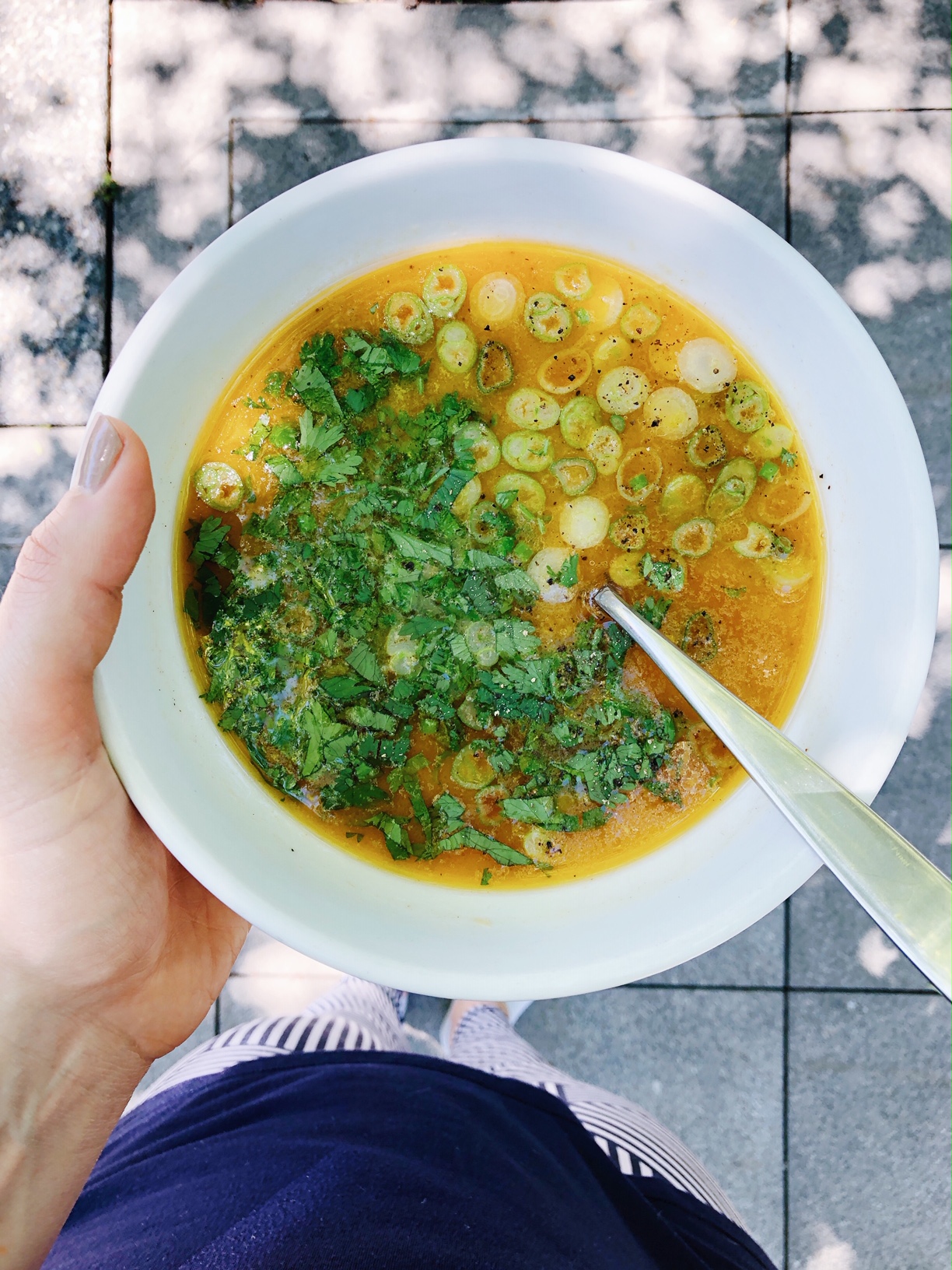 One day last week I was just not feeling super hungry around lunch time. My energy levels were a little low and I sort of felt like I might be getting sick. So instead of forcing myself to eat when I really didn't feel like it, I grabbed a container of Kettle and Fire's coconut curry broth. I can't find that exact flavor on Amazon but I'll link to their classic broths for you to check out! I like making my own broth but theirs is a great pantry substitute when I'm out or haven't had time to make any. Check out their classic broths here.
I topped the broth with some green onions, cilantro, and a big squeeze of lime. It was a perfect nourishing and simple meal.
Dinner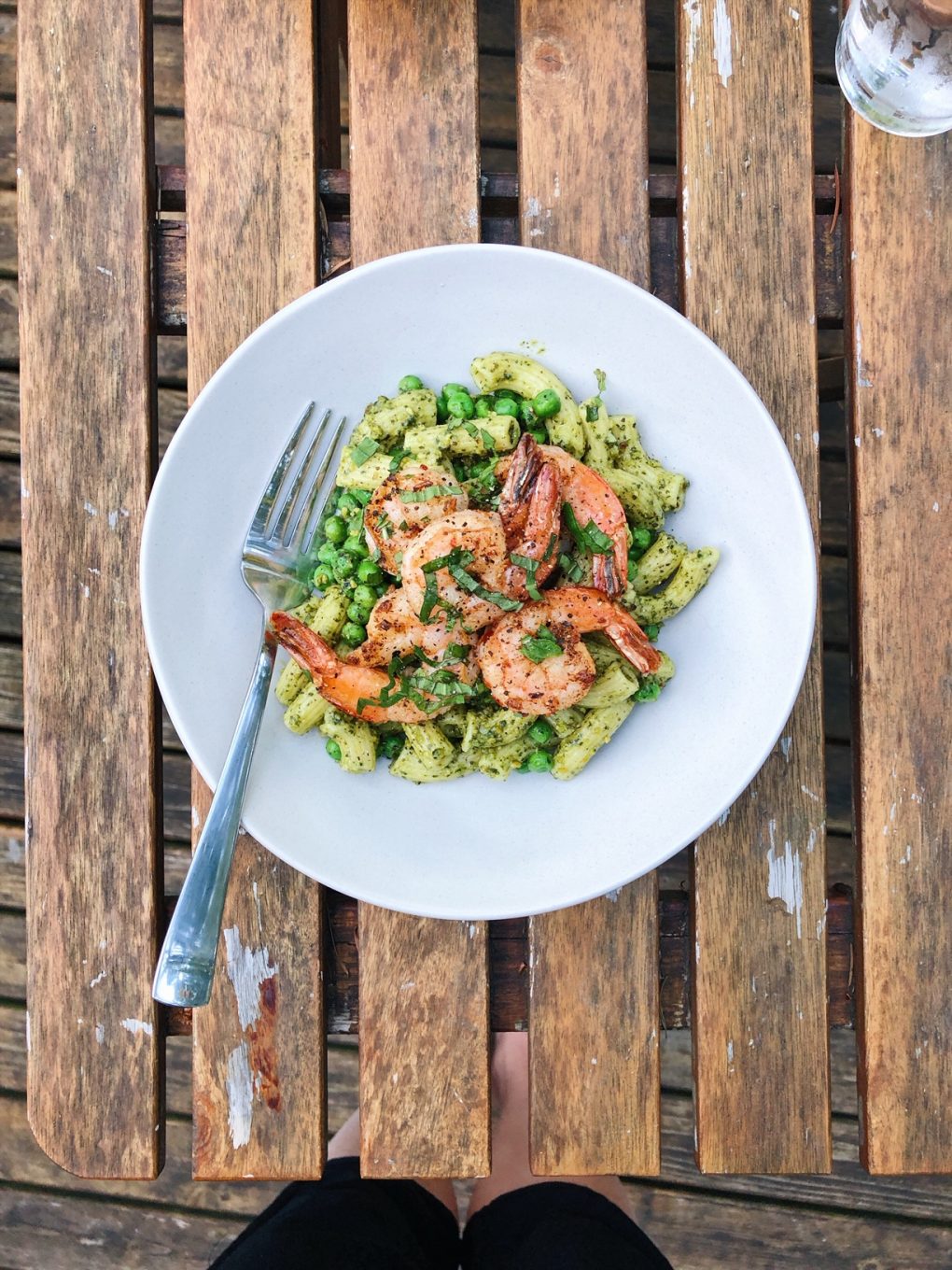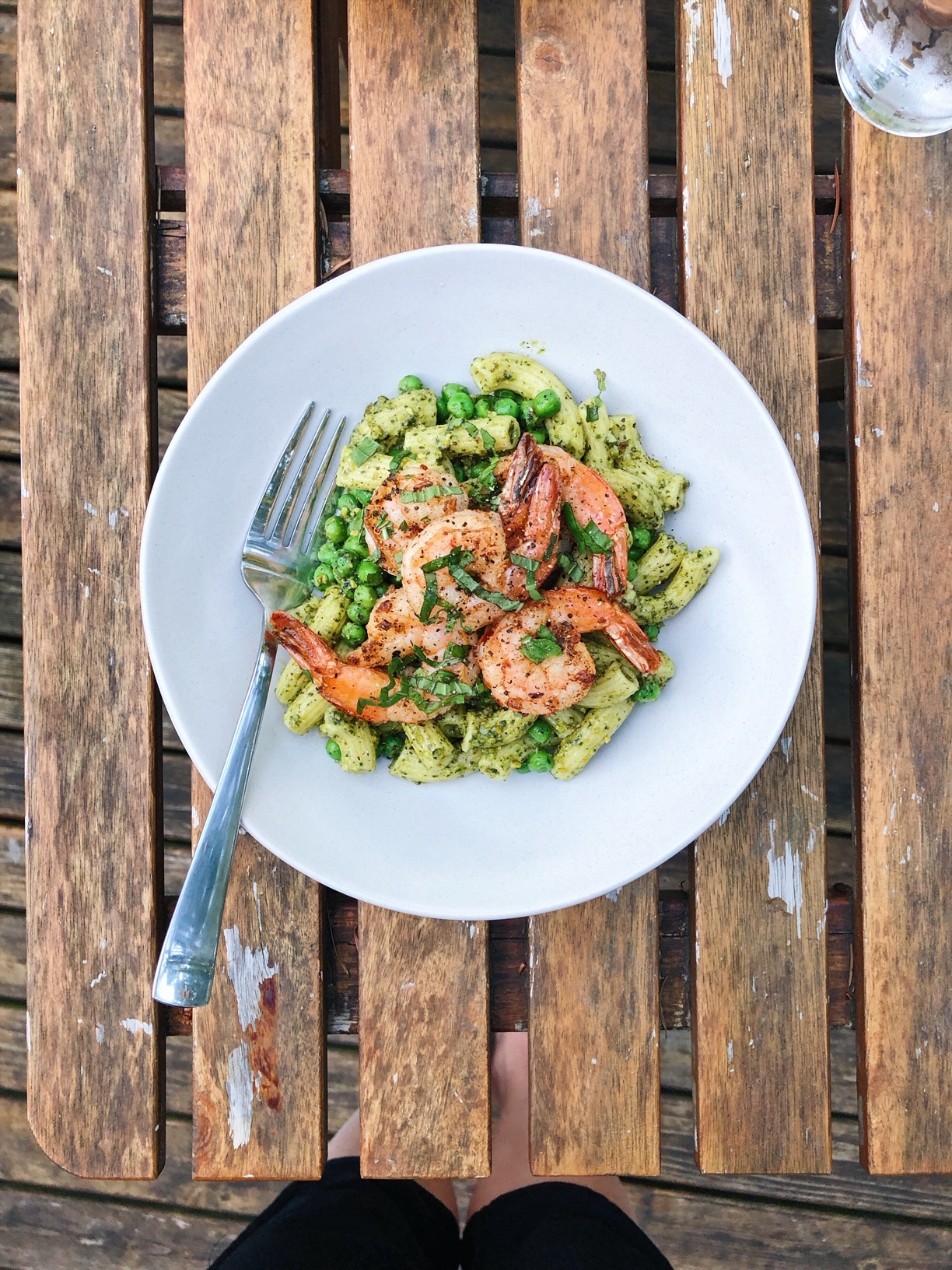 Ohh-my-LANTA! Ladies and gentleman this has to be my favorite meal from last week. I was super in the mood for pesto pasta + shrimp and went on a whim in throwing this dish together. It turned out… SO GOOD. I want to turn it into an official thing and make a recipe for NK, but it will probably be a little while out. If you want an approximation of the recipe send me an email and I would love to share my notes with you!
I used Manini's gluten free pasta (not easily available online, but you can check out their site for a store locater. I love their pasta because they are corn and rice free, and instead use ancient grains. The texture and flavor are super good, too), sweet peas, and tossed it all in a homemade basil pistachio pesto.
I made the pesto with:
Fresh basil
Pistachios
Garlic
Lemon juice
Salt
Pepper
I seasoned the shrimp with plenty of salt and pepper, smoked paprika, chili flakes, garlic powder, and onion powder. I just quickly seared them in a super hot cast iron skillet with some ghee and topped with some fresh basil before adding them to the bowl of pasta!
IT WAS DEE-LISH.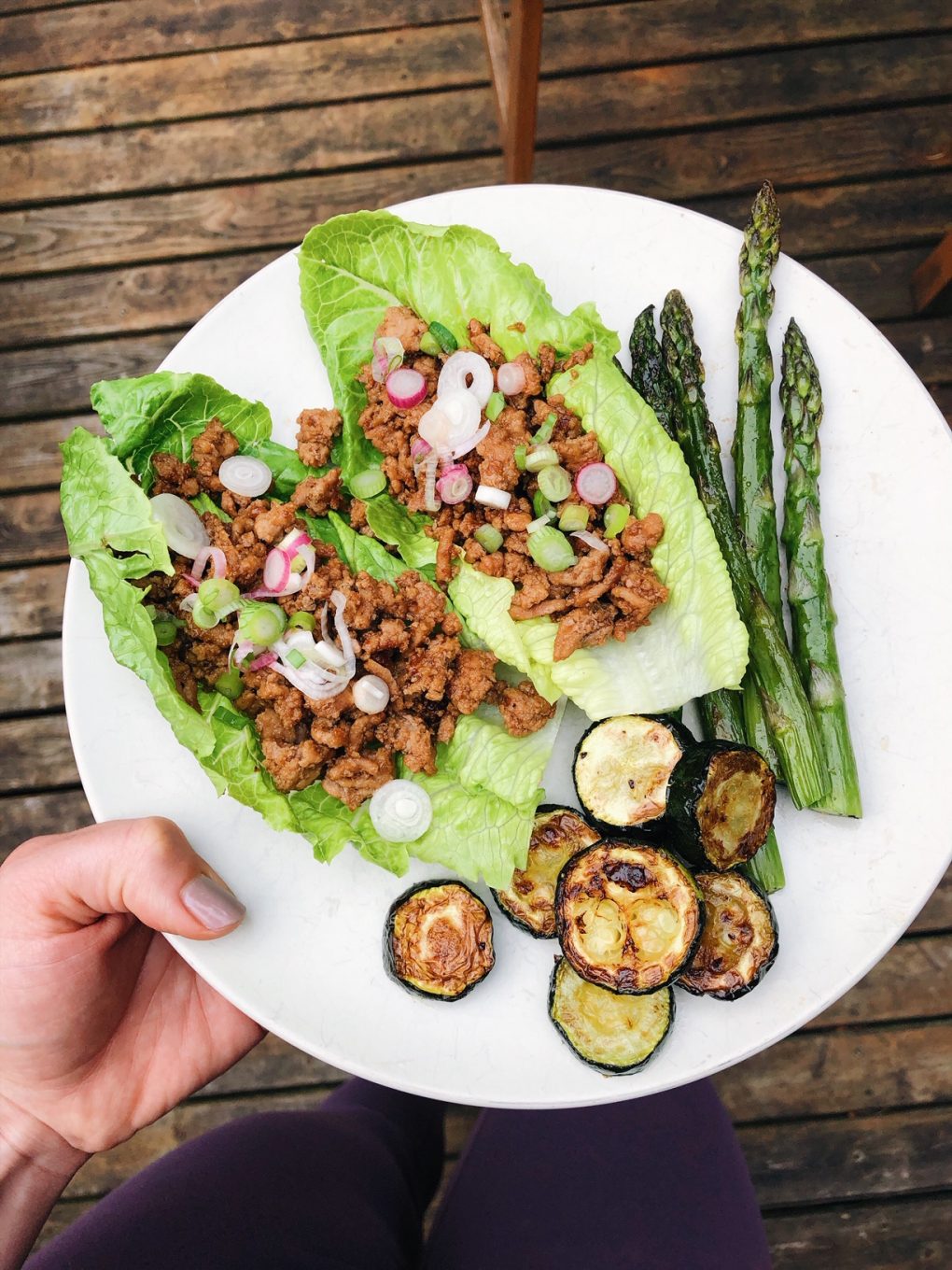 For this dinner I "paleo-fied" the chicken lettuce cups from the most recent issue of Bon Appetit. It doesn't look like they have the recipe up on their site yet but if you get the magazine you can find it there! I swapped coconut aminos for the soy sauce, and coconut sugar for the brown sugar. I also added some spring onions that I quick pickled in rice wine vinegar and a side of roasted veggies! A super easy and healthy weeknight meal.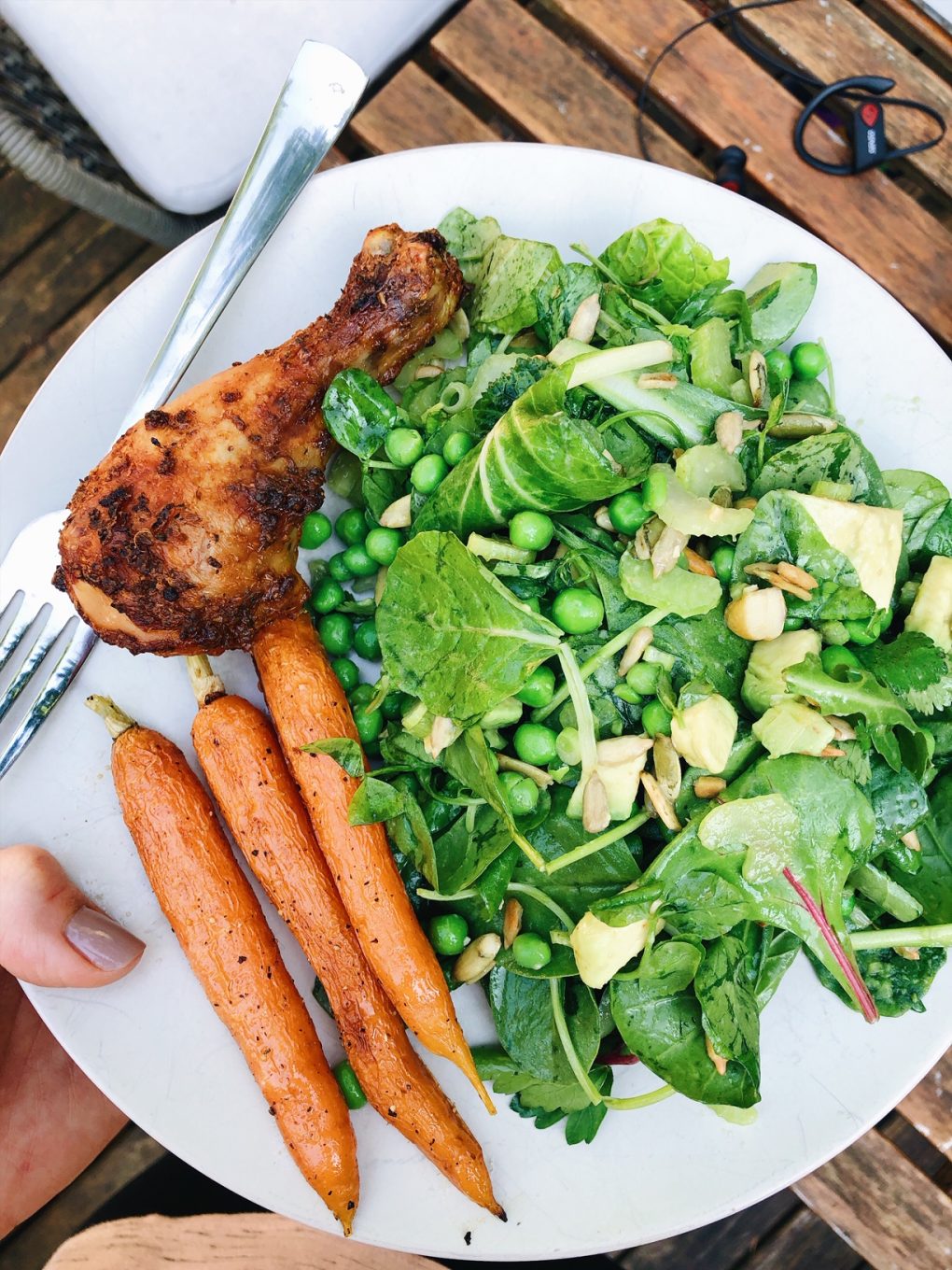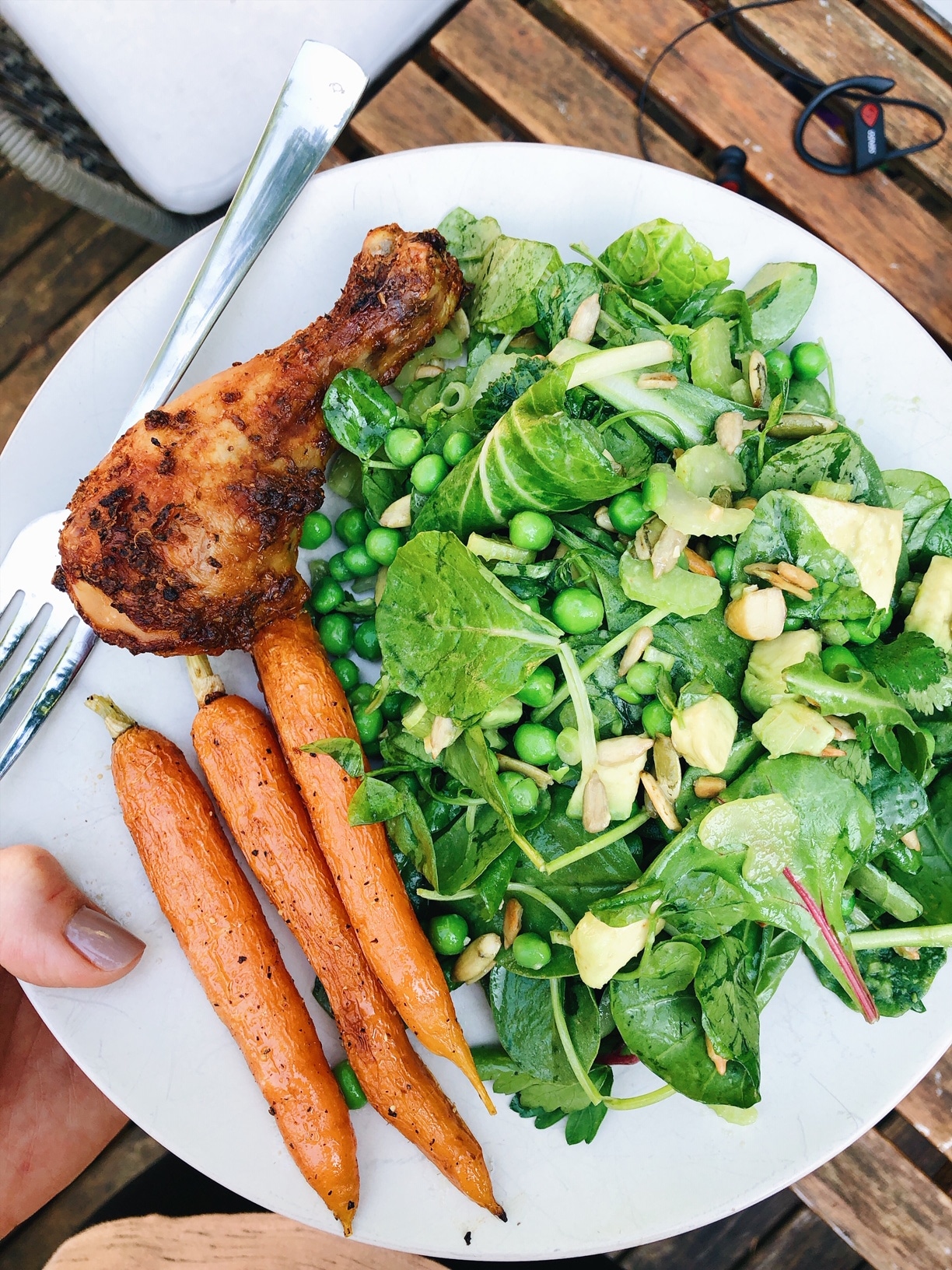 If you live in the Seattle area, you are probably familiar with the local natural food store – PCC Community Markets. They have pre-marinated chicken in their meat department that is so killer. Normally pre-marinated meats from the store are full of stuff that I typically try and avoid (gluten, dairy, soy, etc). But PCC's are actually super clean + healthy! Which is such a dinner making time saver.
This chicken was caesar dressing marinated and it was delicious. I also love the lemon garlic and spicy buffalo marinades. Usually they have drumsticks and wings. I typically add a little extra salt and pepper and bake them in the oven at a low temperature to start out (325 degrees), and then once they're mostly done I crank the heat to crisp up the skin! Baking them like this makes sure that the meat stays tender and doesn't dry out, but you still get the joy of crispy chicken skin!
I paired it with some roasted carrots and a big green salad with peas, celery, avocado, and sunflower seeds + a simple dressing of white wine vinegar, olive oil, and salt and pepper.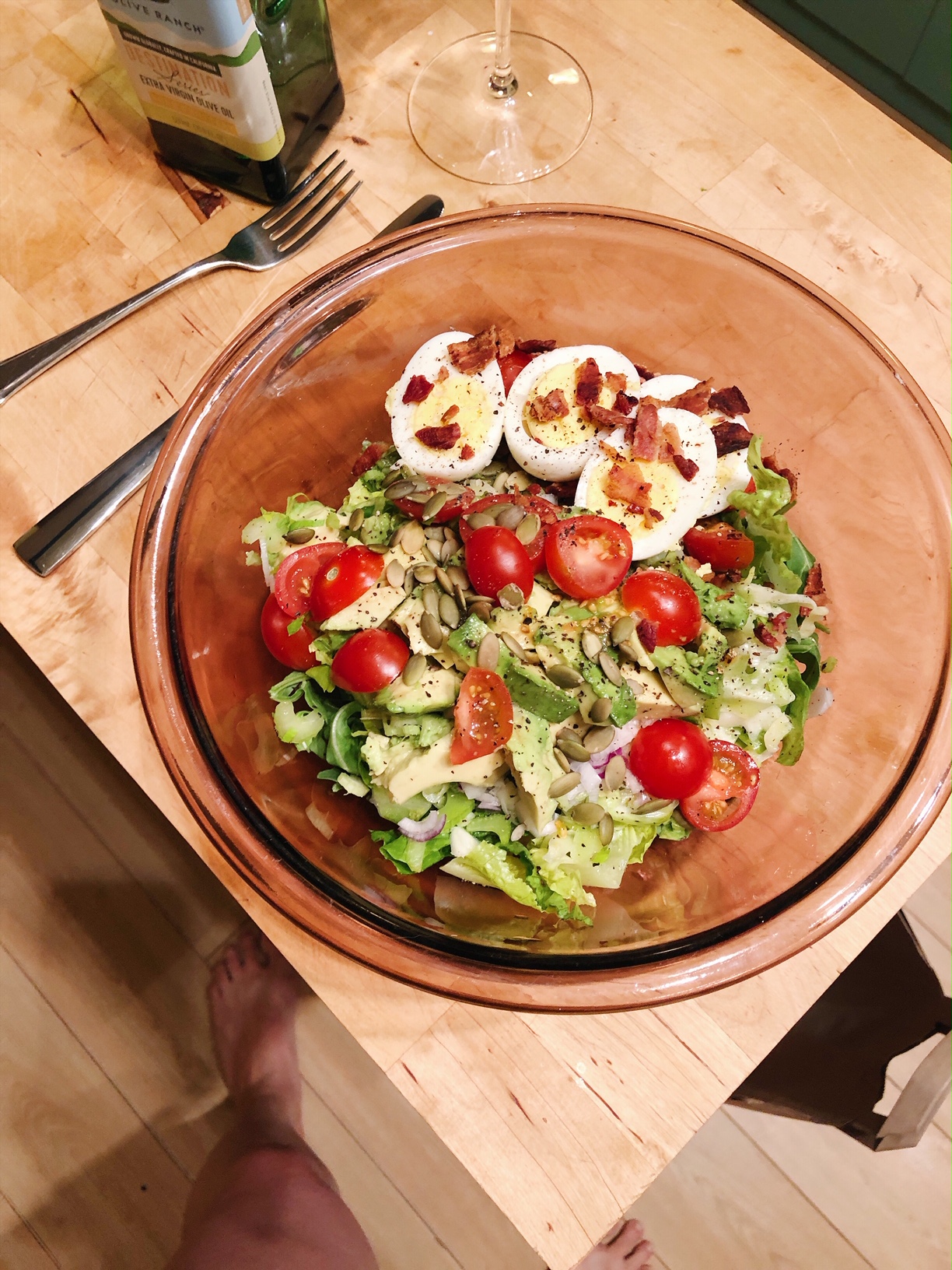 This is what dinner often looks like when I'm eating alone! I'm a salad-with-everything-from-the-fridge-in-a-big-bowl kind of a gal many nights when I eat solo 😂 I didn't feel like picking anything up at the store so this is literally just whatever we had in the refrigerator. Lots of greens, celery, red onion, tomatoes, hard boiled eggs, some crumbled bacon, and pumpkin seeds with salt, pepper, and a lemon juice + olive oil dressing. So simple but so good!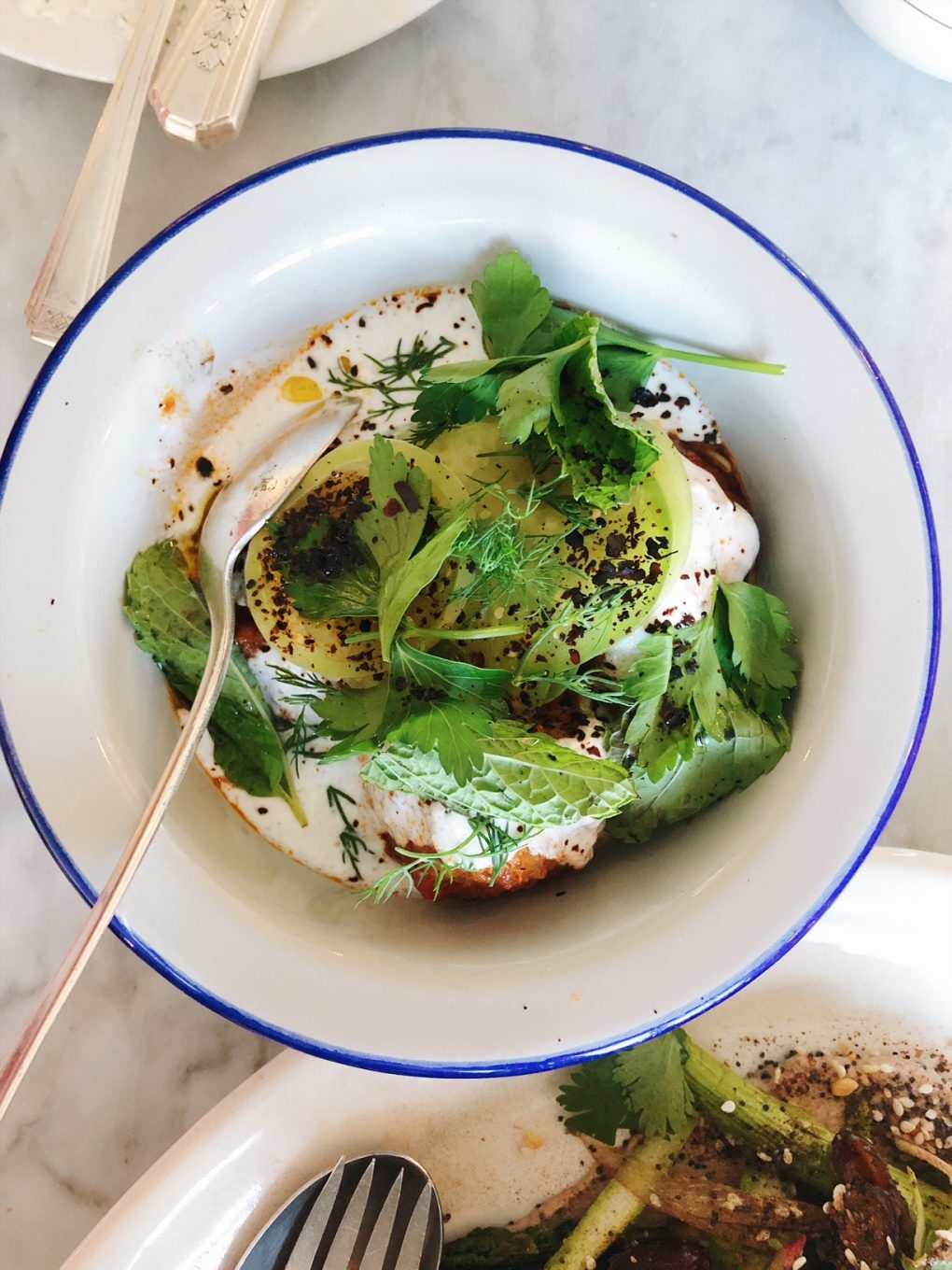 I did have one dinner out this week at my new favorite restaurant in Seattle – Restaurant Homer!
The menu is original and delicious. Bold flavors, lots of vegetables, and delicious cocktails. Much of the menu is already gluten free (including the MEATBALLS!), and many of the menu items that are not gluten free can be modified. It's a pretty small spot in the Beacon Hill neighborhood, so it fills up quickly. Try and visit during a weekday or come early in the night for an easier time snagging a seat. The bar is always a great spot if you're dining solo or with one other person.
Also – they have rotating soft serve flavors, and a soft serve window if you just want to stop by and grab a treat!
Favorite menu items that I've tried:
Crispy basmati rice cake
Lettuces with buttermilk
Roasted chicken (ask to sub the bread that it's served on for a rice cake for a gf option!)
House meatballs with green tomatoes and herbs
Whipped garlic dip (trust me. order it and eat it with everything – not dairy free)
Angostura daquiri – my favorite cocktail that I've tried on the menu!
And that's a wrap babes! I hope that you enjoyed reading this week's series. If you did be sure to leave me a comment below and let me know if there's anything else you'd like to see me share in these posts!!
Have a crazy delicious weeeek!
XO