Heya friends! I'm starting a new little weekly series with you here where I detail what I ate during the previous week. Welcome to the very first one!
My hope is that by sharing with you what I eat in a week you can get some inspiration for easy + healthy snacks, lunches, and dinners, that don't make it onto the blog. I know I love hearing what people eat in their every day. It's so easy to get stuck in a rut packing the same snack bar / apple slices / leftovers that I thought it would be super fun to share what I'm eating so that you (and I!) can be a little more inspired and get new ideas.
Let's jump right in!
Before digging in, an important disclosure:
Some of the links below are affiliate links, which means that if you choose to make a purchase, I will earn a commission. This commission comes at no additional cost to you. Please understand that I have experience with all of these products, and I recommend them because they are tried and tested, not because of the small commissions I make if you decide to buy something. Please do not spend any money on these products unless you feel you need them or that they will help you achieve your goals 💯
What I ate this week
breakfast
The first thing I do in the morning before I head out the door is make a bulletproof coffee or matcha. Lately I've been trying to cut back on my caffeine intake, so I've been whipping up an iced matcha with:
1 tsp matcha powder
6 ounces of cold water
4 ounces of nut milk
a pinch of sea salt
1 scoop of collagen
MCT oil / brain octane oil
This usually keeps me satisfied for the first hour or two of my morning.
Then typically I grab something on the go – a smoothie, hot bar breakfast from Whole Food's, or I'll pack a few hardboiled eggs in my bag to take with me from home.
But lately I've been into making a frittata at the beginning of the week for both Patrick and myself to heat up in the morning. If I don't send him out the door with breakfast who knows what he'll end up eating 😝 It's convenient and healthy – lots of protein and usually a good mix of veggies, too!
This week I made a frittata in my cast iron skillets with:
eggs
spicy sausage
caramelized onions
mushrooms
spinach
parsley
salt and pepper
So easy and so good! I did eat it at home one morning before leaving for work with some avocado, everything bagel spice, and cilantro microgreens, but it's also great on it's own.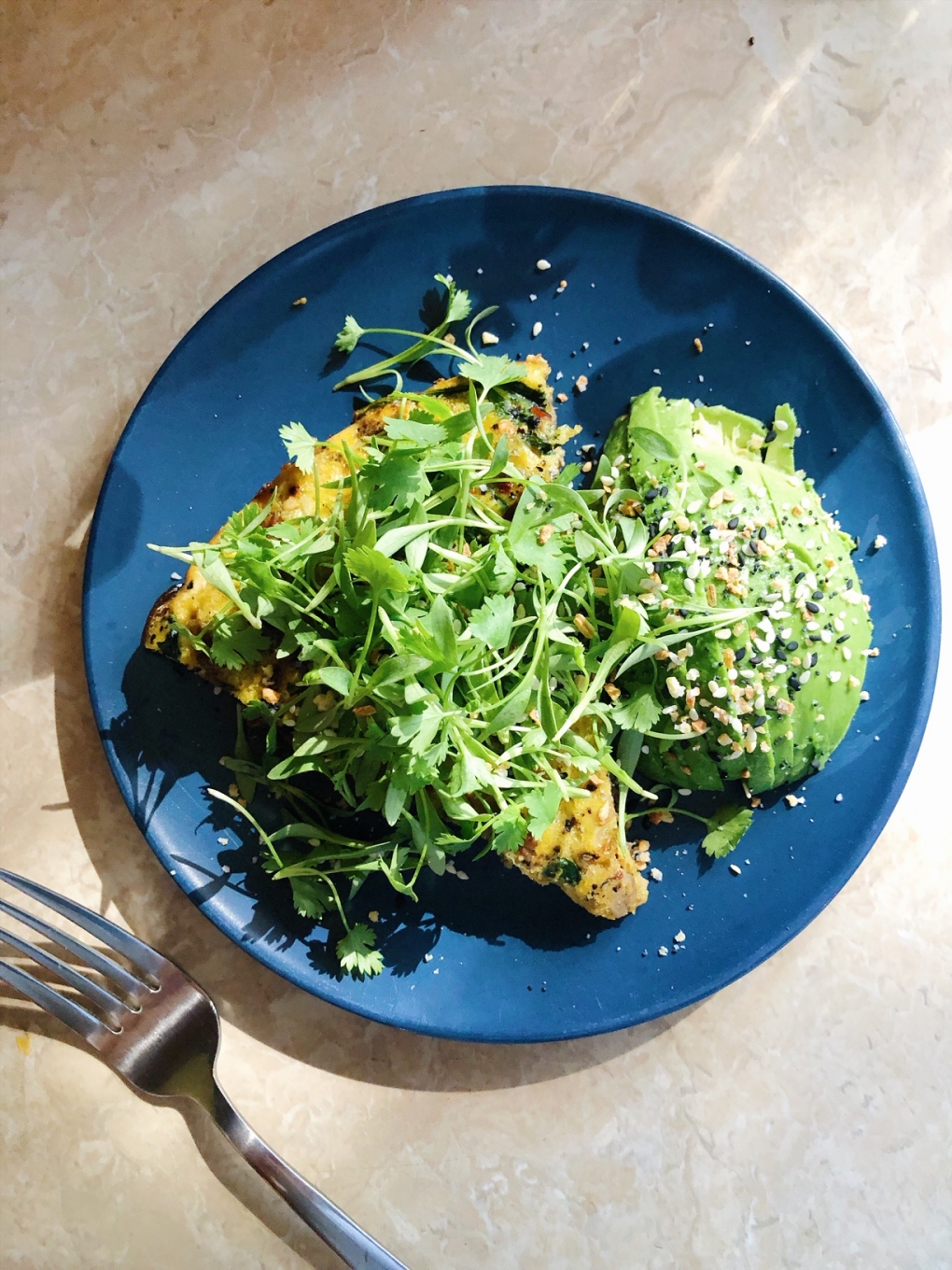 Last weekend was super busy with recipe shoots – I shot 7 recipes in 2 days! It was kind of crazy. So breakfast with really simple both days. Day one I think all I had was my matcha and 3 hardboiled eggs, and then on Sunday I made some fried eggs with 2 sausage links and a big scoop of sauerkraut for probiotics! Proof that not all my food looks as nice as the stuff I share 👅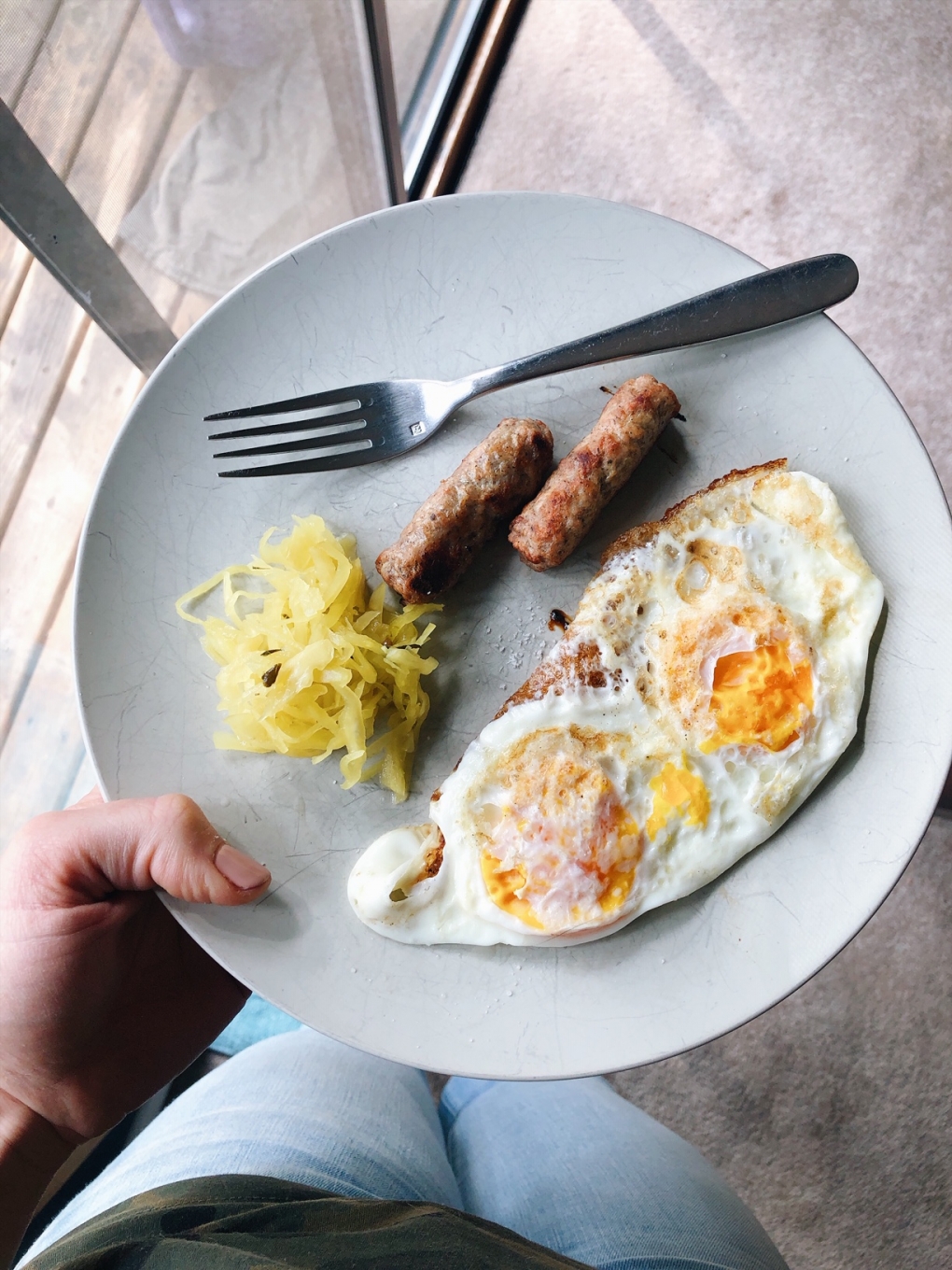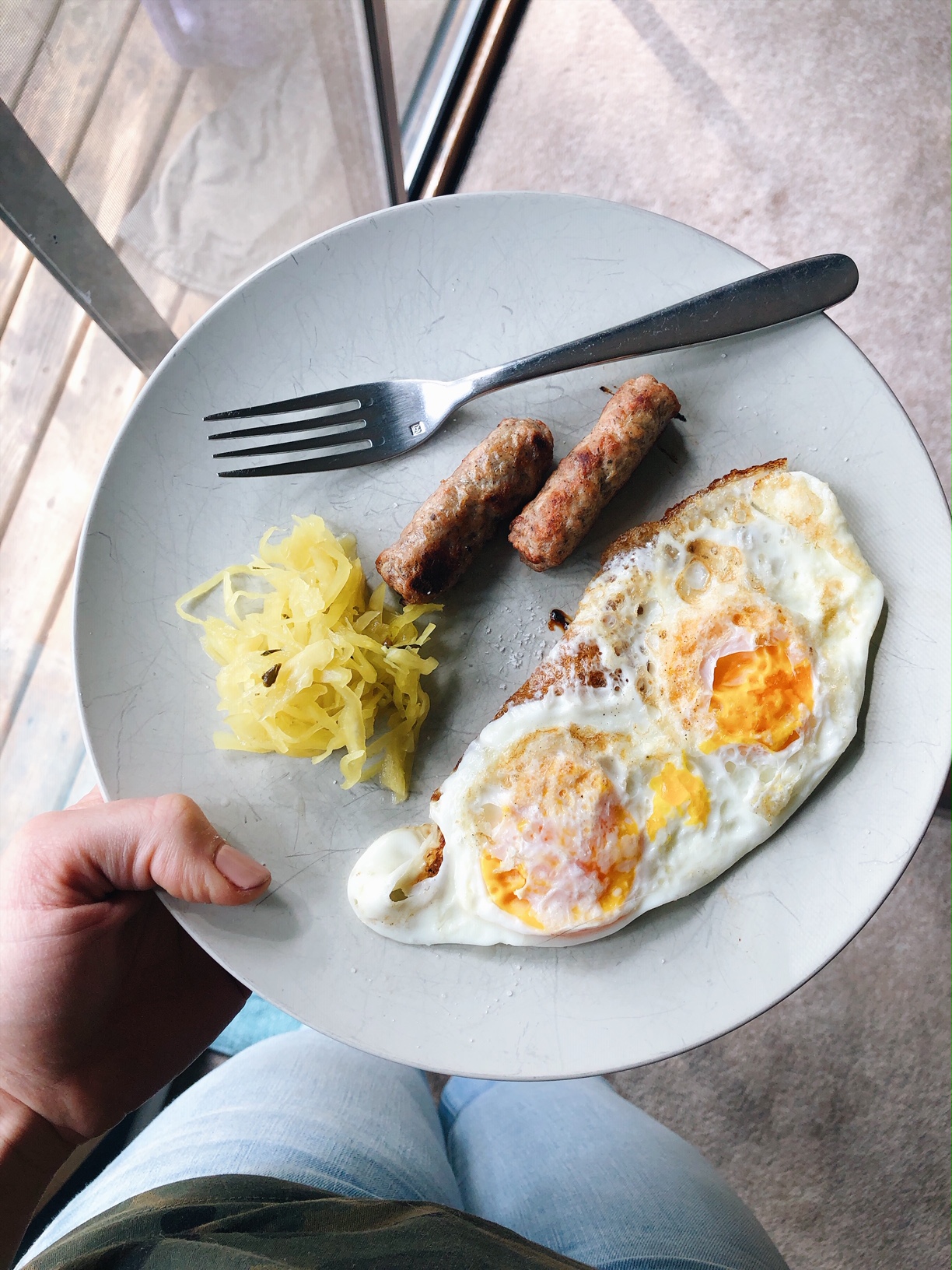 lunch
I've been doing a mini Whole30 for the past 2 weeks, so lunches have been pretty much been brought from home, with the exception of 1 day that I didn't have anything to bring so I raided the Whole Foods salad bar 😉
I finally tried my hand at a homemade lettuce wrapped sandwich! It was SO good, you guys! Totally will make again but I will do a couple of things differently next time:
Put less "stuff" in it – I went a little crazy and so it was pretty tricky to roll and eat
Use regular green or red leaf lettuce instead of romaine – I did like how it held up, but the bottom part of the lettuce leaf was a little much to eat along with all the fillings. Maybe it would work if I put less ingredients inside? The experiment continues 😉
I followed the instructions in Danielle Walker's new cookbook Eat What You Love (which I'm totes OBSESSED with!) for her AAGwich (against-all-grain-wich). She also has instructions / a tutorial video online that you can check out HERE if you want to try making one.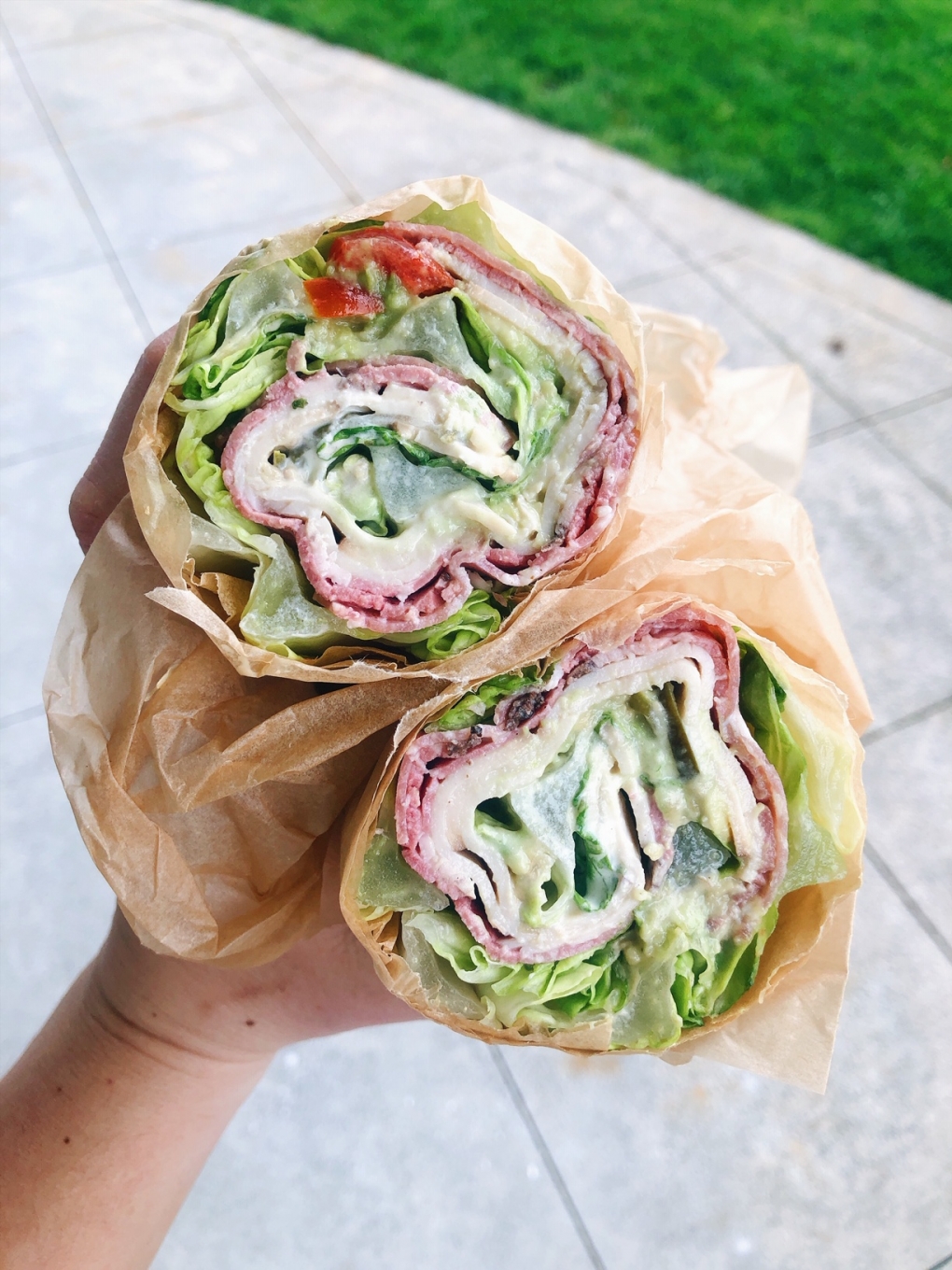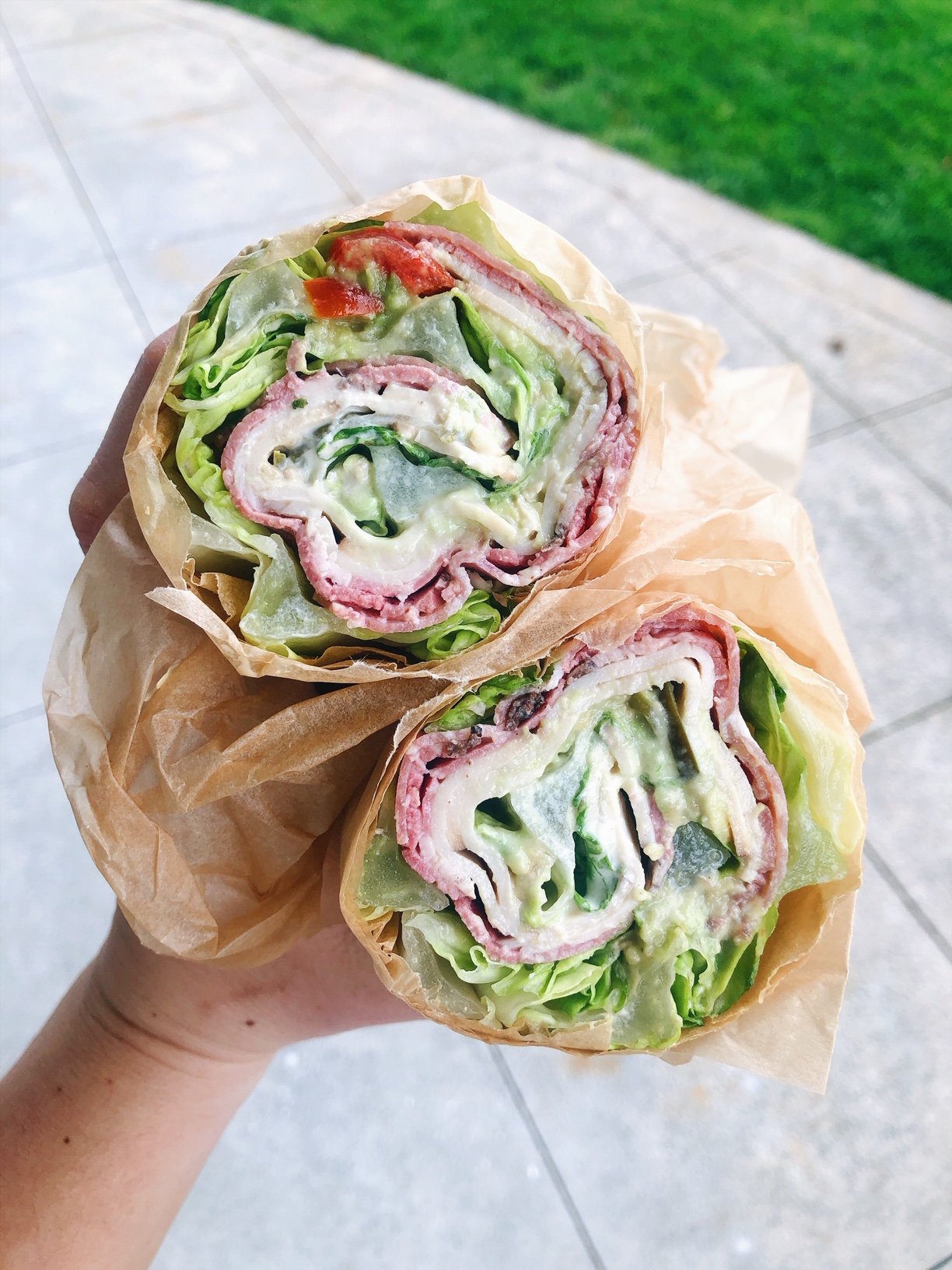 I made some quick chicken salad with my homemade mayo from the post that went up this week. It's the best mayo ever and literally takes 5 minutes to make! Here's a link to my recipe for Easy Homemade Avocado Oil Mayo if you want to check it out.
The chicken salad also has:
Mustard
Celery
Red onion
Parsley
Salt + pepper
Scoop some in a glass jar and stick a couple celery sticks in there for an easy on-the-go lunch!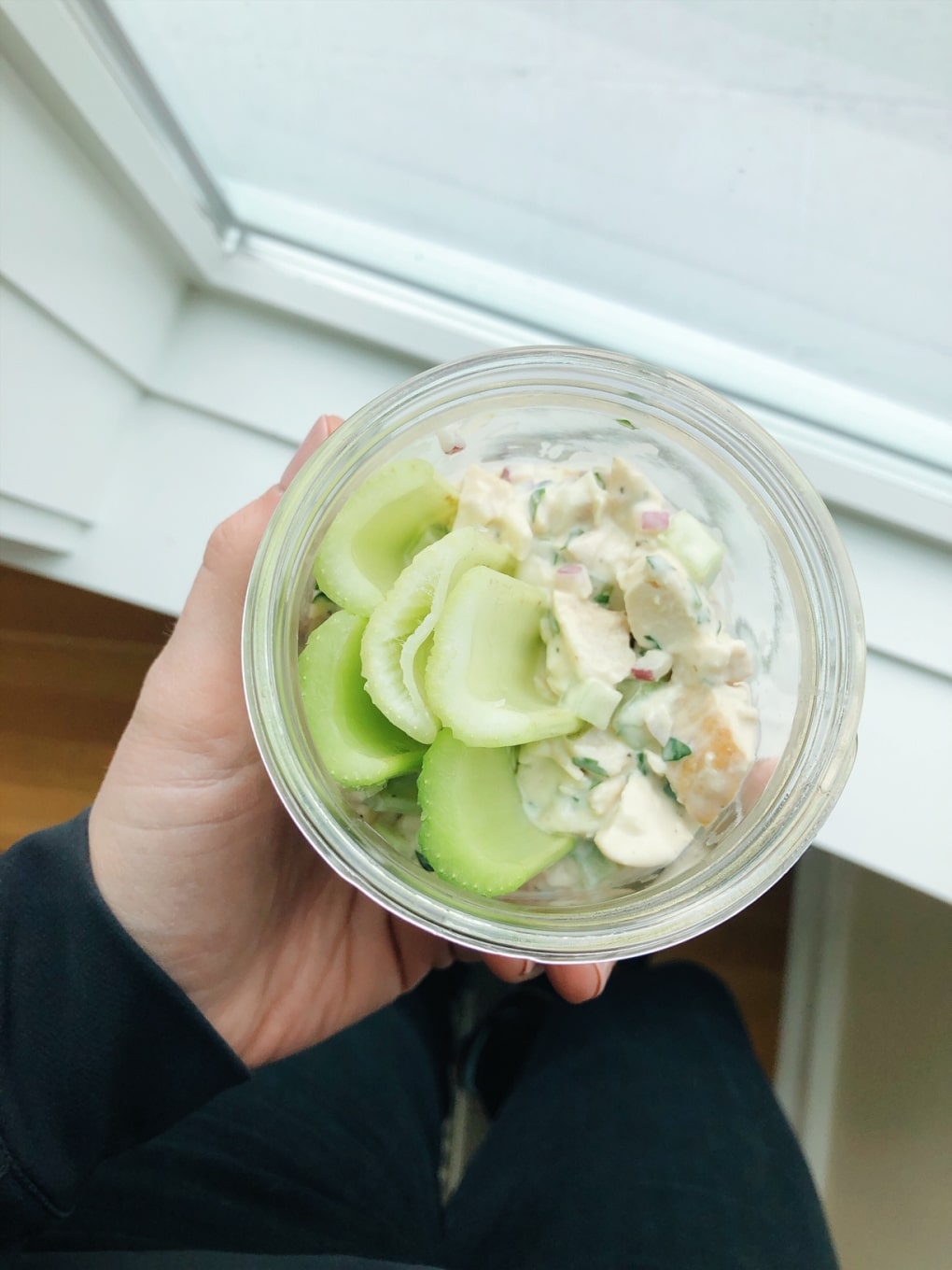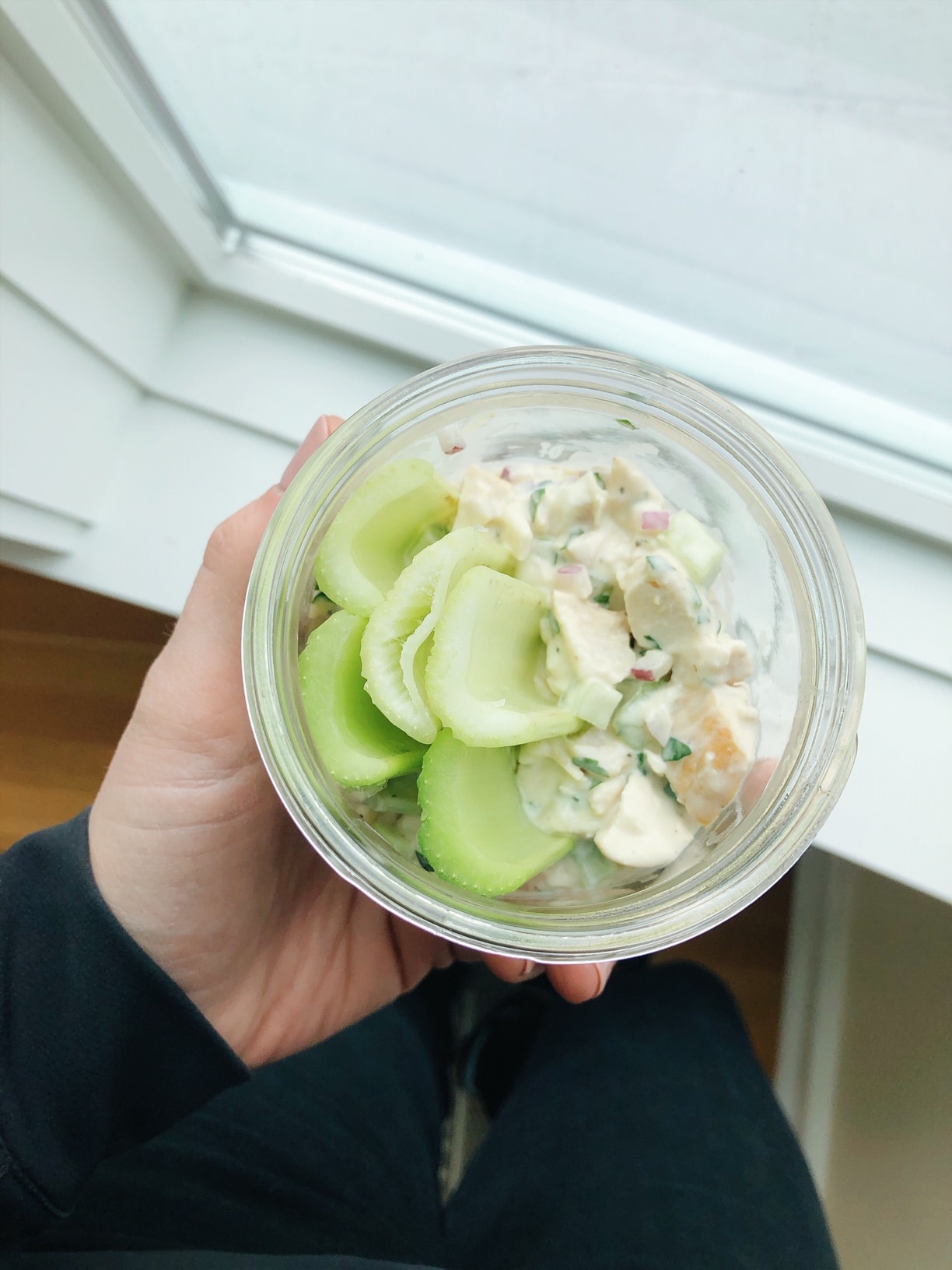 These ground beef and cauliflower rice stuffed roasted red peppers were a recipe I tested for the blog. They turned out great but I need to dial in the recipe a little bit! Flavors were awesome but I didn't get the measurements down accurately, and the proportions were off. Putting it on the back burner for now because I have a lot of other content planned for the next 6 weeks but I'm going to re-visit this one!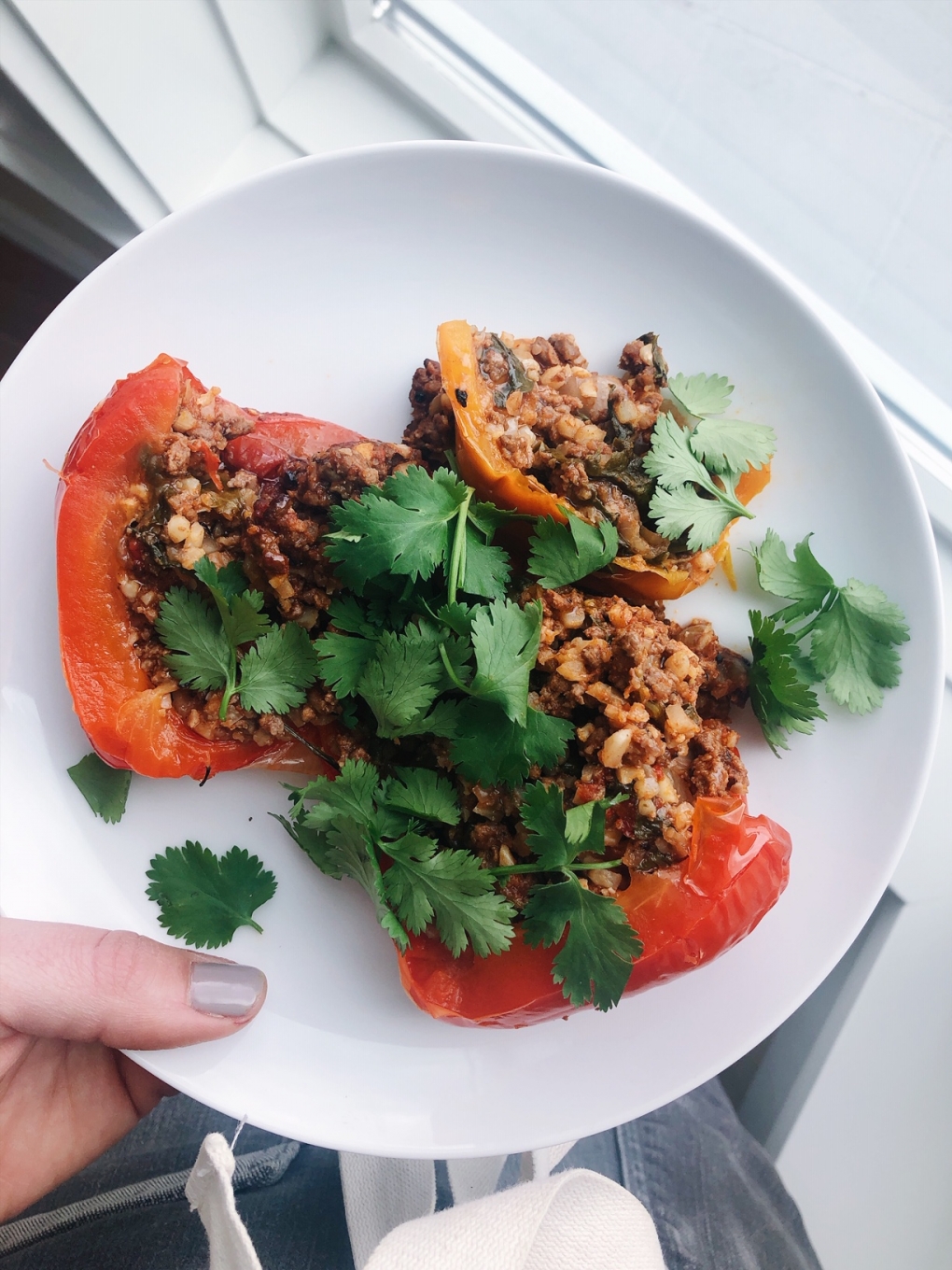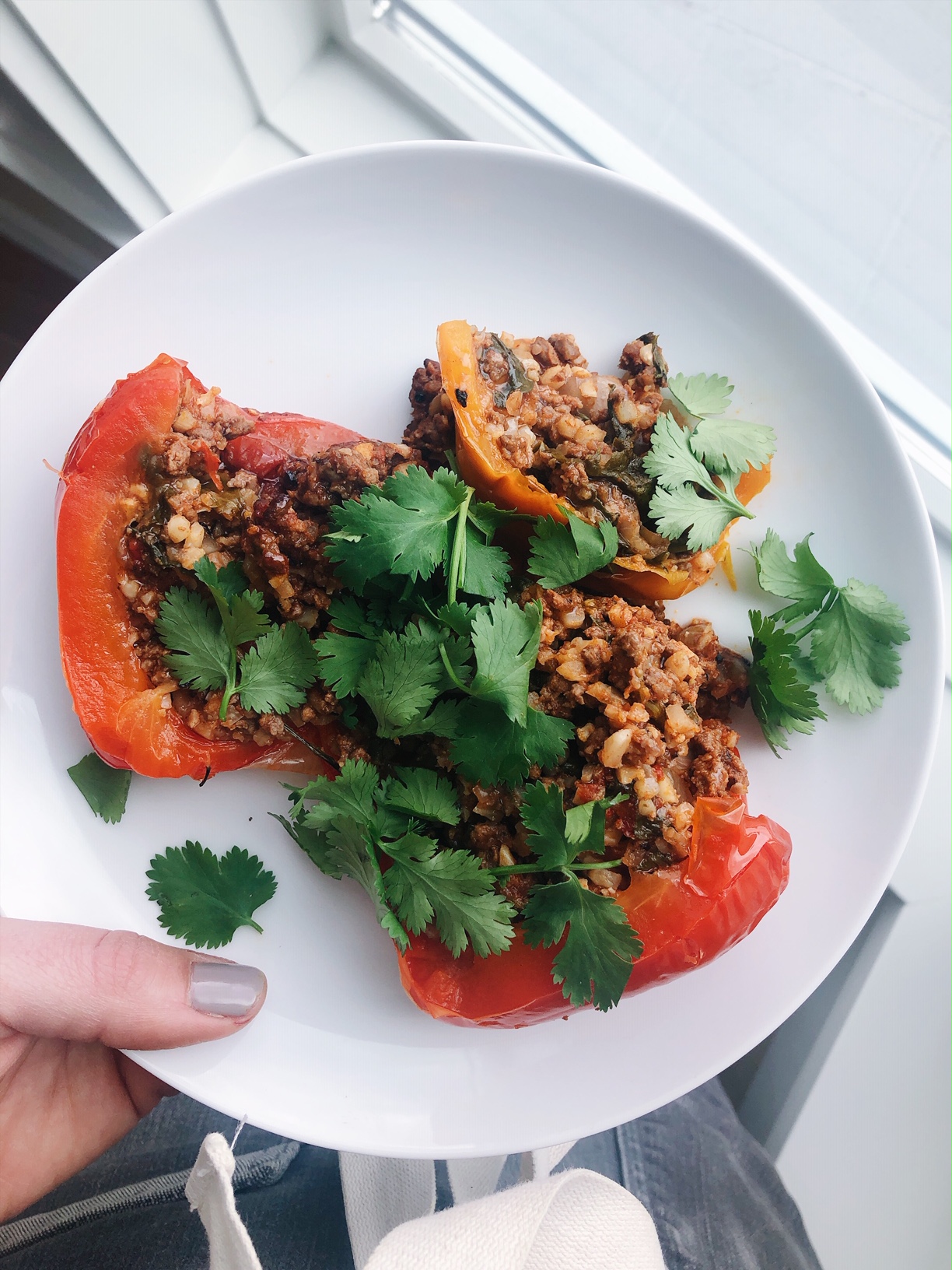 One day I ran out the door without having time to pack a lunch, so I grabbed a salad at the Whole Foods salad bar.
What I put in my salad:
Lots of greens
Celery
Red onion
Red cabbage
Beets
Sunflower seeds
Chicken
Added some avocado from one I bought
Dressed with a drizzle of red wine vinegar + olive oil + salt + pepper
dinner
Somehow I only managed to grab one dinner pic this week! Once I get into the habit of writing these posts I'll remember to do it more often.
BUT if I was going to share only one dinner with you from last week it would be this one – so at least I nailed that!
I was craving scallops, prawns, and creamed spinach like crazy (weird I know, but I just couldn't shake the craving!)
So I splurged on some big fat scallops along with a couple of prawns and some sugar free (whole30 friendly!) bacon.
I chopped up the bacon and fried it in the pan until just barely crisp. Took the bacon out of the pan and set it aside. Seasoned the seafood with plenty of salt and pepper and seared it in the bacon grease in batches until golden brown. Moved it to a plate in the warmed oven while I made the creamed spinach.
For the creamed spinach I made a cream sauce with dairy free cream cheese thinned with almond milk and seasoned with salt and pepper in the same pan that I cooked the seafood and bacon. That's it! So easy and so delicious. Once it was the right consistency + seasoned well I wilted a whole container of baby spinach in the sauce and added the bacon back to the mix, saving a little bit to sprinkle over the top of the dish.
I might have to turn this one into a blog post it was so good!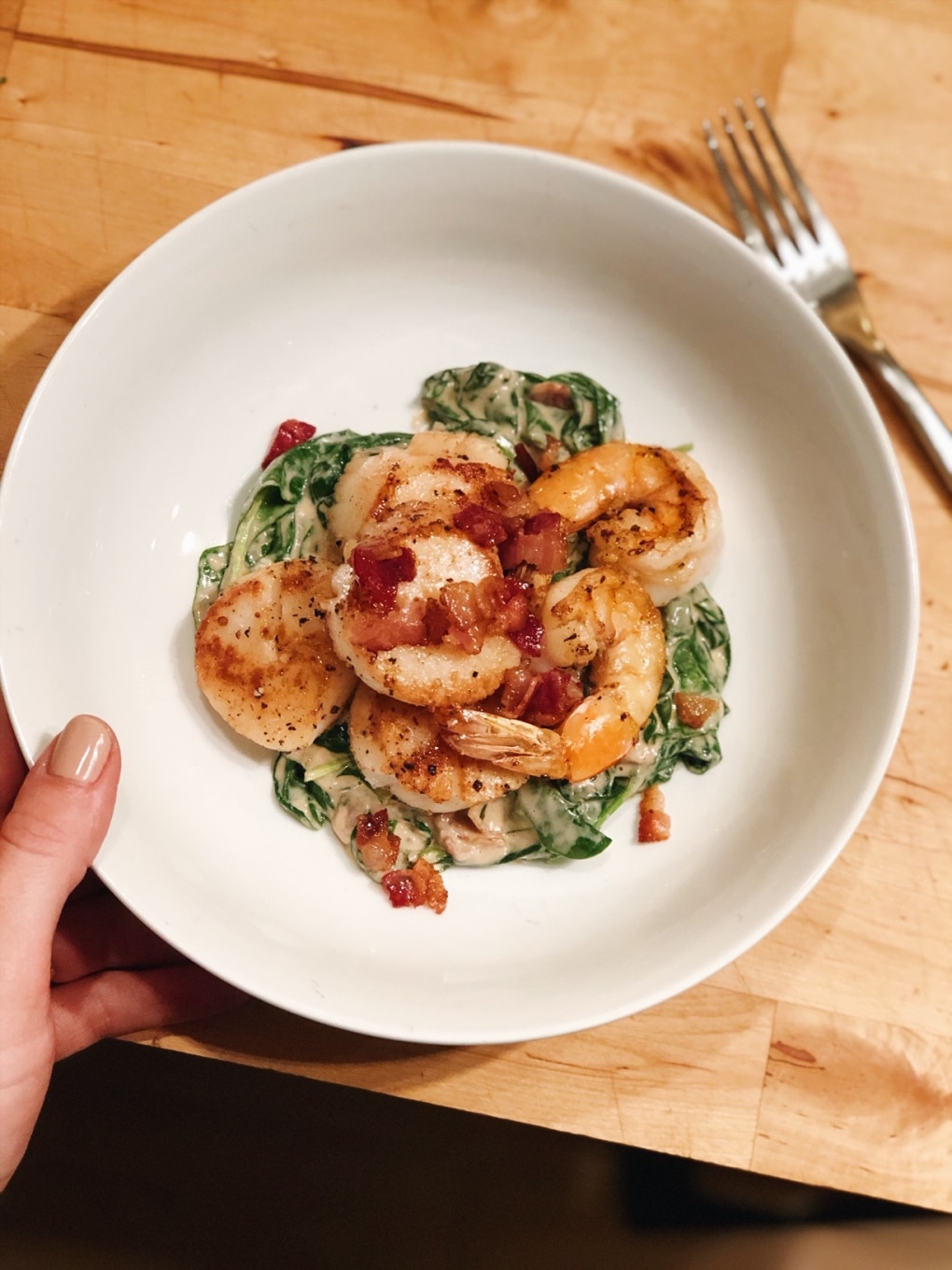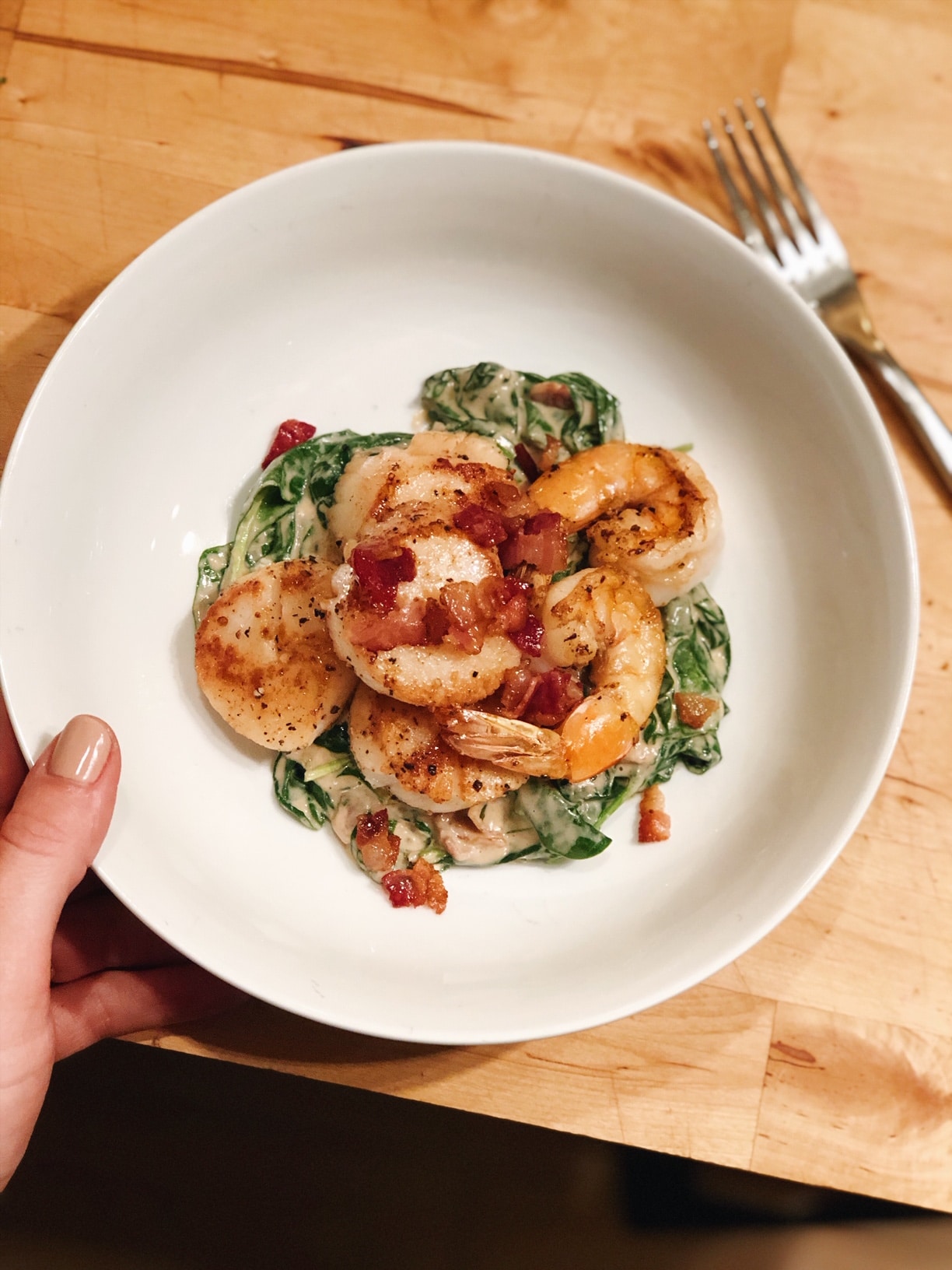 snacks
I love snacks so much! Who doesn't, really? These are some healthy Whole30 snacks that I ate this week.
Since I read What Molly Made's post about seed cycling I've been including her advice in my daily routine! Some days I add the seeds to my smoothie, or sprinkle them over my salad, and other days I eat them with some nut butter (+ flaky sea salt!) and sliced apple like she recommends. Ideally the sesame seeds would be ground so your body has easy access to the oils, but I haven't had time to do that yet. Next week I plan to make a batch of the seeds that need to be ground when I do my meal prep for the week!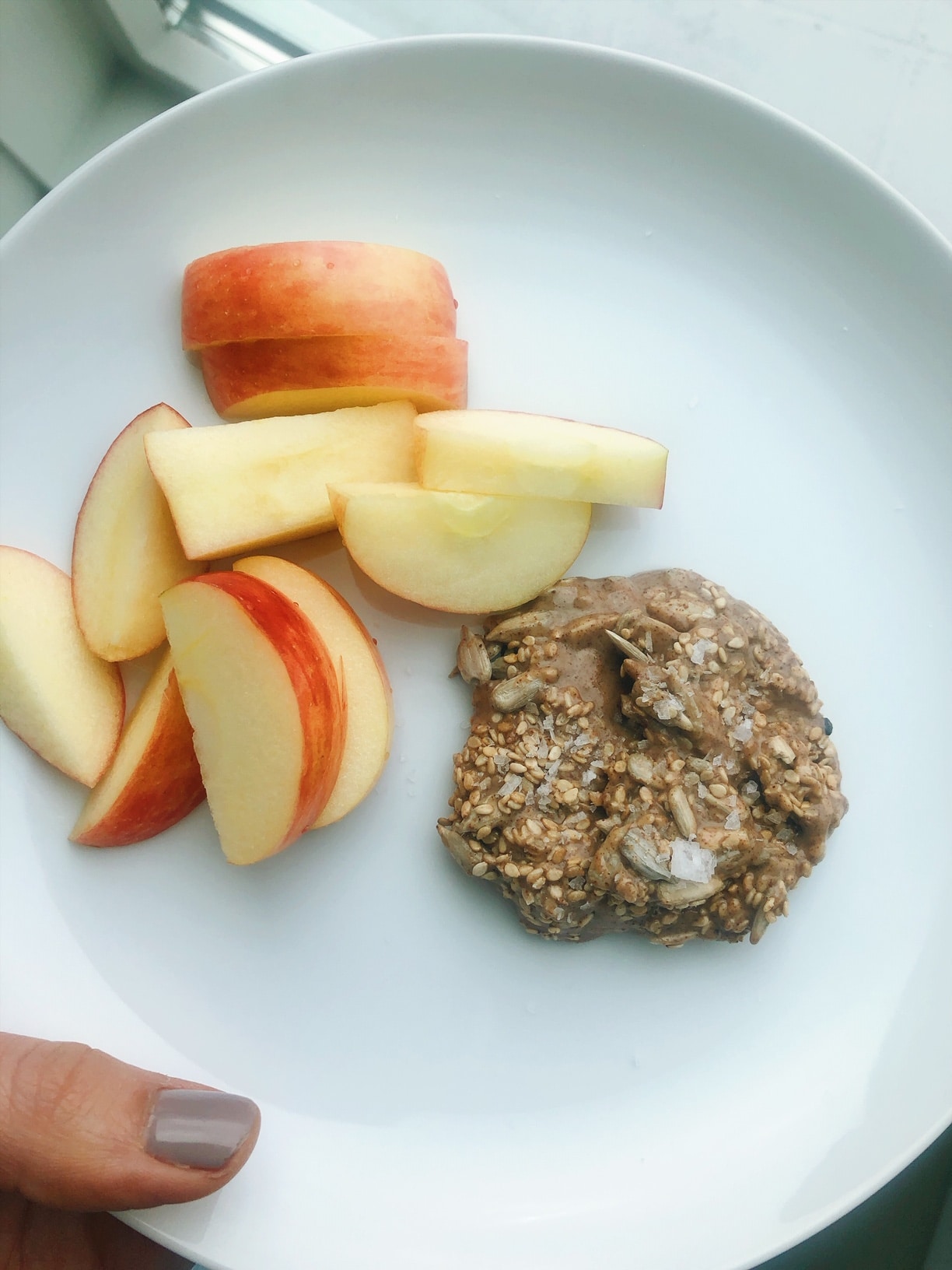 It was the week of jars!
This is a jar with roasted cauliflower hummus and veggie sticks. This recipe is coming to the blog in the next week or so and I can't wait to share it with you! It's Whole30 friendly, paleo, and vegan! If you love cauliflower you HAVE to try it.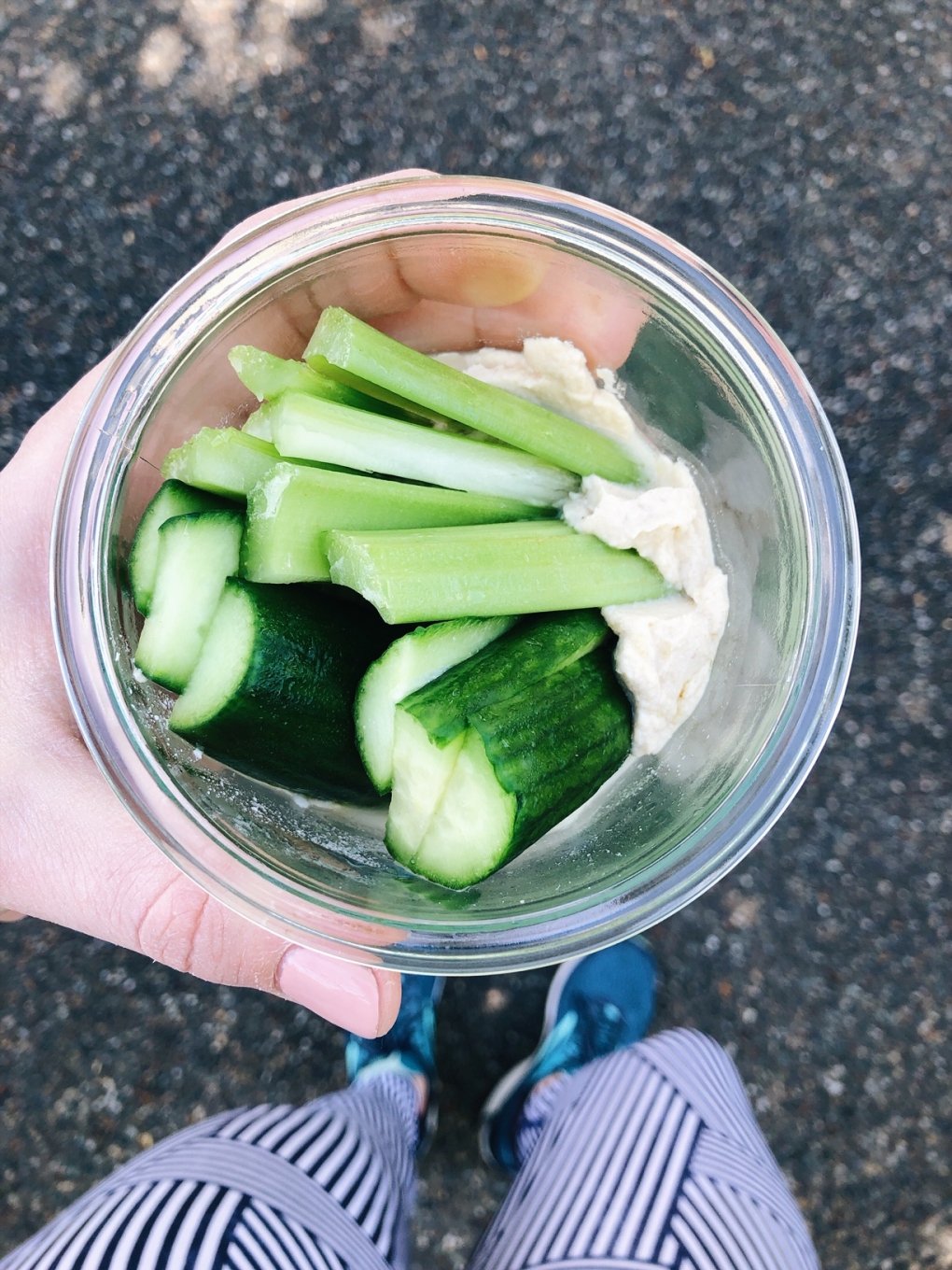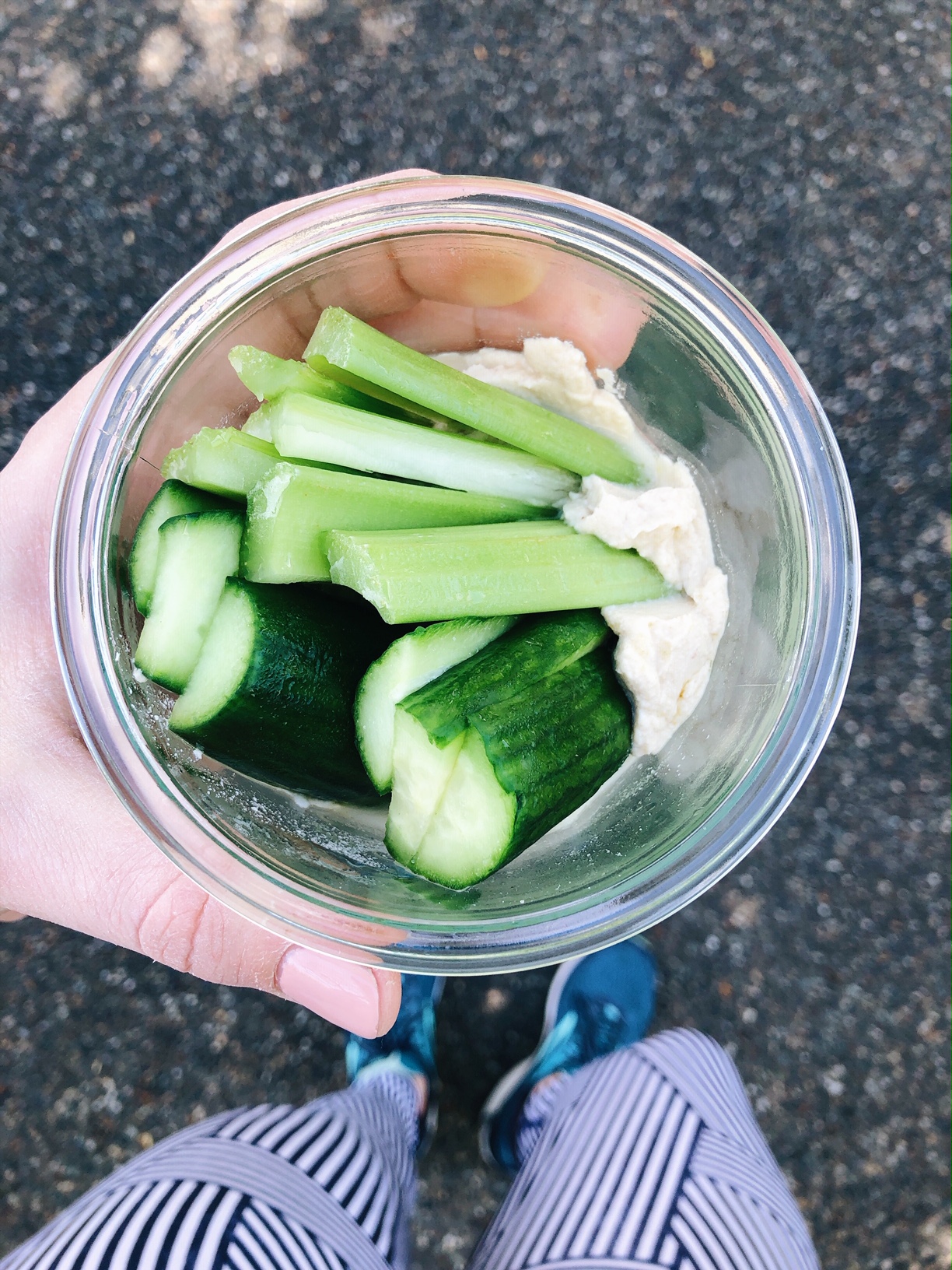 And that's a wrap babes! I hope that you enjoyed reading the very first edition of this little series. If you did be sure to leave me a comment below. You can also let me know if there's anything more you would like me to touch on in these posts!
XO