Are you guys ready for this insanely delicious spicy watermelon salad with cilantro and lime!? It's spicy, sweet, a little bit salty and doused in a super lime-y dressing for the ultimate watermelon salad experience – refreshing and FULL of summer flavor!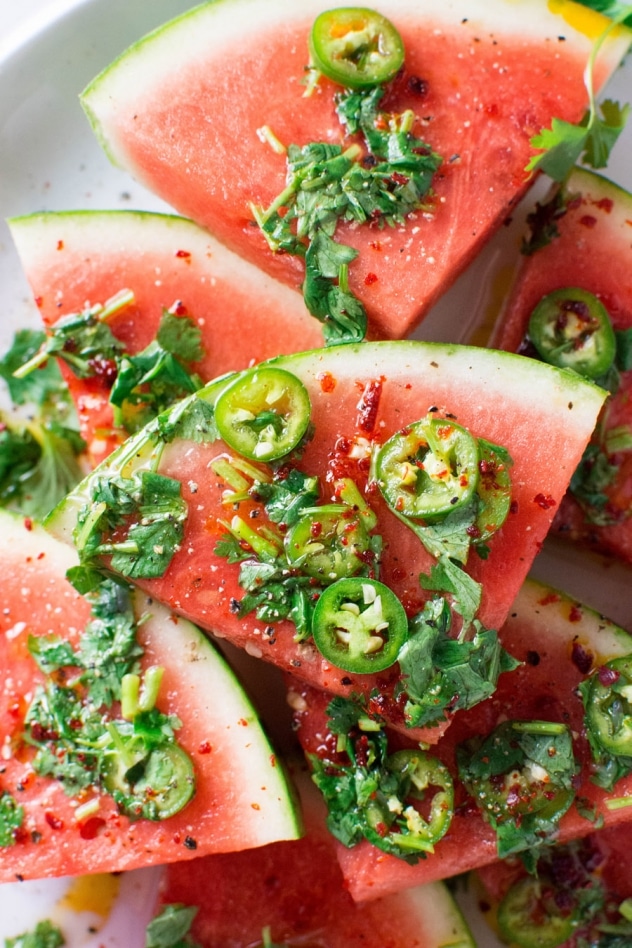 To be honest, I almost didn't share this post. Not because the recipe isn't good enough, but because.. the pictures. So silly, I know. But I'm a perfectionist (that Virgo + Scorpio astrology combo is a doozy 😁) And the light just wasn't very good, and I didn't get "the shot" I wanted, but after I posted a picture of this spicy watermelon salad with cilantro and lime on Instagram and you guys went crazy for it, I thought, well now I HAVE to share it with you. Because it really is delicious. And I can just gonna put that little voice in my head that keeps saying the pictures aren't good enough to the side and get to the good stuff.
Because this recipe, you guys, is the good stuff. And I kind of feel like I have this unofficial contract with you to share the best of the best with you.
So here we go 😉