Mexican roasted cauliflower might just become your new favorite veggie side dish. Cauliflower florets tossed with some flavorful spices and roasted until crispy and caramelized, served with a healthy squeeze of lime juice, cilantro, red onion, and maybe even some avocado for good measure. Gluten free, paleo, vegan, AND whole30 friendly!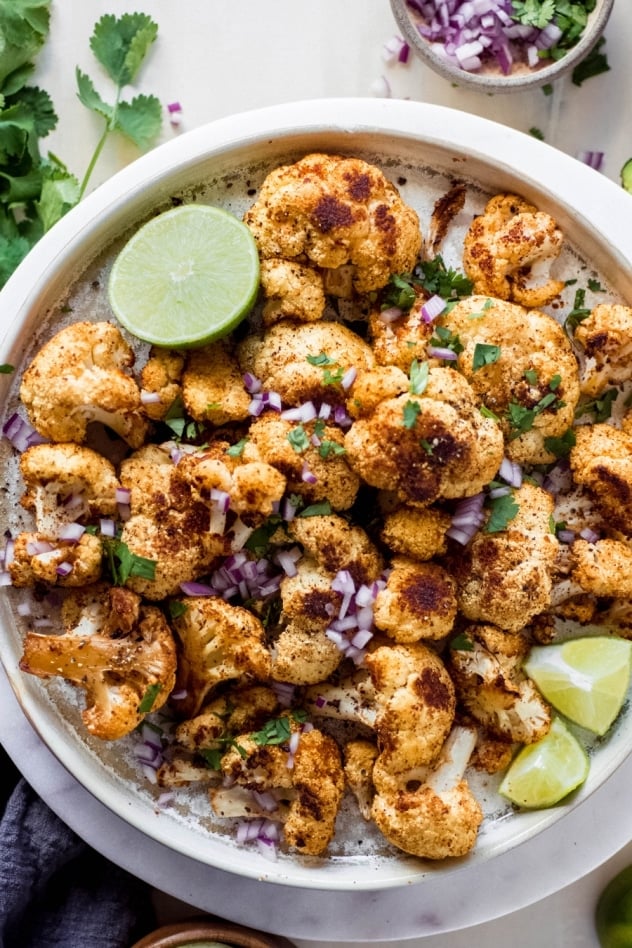 I don't know about you guys, but if you're anything like me, you go crazy for just about any roasted vegetable. And roasted cauliflower has always been on the top of my list. There's something about the way it gets all crispy, tender, sweet, and salty at the same time that makes it straight up IRRESISTIBLE to dig into.
When roasting cauliflower I usually go for the classic combo of avocado oil with salt and pepper, just because it's easy and also totally freaking delicious. I have definitely been known to roast and devour a whole head of cauliflower solo style, but sometimes dinner deserves to be made a little more special by stepping the flavor up a notch (or two!).
This mexican roasted cauliflower does exactly that. By adding just a few little extra spices and garnishes you take a side dish that is already pretty much the best thing ever to the next level of DELICIOUS.
AKA –> craaaaazy delicious.