When you're on your tenth watermelon of the summer, you start to get reaaaally creative with different ways to use it! You'll see a couple of watermelon recipes coming up on the blog for that very reason. The first of which, is this creamy watermelon chia seed pudding!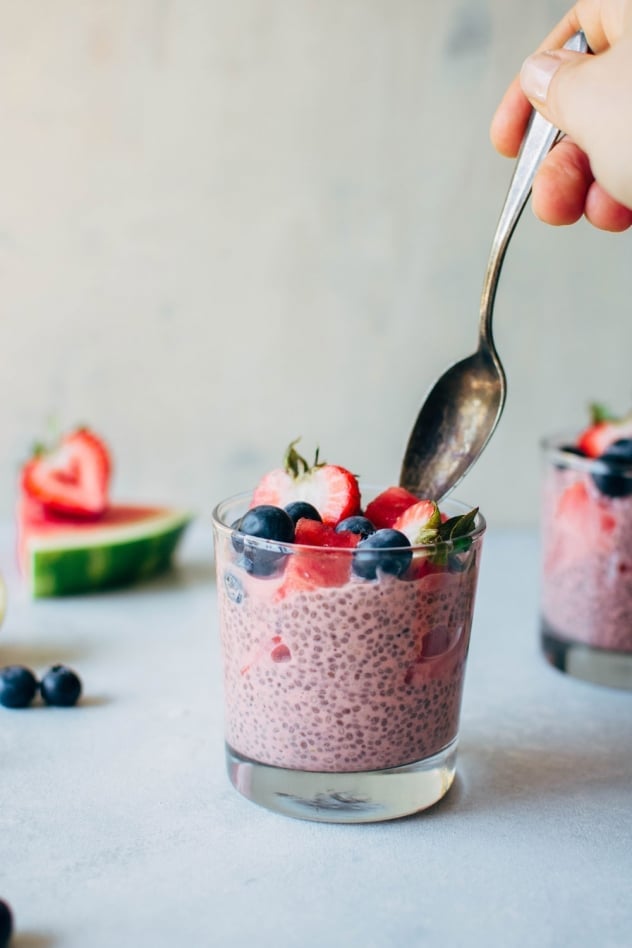 Creamy watermelon chia seed pudding? Sounds a little… strange, right? It sounded pretty strange to me at first, too. So strange that even though the recipe came out perfectly on my first round of testing, I had to make it two more times just to be sure that I wasn't making up the fact that it was DELICIOUS.
I actually kind of had to convince myself that this was a good idea. And now, I do believe it's my job to convince YOU that's it a good idea, too 🙂
The base for the chia seed pudding starts by blending together fresh cut pieces of juicy watermelon, greek yogurt (Stay with me here. You can also sub in coconut yogurt for a dairy free option), lemon juice, and a little maple syrup to gently sweeten things up. The chia seeds are whisked in, and once their plumped up, the pudding is layered into little cups with fresh berries, and more juicy watermelon.
How am I doing on the convincing so far? 😉