This ultimate summer gazpacho recipe is everything you could ever want from gazpacho. Bursting with flavor and full of wholesome ingredients. The perfect chilled summertime soup that highlights the best produce of the season. Super ripe heirloom tomatoes make it notably special, and a variety of other in-season vegetables like cucumber, peppers and red onions add an impressive depth of flavor. Plus – this version is made without bread! Which makes it paleo, vegan, and whole30 friendly! It is a summer dream come true.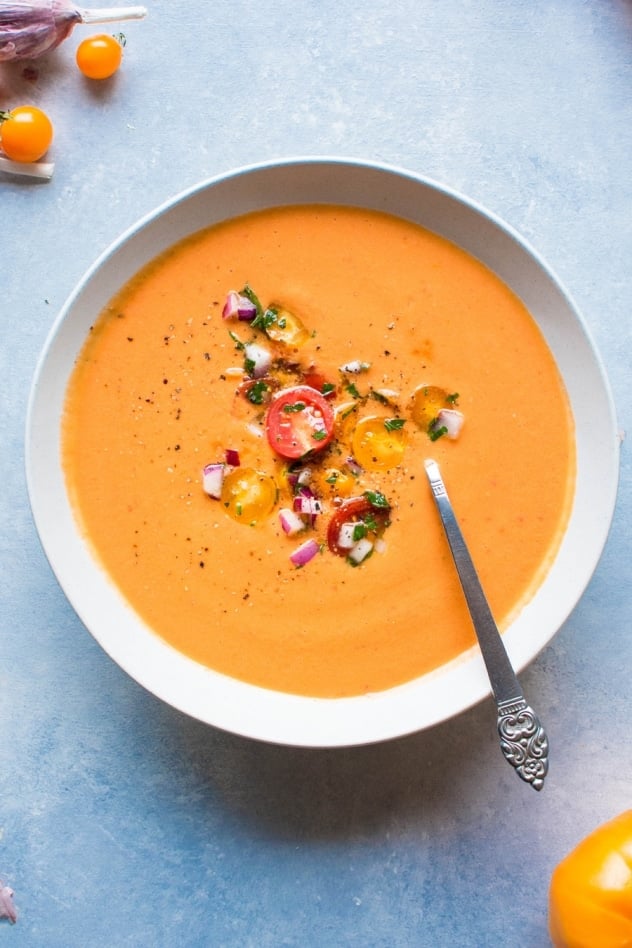 I never even liked gazpacho until I ordered it in Seville, Spain about 7 years ago. Likely story, I know. But it's true! 
I just feel like there's so many not-so-good versions of this soup – and when it's bad, it's really bad. But apparently, when it's good, it's also really really good 😉.
I was in a little restaurant in the streets of Sevilla – and being in Spain, I felt like I had to at least try some gazpacho. And then I fell in love, finding out just how GOOD it could be when it was made right.
So when we finished our meal with this most epic gazpacho, we had to ask for some clues as to how they made it. Our waiter smirked – I'm sure because he'd been asked this question hundreds of times before by tourists, AND because I'm also pretty sure this was the type of place that doesn't really HAVE recipes. But even though there were no direct measurements or instructions given, he did tell us what the ingredients were, and so I held on to that information and the sublime taste in my memory like my life depended on it.