Hey guys! Back again with August's guest blog post over at Bitte, a small batch and artisan children's online store that offers clothing and toys that are unique and built to last. Run by mother and daughter duo, Maia McDonald Smith and Sara McDonald, their store and blog embody many similar values as Nyssa's Kitchen, and I'm thrilled to be connecting with their audience. I'm also incredibly excited for you to explore their beautiful and sustainable goods – their shop is always the first place I look for gifts for little ones, and I think you'll see why when you check them out!
Today I'll be sharing a recipe for oven baked sweet potato chips with dairy free ranch dip.. Continue reading for the first part of the post, and then click the link below to get the full recipe on their blog!
---
Anyone else always game for a new and healthy make at home snack? If so, this post for oven baked sweet potato chips with dairy free ranch dip is made for YOU!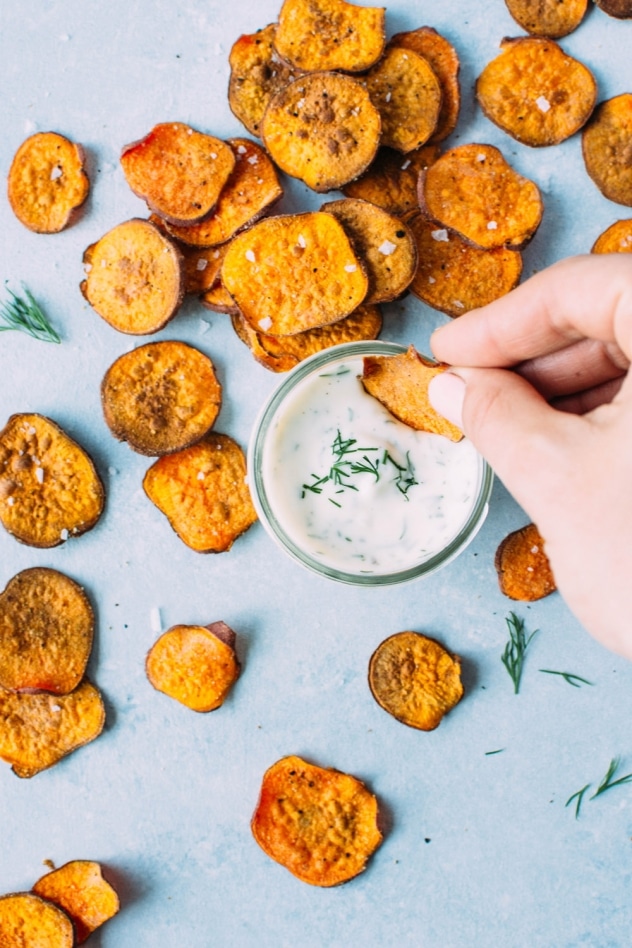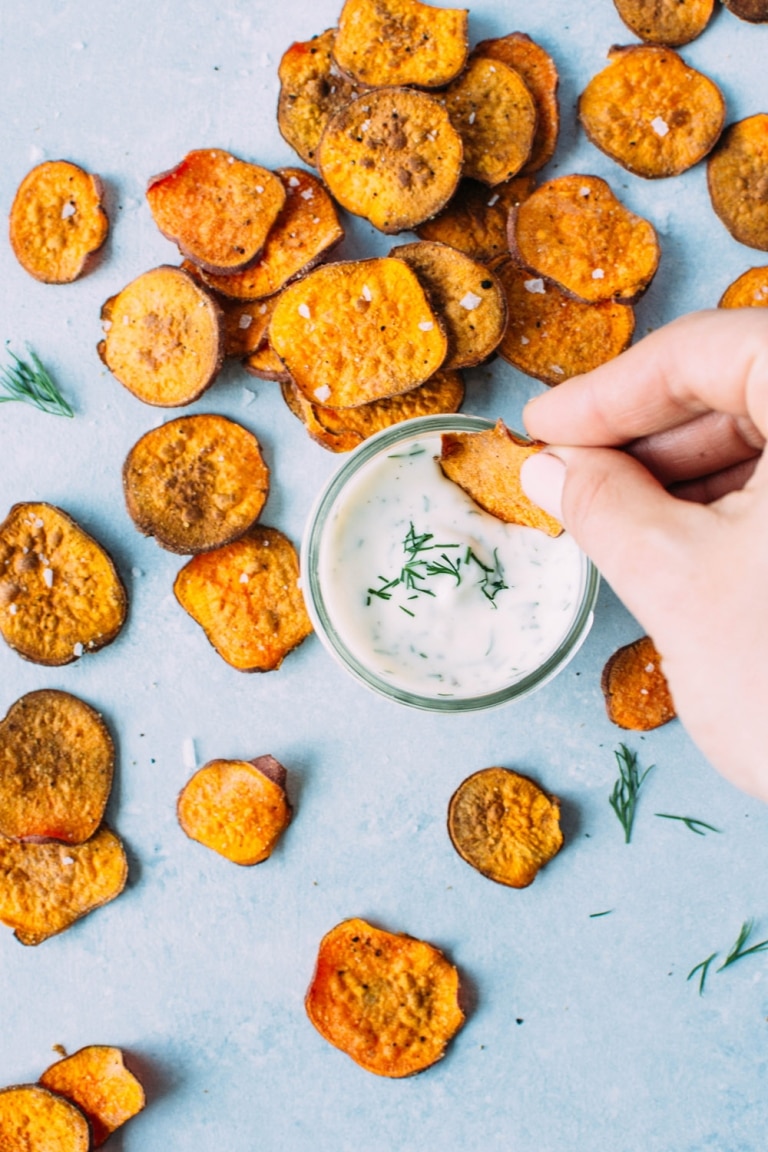 I will be the first to admit that I have something of an addiction to chips. Yep. They are definitely what I would consider to be my "snack vice".
One of those things that you just don't keep in the house unless you're prepared for the inevitable gravitational pull to the cupboard. I have switched gears over the last several years to a more (ahem) "healthier" variety –  if you can actually ever call chips that. Think red and purple potatoes fried in either avocado or coconut oil – thus avoiding all the junky oils that chips are usually fried in. Not to mention all the other no bueno ingredients that are in all the bags that line an ENTIRE AISLE at the grocery store. Guess I'm not the only one with a weak spot for the crunchy salty fix.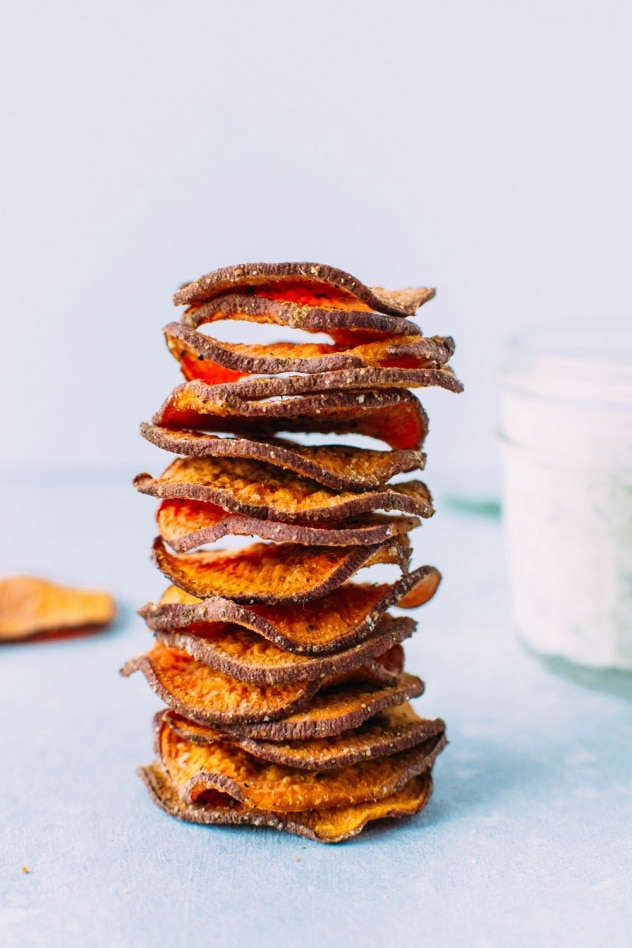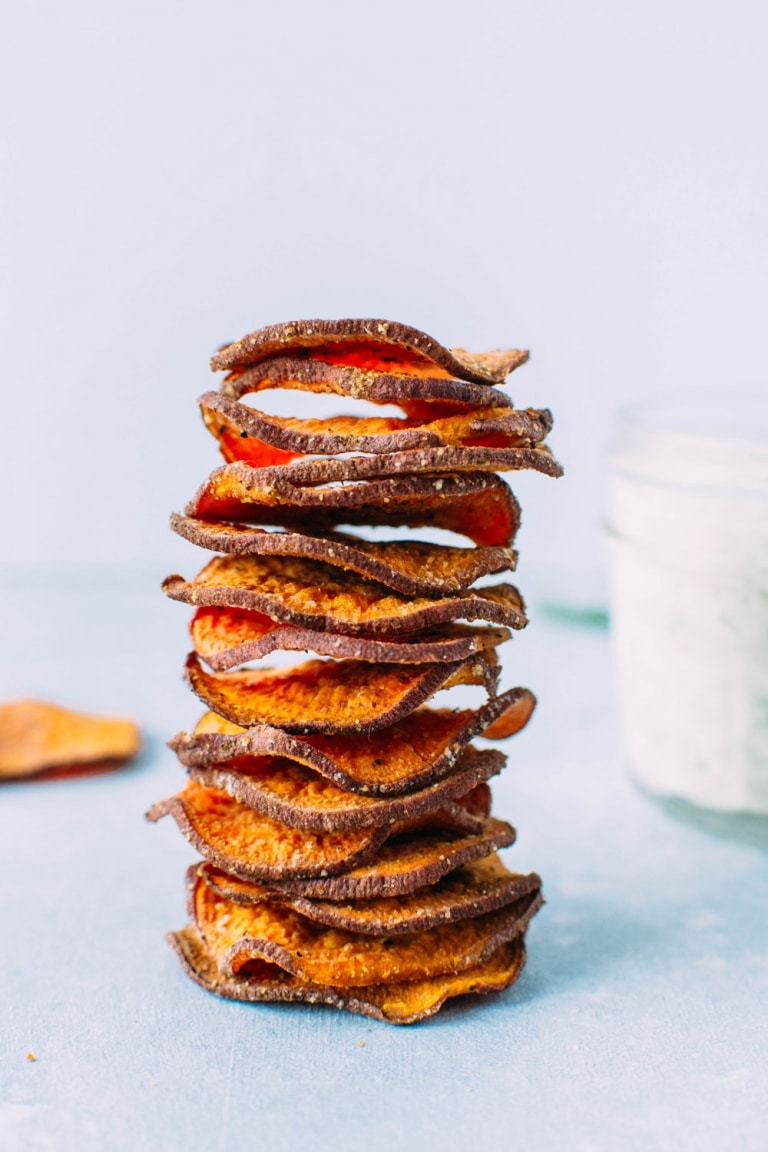 On one recent trip to the store while I was reaching for my favorite bag of avocado oil chips, I heard a quote from Michael Pollan's book "Food Rules: An Eater's Manual" running through my head – "Eat all the junk food you want as long as you cook it yourself."
Which, when you think about it really is a brilliant way of allowing you and your family to indulge in some of the treats you love, by making healthier versions of them, and without getting sucked into the convenience of these foods that are so prevalent in our food culture. 
So with this philosophy in mind, I decided to forgo the packaged chip purchase and instead continue my pursuit of anti-oxidant rich, anti-inflammatory, blood sugar regulating, crispy sweet potato GOODNESS. 
I knew from past experience that achieving crispy sweet potato nirvana is not an easy task. But sometimes, when things don't turn out right the first time, you just have to research, try again (and again… and again… ) until you find success. 
Oven baked sweet potato chips are definitely worth getting right.