Ohhh hi guys!!! I'm back with another tasty snack recipe for you today! Why is this so exciting? Because I'm a firm believer that the world could always use another tasty snack. A snack so good that it forces you stop doing whatever it is you're doing and pay attention to all the happy things that are happening on your taste buds. These tasty spiced snack nuts are 100% that snack.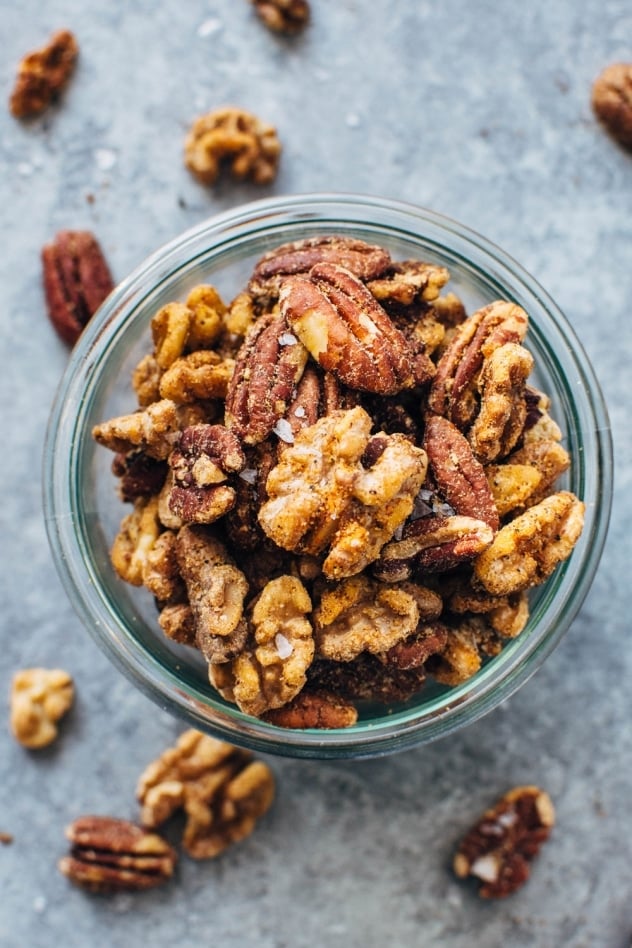 I feel like this time of year there's just so many opportunities for delicious snacks. There's football games, movies nights (👋🏼 4:30 pm sunset!), Thanksgiving, Christmas, games nights, potlucks, etc etc etc.
We are officially in snacking season. Also known as I'm going to need to amp up my yoga routine season 😂 But really, I have no guilt about enjoying clean and tasty snacks. Snacks that really give you that moment of pure chill + bliss and FEEL indulgent without actually having a lot of junky ingredients in them.
I actually decided to create this simple little recipe for these snacking nuts after developing something of an addiction to some spiced nuts from the bulk foods section at our natural food store. They are seriously so good and it got to the point where I couldn't walk out without a little bag of them for my drive home, even if I already had some at home from my last shopping trip 🙄
The ingredients were not so totally horrible, but there were a few extra things in there that I'm not always too keen on including in my diet – canola oil and maltodextrin being the two main ones (WHY IS PROCESSED CORN IN EVERYTHING?!)
So I decided to give roasting + spicing my own nuts a try, and they turned out EVEN BETTER than the grocery store version. Boy byeeeeeee.