Guys! Seattle is still sitting RIGHT on the middle of the fence with this whole nice weather business. My solution? Gingered pork soup with green spring vegetables and szechuan broth! It's the perfect way to warm up AND indulge in some of the new spring vegetables that are making their way into our markets. Because what's the fun of resisting new spring veggies just because the weather isn't exactly cooperating?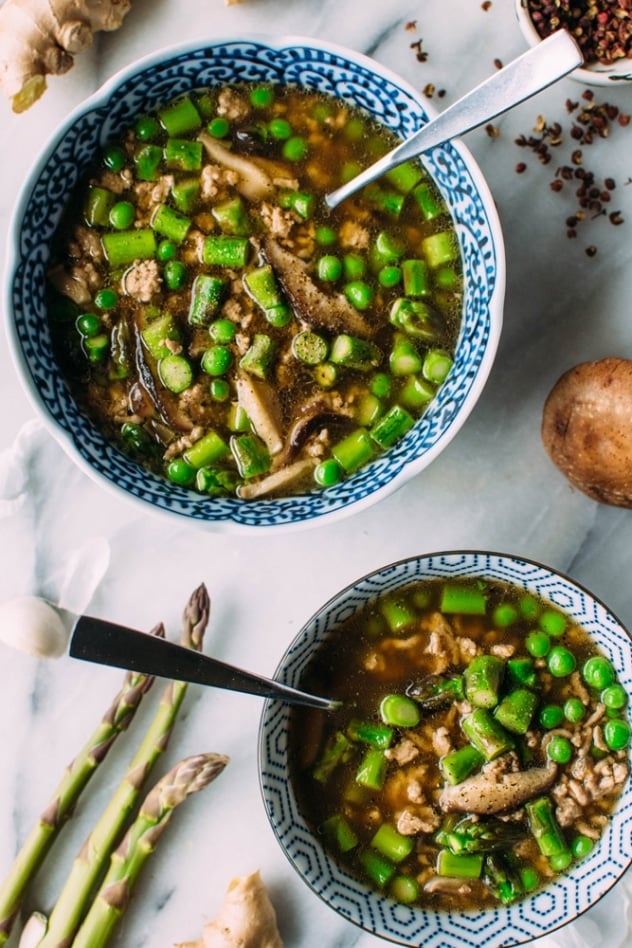 Full disclosure here.. I'm totally obsessed with this soup and I'm not even sorry about it.
It's a brothy, umami rich, green spring vegetable loaded bowl of goodness and I'm reaaaally excited to be sharing the recipe with you guys! I made this for the first time a while ago.. and just re-made it again right before I left for the Everything Food conference. It didn't all get eaten before I left so I tucked a container into the freezer so I would have a healthy meal to come home to when I got back. And while I wouldn't recommend freezing it (the veggies got a little soft and turned a weird green color) I still happily ate it when I returned 🙂
It's that good.