Being from the midwest, green bean casserole was always a very big part of our Thanksgiving spread. Right up there with my grandma's famous layered raspberry jello whipped cream dessert 😉 Okay, so the times have changed and what fills our plates on Thanksgiving has changed with it, but there are some dishes that I refuse to say goodbye to. And so, healthier paleo-friendly and vegan versions are made! Top of that list? This grain free paleo green bean casserole. It's insanely delicious, vegan friendly, and free of all the junky ingredients that are usually in this famous casserole.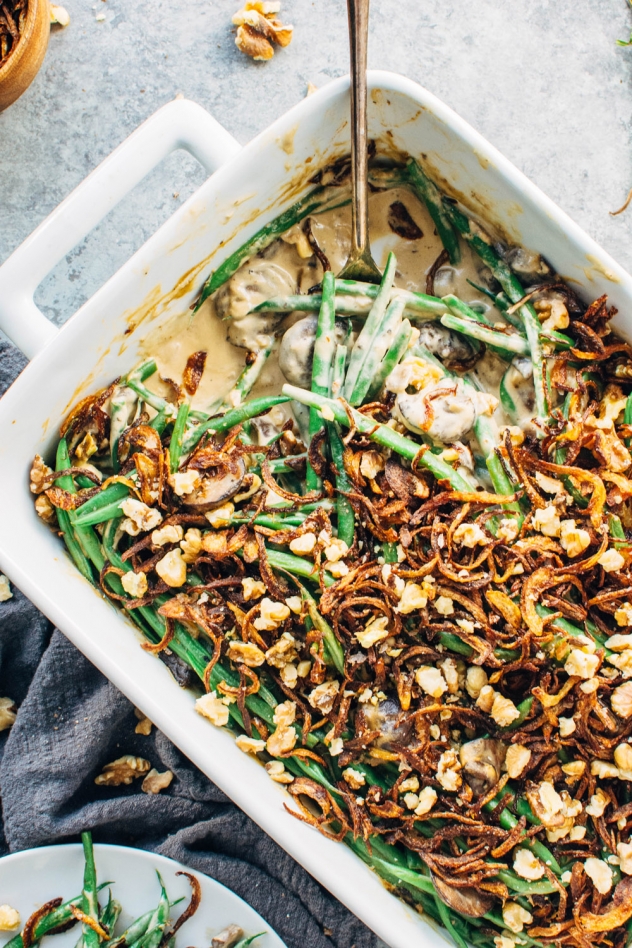 This was on last years menu as well, but I didn't have the recipe fully developed, and so I hung onto it just waiting for this year's festivities.
Green bean casserole can be a challenging casserole to make gluten free / paleo / vegan since most cream of mushroom soups (the standard base of green bean casserole) are thickened with cream and and flour. Not so paleo or vegan friendly…
But in the name of eating clean AND enjoying every minute of it I think it's worth re-working this classic dish. Especially during this time of year when the struggle to eat for you health and enjoy shared meals is so real.
This green bean casserole is here to tell you that you can both indulge in your favorite dishes and stay on track with your health and well-being