I'm a little embarrassed to admit how long I've had this simple recipe floating around my summer. Landing itself after workouts, for friend-loaded-out-of-state-brunches, and introducing it to tequila before YOU!! It's a shame, really. Not to mention the fact that the weather is already cooling down and we're all thinking more about sweaters and soup (ahem like me, who's going to be making one later today) than we are the necessity to cool the EF down IMMEDIATELY.
My timing may be a little off, but you'll have to accept my sincerest apology. Because all of these reasons aren't enough to keep my from introducing you to the summer beverage love of my life, – the watermelon strawberry quencher.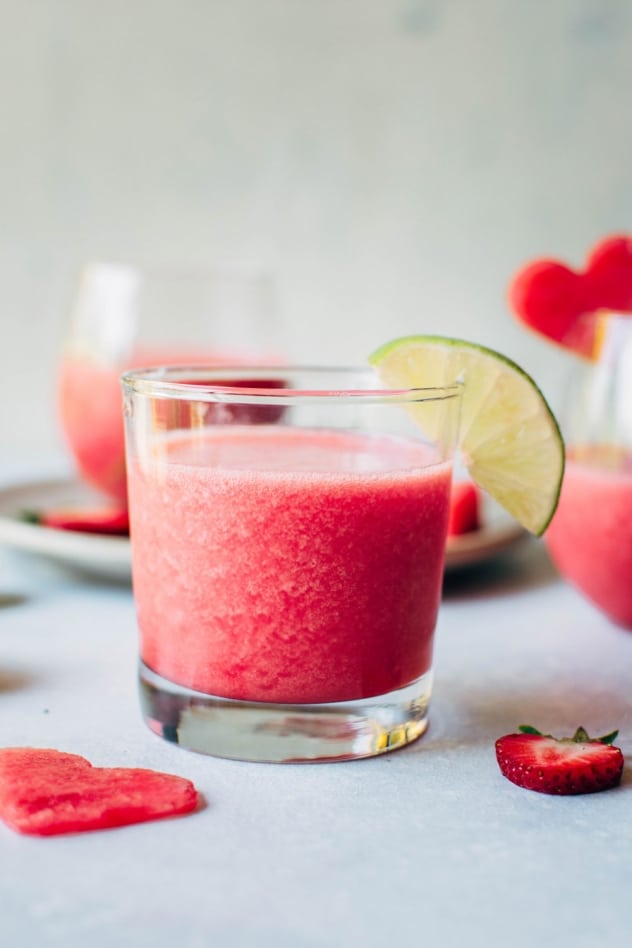 Literally a perfect summer drink – this watermelon strawberry quencher is icy cold, refreshing, hydrating, and sooo mega easy to make.
And has proved itself to be a hydration savior throughout the warmer months.
It got it's start, when for some reason I decided in the middle of Seattle's massive (for us, okay? Don't judge me!) heat wave, I took up RUNNING. Running, guys! This is kind of a big deal for me.
Cuz for as long as anyone has known me I have been the professed "I will never be a runner" .. and "it's just sooo boring" type of a lady. But then I discovered this awesome app called aaptiv, and things will never be the same. Hellllo endorphin high!
They create running, strength training, yoga and even meditation programs that are led by fitness professionals and backed with music to keep you motivated and up to speed. And with their help, running suddenly became… fun. Something I nevvvvver thought I would say. If you need a mix up in your exercise routine I definitely recommend checking them out.
And that's how in the midst of the heat and sweat the crazy in me thought… why not sweat some more?
LOL GOOD IDEA, NYSSA. Until your face is beet red and you can't stay hydrated to save your life.
At least not until you discover things like this watermelon strawberry quencher.
Also known as a icy blended beverage lovers dream.