Loves! Hello! This is the one last little recipe I want to get out to you before the day of gratitude and feasting begins, and it is a GOOD one. This is a recipe for all my side dish lovers out there. The one's who are into the vibrant colors of the season, and all the delicious flavors that exist on the other side of a hot oven. I see you and I'm here for you today with this recipe for roasted delicata squash stuffed with kale and maple cinnamon roasted mushrooms!
YESSSS.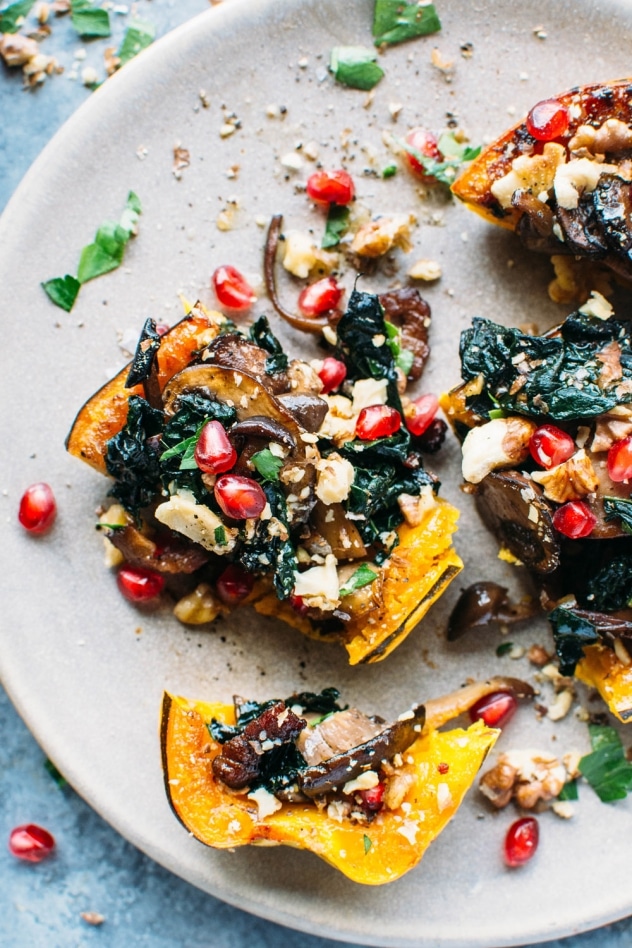 I know we're a bit last minute with the whole turkey day menu conversation (ahem), but I'm betting there's a least a few of you out there reading this still searching for that most delicious side dish to bring to the table.
Or maybe you're reading this after the whole turkey day thing, and just looking for a crazy delicious stuffed squash recipe.
Either way, you're in luck. Because this one, piled high with tender sautéed kale, maple cinnamon roasted mushrooms (YES!!), bacon (if that's your thing), and topped with bright and sweet pomegranate seeds and toasty walnuts in all it's colorful brilliance, is begging you to choose it!
If you listen closely, you might even hear the words…
(pick me! pick me!)