Summer is coming and that means allllll the loaded salad bowls! And we're kicking off the warm weather salad vibes with this gem right here – a loaded greek salad bowl with crispy chickpeas and creamy jalepeño dressing!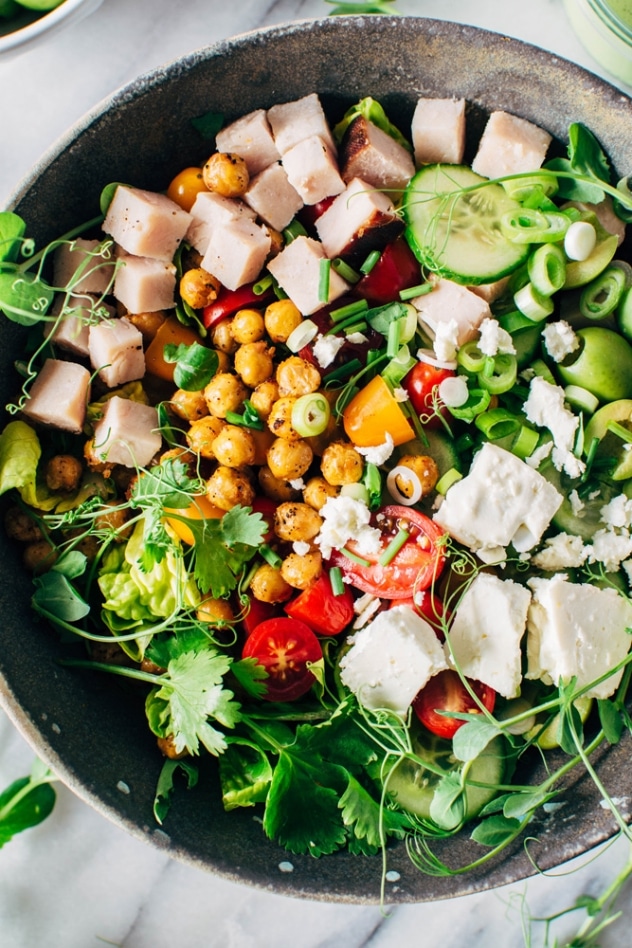 I first had the notion to put together a greek salad bowl during a lunch date with myself at Oddfellows Cafe here in Seattle. If you're ever in Seattle do yourself a favor and brunch, lunch or have dinner there! It's a great space with delicious food + and a wonderful drink selection.
They had a special running for a greek salad, and I sorta fell in love with it.
The weekend after that we were heading out to the coast to vacation on the beach for memorial day weekend with some friends of ours, and needed to plan all of our meals for the trip. I tried my hand at throwing together a loaded greek salad and it turned out so great. I knew with a couple more simple tweaks it was destined to be shared with you.
why you'll love this loaded greek salad bowl
It comes piled high with tender spicy greens, sweet tomatoes, briny and buttery casteltravano olives (these olives bring me to my KNEES!), fresh cucumbers, cubed smoked turkey for some protein, spiced crispy chickpeas, all the fresh herbs, green onions, and a little feta cheese to set it off IF that's your style.
And did I mention it's topped with a creamy jalepeño dressing ?🙂
I DIE.
This situation is pretty much salad heaven, you guys.
Definitely not a classic greek salad, but we've all probably had our fair share of that, right?