This super easy marinara sauce with ground beef is a healthy, short cut version of a classic full flavored meat sauce! Ready in 30 minutes FLAT for a healthy meal option that's gluten free, paleo, and whole30 friendly.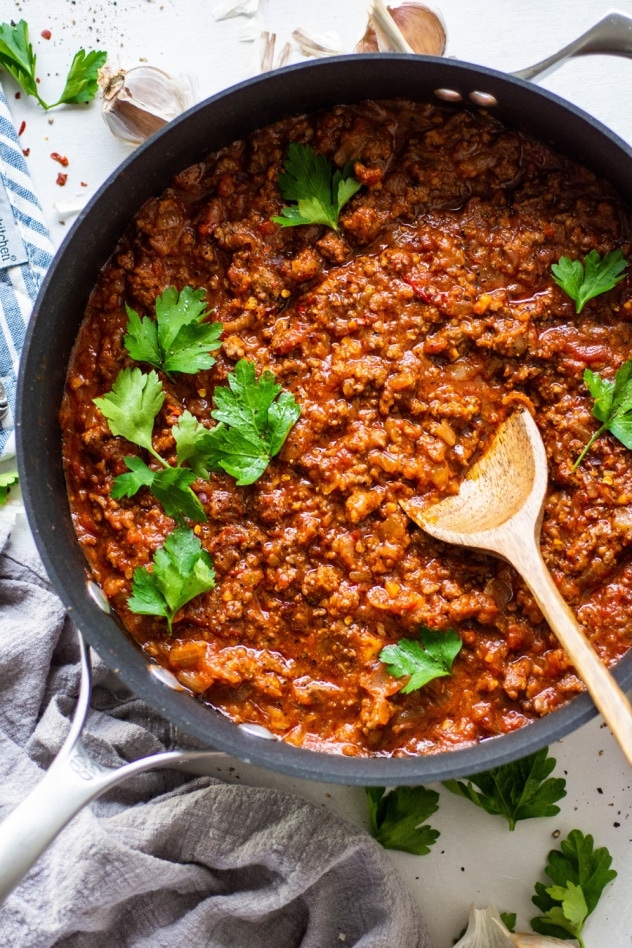 Hellloooo lover 😍 We are OBSESSED with this marinara sauce with ground beef you guys and I'm so excited to be sharing the recipe with you bc I think you're gonna be obsessed, too!
It's SO versatile, easy to make, and healthy, that it has quickly become a staple for our weeknight dinners around our house.
Not only a staple but something we seriously look forward to digging our forks into anytime it's "what's for dinner".
Lately I've been working to focus on sharing easy dinner / meal recipes for you here on Nyssa's Kitchen that you will love and make again and again. Because honestly what's better than healthy and crazy delicious food that is also EASY TO MAKE?! And I think this one falls into the trifecta of those three categories 💯
It is packed with comforting and homey flavors that can sometimes take waaaay too long to achieve in a home-cooked meal. But this flavorful sauce is ready in about 30 minutes flat, which gives you just enough time to prep what you're serving it with, toss together a simple green salad, and pop open a bottle of wine 😉
Basically this super easy marinara sauce with ground beef IS weeknight dinner goals (that also makes seriously crave-able lunch leftovers for the next day <– just sayin' 😉).
what should you eat this super easy marinara sauce with ground beef with?
There's so many options!
It's delicious paired with the obvious choice of GF pasta or ravioli, but is equally delicious served with:
Trader Joe's cauliflower gnocchi
With spiralized veggie noodles 
Over sautéed hearty greens 
On top of a roasted sweet potato
In a bowl with some fried eggs and a little arugula salad 
By making a big batch of this super easy marinara sauce with ground beef over the weekend OR at the start of your week, you're setting yourself up for a whole weeks worth of crazy delicious and healthy dinner + lunch options.