Cherry and strawberry crisp that's naturally grain free, sweetened without refined sugar, with a perfect crisp upper crust and a bubbling cherries and berries underneath? Yes my friends, we are talking paleo cherry and strawberry crisp today and this sweet treat is about to win over your summer loving heart.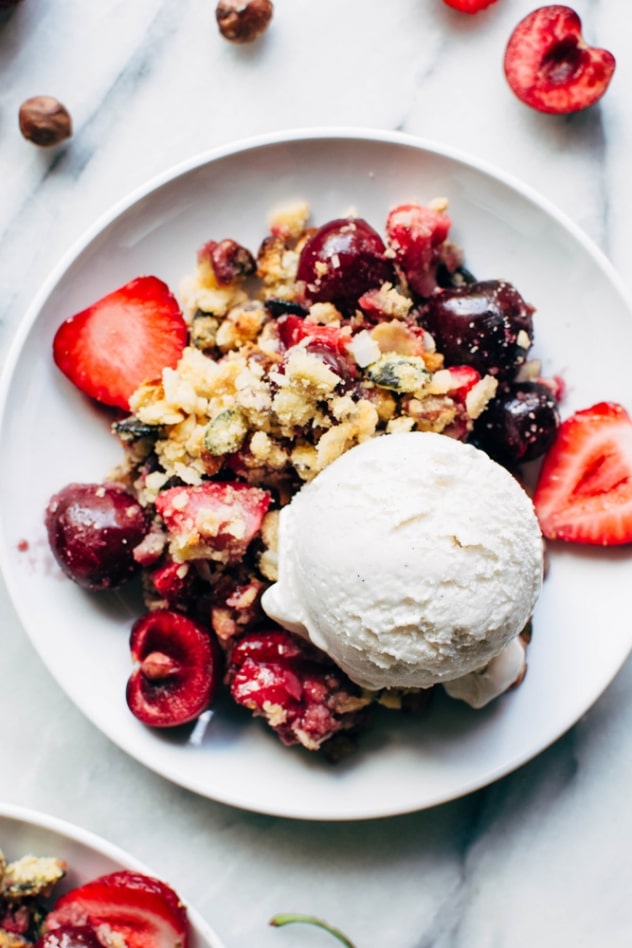 There's something about a fresh fruit crisp that is the very epitome of summer dessert charm. It's a simple + humble treat that, when paired with a scoop of creamy (in this case, dairy free) vanilla ice cream is like the cherry on top of a perfect summer day. 
We've been doing a lot of that simple cooking these days as the light ebbs long into the evening hours (although we are on the other side of that trend now, it will still be awhile before we're eating dinner in the dark).
Dinners on our deck with the cool evening breeze are embraced as often as possible, usually with a glass of rosé (for me) and a cold beer (for him) in hand. And when you top off some sublime al fresco dining with a bowl of fresh paleo cherry strawberry crisp, we're talking pretty near perfection as far as simple home feasting is concerned.