TIS THE SEASON! For mistletoe, snow, fine company, and cookies!!! I am obsessed with these perfect grain free gingersnap cookies and so excited to share them with you for your healthier holiday baking party.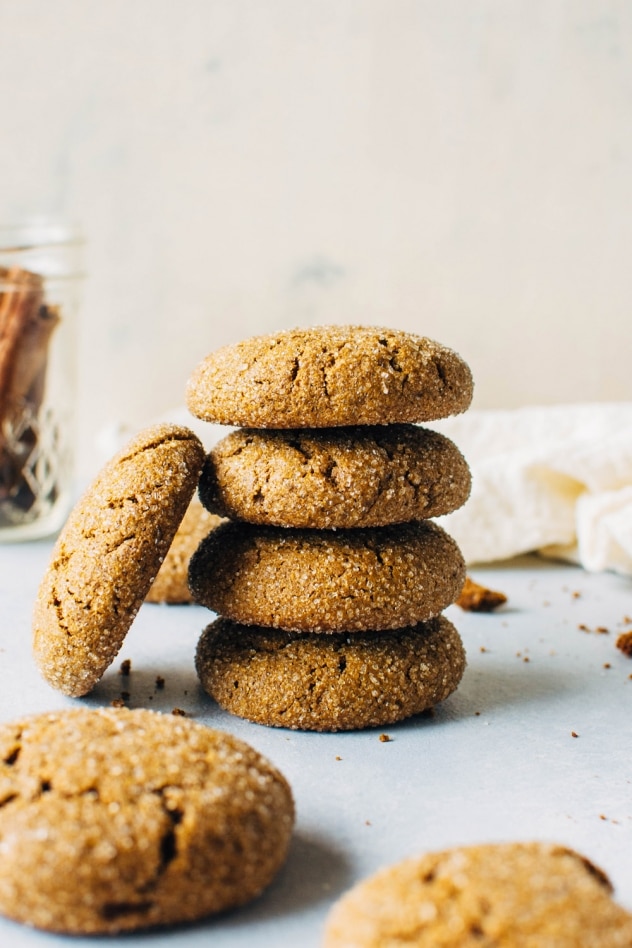 I think it's officially safe to say that we're in the final stretch of holiday baking, and I'm going to sneak this perfect little grain free gingersnap cookie right into the mix because I just know you guys are going to love them. They are chewy, full of gingery spiced flavor, just sweet enough, and totally GRAIN FREE! Because with all the indulgence that comes along with the holidays, it's always nice to add some healthier notes to the mix.
What's the flour I used you might ask? Chickpea flour! This stuff is seriously amazing. If you've never tried baking / cooking / playing around with it in the kitchen, I highly recommend picking up a bag and getting busy!
Honestly, some of my favorite grain free cookies that I've ever made are with chickpea flour. There's just something about the simplicity of it and the texture that it lends that are so so good. So good that you probably wouldn't even notice the healthy flour swap if you didn't know. I've made some salted mocha chocolate cookies (so delish!) with chickpea flour on the blog before if you want another cookie recipe idea for that bag of chickpea flour that you're about to pick up. And another great place to get ideas is on the ever-so-talented blog of Dolly and Oatmeal. She actually has a cookbook called Chickpea Flour Does It All and while I don't own the cookbook (yet! it's on the Christmas list 😉) I have made some of the recipes from the cookbook that she's shared on her blog and they have all been amaze.