Even though these popsicles are technically a little late to the official popsicle week party, I'm still gonna go ahead and show them some love because they are worth the wait, my friends! This salted banana date popsicle recipe is locked down and ready for all your warm weather enjoyment, popsicle week, or not!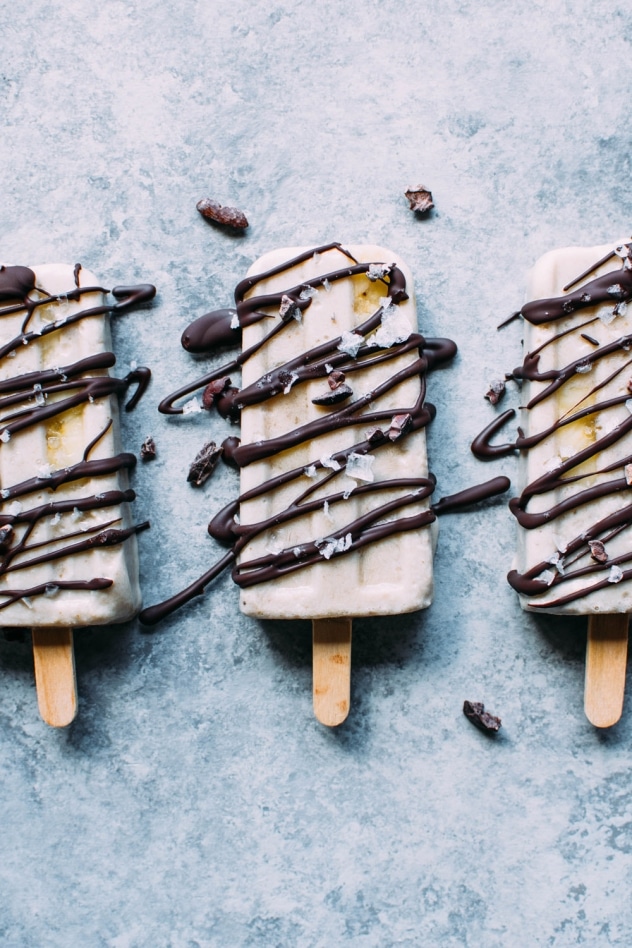 I tried so hard to have this recipe out to you last week. But the first two rounds just melted into a puddle on my photo boards before I could even think about snapping a picture.
Honestly it was a rather heartbreaking experience.
I could definitely see the potential though…
As the popsicles melted off the sticks (or even refused to come out of the mold, the stick slipping easily from the sweet creamy base), we slid it into bowls, drizzled it with some chocolate and sprinkled it with flaky sea salt and surrendered into frozen dessert heaven anyways.
I even debated reframing the recipe as a no churn ice cream thang (which, may still happen!), but I hung on tight to my original inspiration because the allure of a paleo creamy treat on a stick was too much to let go of.
I love popsicles of the fruity variety, but this particular recipe is a spin off of a salted banana date shake that my sweetie and I have been in love with for at least the past year, and I had a feeling it would make just as good (if not better) of a popsicle.
I was right (I love it when that happens! 🙂)
These popsicles are:
Delightfully creamy without any dairy! Coconut milk FTW 💪🏼
Ever-so-slightly salty. Think of all the reasons you love salted caramel ice cream
Naturally sweetened with dates and bananas
Drizzled in dark chocolate and sprinkled with flaky sea salt and cacao nibs for some amazing texture and flavor additions
SUPER EASY TO MAKE! Hip hip hooray for that one 🙌🏼