Ohh hey nice weather! I'm looking at YOU! The sun is here (hopefully to stay!), summer is just around the corner, and we're eating alllll the crunchy, spicy, SUPER HEALTHY rainbow collard green spring rolls with shrimp.
Ya with me?!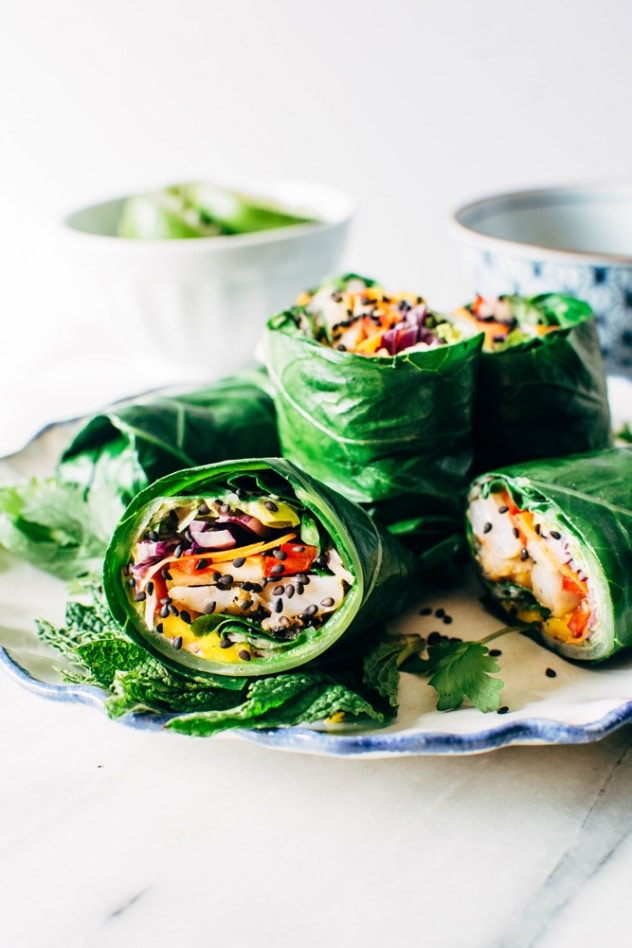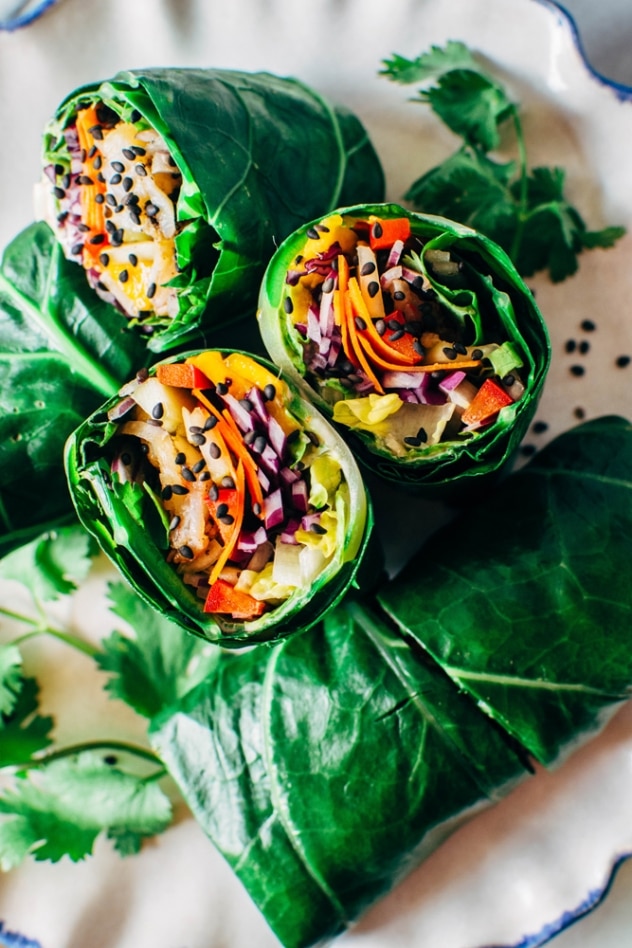 Tangled crunchy veggies. Perfectly pan seared shrimp. Spicy mayo, avocado, or both! A salty and slightly tangy dipping sauce to go with it. Yes yes and yes.
Every time I eat collard green wraps I always feel this major blast from the past – memories of collard wraps filled with greens and sliced fresh veggies, salads, cashew "cheese", sprouted seed crackers and a dehydrator running 24/7 in our little apartment run through my head.
You see, shortly after starting college I started eating a vegetarian diet, which quickly transitioned to eating vegan, which then led me down the exploratory path of eating a 100% raw vegan diet. It lasted just shy of a month, after which I realized it wasn't exaaactly the right fit for me. I found my energy levels to be majorly lacking and after eating an enormous meal, I still didn't feel satisfied or full. Not good things!
But since every experience gives us the opportunity to learn something about ourselves or the world we live in, I did gain some really valuable skills in preparing and incorporating raw foods into my every day eating habits. And it also taught me the priceless lesson to listen to my body's signals for what works for, and what works against my health. It was shortly after this little venture into raw foodism that I did a complete 180 and started consuming meat and animal products again, but this time with more intention. Choosing pastured and organic animal products, knowing where they came from, how they were processed and how MUCH of them I was eating.
And of course my journey toward optimal health was not over at that point – and I don't think it ever will be. Our bodies are constantly changing, requiring new types of attention and nourishment + we are always within that feedback loop of taking care of ourselves the best way we know how, reading the information our bodies send back to us and adjusting as we go. It's kind of a really cool thing if you tune into it.