Thanks to cashew cream, this creamy dairy free chicken and cauliflower rice soup is so creamy and delicious that you would never know it was dairy free! Made with all the same flavors of a classic chicken and rice soup, but paleo, and whole30 friendly for a satisfying and healthy meal.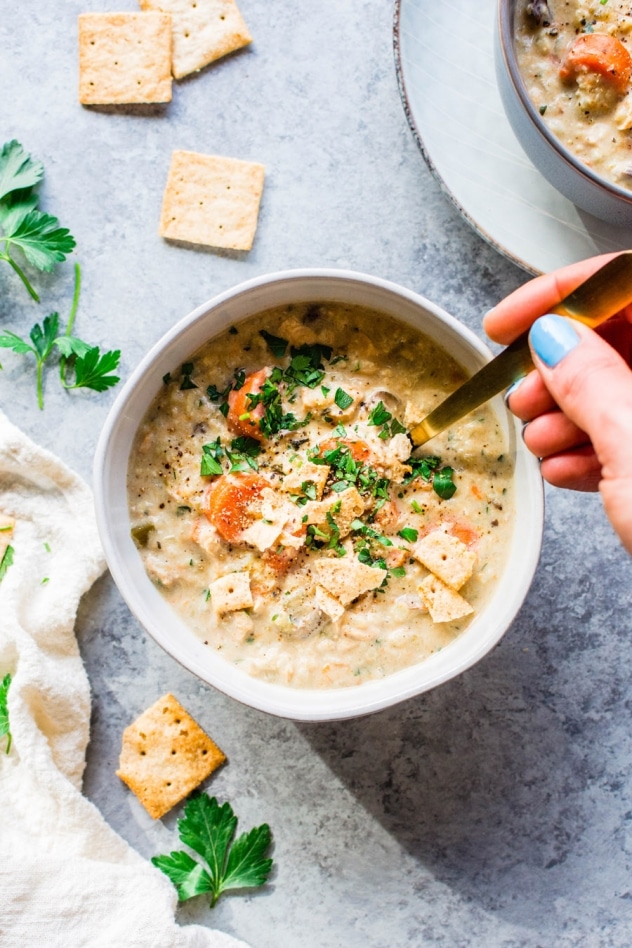 Well here I am about to talk about the weather again, and how it relates to what I'm in the mood to eat 😂
But that's just the way it works, right? I mean, sure there's sometimes where we crave warm soups in the middle of summer, or a bright and refreshing green juice during a deep mid-winter freeze, but for the most part the seasons really do sort of steer our dinner cravings.
And as we all know, even though it's April most of us are still battling winter weather.
I just returned from a long weekend in Wisconsin and Minnesota and I can definitely testify that they are for sure still tromping around in the snow. And while it has started warming up a little in Seattle, even here the gray skies and rain have yet to lift.
Which, IMHO, is a perfectly good reason to schedule this creamy dairy free chicken and cauliflower rice soup into your meal plan for this week 💯