This spiced apple and tangerine spritz is the perfect fancy make-at-home drink for fall! Made with spiced rum (or vodka!), fresh apple cider, bright tangerine juice, and finished with sparkling hard apple cider for a festive and delicious beverage worthy of a toast!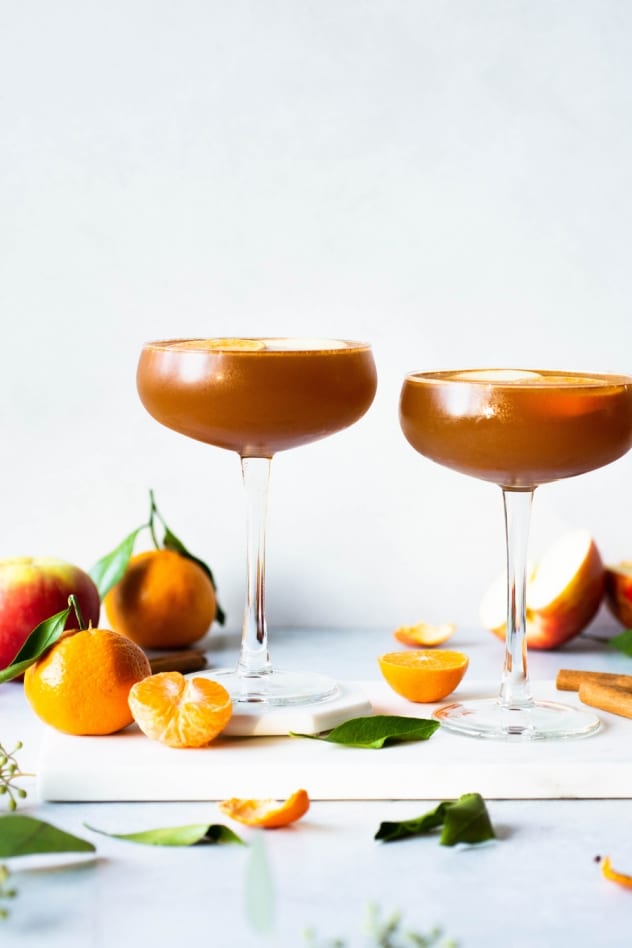 Hi! Ok guys. I'm just going to preface this post by saying that holy-cow I'm not sure I've ever made a cocktail at home that I have loved SO dang much.
It is seriously that good, you guys.
So good that we've been (ahem) "testing" it just about every night as an after-dinner-let's-play-cards drink. Needless to say, between myself, my husband, our roommate, and friends stopping by our place we've THOROUGHLY tested this recipe. Probably somewhere in the range of 20 or so times in the last week 😳
And the funny thing is, we're not usually the type to even whip up a fancy make at home cocktail. We generally reach for a glass of wine, hard cider, or beer (for the boys), with the occasional espresso martini thrown in there before nights out on the town.
BUT THIS DRINK. Oh man. I'm borderline super-obsessed and just so so excited to share the recipe with you guys.
Because it's so easy to make! And so lovely to drink.
And absolutely PERFECT for the fall! All dressed up with fall ingredients like apple cider, juicy and sweet tangerine juice, cinnamon, and spiced rum – or vodka if that's more your style. But even if you usually aren't into dark / spiced rums, I would urge you to give it a chance in this spritz cocktail because I'm generally not super into them and somehow it just works.