I'm totally ready to embrace the fall vibes that are setting in these days, but first, some superfood yogurt parfaits to celebrate the last of the sunny season's beautiful berries.
in truth, this post was supposed to go up a week ago, BEFORE summer officially came to an end, but then you know, mercury in retrograde came along and my images were all posting blurry. so fun trying to figure that one out. thank goodness for the awesome community over at Food Blogger Pro who helped me sort everything out! community makes life's challenges so much easier to manage.
but since these are so easy to make and such a perfect, healthy breakfast or snack, AND the farmer's markets are still selling blueberries and raspberries by the flat, I'm gonna share this super easy recipe with you anyways.
let's just say making these superfood and berry yogurt parfaits is like giving one last big hug to the epic-ness that was this summer.
not only do these little cups of colorful glory have the nutrient-packed berry factor going for them, they also have hemp seeds and raw cacao nibs for an added sha-bam of superfoods!
let's start with cacao nibs.
have you ever tried them? they're pretty much the purest form of chocolate that you can get your hands on, which makes eating them the easiest way to get all the benefits of dark chocolate that we hear so much about!
what you get:
good old antioxidants (which help protect our body from free radicals)
lots o' magnesium (which helps your body maintain nerve and muscle function)
plenty of fiber to keep yourself full and regular 😉 never a bad thing
iron, which, when paired with raspberries, blueberries and hemp seeds that are all high in vitamin C, can be very easily absorbed by yo' body. teamwork makes the dream work!
HAPPINESS (cacao actually stimulates your brain to release certain neurotransmitters that are responsible for feelings of euphoria and BLISS! YAY CHOCOLATE!)
now onto hemp seeds.
these powerful little superstar of a seed couldn't be easier to incorporate into your eating habits. they have a pleasant nutty taste, and go well with sweet or savory dishes. you can just as easily sprinkle them on a yogurt parfait as you can on a salad or a bowl of oatmeal.
what you get:
a good balance of omega-3 and omega-6 fatty acids (because of this they are best stored in the refrigerator to keep them from going rancid! always buy hemp seeds that are packaged in a bag that does not allow light in to ensure freshness)
all 9 essential amino acids
B vitamins, vitamin E, vitamin D, and vitamin C
a wide variety of minerals including magnesium, iron, phosphorus, zinc and calcium
protein to help keep you full and energized longer
NOT high. although derived from the hemp plant, there is nearly an undetectable amount of THC (the compound in marijuana that has psycho-active properties) found in shelled hemp seeds.
and the assembly? well's that part is as easy as 1, 2, 3 👇🏽
I love how easy this easy and satisfying this parfait is. especially when you start with a base of thick, whole fat yogurt like siggi's, or another greek yogurt that you like. mix in a touch of maple syrup to the yogurt before topping it with all the goodies and it almost feels like dessert for breakfast! no complaints here.
healthy superfood and berry yogurt parfaits! get yours while there's still the last of those summer berries lingering about and savor all the good that you're doing for your body with every SUPERFOOD rich bite!
did you make this recipe? I would love to know how it turned out for you! when you rate my recipes and leave feedback it helps me continue to improve. you can leave me a comment below, or snap a picture and post it to instagram with the tag @nyssaskitchen or hashtag #nyssaskitchen! xo
Print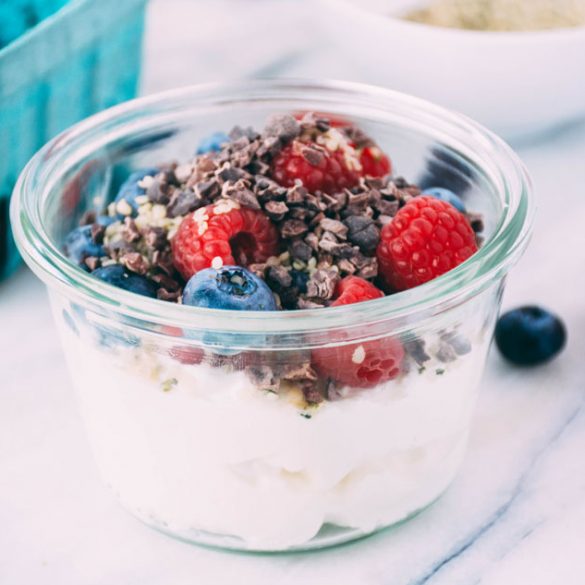 superfood and berry yogurt parfait
---
Author:

Prep Time:

5 mins

Total Time:

5 mins

Yield:

1

serving

1

x
Description
superfood and berry yogurt parfaits start with a rich and creamy base of greek yogurt, and are topped with layers of fresh juicy berries, antioxidant rich cacao nibs, and heart healthy hemp seeds.
---
Scale
Ingredients
1 cup

thick style yogurt

1 tsp

maple syrup to sweeten yogurt (optional)

1/2 cup

mixed berries (I used blueberries and raspberries)

1

tbs cacao nibs

1

tbs raw shelled hemp seeds
---
Instructions
fill a small bowl or jar with yogurt, stir in maple syrup to sweeten if desired.
top with berries, cacao nibs and hemp seeds.
enjoy!