It's almost the weekend and we are gonna talk DESSERT my friends! Specifically, dessert with lots of chocolate, coffee and hazelnuts. It's a salted mocha hazelnut tart made with Rawmio raw chocolate and it's sort of a big deal 😉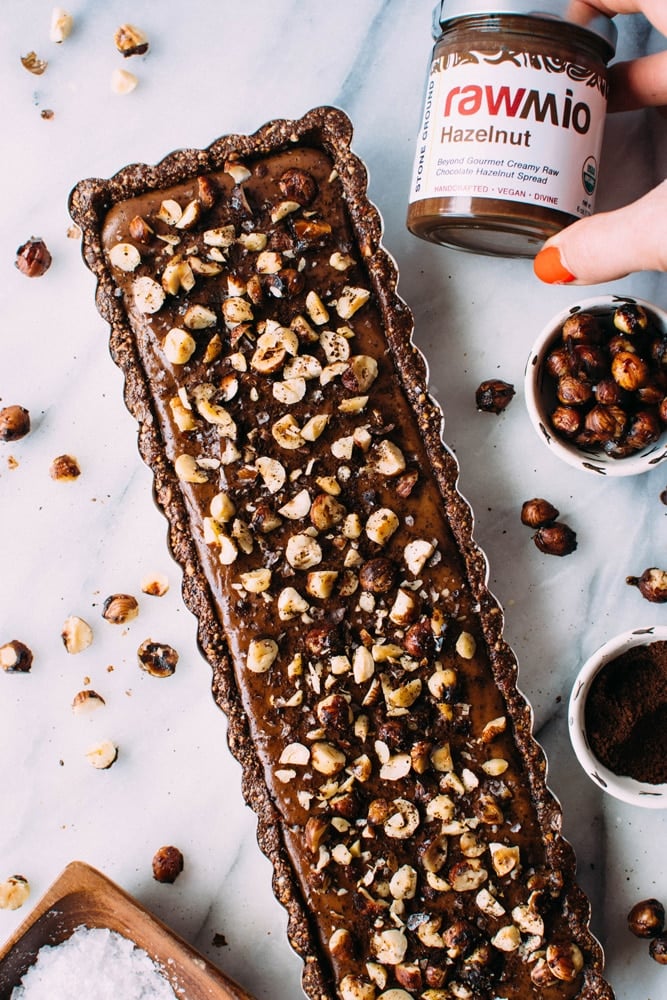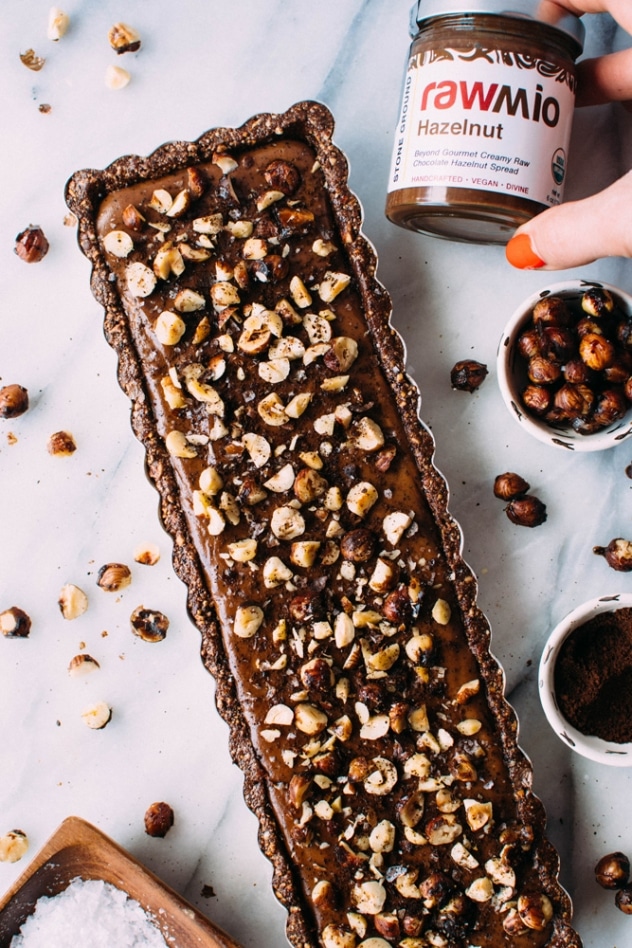 In more ways than one! I mean the obvious way in which it's a big deal is staring right at you in that picture up there. All the delicious chocolatey things are happening in this recipe. Enough so that this was actually the dessert I made for my husbands birthday. But the other way in which it's a big deal is how MUCH nutrients are packed in there!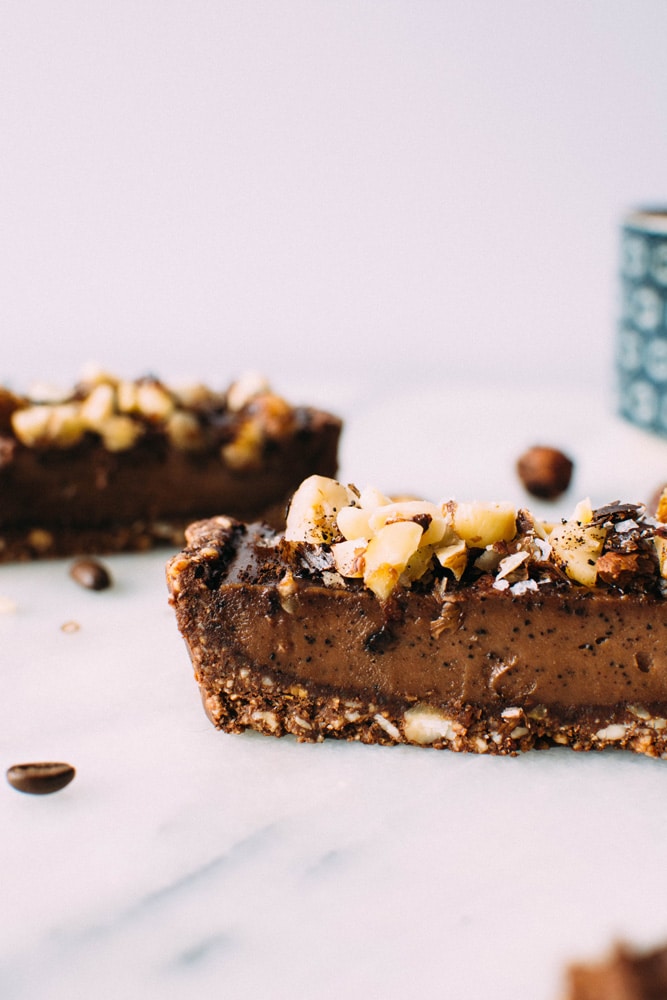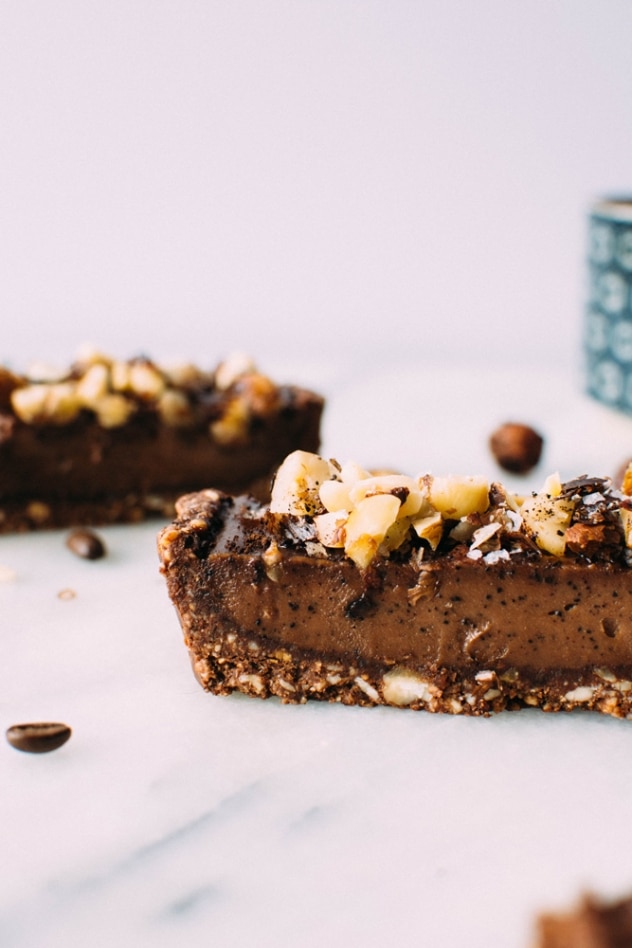 (Hint: it's A LOT!) See? My sweet tooth totally has a place in a conversation about eating healthy.
And it all starts with the raw chocolate.
In this case, Rawmio chocolate. It's always been a struggle of mine to find chocolate that has been minimally processed, doesn't contain refined sugar, soy additives, binders or dairy. But this brand actually meets all of those criteria in a really complete way. Chocolate is something that can literally bring you bliss, and they've found how to do it in all the right ways.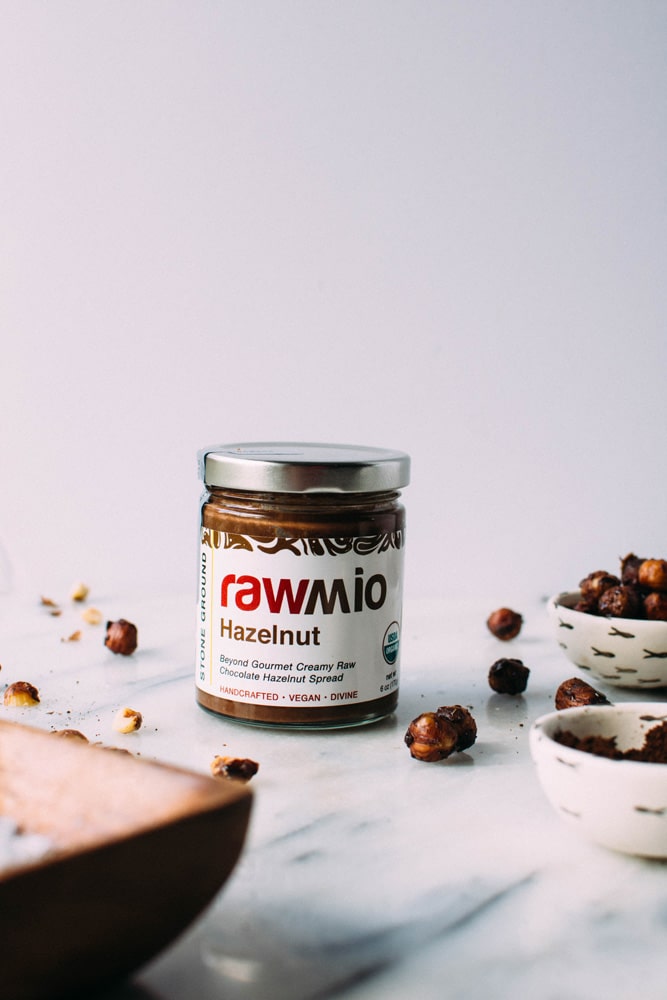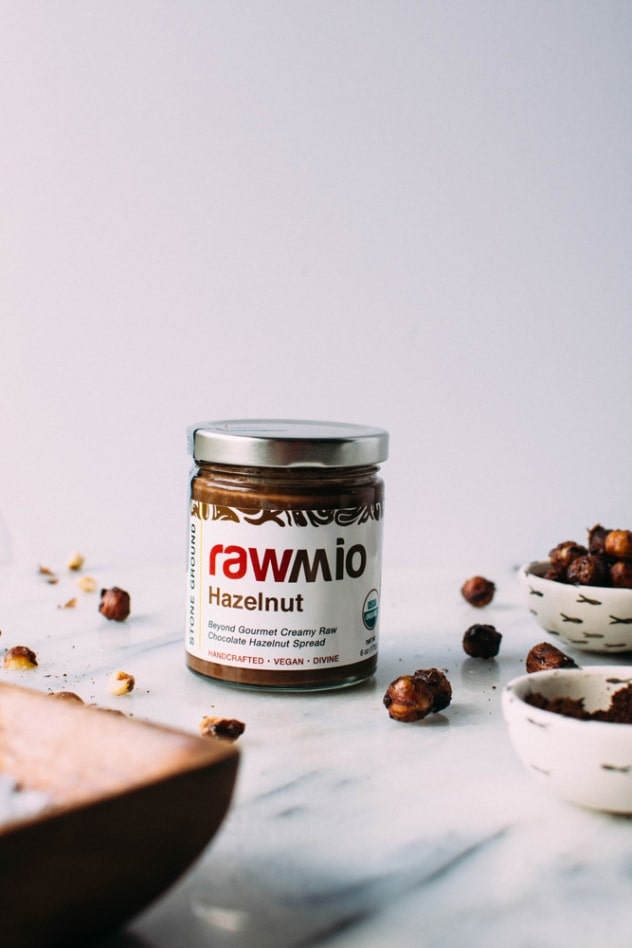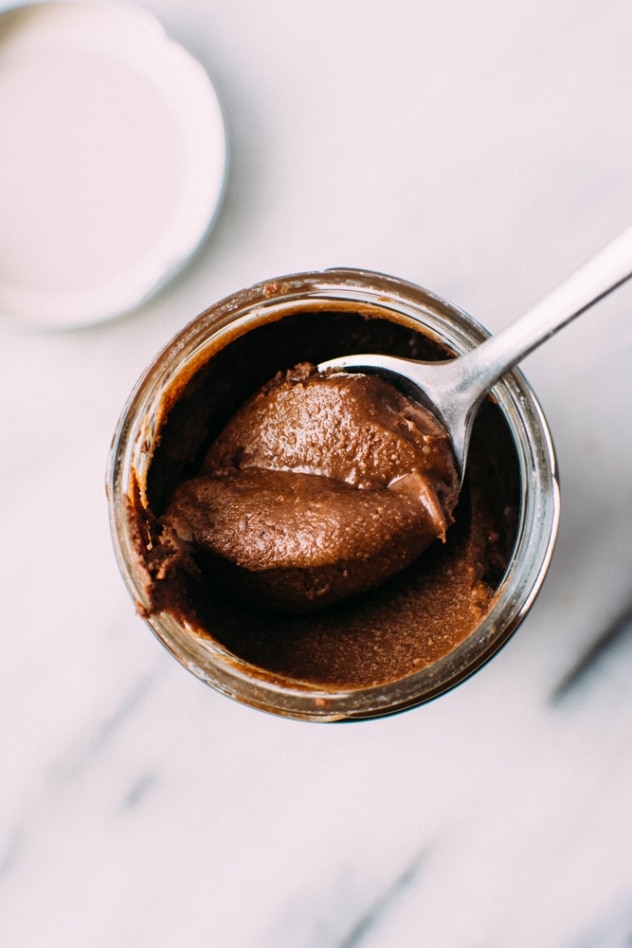 Their chocolate hazelnut spread is a part of the filling for this salted mocha hazelnut tart. It's a little bit thicker than what you might expect in some other spreads of it's type (read: perfect for eating from a spoon!), and the flavor is so pure and the ingredients just shine. The most beautiful part? It's made with only THREE ingredients. That's right. THREE. And they're all organic.
Hazelnuts
Cacao nibs
Boom. How many products that stock your cupboard can you say that about? Probably not very many.
what's so cool about organic raw chocolate?
Lots of things! Raw chocolate is…
Very minimally processed, and never reaches very high temperatures during production, which helps to preserve as much of the antioxidants and nutrients as possible.

Made without a bunch of additives / stabilizers / dairy / refined sugar / dairy (which, crazy fact –  can actually block the absorption of anti-oxidants!! No thanks!)
Is thought to contain up to 4 times as many antioxidants as regularly processed chocolate!

Contains a neurotransmitter called theobromine – a mild stimulant which releases something in our brains called anandamide – a compound whose root comes from the sanskrit word "ananda" meaning joy, bliss and delight. Making it one of the things in chocolate that has the unique ability to make us feel a sense of happiness and contentment!
Yay chocolate!! I told you It really can make us happy 🙂
And here's something that's bound to make you SUPER happy! For my partnership with Rawmio on this recipe they have generously offered all my readers a 20% discount on any of their products!
All you have to do is head over to their website www.rawguru.com and enter the discount code: RANYSSA20 at checkout.  
In addition to the raw chocolate hazelnut spread and chocolate bar that I've used in this recipe, they also have some other amazingly delicious and nourishing treats for you to try!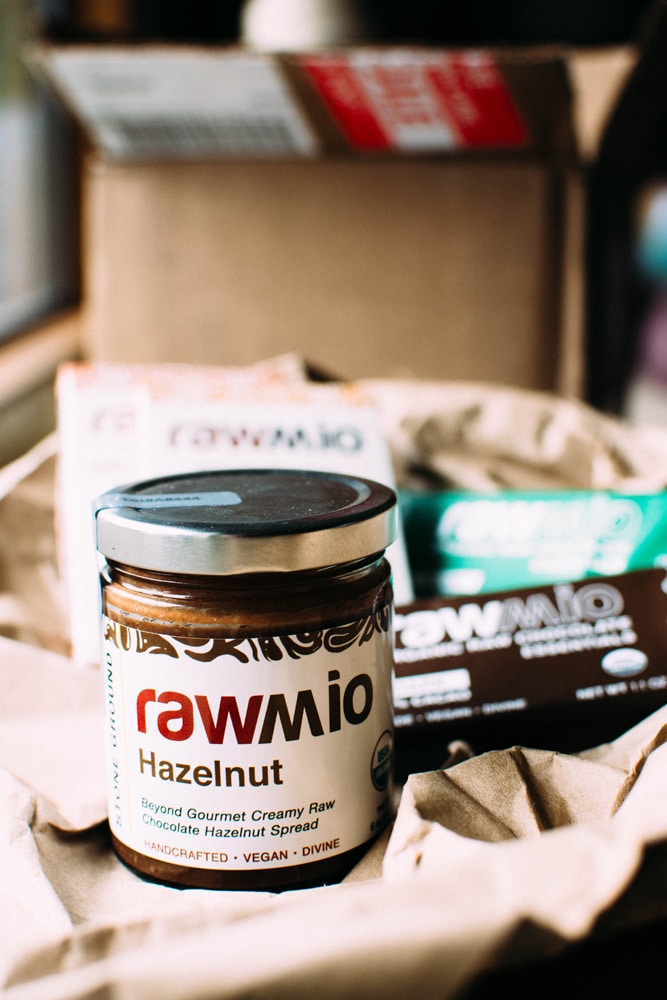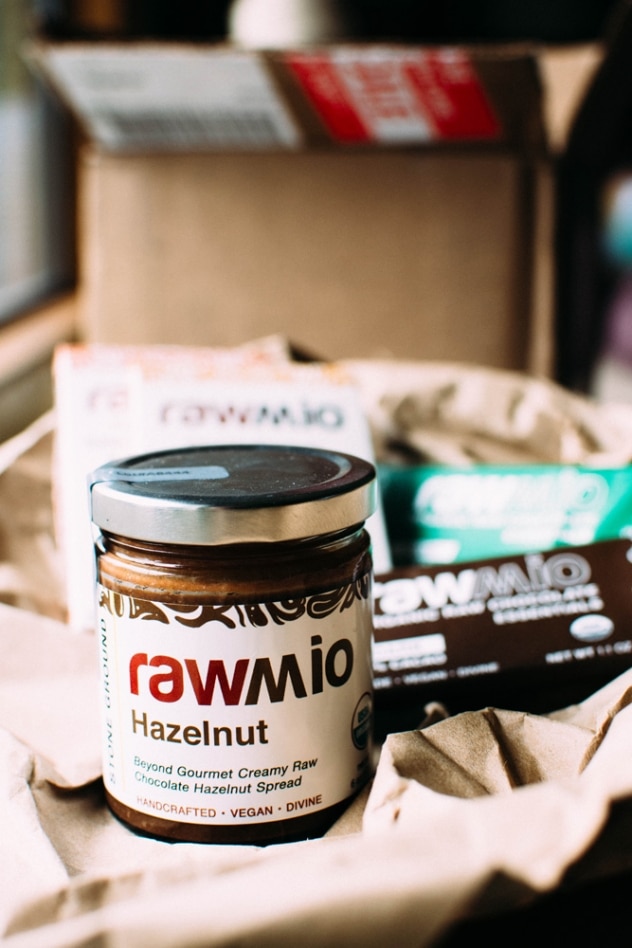 Now let's talk about why we're all here – THIS TART recipe!
What does this raw salted mocha hazelnut tart taste like? 
HEAVEN! No but in all seriousness it's pretty amazing. This was this first type of dessert that came to mind when I was considering experimenting with some of rawmio's products, so I made this tart for my husbands birthday and it was a total success! Everyone loved it and lots asked me for the recipe. I considered that a good sign in moving ahead with the plan to share this with you all!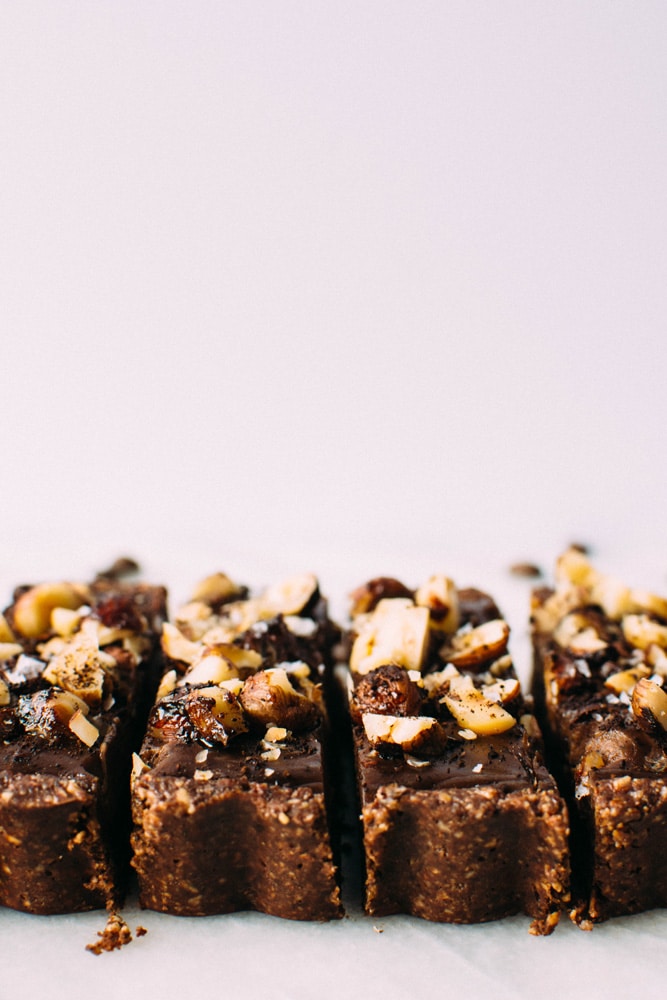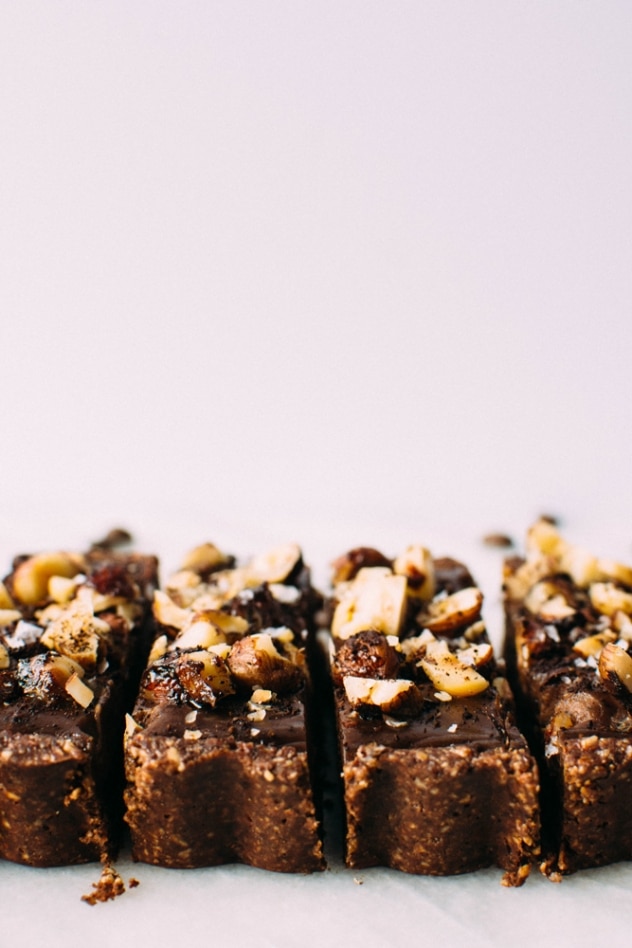 First things first, the filling.
It tastes like a silky, almost fluffy mocha hazelnut mousse (maybe the best words ever put together in a sentance)!
The bulk of it is made with raw, soaked cashews (which area literal dream when it comes to replacing dairy in a recipe!). They are blended into silky smooth perfection with some of rawmio's divine chocolate hazelnut spread, a little melted coconut oil (so the filling sets up a bit more once it's cooled), and some ground coffee for added texture and flavor. 
Yup.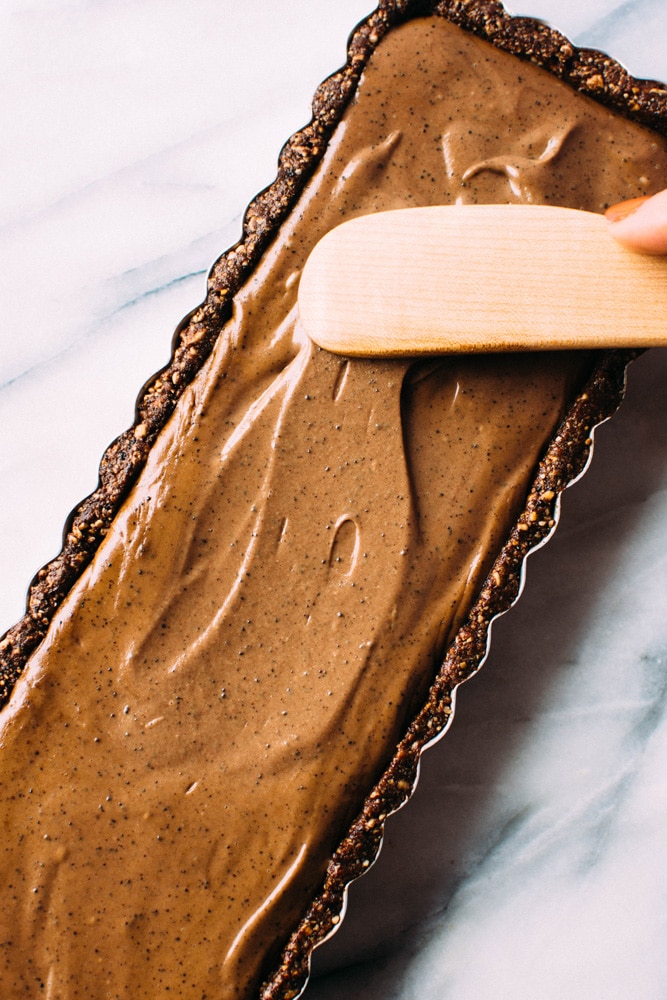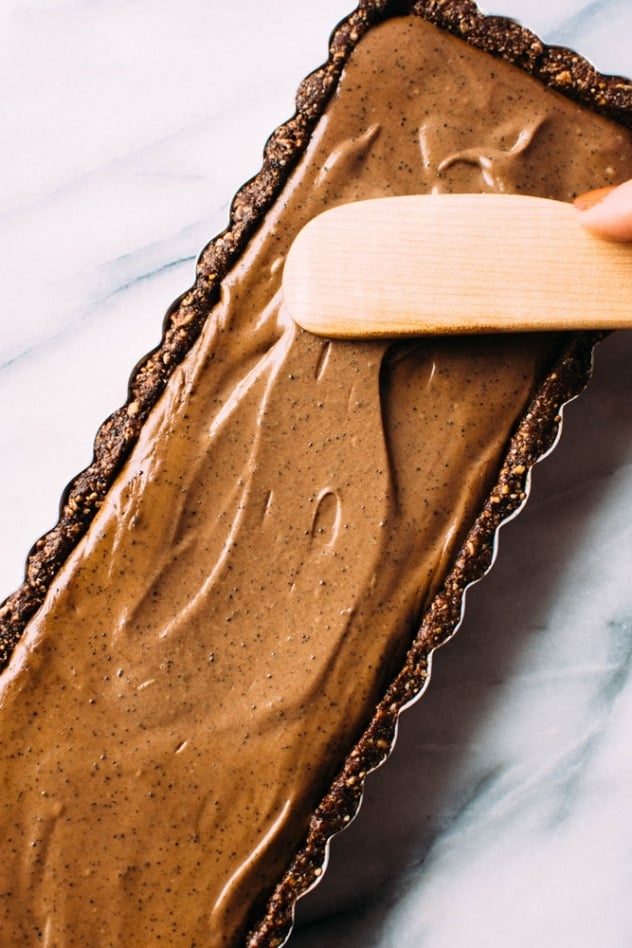 the crust
The crust has an amazing toasted, nutty quality that you get from roasting the almonds until they're deep brown, and is then infused with a lot of bittersweet chocolate – both from a melted rawmio chocolate bar (WHICH IS INSANELY GOOD!) and some extra cacao powder. There's coffee in there too, because, why not? If you're making a dessert with coffee I say go all the way – but maybe that's just the seattle-lite in me talking?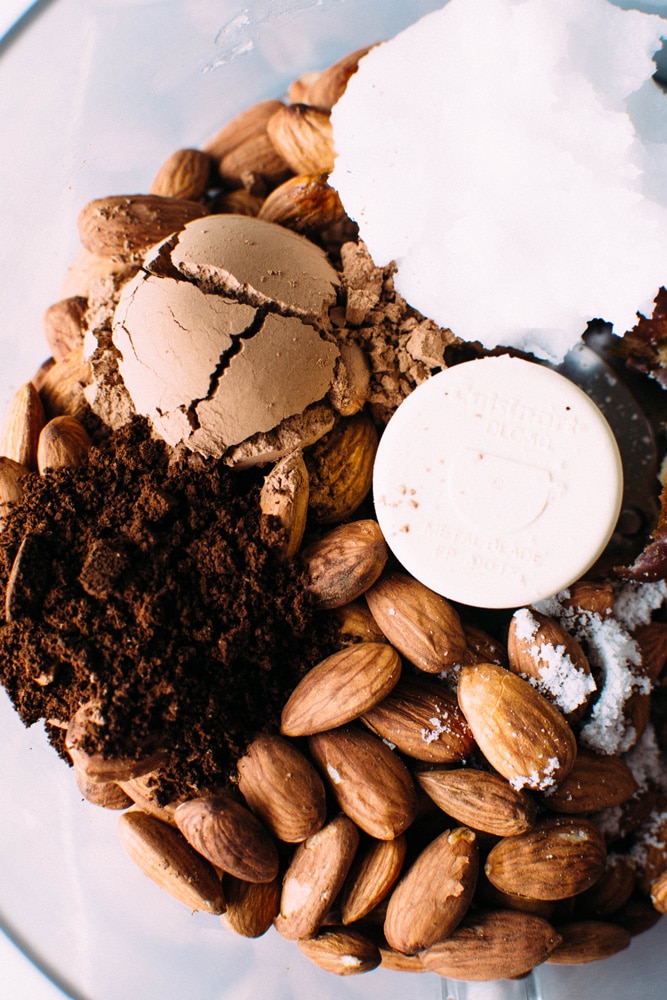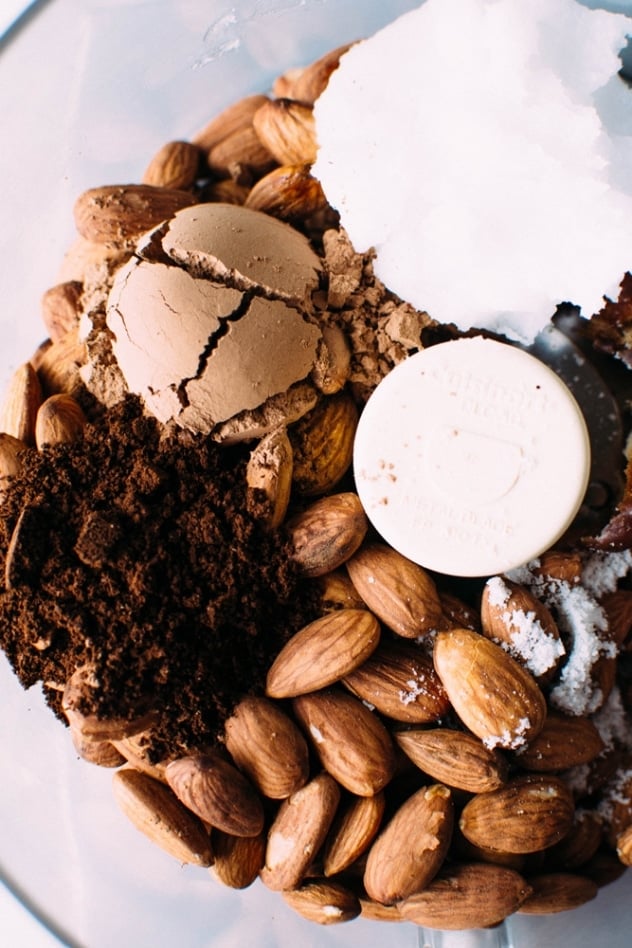 the hazelnut garnish
And then because I just always have to add that third element for texture and dimension I went ahead and made some super quick and easy candied cinnamon coffee hazelnuts – the amount this recipe makes is a little more than you'll need for the tart, but trust me when I say they'll disappear fast! 
Pro tip: They make a great ice cream sundae topping 😉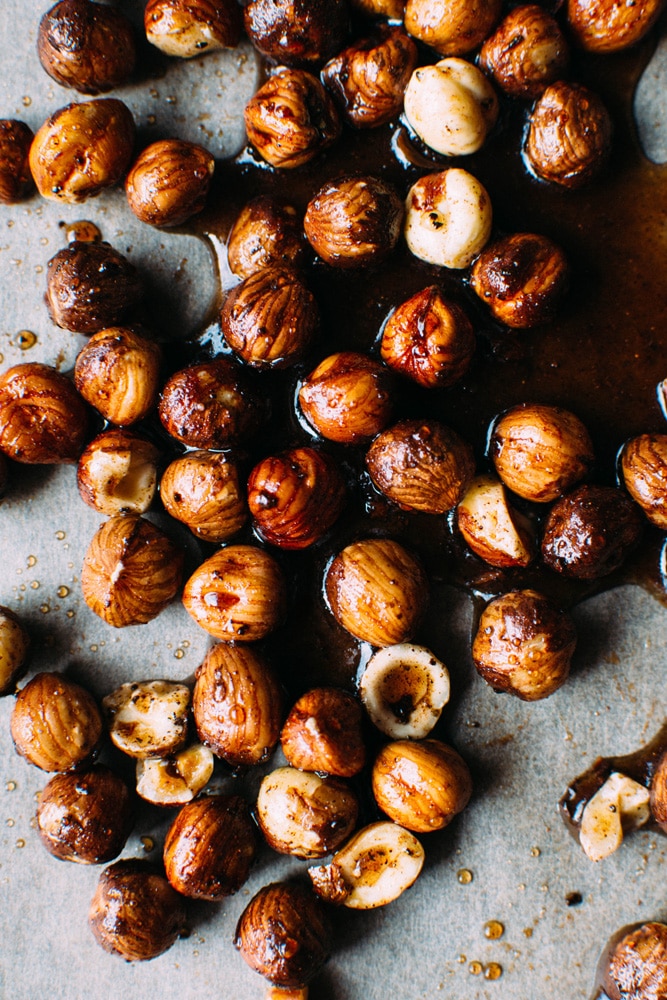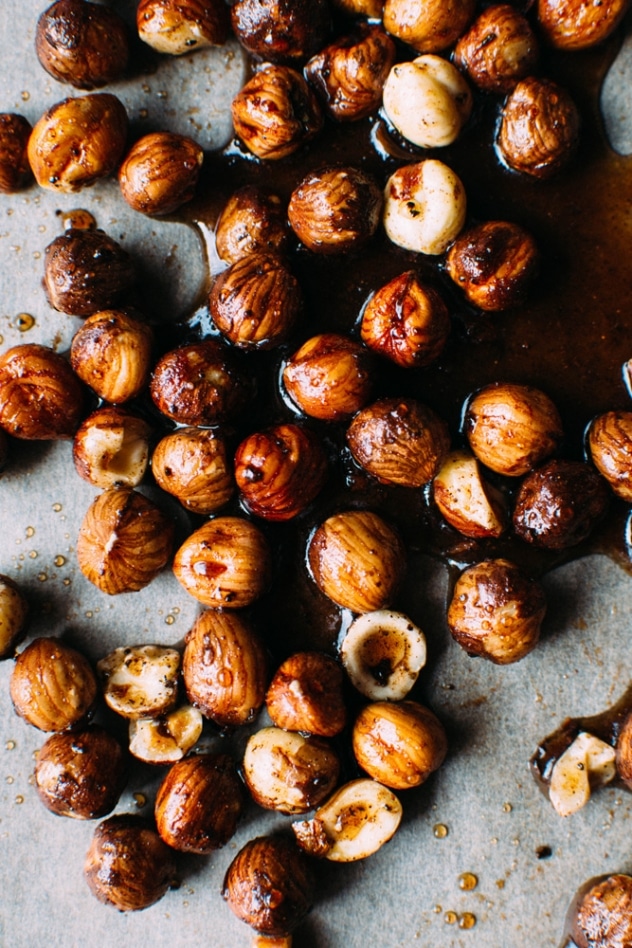 assembly of the tart forces
All of these amazing components then get layered into a tart pan with a removable bottom – I just got one and I LOVE IT! If you don't have one with a removable bottom you can of course still make this dessert, but the presentation may not be quite as seamless.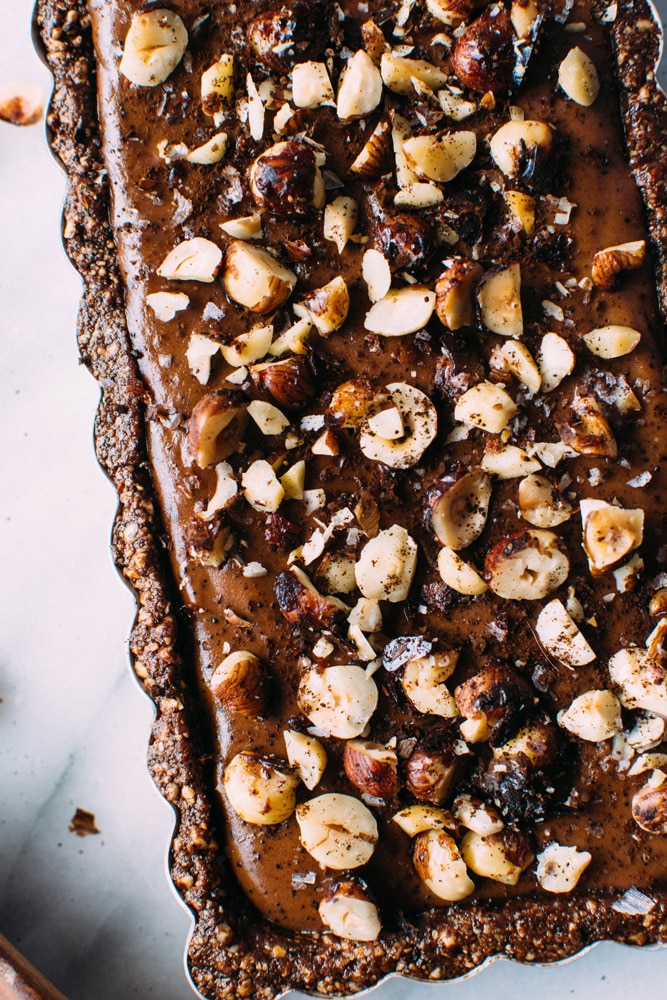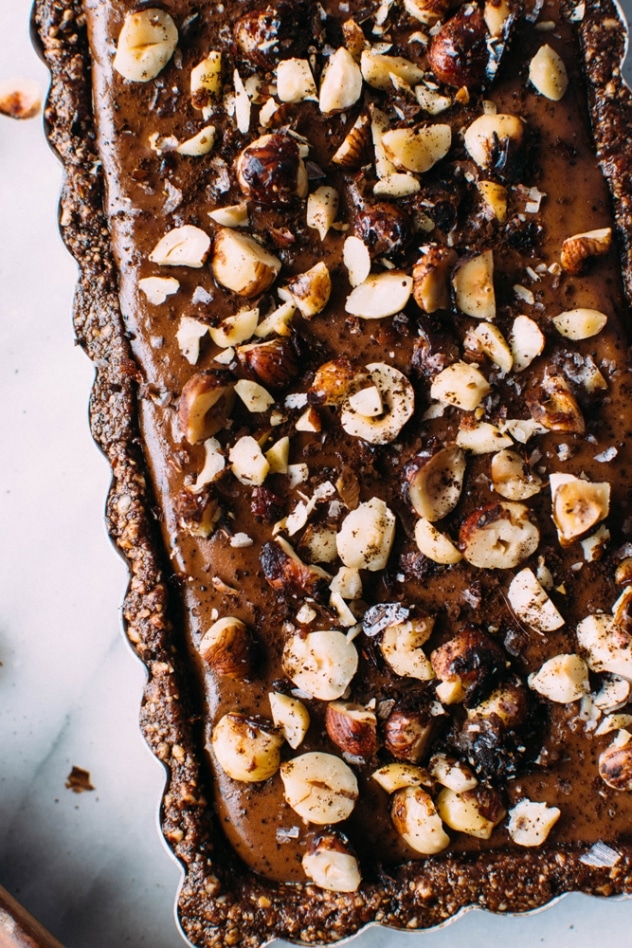 Once assembled and sprinkled with some flaky sea salt, you'll want to store the tart in the refrigerator (or freezer to speed up the process, to get everything to set up properly). For at least a couple hours, but longer will be better if you have the time. 
Once it's set you can let it sit out on the counter for about 15 – 20 minutes to bring it to (IMHO) the best consistency. But you could also eat it straight out of the fridge or let it sit out for longer depending on what texture / consistency you're going for. The longer it sits out the softer the texture of the filling will be. 
However when you're removing the tart from the pan for the first time you'll definitely need to give it about 15 minutes out of the refrigerator so it will easily release from the pan.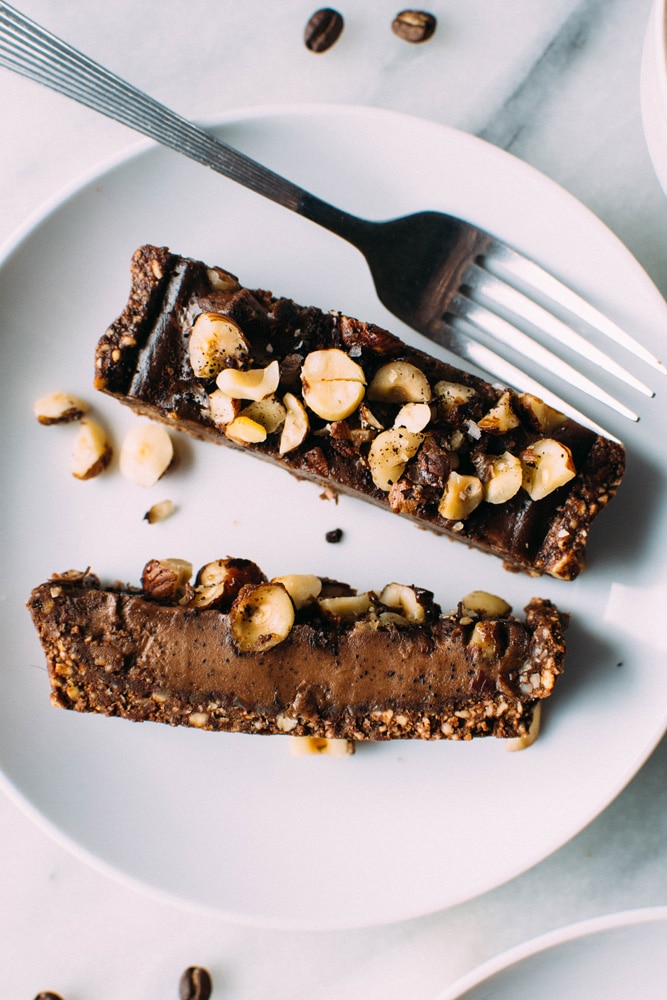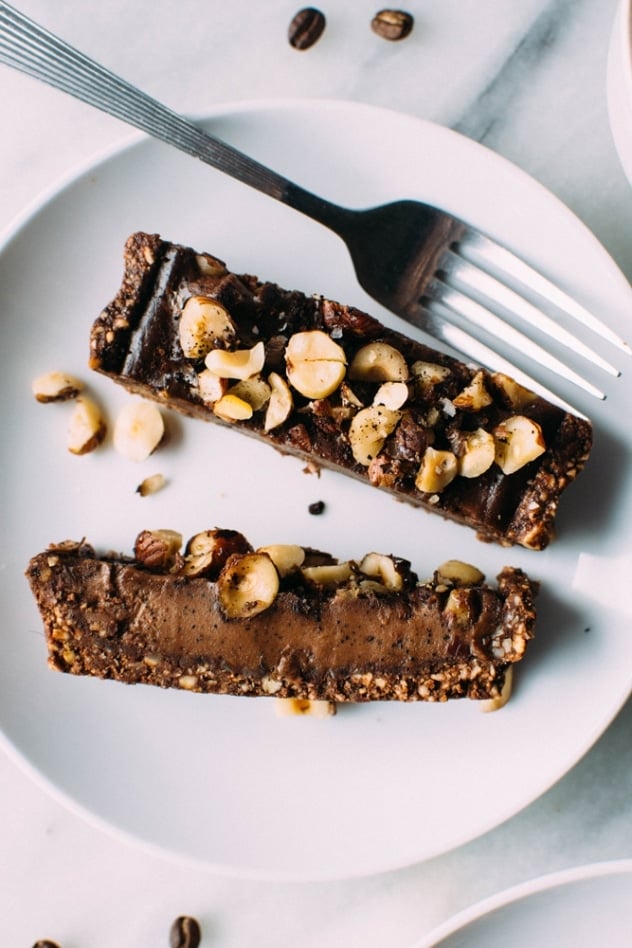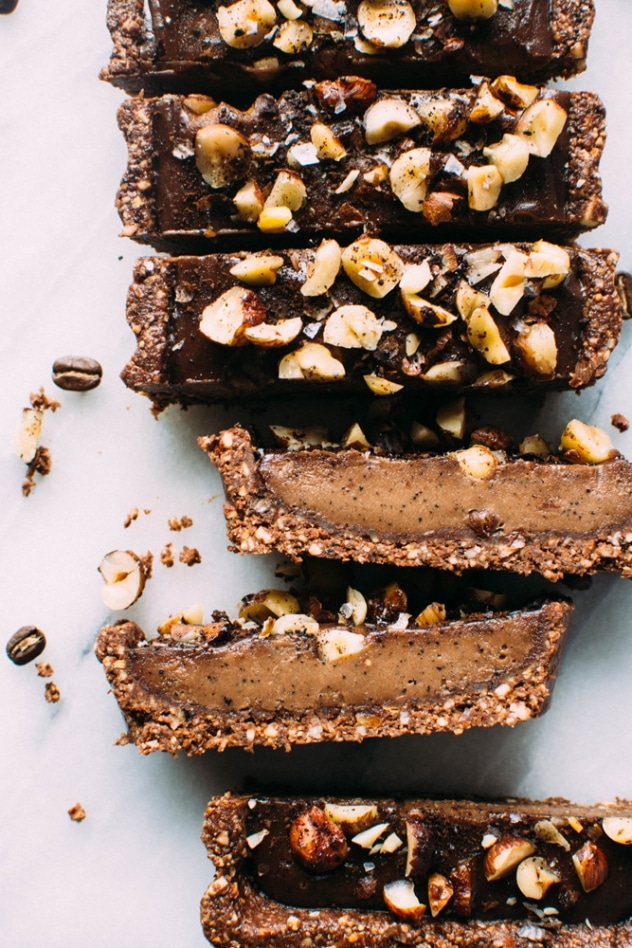 Want more delicious grain free dessert recipes? Check out these favorites!
Did you make this recipe? I would love to know how it turned out for you! when you rate my recipes and leave feedback it helps me continue to improve. you can leave me a comment below, or snap a picture and post it to instagram with the tag @nyssaskitchen or hashtag #nyssaskitchen! xo
Print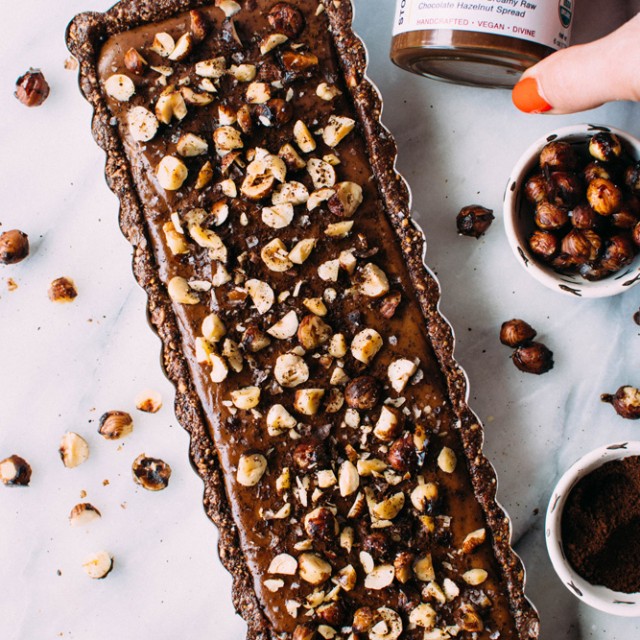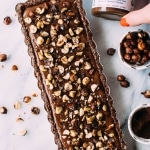 Salted mocha hazelnut tart with Rawmio {vegan + paleo}
---
Author:

Prep Time:

2 hours

Total Time:

2 hours

Yield:

12

-

14

pieces

1

x
---
---